The Bath Tap Product Guide
At C.P. Hart, we curate the best possible product collections. Our series of product guides aims to highlight the most sought-after premium ranges in every bathroom category in order to help you to refine your selection. Below, our design specialists will take you through our best-selling bath taps from leading international manufacturers as well as our own exclusive ranges.
We supply a painstakingly curated range of bath taps in an array of designs to suit every bathroom style and requirement, from freestanding bath fillers with and without shower attachments to waterfall wall-mounted bath fillers or deck-mounted bath taps.
Our comprehensive collection of bath taps covers classic, contemporary, and cutting-edge styles – no matter what your interior preference, you'll find a tap that fits into your bathroom seamlessly. In addition to C.P. Hart's large selection of expertly manufactured own-brand products, we offer designer bath taps from leading brands, such as AXOR, Gessi, Dornbracht, and Samuel Heath.
Please read on to explore our bath tap product guide, and please follow the link below to shop our selection of bath taps.

C.P. Hart's Own Bath Tap Collections
We pride ourselves on our many exclusive collections, presenting timeless designs with proven high quality and durability. Our own bath tap ranges comprise sleek brassware, perfect for modern bathrooms, plus more rigid designs, ideal for traditional bathrooms. Please explore some of our most popular ranges below.
Epoch Bath Taps
Epoch continually proves to be one of our most popular brassware ranges, designed exclusively for C.P. Hart and expertly manufactured in the UK. The range utilises ceramic discs and operates on a quarter turn open and close action, also known as quarter-turn technology. Compatible with low-pressure water systems, Epoch is a fail-safe choice for every home.
Inspired by Art Deco design, Epoch features swivel spouts and crosshead handles in eight luxurious finishes, including chrome, polished nickel, gold, brushed gold, and living brass – a finish that will age beautifully with time, perfect for today's classic bathroom.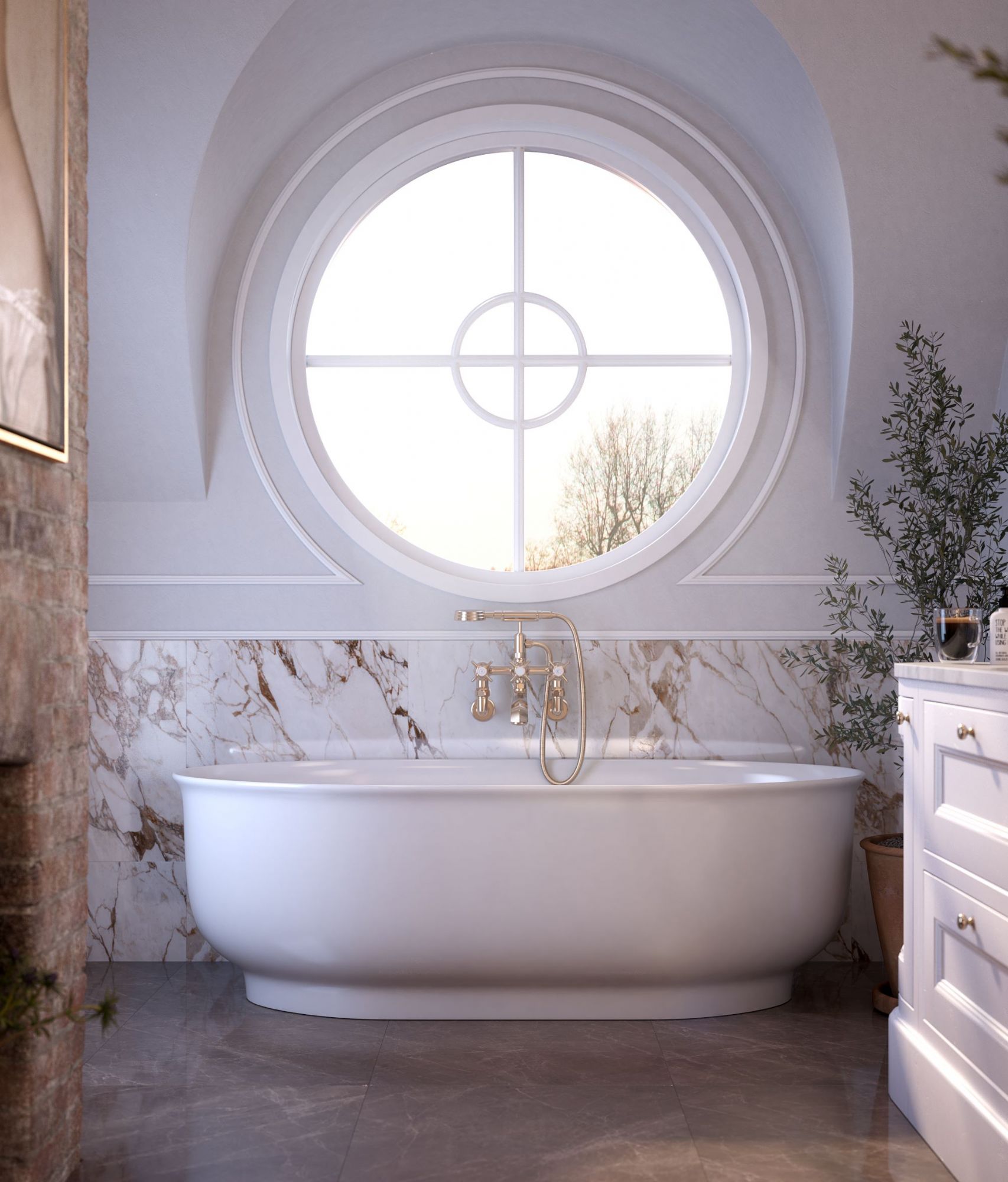 Shop the Epoch Wall-Mounted Bath Shower Mixer, featured above in the brushed gold finish.
Spillo Bath Taps
Italian manufactured exclusively for C.P. Hart from trivalent chromium, an environmentally benign material, Spillo is our best-selling contemporary brassware range featuring sculpturally curved silhouettes and easy-install concealed bodies. Available in 10 finishes, including 24 carat gold, classic chrome, and trending matt black, the Spillo range homes freestanding and deck-mounted bath mixers with the classic bath spout.
Engineered from low-lead brass and delivered in recycled boxes, Spillo is characterised by its quality, variety, and eco-friendly credentials, adding a flourish of elegance to every bathroom.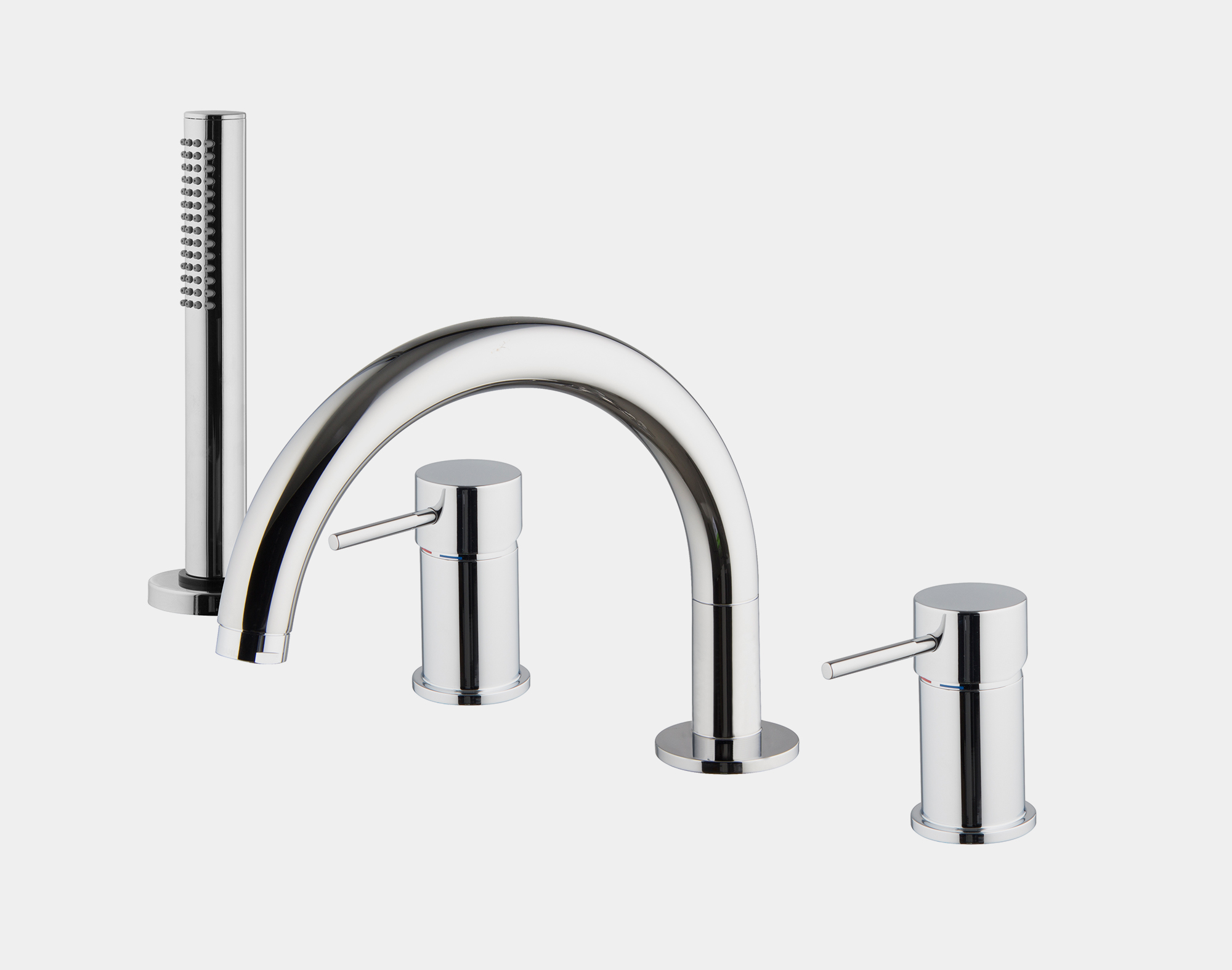 Shop the Spillo 3-Piece Bath Mixer with Brass Hand shower featured above.
Spillo Tech Bath Taps
The Spillo Tech range sits within the Spillo family, its point of difference being the faceted style handles that enhance the already-elegant forms. The Spillo Tech range presents three faceted & knurled finishes: Tech V, a geometric 19 face polygon, Tech G, an industrial knurled design, and Tech X, featuring a luxurious faceted surface inspired by the cut of diamonds. Each handle design offers refined interior detail, carefully crafted to deliver understated luxury in any bathroom.
Spillo Tech demonstrates the precision engineering capability of modern Italian manufacturing, available in eight polished and hand-brushed finishes.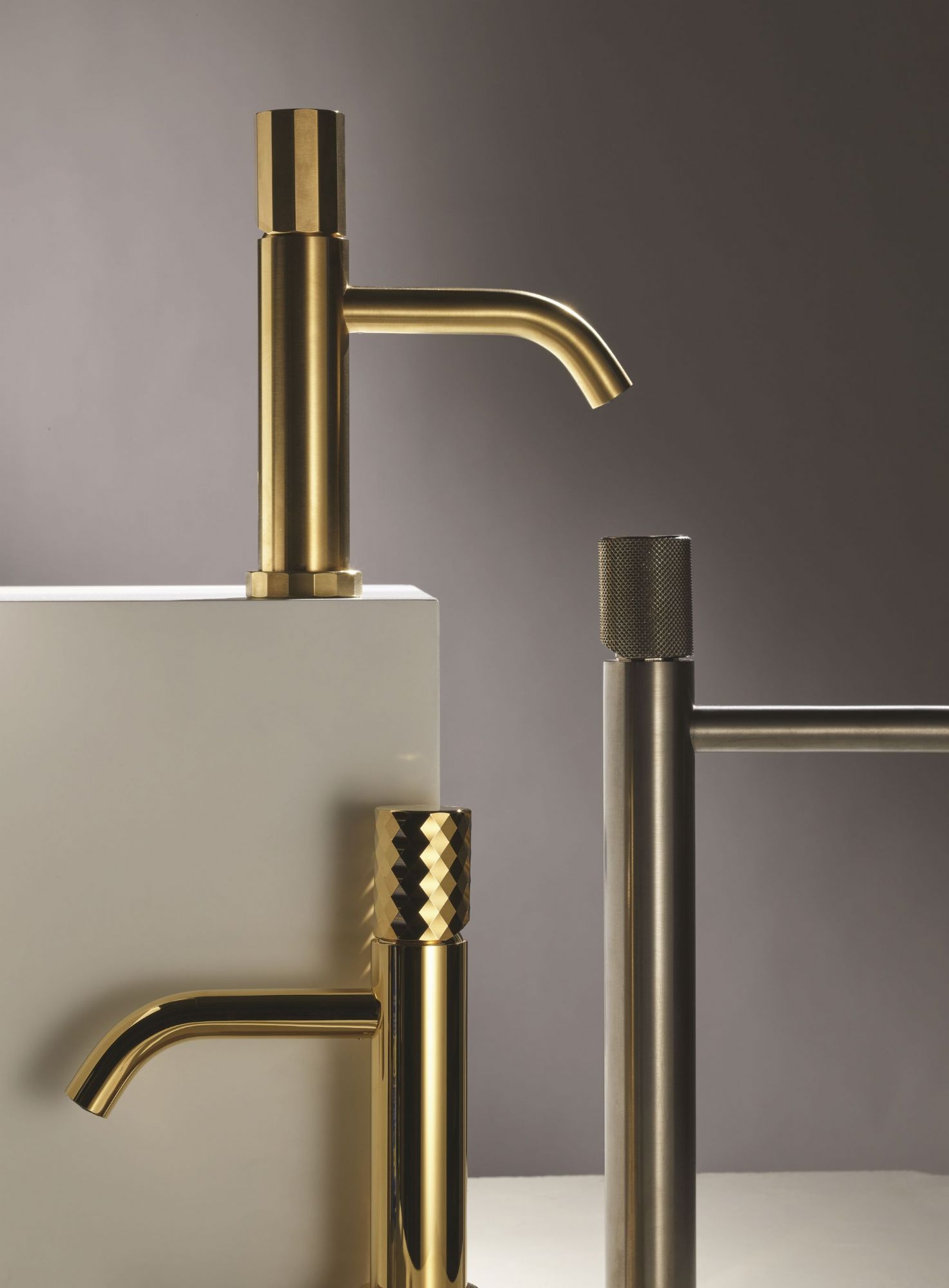 Shop the Spillo Tech range, available in eight finishes.
Original Bath Taps
The Original collection was first designed by John Hart, C.P. Hart's founder's son, and continues to exist as one of our most popular UK-made classical brassware ranges. Much like the Epoch range, Original utilises ceramic discs and operates on a quarter turn open and close action and is compatible with low-pressure water systems. Merging Edwardian design with its modern quarter-turn technology, Original brassware is rigorously manufactured to ensure durability and longevity while delivering a timelessly elegant edge to your interior.
The Original collection offers various bath taps, available as wall-mounted and deck-mounted configurations. Available in eight beautiful finishes, including chrome, polished gold, brushed nickel, copper, and weathered bronze, this range caters to all bathroom schemes.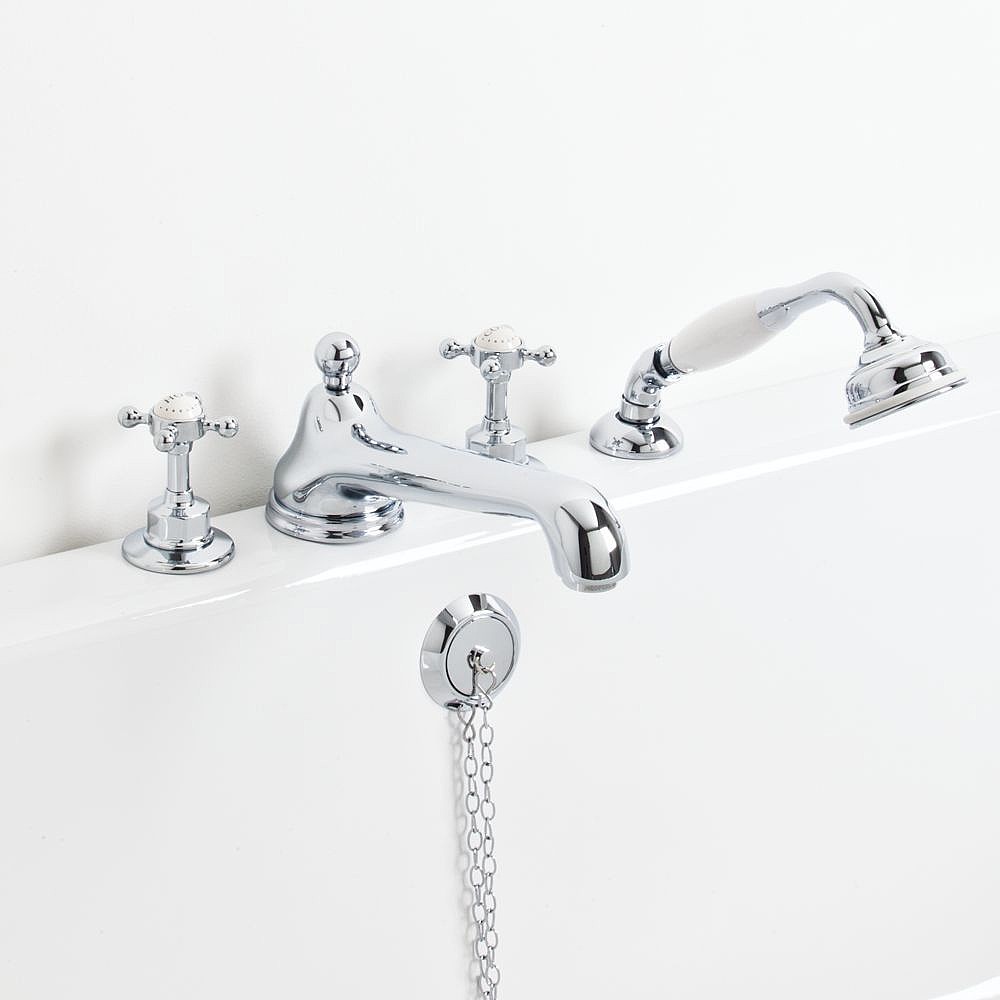 Shop the Original 4-Piece Bath Shower Mixer with Low Spout featured above in Chrome.
P1 Bath Taps
P1 is an exciting range of contemporary brassware, made in Italy exclusively for C.P. Hart. Inspired by industrial styling, P1 has a distinctly modern edge and a modular composition. Smooth, minimalist deck and wall-mounted bath taps are available with four architectural handle styles in four finishes of chrome, matt black, soft brass, and graphite.
The P1 handle options include 'Century', 'Chicago', and 'Manhattan', each with an individual take on an industrial cog or wheel handle, and 'Miami', a lever design featuring knurled detailing.
'The interest in industrial style shows no sign of abating, but we are definitely seeing the look become more refined. P1 speaks to this mood perfectly,' says Yousef Mansuri, C.P. Hart director of design.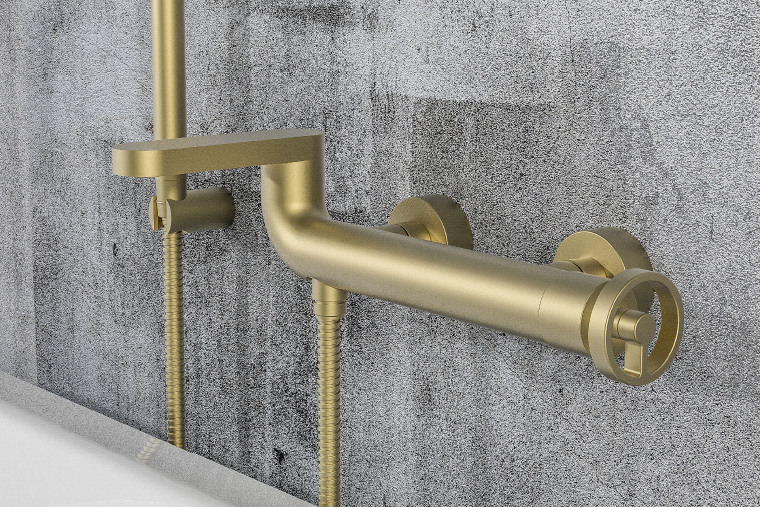 Shop the P1 Exposed Manual Bath and Shower Mixer with Manhattan Handle, featured above in the soft brass finish.
Arc Bath Taps
Arc is a traditional brassware range, characterised by its optional ceramic handle sleeves, available in black, white, and grey. The Arc Bath Filler exudes opulence with its combined spout and handle; the Arc Bath Shower Mixer, whether floor standing or deck mounted, includes a convenient rounded hand shower placed on a cradle that truly epitomises classical bathroom design.
Should you wish to transform your Arc Bath Filler into a floor-standing design as seen below, simply acquire the Original & Arc Floor Legs, sold separately.
The Arc range is a C.P. Hart exclusivity, and is compatible with low-pressure water systems.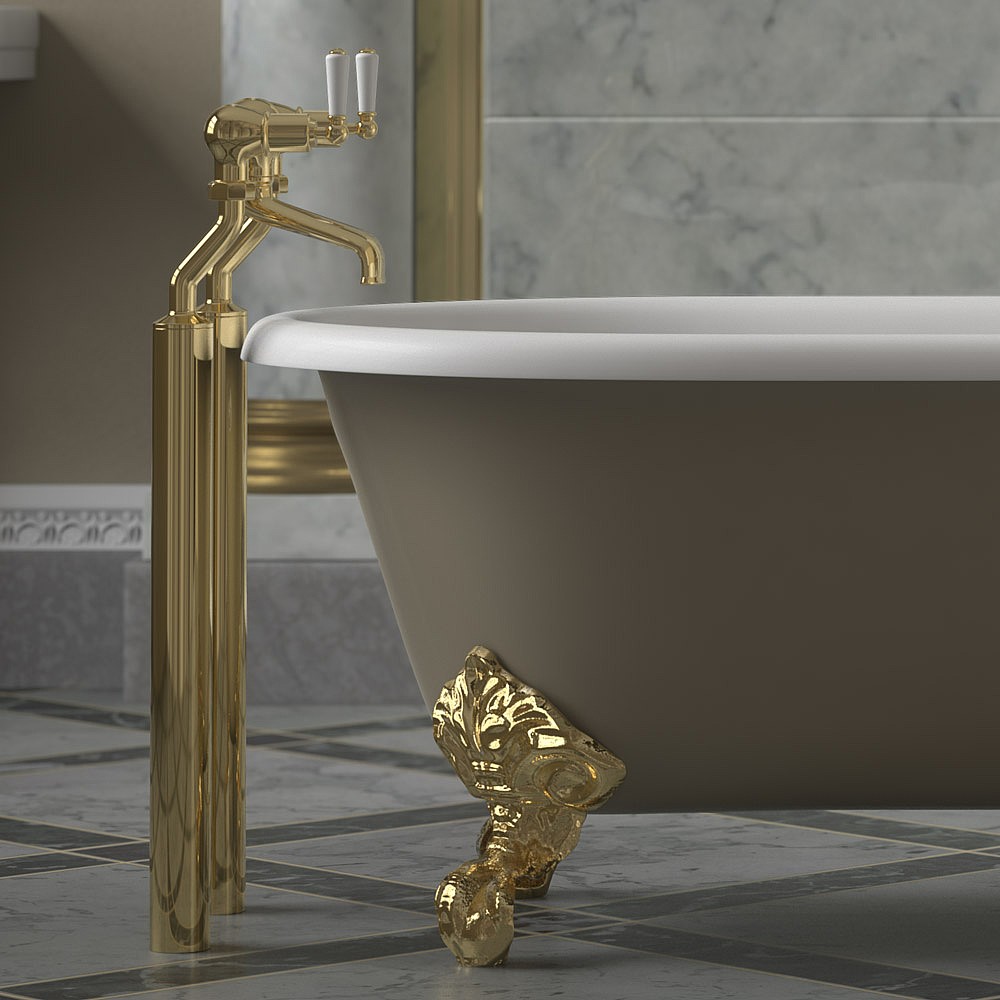 Shop the Arc Bath Filler and Floor Legs, sold separately, featured above in the polished gold finish. This brassware is paired with the Winchester Freestanding Bath.
Switch Bath Taps
Switch is our own-brand range that offers exciting technical innovations for a spa-like feel, expertly created to enrich your showering experience.
Exclusive to C.P. Hart, the Switch bath tap, designed in Italy by Davide Vercelli Design Studio, is independently activated by its own integrated on/off push button for uncomplicated use. The Switch bath tap, ideal for cutting-edge bathrooms with its innovative, minimalist design, is available in eight finishes, including chrome, matt black, and brushed nickel.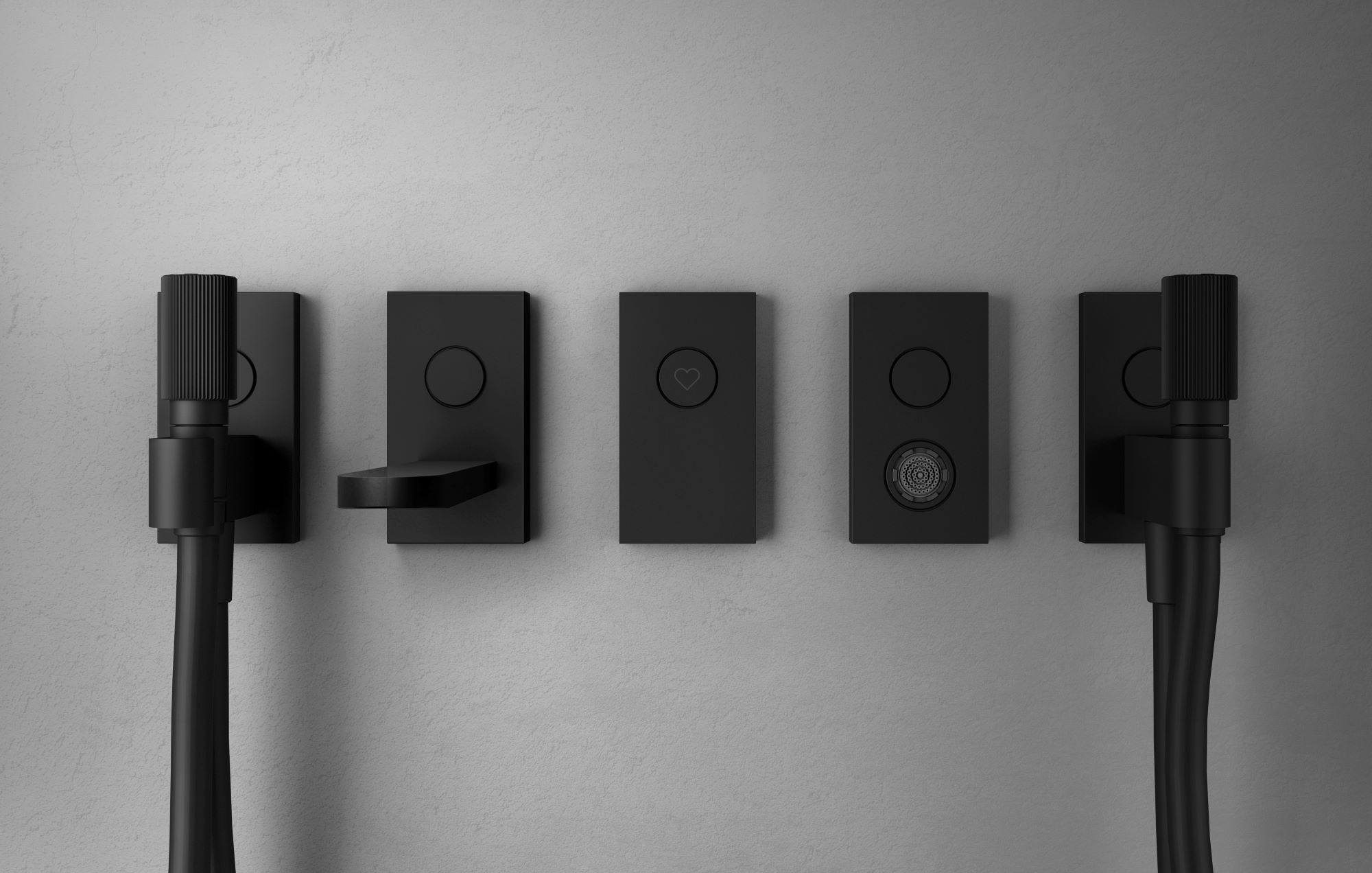 Shop the Switch Wall Mounted Bath Spout and explore the collection to create your own Switch setup with its interchangeable hand showers and body jets.
Admiral Bath Taps
The Admiral range's design took its inspiration from a ship's wheel and was the first-ever five-pronged tap on the market. Available as a combined bath filler, a 3-piece bath filler, a bath shower mixer, and as pillar taps, the classic simplicity of the lines and the peerless quality reflect the fact that this is a C.P. Hart original.
Precision manufactured from brass and featuring Admiral's distinctive 'Hot' and 'Cold' valve tops, this exclusive collection provides an eye-catching focus, available in various finishes for bathroom customisation.
Designer Bath Tap Collections
AXOR Bath Taps
Created in 1993, AXOR is a world-renowned manufacturer guided by three core values: avantgarde, personalisation, and perfection. Continually setting new standards for bathroom design, AXOR produces luxury brassware for the bath, basin, and shower with quality materials and innovative manufacturing techniques.
AXOR's collections are devised in collaboration with the industry's leading designers, including Philippe Starck, creator of AXOR Starck, AXOR Starck V, and AXOR Starck Organic, Antonio Citterio, designer of AXOR Citterio, AXOR Citterio M, and AXOR Citterio E, and Barber Osgerby, the British duo behind AXOR One.
Each of AXOR's expertly crafted ranges offers bath taps that cater to an array of interior styles, from the traditional features of AXOR Montreux to the modern appeal of AXOR Massaud.
We encourage you to browse our many AXOR collections online and in our showrooms – only first-hand inspection proves their true quality. Through a showroom appointment, you are able to explore over twelve of AXOR's FinishPlus surfaces to align the finish of your bathroom's brassware; our sales consultants are available to best match your chosen taps.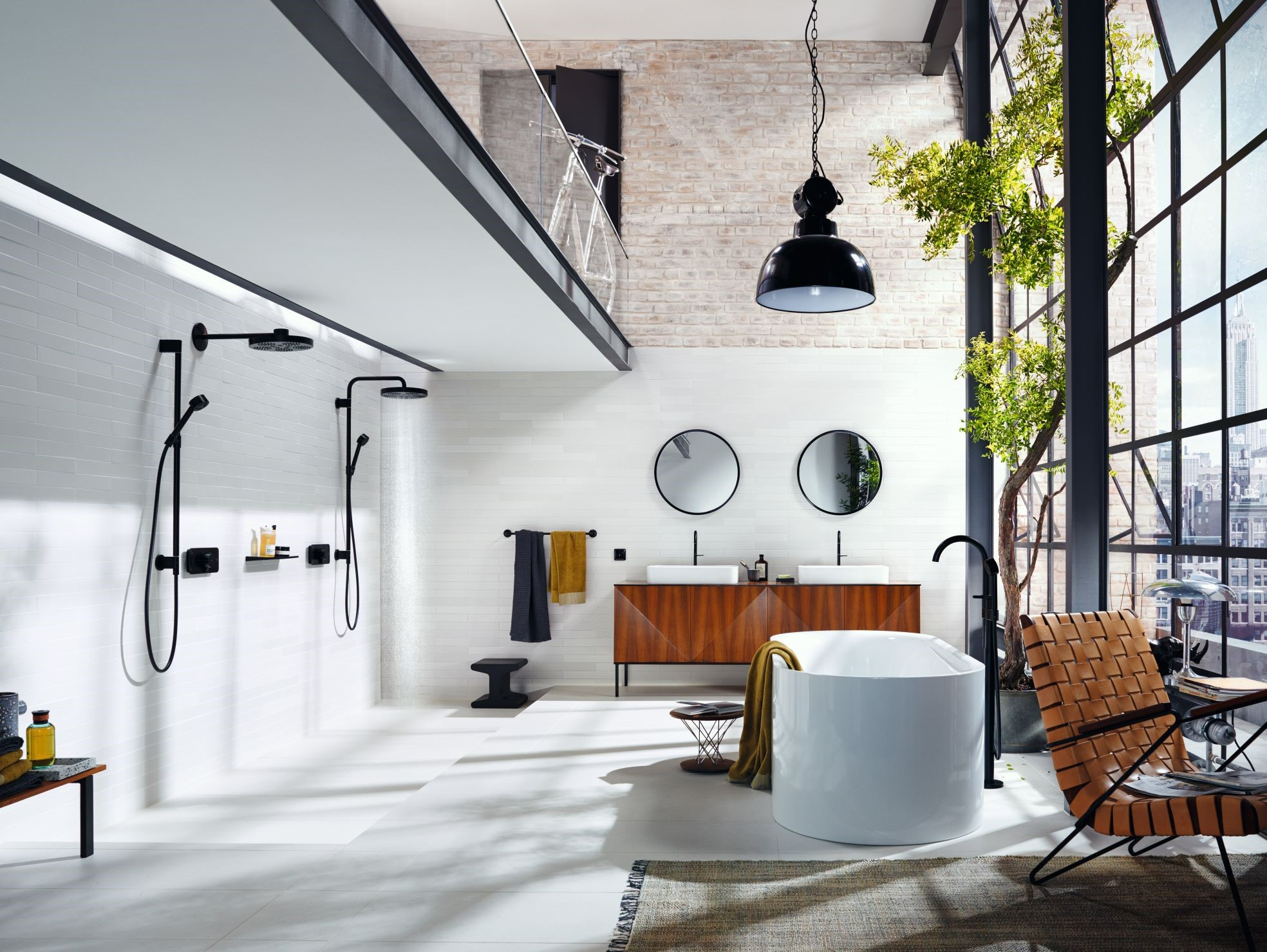 Shop the AXOR One Single Lever Floor-Standing Bath Mixer, featured above in the matt black finish.
Samuel Heath Bath Taps
Samuel Heath is one of the few remaining brands to create brassware entirely in the same factory, a Grade II listed building occupied by Samuel Heath since 1850. Where tradition meets technological innovation, Samuel Heath's brassware is created through a combination of precision machinery and the work of time-honoured, skilled craftsmen. The products' unmatched quality and hand-finished detail have gained Samuel Heath a global reputation.
One of Samuel Heath's most sought-after ranges, the Style Moderne collection takes design inspiration from the grace and glamour of the Art Deco period, with defined lines, facetted spouts, enhanced geometric shapes and stepped details for a truly classical appeal. The Style Modern range is suitable for all homes, requiring only a low-pressure water system.
Customise your Style Moderne brassware with black or chrome lever or cross head handles, available online and from our showrooms.
Shop the Samuel Heath Style Moderne Bath Shower Mixer, featured above in a North London bathroom renovation, recently designed by C.P. Hart. Please click here to explore this bathroom.
Crosswater Bath Taps
With over 150 years in the industry, it comes as no surprise that renowned architects and interior designers continually revisit Crosswater, owing to its exquisite styling, precision engineering, and superior performance.
MPRO and Kai Lever are two of Crosswater's most sought-after ranges, offering stylish technical solutions for the bath. Both collections feature the Crosswater's signature lever mechanism, available as bath fillers, bath and shower mixers, and five-piece bath mixers. The water pressure compatibility for Crosswater's ranges vastly depends on the style of tap, for example, deck-mounted bath fillers generally require a low-medium pressure, whereas freestanding bath mixers function best with a high-pressure system. Our C.P. Hart consultants are available to guide you to the best Crosswater products to help create the perfect bathroom solutions for your home.
While Kai Lever is only available in classic chrome, a universal look that fits most bathroom schemes, the Crosswater MPRO range offers bathroom customisation with an array of finishes, including the incredibly sleek matt black, as styled below in a recent project in East Sussex.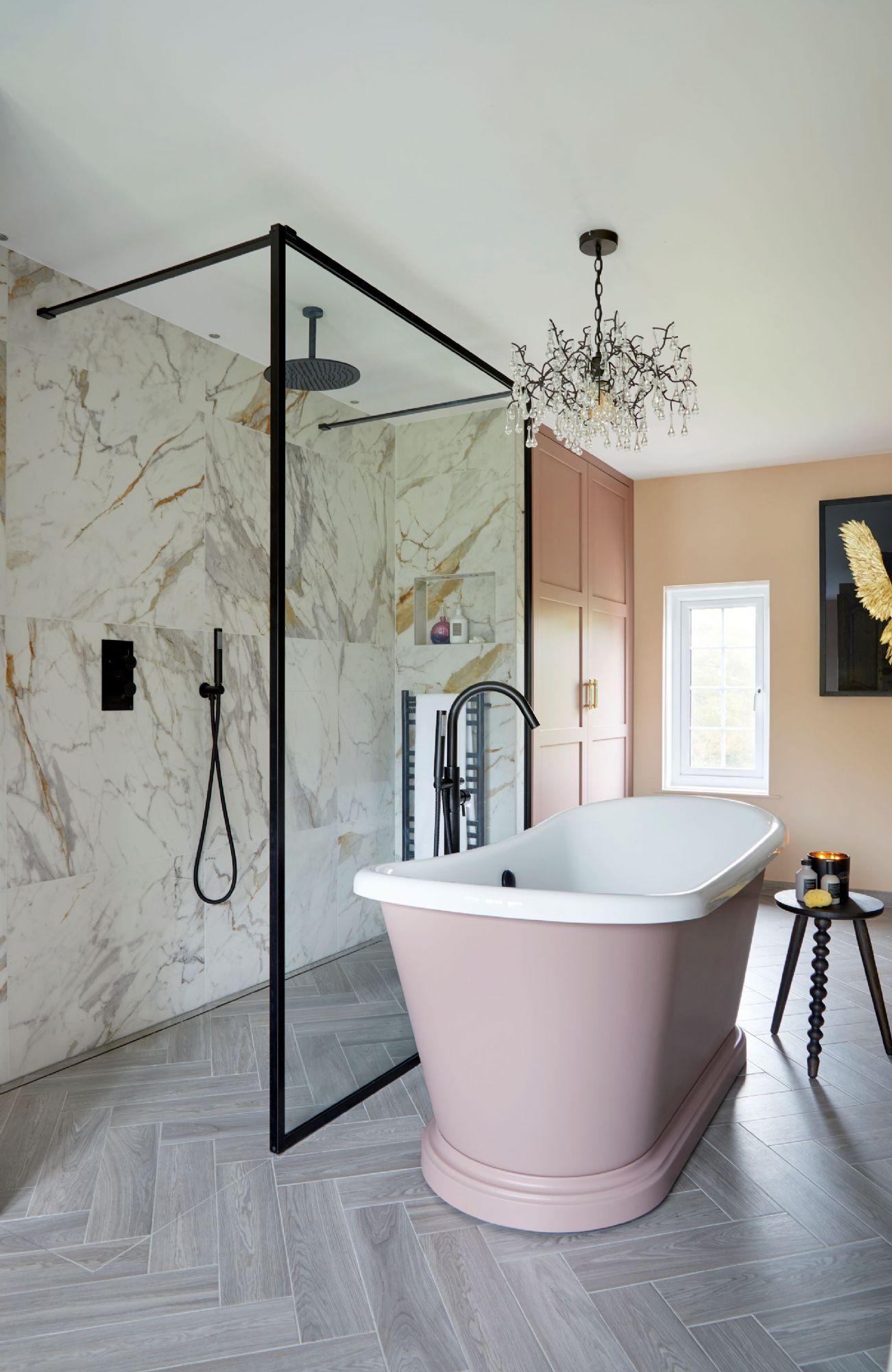 Shop the Crosswater MPRO Freestanding Bath Shower Mixer, featured above in the matt black finish.
Gessi Bath Taps
Gessi is globally acclaimed for its high quality and incredibly attractive brassware, manufactured to impeccable standards in Italy, where Italian beauty, design, and lifestyle is incorporated into each product. Interior designers, architects, and homeowners alike look to Gessi's in-demand collections for luxury bathrooms – their ranges' elevated designs, and the inspiration and development that go into them, set them apart in the bathroom industry.
The Goccia range, for example, draws design inspiration from the natural shape of water, featuring a smooth, droplet-like form. What's more, the collection is an eco-friendly creation, designed to save 50% of water without compromising on functionality.
Other popular bath tap ranges from Gessi include Cono, the cone-shaped range designed by Prospero Rasulo, and Eleganza, the art-deco-inspired collection that exudes sophistication and glamour in any bathroom. For further information on Gessi's ranges' pressure compatibility, please speak to a C.P. Hart consultant at your nearest showroom.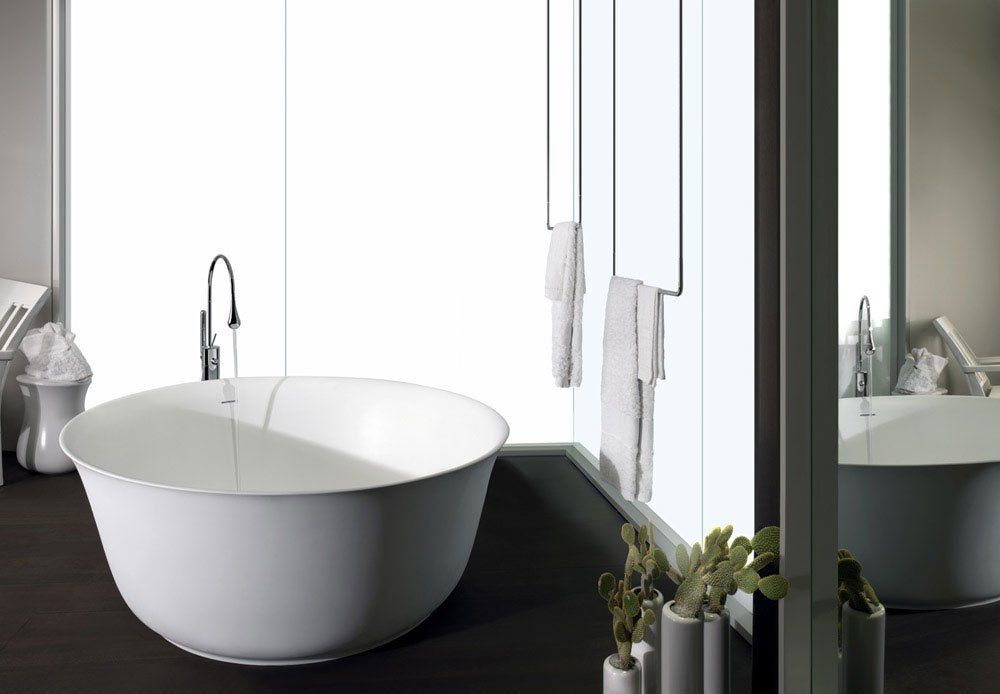 Shop the Gessi Goccia Thermostatic Freestanding Bath Shower Mixer, featured above in the chrome finish.
John Pawson by Cocoon Bath Taps
Cocoon combines great craftsmanship with exemplary design, creating luxury brassware, basins, and baths near the idyllic Lake Maggiore in Italy. Through cutting-edge technology and handcrafted, traditional methods, Cocoon continues to manufacture products in the brand's signature material of marine grade stainless steel. Stainless steel is often used in bathrooms due to its durability, hardwearing, and highly rust-resistant properties, as well as being easy to clean.
One of their latest collections, produced in this specialist stainless steel, collaborates with the award-winning British architect, John Pawson.
Founding his firm in 1981, John Pawson is often hailed as the 'father of modern architectural minimalism', a master of creating simple yet extraordinarily beautiful designs across many creative industries. His collection with Cocoon is yet another impressive name on his repertoire, sitting alongside fashion houses Jil Sander, Calvin Klein, and Christopher Kane, as well as many churches, residential projects, and hotels.
The John Pawson range for Cocoon comprises bathroom taps in three finishes of stainless steel, brushed gold, and dark grey, in addition to grand freestanding baths available in ten marble choices.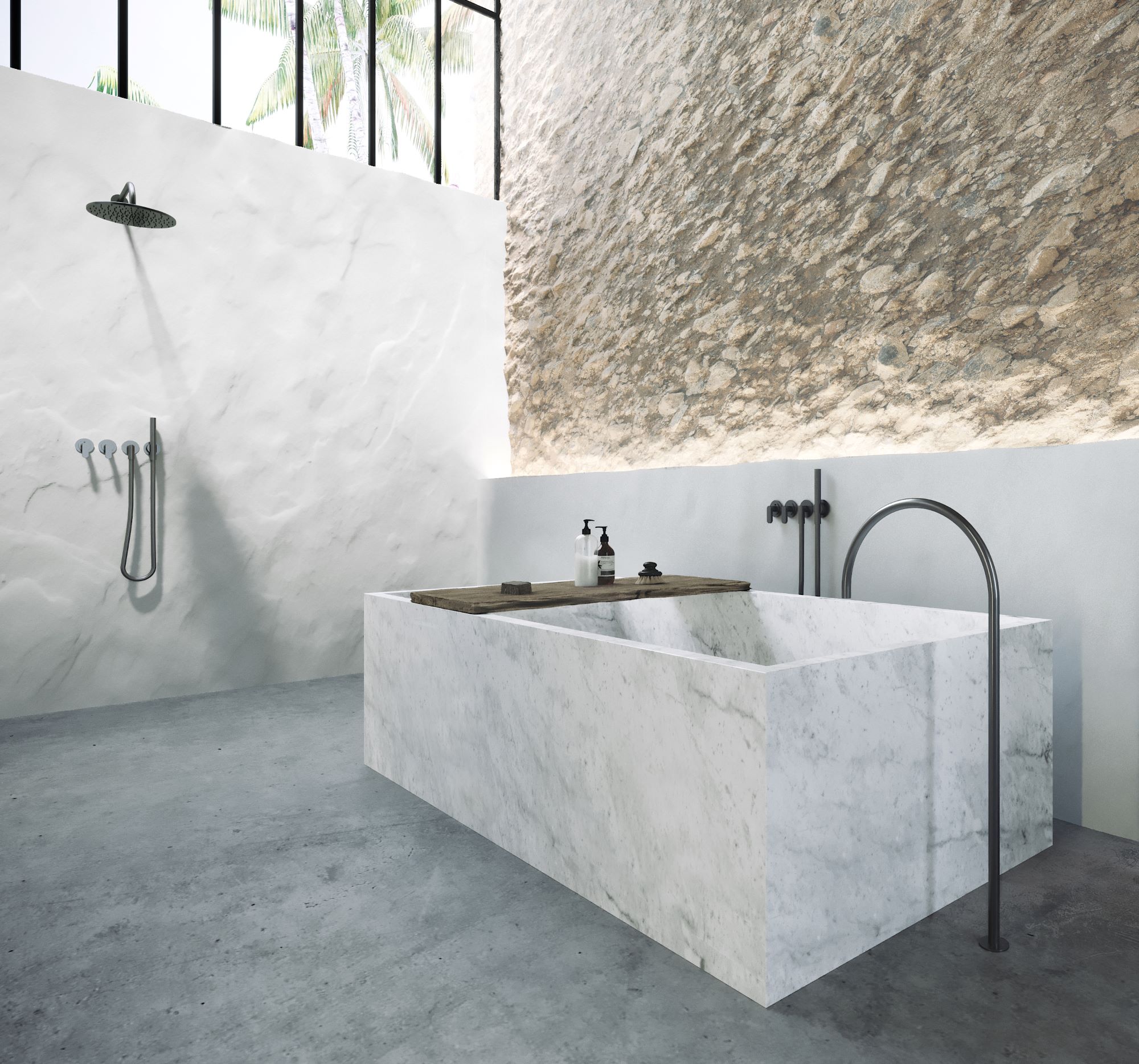 Shop the John Pawson Set 25 Thermostatic Complete Bath Set with Pencil Hand Shower, featured above in stainless steel.
Dornbracht Bath Taps
Dornbracht is a name that's synonymous with expert design, with each product engineered with quality and innovation. Dornbracht's many ranges cater to bathrooms of all styles; while some lean towards a traditional design, such as the elegant curves of the Madison collection, others exude a more contemporary feel, like the circular proportions of CYO. Sitting in between, Dornbracht has created ranges, much like VAIA, that take both traditional and modern design aspects, resulting in timeless products suitable for interiors of all styles.
Dornbracht's taps are created to provide a circular, air-enriched flow, with many ranges featuring an anti-scale system and integrated anti-twist protection with an intrinsic protection against back flow. To learn more about each range's pressure compatibility, please speak to a C.P. Hart consultant at your nearest showroom.
Should you wish to explore Dornbracht's taps in person, we welcome you to visit our specialised Dornbracht Design Studio, the UK's first, located at our flagship Waterloo showroom. The Dornbracht Design Studio presents an inspirational display of brassware for the basin, shower, and bath in varying finishes, including the below statement matt white freestanding bath mixer from the Bauhaus-influenced Tara range.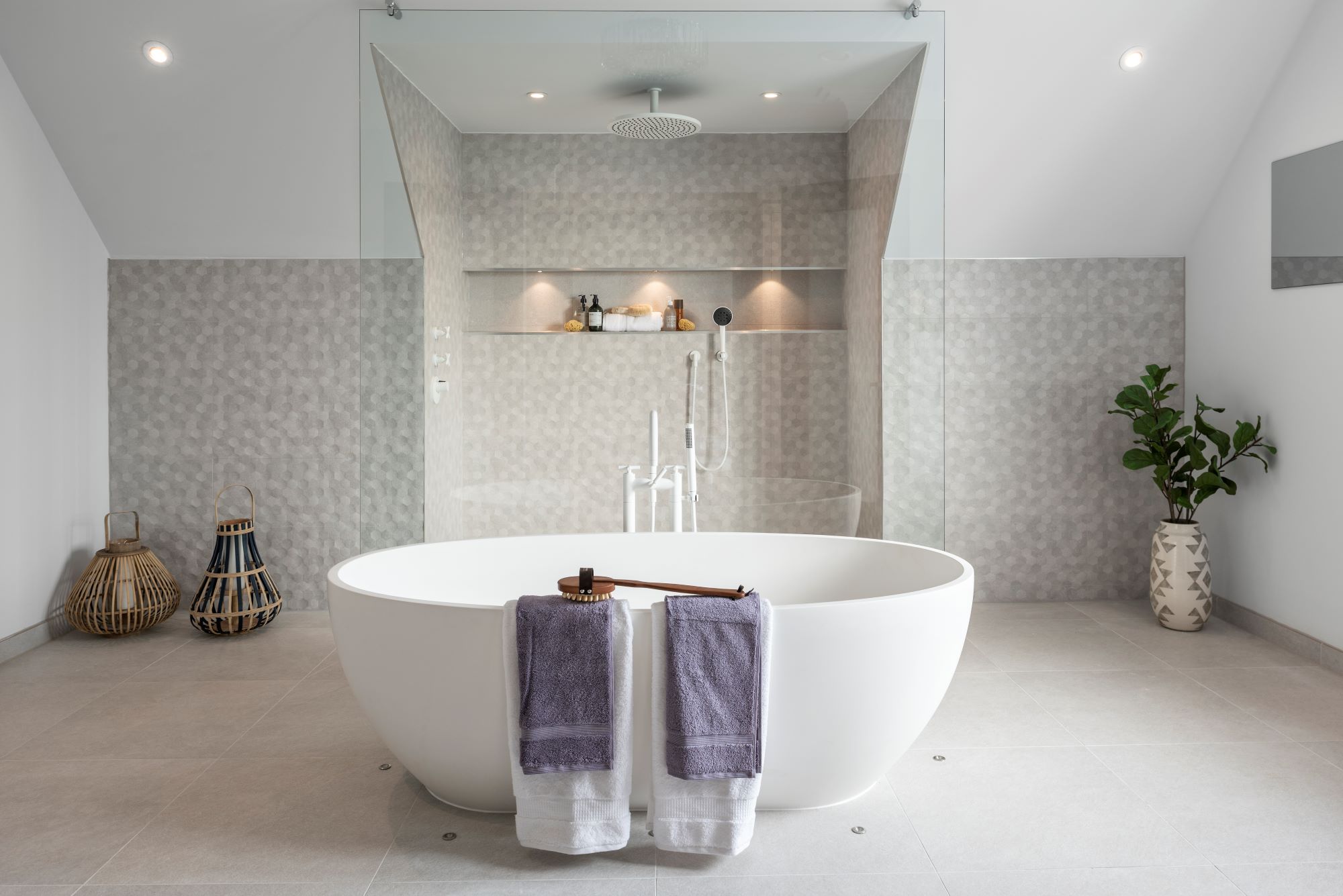 Shop the Dornbracht Tara Freestanding Two Hole Bath Mixer with Hand Shower in Matt White featured above, as seen in our recent residential project in Buckinghamshire.
Discover many more of our best-selling bath tap product ranges from leading suppliers and our own exclusive ranges online and in our showrooms. Should you seek further information, product specification or styling advice, our professionally qualified designers are on hand to help.
Please get in touch with your nearest showroom to book an appointment or to discover more about our award-winning design and installation services.