Luxurious Bathroom Designs for Large Spaces
There are some fundamental design decisions to be made when it comes to optimising large bathrooms. From the addition of spa-style baths and showers to cleverly integrated seating areas, please do read on for inspiration, recommendations, and expert design advice for styling a spacious
bathroom in your own home.
A large bathroom offers the luxury of incorporating plenty of features into your bathroom design. With a greater area to work with, you have the luxury of really allowing yourself to be creative and to curate a pampering retreat that perfectly suits all your requirements, whether you are planning a more functional family bathroom or a spa-like retreat to unwind in.
From sanitaryware placement to integrated seating areas and dressing rooms, our large bathroom design guide provides planning tips, distilled from our professionally qualified and award-winning design team.
Indulge in a freestanding bath
Placed in the centre of the room or perhaps to the side beneath a feature window, a freestanding bath is an excellent centrepiece for spacious bathrooms. From our sumptuous collection of design styles, you can choose to embrace the modern with sleek white gloss finishes or celebrate enduring classics with a roll-top bath or claw foot bath.
In recent years, the choice of material has become much more varied, and a large number of our freestanding baths can be painted to match your colour scheme. The Camden freestanding cast-iron bath, exclusive to C.P. Hart and featured below in a recent residential conversion, was painted a striking silver to complement the ocean-inspired blue tiling.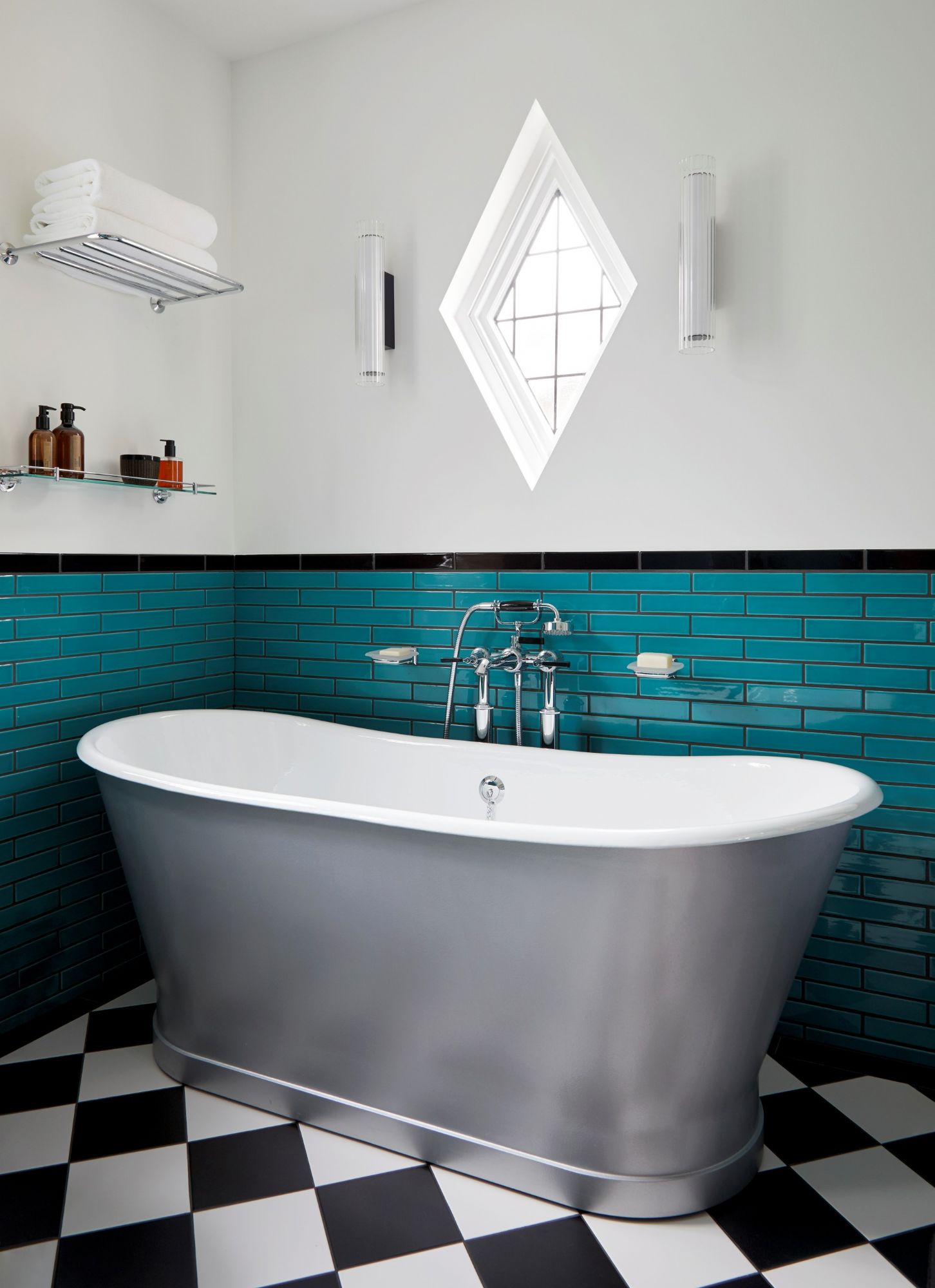 Shop the C.P. Hart Camden Cast Iron Bath featured above.
Create zone areas in your bathroom
With a large bathroom, there is a natural temptation to design the space with each component spread apart from the next. And, while the additional floor space can be advantageous, it is also easy to unintentionally make the room feel empty. Our director of design, Yousef Mansuri, suggests creating zone areas within the bathroom to section off different spaces. "Stud walls, wooden dividers, and glass screens are all excellent options for zoning off different areas of your large bathroom. Not only does this optimise the space, but it also creates additional privacy for the shower, bath, or vanity."
In a recent residential project in East Sussex, the C.P. Hart design team built a stud wall into the bedroom to create the bathroom below. With the newly extended bathroom, the team was able to install a bespoke wardrobe on either side of the shower so that the homeowner could also use the room for dressing.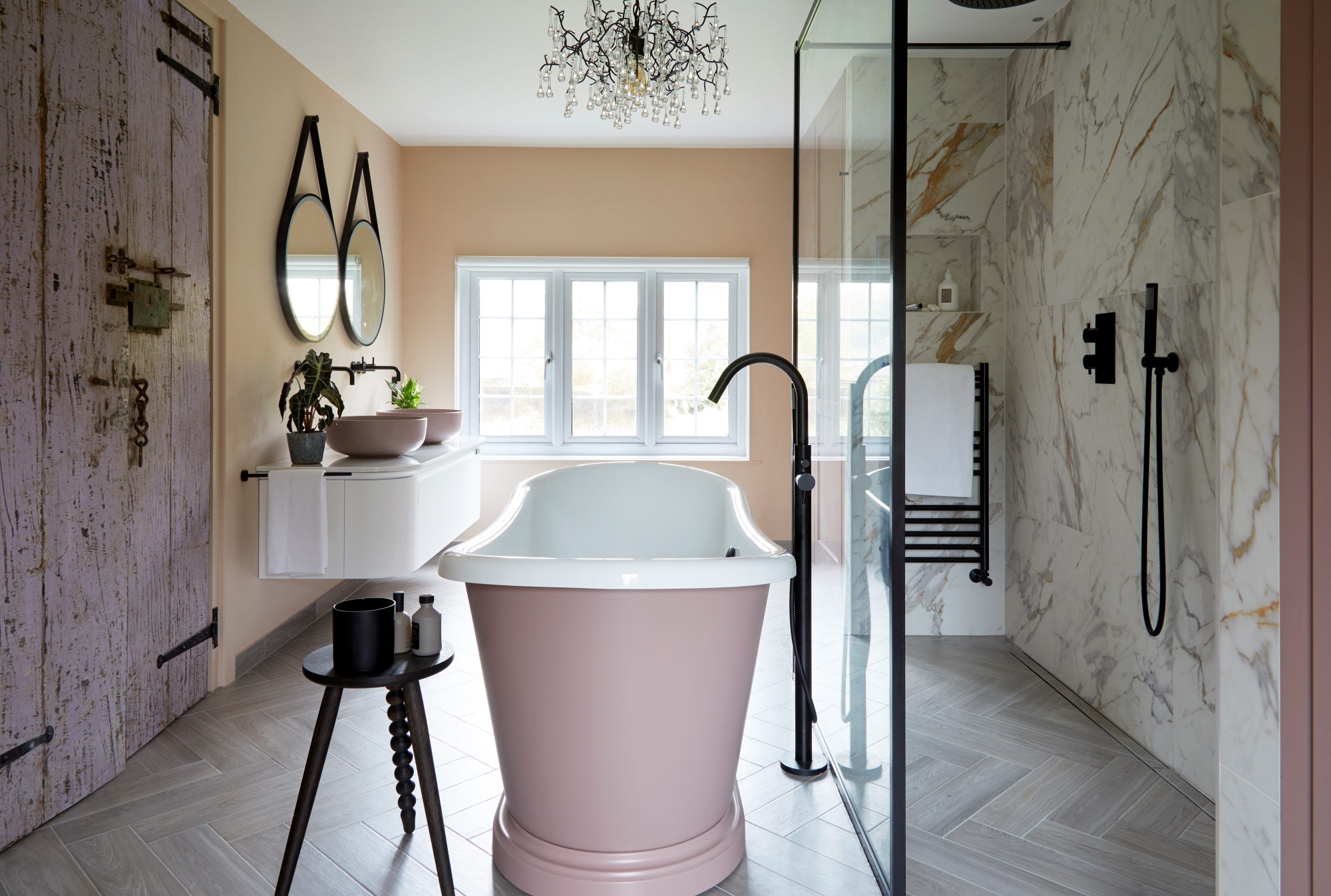 Shop the Cielo Era washbowls and the Crosswater MPRO 3-Piece Wall-Mounted Basin Mixer and Freestanding Bath Shower Mixer featured above.
Bring living space into the bathroom
If floor space is no object, adding a seating area into your large bathroom effectively creates a stylish and multi-functional space. Opt for an occasional sofa or, if size allows, form a dressing room area with a dressing table, wardrobe, freestanding bathroom cabinet and comfortable seating.
Wyfold Court, a recent project in a Grade II listed Victorian mansion located in the heart of Oxfordshire, was such a large bathroom that the C.P. Hart design team divided the space into two to create an opulent dressing room area. They positioned the large freestanding nickel bath beneath the stunning Victorian windows in the dressing room to tie both rooms together.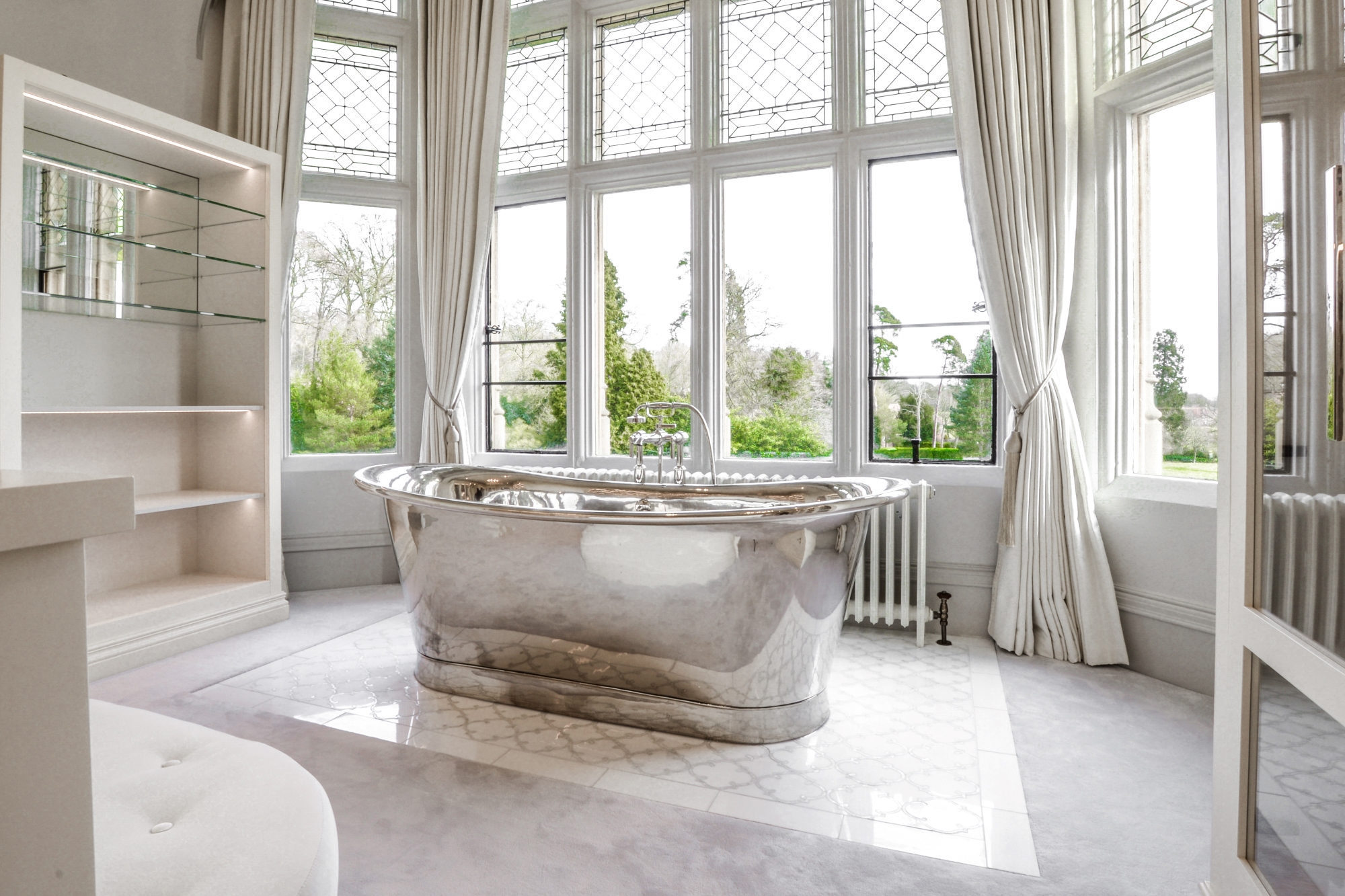 Shop the Samuel Heath brassware featured above.
Combine colours and textures in your bathroom
"Don't tile everywhere," says Yousef Mansuri, C.P. Hart's director of design. "Mix your tiling with painted walls or even wallpaper – the varied surfaces will create softness in a large space, where all-over tiling can be quite harsh."
Decorating bathrooms in white or light colour schemes can make smaller rooms appear bigger. Larger bathrooms, however, can afford to be more daring with their colour schemes, so don't be afraid to match a few colours or patterned tiles to see what effect it creates.
Burma Road, a recent residential project, underwent a master bathroom transformation, incorporating geometric Domus Tiles to complement the grey and natural wood scheme.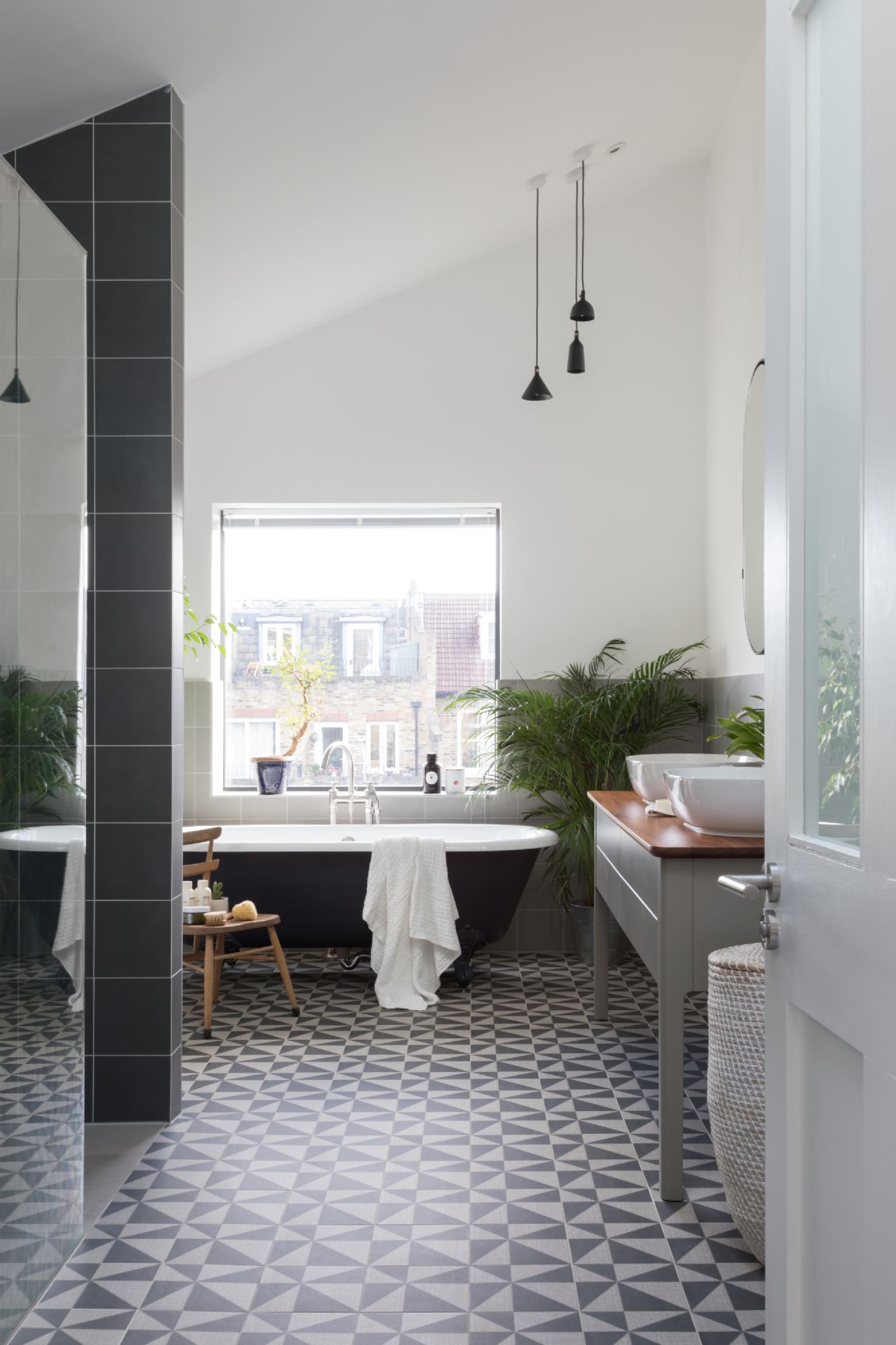 Shop the Duravit Luv Washbowl and Dornbracht VAIA brassware featured above.
Install a large vanity unit with double basins
A significant number of our large bathroom projects choose to install two sinks, ideal for both couples and families where more than one person uses the room. Vanity units, cabinets, drawers, and small wardrobes are excellent places to store towels, bathrobes, soaps, cosmetics, and spare bathroom necessities. "Large bathrooms are perfect as sharing spaces - for couples, double basins on a double vanity unit provides convenient storage, and double showers are perfect for families," Yousef Mansuri suggests.
Furnishings and accessories are the finishing touches that allow you to really add your personality to the design. This approach is particularly beneficial in very spacious bathrooms, allowing your chosen basins and mirrors to impact the design significantly. "I also love seeing artworks in large bathrooms – too often we just do not lie back to appreciate the art we love," says Yousef Mansuri.
The C.P. Hart design team created this stunning bathroom for a Victorian residential home in Wimbledon. The space was so extensive that the team decided to install two separate bespoke vanity units as opposed to the traditional one, positioned on either side of the fireplace to accentuate the original feature.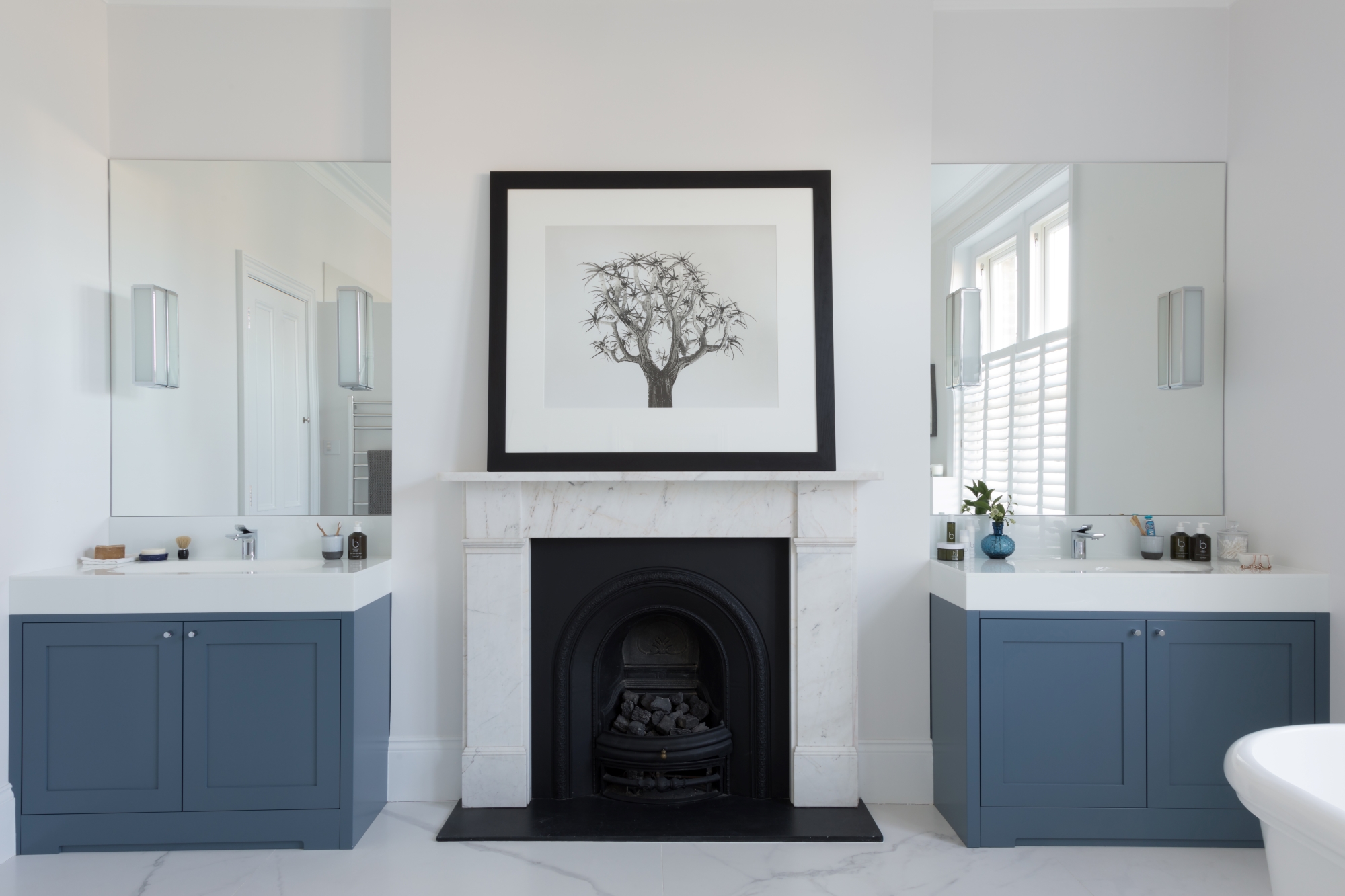 Explore the Artelinea range of both classic and contemporary vanity units. Bespoke options are available – simply speak to our sales consultants for further information.
Create a spa bathroom
Is your bathroom a place for you to recharge? If so, you may consider amplifying its spa features - creating a spa bathroom is a way of bringing ultimate relaxation into the home. Large bathrooms are perfect for incorporating wellness elements, such as steam rooms and saunas; to do so, look to Effegibi, one of the leading manufacturers of at-home saunas that offers the perfect combination of technology and style.
To discover more about creating a haven in your home, please do browse our 'Sanctuary' supplement, available to download from our 'Brochures' area. In partnership with Homes & Gardens, 'Sanctuary' is a wellness-focused supplement filled with pages of bathroom inspiration, including the latest style trends, the most sought-after product edits, stunning case studies, and advice from extraordinarily talented designers on creating the perfect escape.
Add luxurious lighting
Lighting is crucial for setting the desired ambience in a bathroom, regardless of its size. When working with a lot of space, you have more freedom with your lighting choices. Transform a dark room with an elegant statement chandelier light that complements chrome or brass fixtures and fittings or create a more serene effect by adding chic drop pendant lights over a freestanding bathtub. For bathrooms near the top of the house, a skylight or floor to ceiling window will fill the room with natural light.
LED lights are an impactful way of injecting brightness into the grooves of your bathroom. For example, the below bathroom, a recent residential project on London's South Bank, has LED lights fitted into the bathroom's alcoves, creating a gentle glow in the large room when the main lights are dimmed.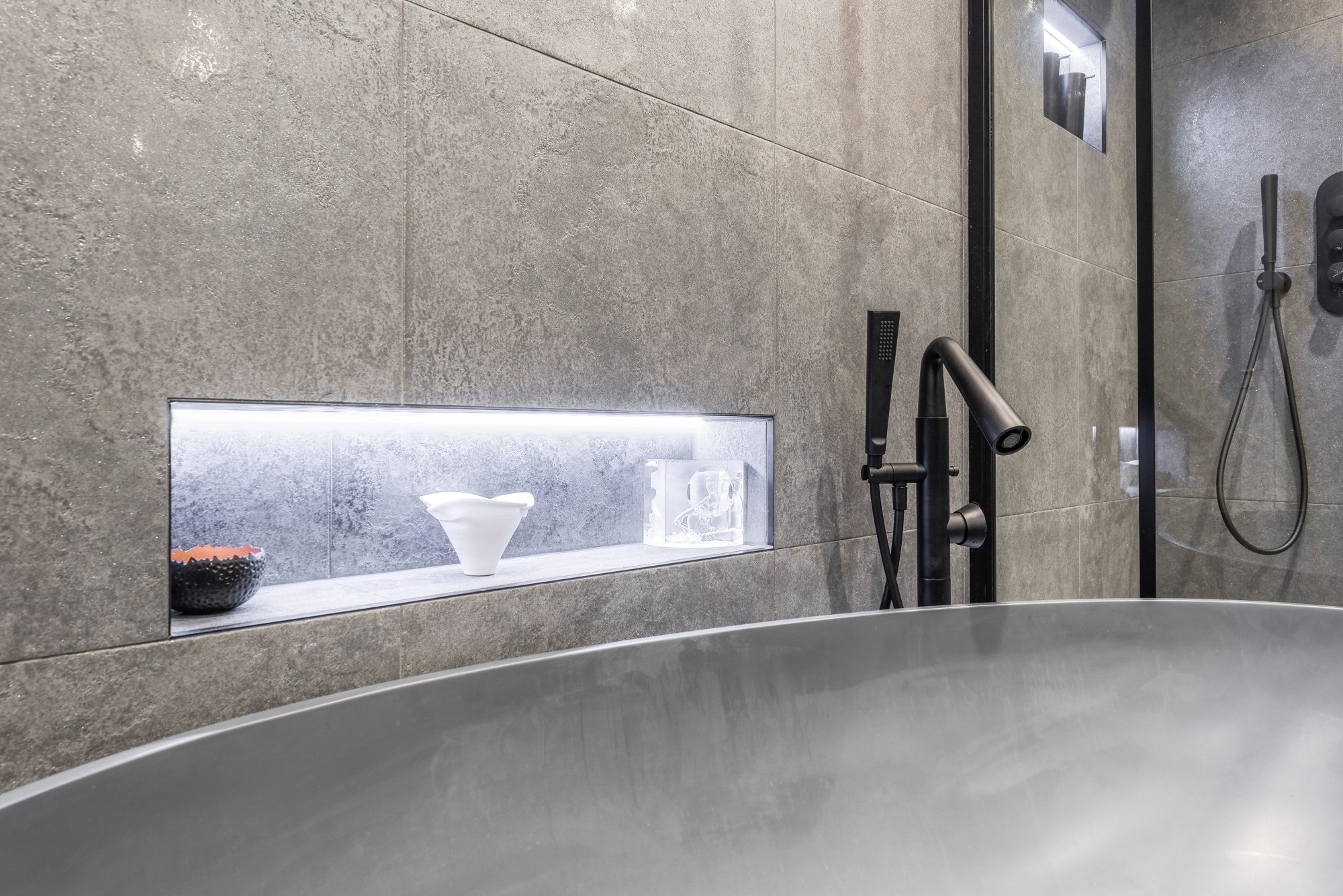 Shop the Gessi Cono range, featured above.
Integrate nature into your bathroom
Another advantage of larger bathrooms is that they can almost become garden extensions. Plants in bathrooms are calming as well as beautiful, and many plants thrive in humid bathroom environments, such as hanging eucalyptus inside the shower enclosure. If you love to feel at one with nature, adorn your bathroom with hanging plants, ornamental flowers, and peaceful palms.
The owners of Wyfold Court chose to install a living wall in their spa bathroom. "We had the idea to create an exotic spa experience, almost as if taking a moonlit shower in the middle of a forest," explained the design team. Created from dried moss and fern, the living wall is a striking focal point set amongst the all-black tiling and sanitaryware.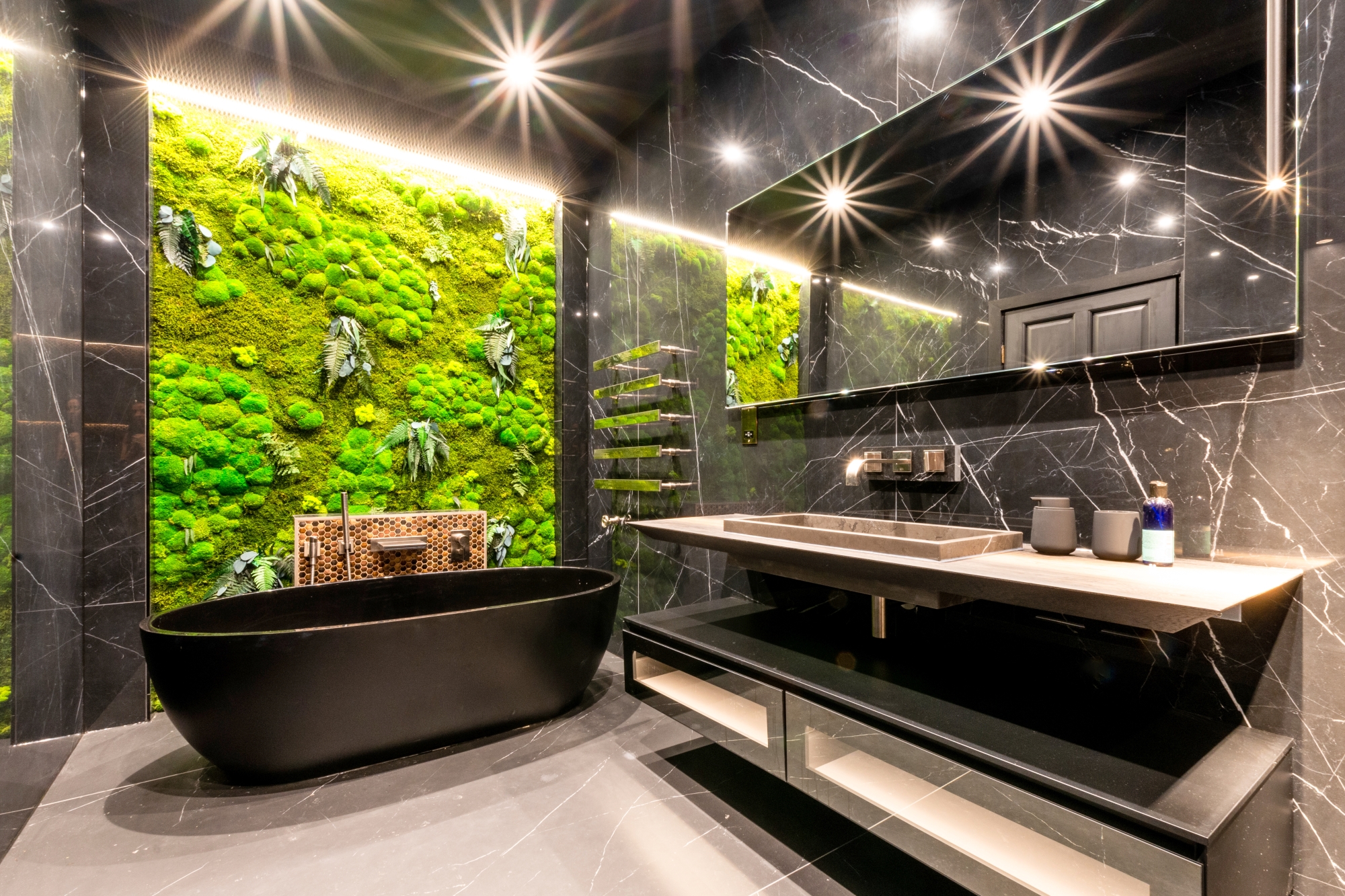 Shop the Dornbracht MEM brassware in a platinum matt finish featured above.
There are countless options for styling and decorating a spacious bathroom to your preference and taste. We hope these recommendations have inspired you to elevate your large bathroom design. Our professionally qualified designers are on hand to help advise you on your next bathroom project, from pulling together mood boards to creating technical 3D drawings of your space. Please get in touch with your nearest showroom to discover more about our award-winning design and installation services.