18/05/17

The modern bathroom is fast becoming a room that is aligned, stylistically speaking, with the rest of the house. It's no longer simply a relaxing sanctuary that's closed off and tucked away – it's a highly personalised, accessible space that's as individual as its owner. These sentiments rang true at the exhibISH event last Thursday held at C.P. Hart's flagship Waterloo showroom.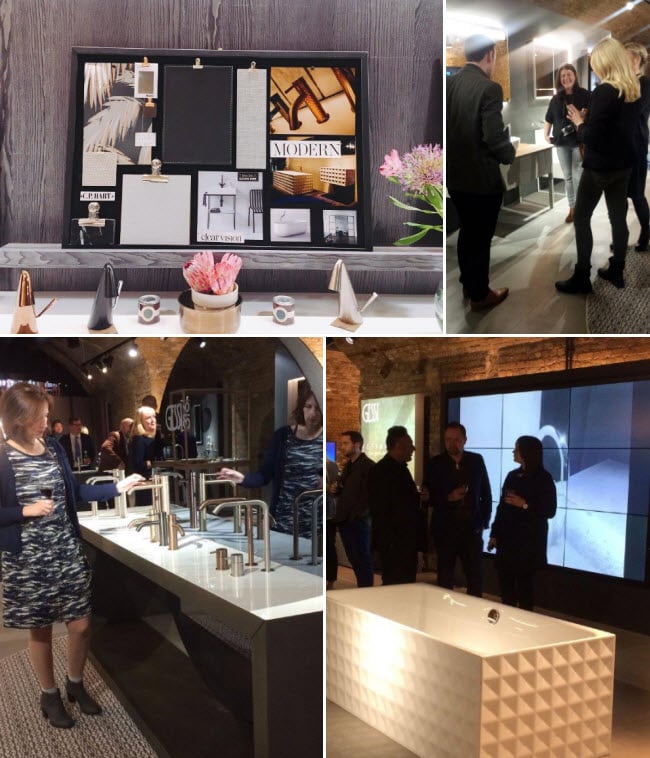 Over the course of the day and into the evening, we were joined by 120 design professionals and interior influencers, keen to get up close and hands-on with the most groundbreaking products showcased at this year's ISH – the world's leading bathroom and heating trade fair held once every two years in Frankfurt.

So, what did our displays reveal about the trends that are certain to make an impact in the bathroom world? Here's a round-up of the standout themes we'll be seeing a lot more of over the coming year:

Tactile Textures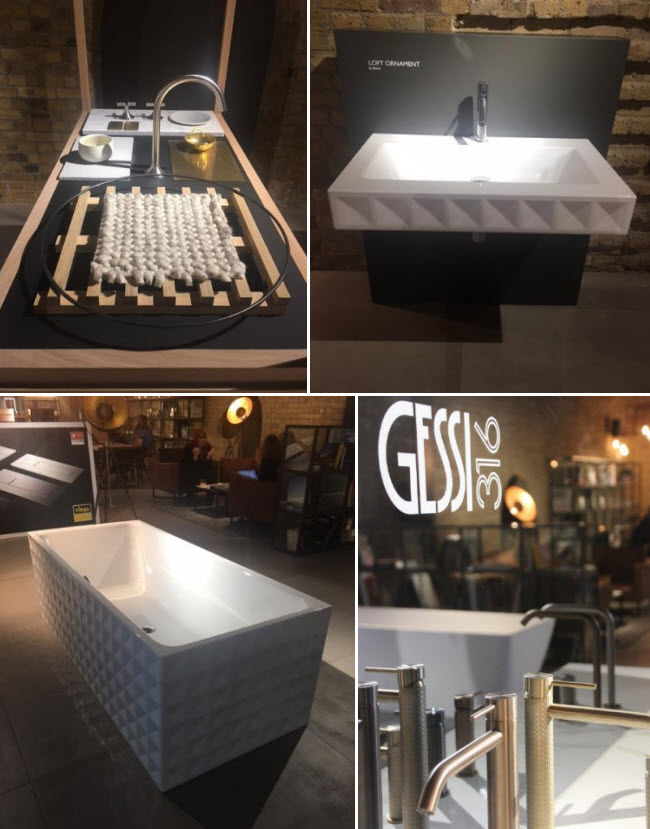 Texture and tactility were very much the watchwords in Frankfurt, with surfaces ranging from the ultra smooth, to perforated and embossed. Textures, prints, and patterns in bathroom furniture have been around for a while, but we are now beginning to see it in brassware, too. They're more tactile and, crucially, personalised and unique. We're also beginning to see strong representations of silk and satin finishes in glass.

The 316 tap collection byGessi flaunts exquisite detailing, with quilting and dimples punctuating the body of the taps, giving the fixtures originality and warmth. With expressive names such as Intrecci and Cesello, Gessi's newest creations were never destined to be shrinking violets. Beyond the decorative pattern, the taps are made from 100% stainless steel, which lends an air of permanence and luxury.

Bette Loft designed by Tesseraux + Partner is an exciting collection that makes a strong, geometric statement. Crafted from glazed titanium, the faceted rows adorning the bath and washbasins create a playful contrast between light and shadow.

Metals and Marbles



Chrome fixtures have always garnered a strong following, however, warm metallics are an increasingly prominent feature in the modern bathroom. Gessi, Dornbracht and Axor offer distinctive finishes such as polished brass, dark platinum matte and brushed copper to add a contemporary aesthetic to your decor. These rich shades work particularly well on the dramatic silhouette of Gessi's Rettangolo K range – a rework of the original iconic outline – and the cylindrical minimalism of Axor Uno.

Marble basins are given a sleek makeover by Cielo, with six beautiful stone finishes seen on their Shui Comfort and Le Giare collections. From the elegant Carrara Statuario through to the intensity of the black-and-white-veined Breccia Arabescata, the timeless nature of these pieces ensures they'll last a lifetime.

New Romance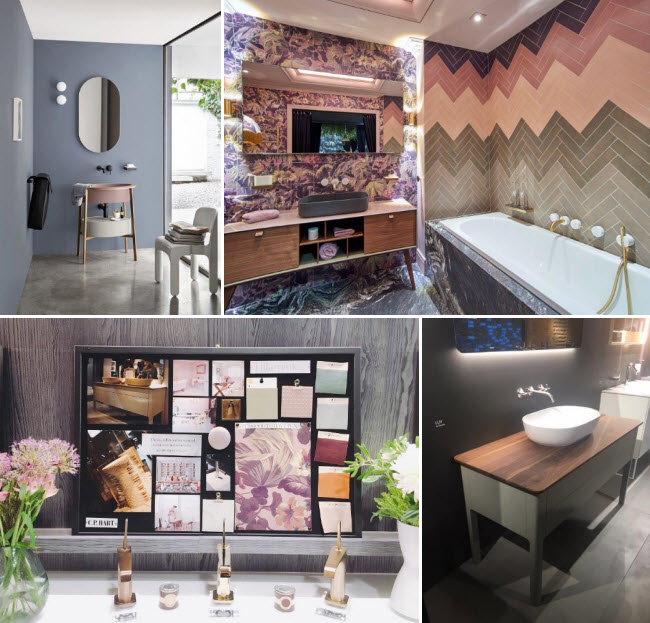 Pantone's colours of the year in 2016, Rose Quartz and Serenity, continue to leave a trail of romance behind them. Pastels and romantic hues are paired with warm metallics and soft textures to create dreamy surrounds. Pops of colour are muted, making way for a beautiful harmony of tones. Think walls painted in Pink Ground by Farrow and Ball, or swathed in House of Hackney's Limerence wallpaper in Quartz Pink.

Duravit unveiled their Luv collection of bathroom furniture at ISH. Designed by Cecile Manz – the acclaimed designer's first foray into the bathroom – the collection embodies the trend for Scandinavian-inspired products and finishes in the bathroom. Comprised of soft shapes, subtle shades and natural wood, it's a delicate collection all about emotional elegance.

The Bathroom Reinvented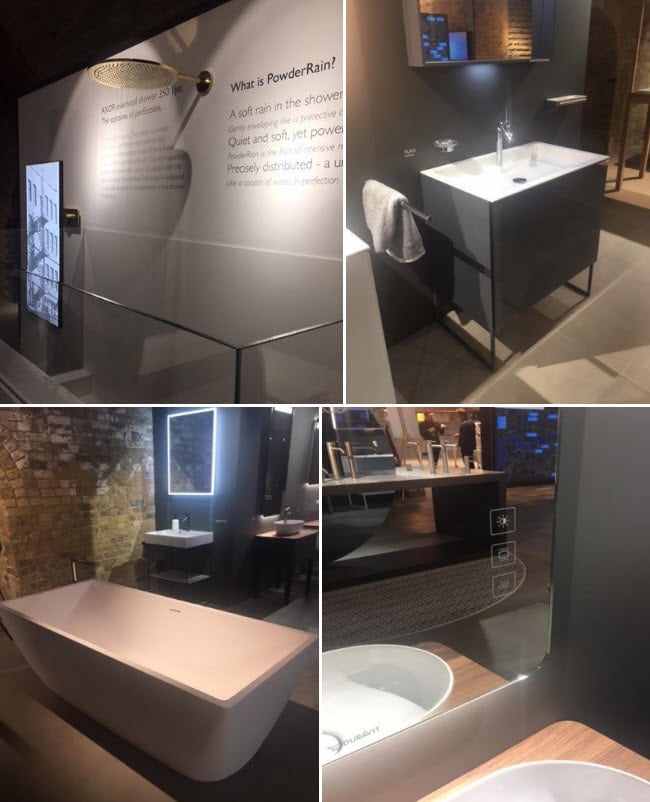 While the bathroom is undoubtedly evolving to become an individual and personalised space when it comes to style, the same can also be said from a functional point of view. Intelligent lighting, sensory showers and chic organisational elements help make the bathroom an even more pleasurable environment to spend time in.

In showerheads, Hansgrohe continues to innovate with their Axor Powder Rain overhead shower, which emits a fine, almost mist-like spray, tapping into the trend for all things 'wellness' in the bathroom.

Meanwhile, Keuco launched their Royal Lumos mirror cabinet, which is sure to make the morning grooming routine a breeze. LED lighting shines from within the translucent frame – this gives the cabinet an appearance of weightlessness, seemingly hovering in front of the wall. Installed semi-recessed in the wall, it offers generous storage space for everyday necessities. Also presented by Keuco, the Plan collection effortlessly combines form and function. The washbasin furniture is characterised by clean lines, a monochrome colour palette and handleless fronts for truly modern appeal.

To see the best of ISH 2017 and these stunning collections in person, visit our flagship Waterloo showroom.