Salone del Mobile 2022 Trend Report
Fluted timber, oversized mirrors, outdoor showers: Salone del Mobile, Milan, recently celebrated its 60th exhibition, a global stage shining a light on the latest and most notable interior trends.
One of Milan's most authoritative design fairs, Salone del Mobile 2022, exhibited 2,175 brands, of which 27% were international, to a record audience of over 262,000. With a presence from both world-leading manufacturers and 600 young designers, the return of the fair promised to inform and inspire designs for all areas of living.
We are pleased to share our six most prominent bathroom design trends, as defined by Yousef Mansuri, C.P. Hart's Director of Design.
Fluted Timber
Nature has woven its way into bathroom designs for many years, this year intertwining with the ever-popular fluted trend. Salone showcased a remarkable number of natural fluted designs, with timber being the prevalent material.
Timber in vertical flutes, horizontal stripes, and wrap-around bands featured on furniture, wall coverings, and room dividers, varying in tones from pale through to dark, accentuating the natural qualities of the wood.
Wooden fluted finishes were displayed on Artelinea's Plissé range (top left) and IdeaGroup's Dolce Vita collection (bottom, second right). Other exhibition stands used the trend as part of their room sets, demonstrating how the texture creates a point of interest whilst warming the scheme.
"Although fluted textures have been a trend for some time, timber, specifically, is now in the spotlight. A natural material with added depth and interest, try including this simple effect in the form of furniture or wall coverings - the latter can also assist with acoustics and minimise unwanted noise. A win-win!"
Yousef Mansuri, C.P. Hart Director of Design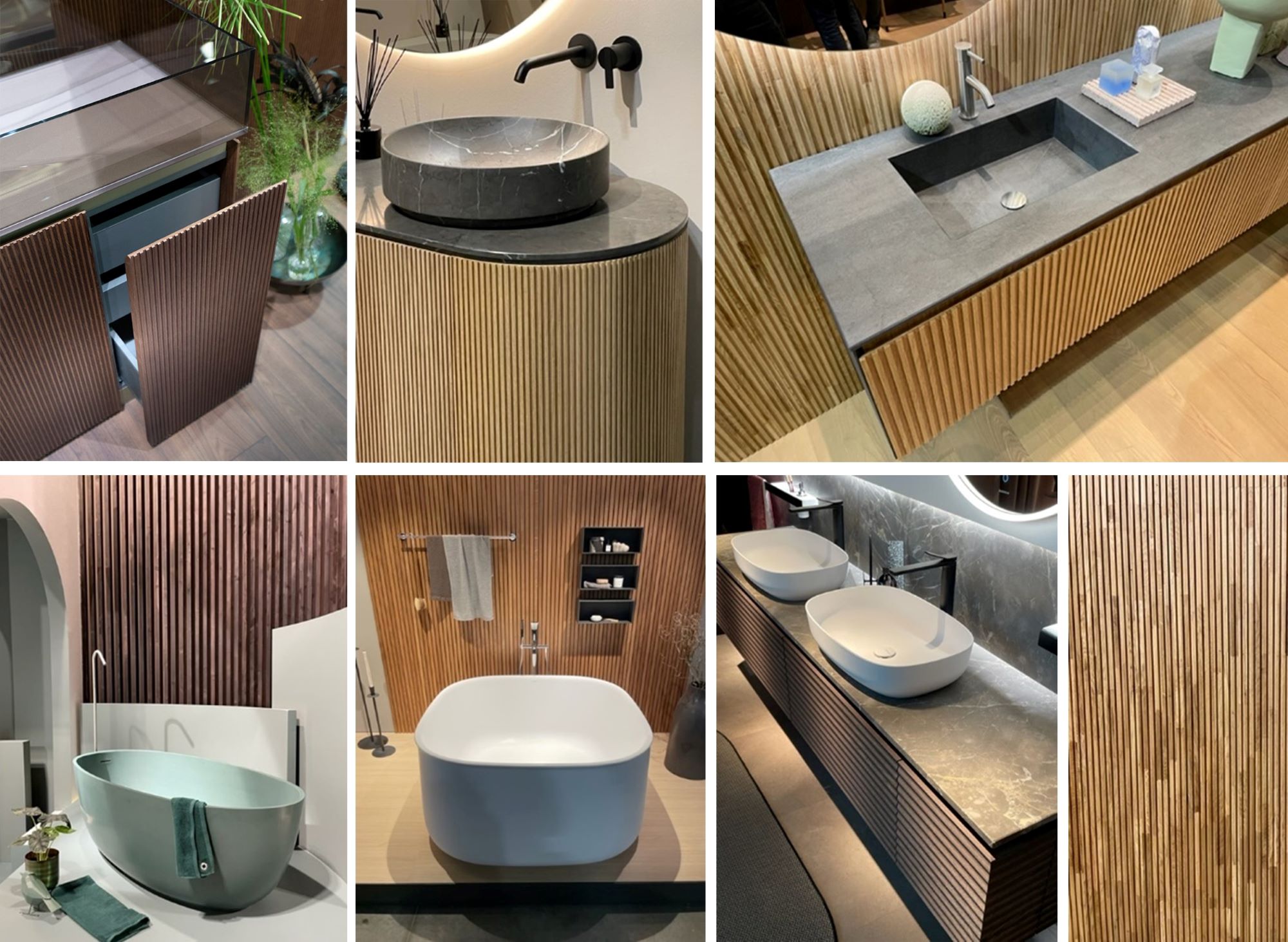 Salone Fluted Timber Trend
Oversized Showers & Mirrors
Oversized showers and Artelinea's dramatic mirrors (bottom left, bottom right) created the sense of a larger, more open space, doubling up as not only functional but also decorative bathroom products.
Shower walls, shower enclosures, wetroom panels, and toilet dividers reached as high as 2.4 metres, stylishly framed, many with industrial crittall-style frames, to give a bespoke, built-in aesthetic. Electronic clear-to-opaque glass (top left) proves the industry's dedication to technological advancements, an impressive feature for every modern-day bathroom.
"Utilising the full height of a space can give an impressive sense of grandeur. Don't be afraid to add borders, creating a bold and unapologetic vision for showers, room dividers, and mirrors alike."
Yousef Mansuri, C.P. Hart Director of Design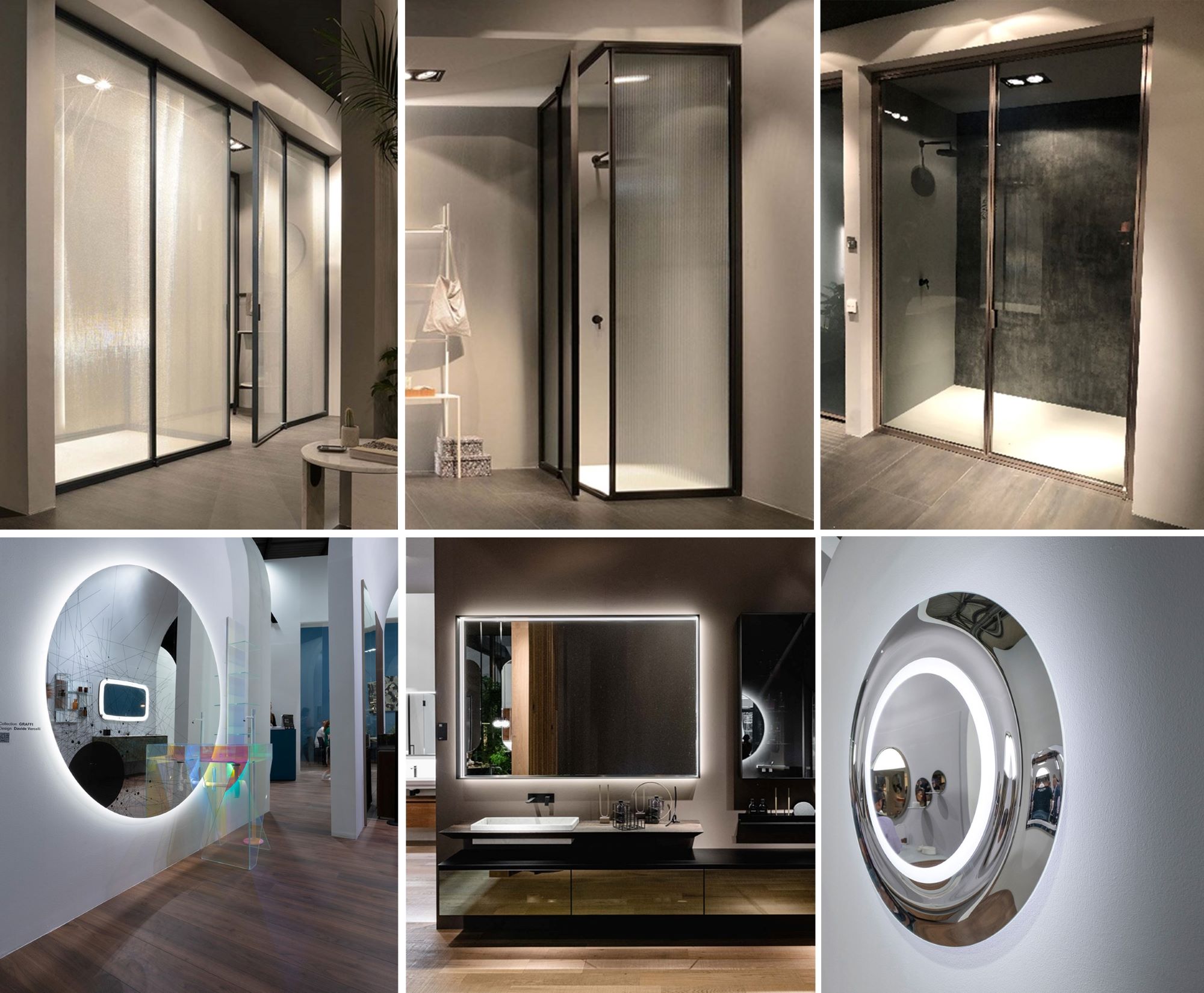 Salone Oversized Mirrors Trend
Retro Revival
Retro Revival, as seen in our Maison & Objet Trend Report, adds effervescent flair to the bathroom through energetic tones of red, terracotta, brick, and caramel. A combination of block colours and playful patterns occupy basins, furniture, and walls, whilst shapes are reminiscent of past decades, notably the 1970s.
Gessi's new Origini brassware collection (top left) and the Axor One brassware range (bottom right) presented 70s-style spouts with an eclectic choice of retro colours, such as coral and yellow. A clever take on the fluidity of light, Artelinea launched Dicroico, a series of basin stands made from transparent holographic glass (top right), which shift in appearance as you move around them.
"The Retro Revival trend transports us back to the 1970s through modern interpretations of its shapes, colours, and patterns. Use this trend to inject a little fun and nostalgia into the home."
Yousef Mansuri, C.P. Hart Director of Design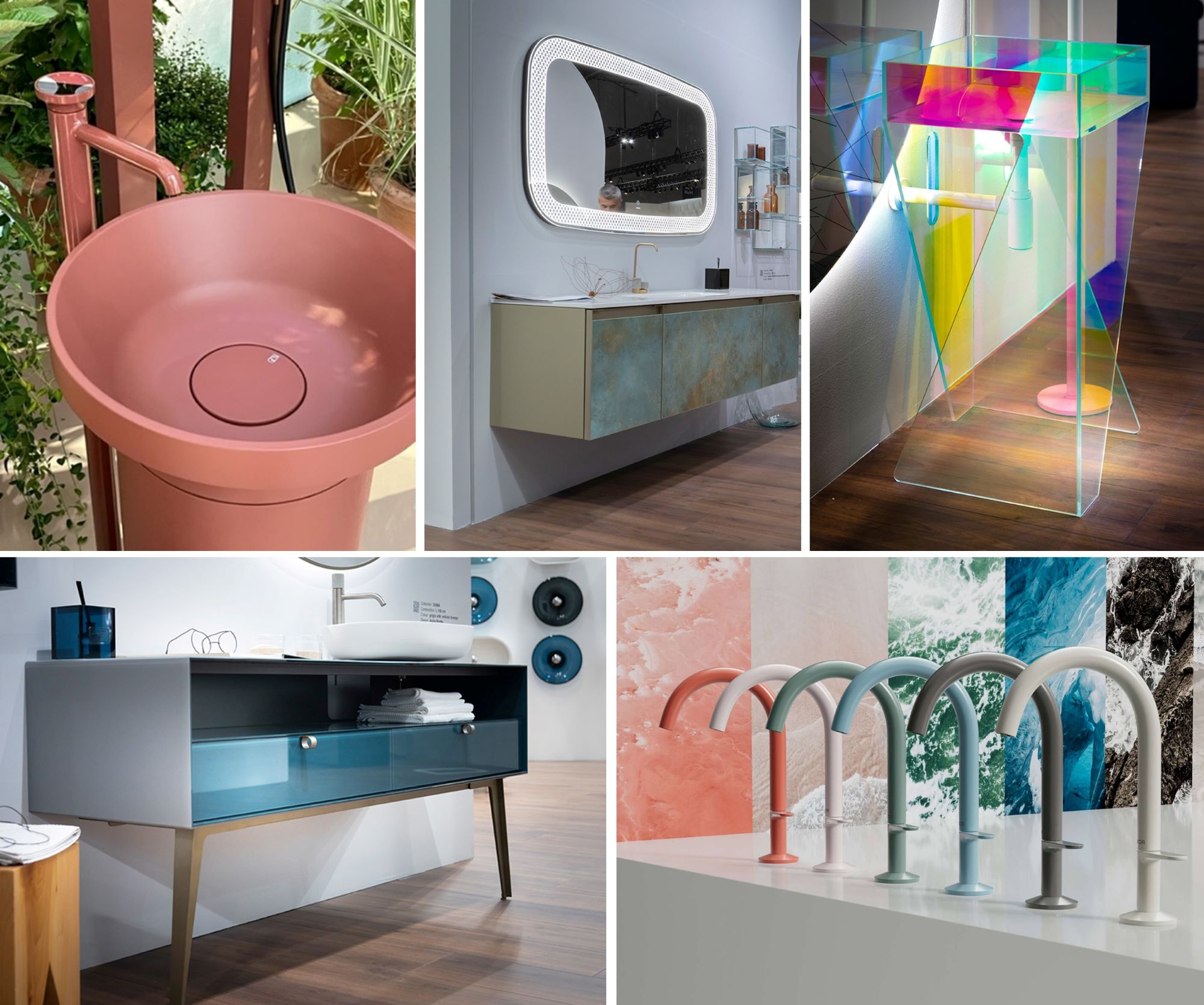 Salone Retro Revival Trend
Outdoor Living
The past few years have seen a growing interest in all things "outdoors". As such, many homeowners are seeking wellbeing solutions with fresh air at the fore. Salone presented a selection of new outdoor products from several of the industry's most respected makers.
Transforming your garden into a tranquil escape doesn't necessarily require a complete garden remodel. Gessi and Fima, for example, have introduced easy-to-install outdoor shower ranges (bottom row), where showering in the open air, be it flooded in sunlight or under the stars, creates a tremendous sense of wellbeing.
The WaterDream range (top left) by Italian wellness experts, Effe, reimagines the use of water outdoors, where mini whirlpools with ambient lighting provide a pleasant space to unwind. To complement, Effe's new outdoor sauna range, Cabanon, (top right) captures the original spirit of the sauna, reinvented for outdoor use with various sizes and finishes available.
"After years of 'bringing the outdoors indoors', the idea is now flipped. Not enough space in your bathroom? No problem - pimp your outdoor space with an outdoor sauna, outdoor shower, or even a mini pool."
Yousef Mansuri, C.P. Hart Director of Design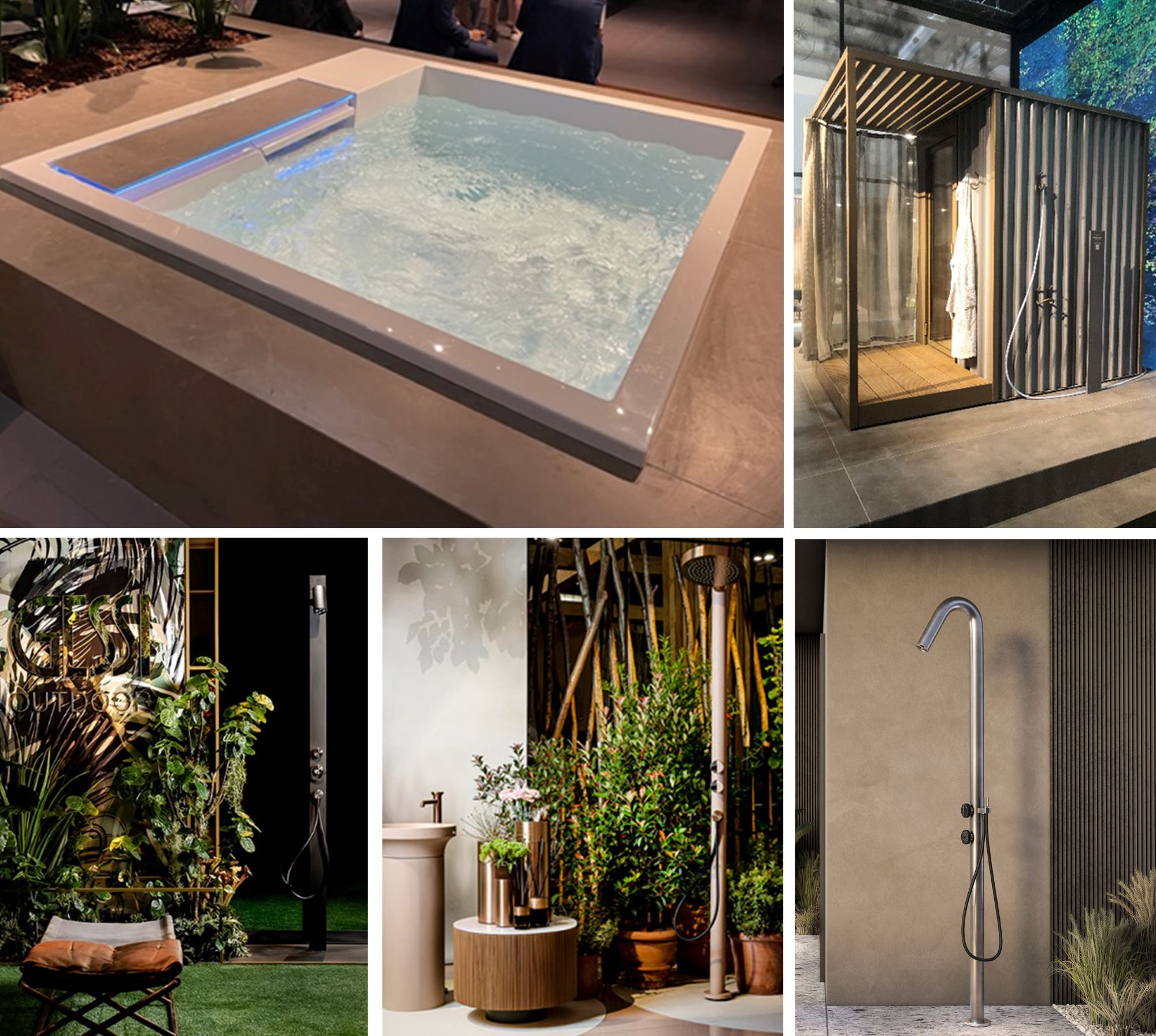 Salone Outdoor Living Trend
Freestanding Designs
Sculptural freestanding designs do well to add panache to any bathroom scheme – inviting shapes and intriguing textures that you can't help but touch.
Salone exhibited many floor-standing basins and furniture units crafted from glass, marble, stone, metal, and ceramic in an array of striking colours, such as the Glass Designs basins paired with sleek freestanding mixers (bottom right).
"Sculptural freestanding basins are a great way to obtain added interest, working particularly well in cloakrooms. Play with colours, textures, and form to create something memorable, even in the smallest of spaces."
Yousef Mansuri, C.P. Hart Director of Design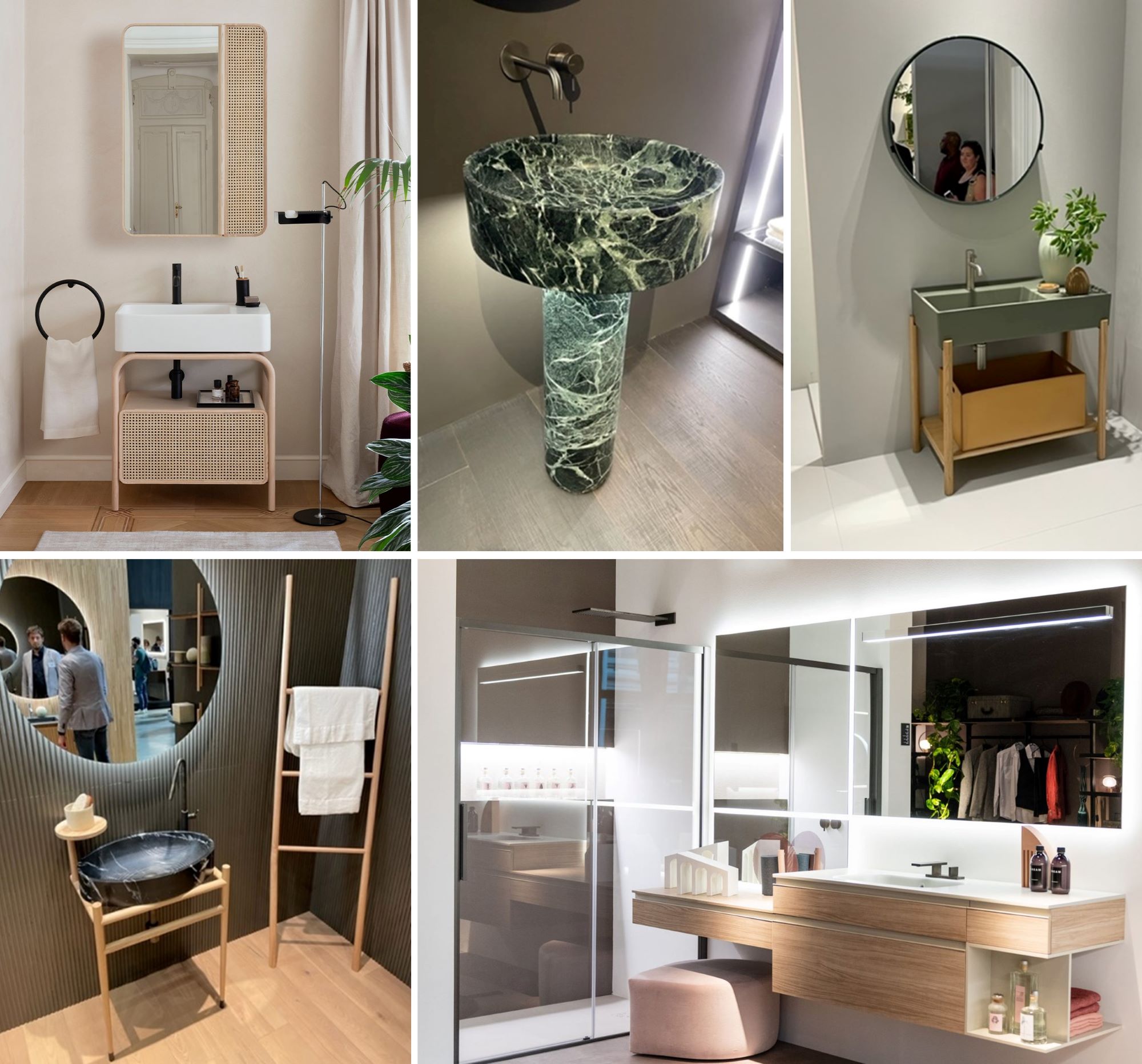 Salone Natural Materials Trend