Environmentally friendly bathrooms
Modern design has to increasingly consider sustainability, not just because of the environmental impacts of the manufacturing processes and the materials used, but also the waste materials and the constant discarding for newer and more exciting designs – be that in fashion, interiors or products.
Leading interior designer, Peter Mikic, speaks openly about his desire to ensure his designs are sustainable. We have chatted with him about his new collection on display here at C.P. Hart to learn how they meet his discerning criteria.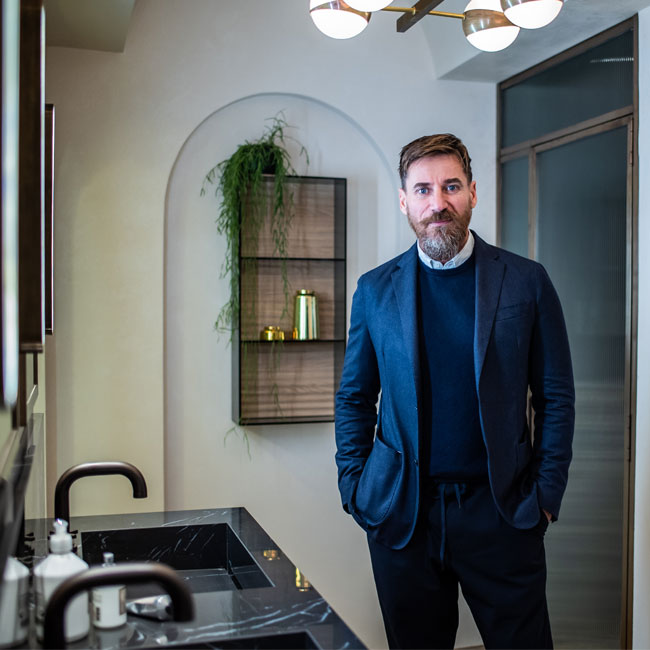 'Design isn't perfect, nor should it be', says Mikic. 'In fact the real beauty comes from imperfection and knowing that it's OK.' His main objective when creating this room was to design products that would stand the test of time both in quality and in design terms – ensuring that they wouldn't need to be replaced only a few years down the line. The mantra, 'buy cheap buy twice' could not be more appropriate here. While the elements within his collection will set you back a few pretty pennies, they are built to last. Using solid brass components in the shower screen, for instance, means they won't rust or break.
The style of the room is mid-century Italian, offering a timeless space. It won't date but would still look as fresh and current 10 years from now. The chandelier is vintage and sourced by Peter, while the wall sconces are from his own collection. You can visit his studio in Notting Hill by appointment only.
Peter has chosen to use waste materials within the manufacture of the items in this collection, meaning that their very existence has reduced landfill. The hard wood flooring is of recycled shipping pallets from London's shipping yards, and the tiles – a modern take on Terrazzo – are created from ceramic and porcelain off-cuts.
Even the bath has been manufactured from an eco-sustainable composite material and is recyclable. All the metal in the room has been left in a living finish, meaning it will patina over time. This ever-changing effect makes the room become more beautiful as it ages. This timeless, natural, interest with materials rather than colour ensures that the room by its very design is environmentally friendly; by using quality materials that won't go out of style.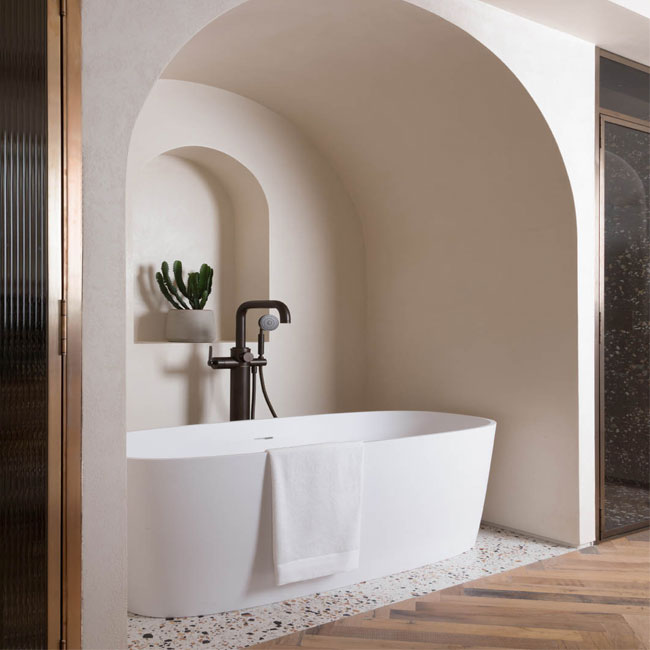 To find out more about our current sustainable collections, book an appointment at your nearest showroom to guarantee a consultation with one of our experts.