Bathroom Trend – Twin Basins

The appeal of the growing twin basin trend is, ironically, two-fold. On one hand, it creates a pleasing symmetrical effect in the bathroom, achieving a harmonious look in an otherwise mismatched space. Meanwhile, the practical benefits of a dual basin arrangement are also considerable – quite simply, doubling up on washbasins guarantees peace and harmony in the midst of a busy family routine.

If it is a traditional look you crave, this stylish bathroom at the Wheatsheaf Inn – a charming boutique hotel in the Cotswolds – may provide the perfect inspiration. It pairs two London basins side-by-side, sitting atop the coordinating London heated basin stands. Finishing the look is
Arc brassware in nickel, exclusive to C.P. Hart. Antique-effect mirrors and white fluffy towels give the room a cosy, welcoming touch.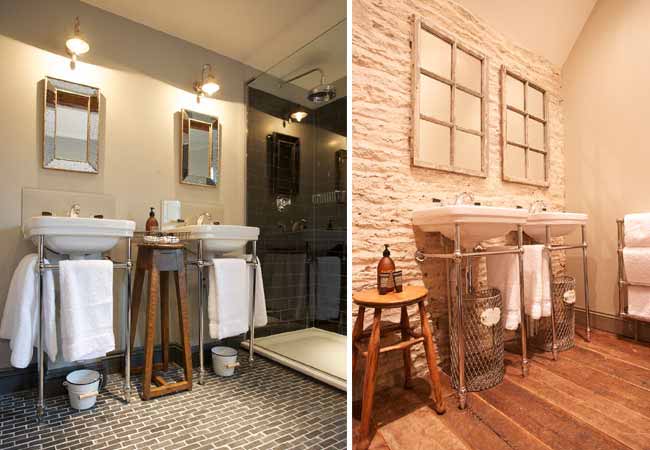 Twin basins can also add a sense of glamour and panache, as is the case in this show-stopping bathroom. Being separated by a floor-to-ceiling window increases the drama already provided by the Starck 1 basin units and unique Starck 2 brassware. Matching Hart bevelled mirrors lend an air of authentic luxury to the room, as well as balanced feng shui energy.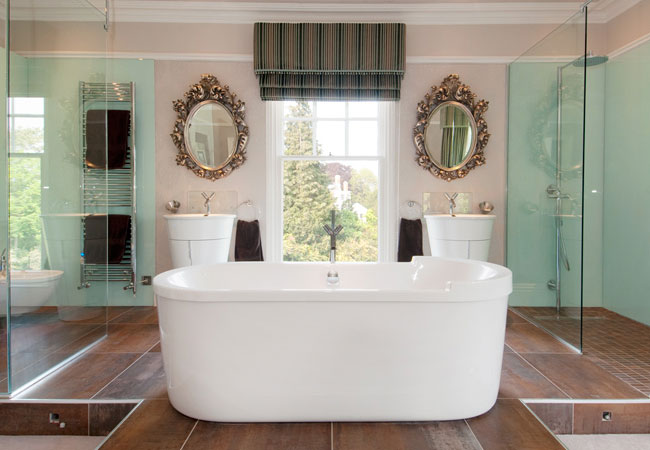 Twin basins do not necessarily mean twin mirrors, as displayed in this contemporary bathroom. The Monolite double drawer unit by Artelinea echoes the dimensions of the single mirror, which is cleverly inset to provide extra storage space and lighting, so the overall look remains well balanced. The accompanying Monolite double basin in bianco is the utmost in sleek sophistication, with gently sloping bowls and plenty of useable counter space. The Axor Uno2 wall-mounted brassware is equally understated, complementing the bathroom decor to perfection and adding a luxe hotel vibe.
Of course, two basins can be situated apart from one another, as this decadent bathroom demonstrates. Basins on opposite walls and generously sized mirrors create the illusion of a larger room, while keeping focus on the centrepiece: a Halo freestanding bath in white gloss. To achieve this look, opt for Foster washbowls atop Artelinea Monolite single drawer units and Starck Organic brassware. The result is an exceptional spa-like retreat that evokes elegance and serenity.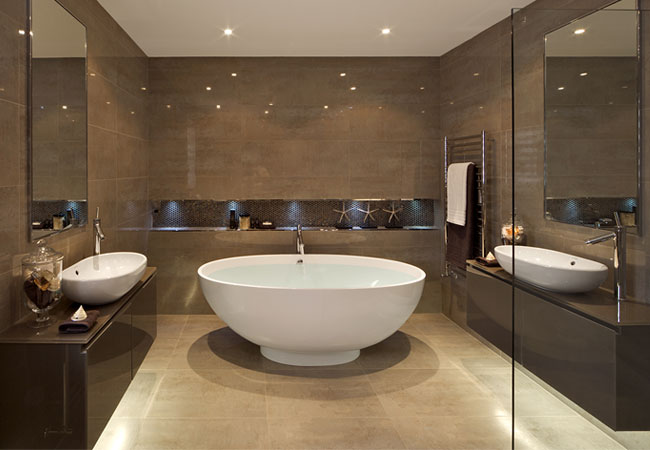 What do you think of the twin basin trend? Let us know your views on social media.