Traditional Bathrooms For Your Home
Traditional Bathrooms for Timeless Style
If you're not a fan of clean lines and contemporary designs, then perhaps you should look at traditional bathrooms for classic and timeless beauty. But don't think that 'traditional' means unchanging – you couldn't be further from the truth. For the last century, bathrooms have moved from the room of practical necessity and function, where we go to wash and groom, to a place of sanctuary and relaxation. They are built nowadays as rooms of comfort and luxury, beautiful and chic, which have stood the test of time with their varying styles and designs.
"A designer has a duty to create timeless design. To be timeless, you have to think really far into the future, not next year, not in two years but 20 years minimum."
Philip Starck – Interior Designer
Traditional Baths and Toilets
Gone are the days of a small, damp back room with a cold, tile floor and a practical bathroom suite for all family members to use and share – and that's if you were lucky. Most people had to make use of an outside loo and wash in a bathtub in front of the fire. There were even baths on wheels, which probably isn't very practical when it comes to storied housing. Therefore, traditionally bathrooms have a chequered history. We all know about the Romans and their love for their baths, indoor plumbing, and sanitation. In fact, the earliest bathtub was actually found in Greece dating from 1700 B.C.
However, bathing was a very erratic venture and viewed as a hedonistic experience shrouded in suspicion until the 17th century when Europeans began to bathe in front of their fires in portable tubs made of wood and lined with steel. It wasn't until the 1850s that bathrooms began to be viewed, by the wealthy, as essential to their well-being when they could take advantage of modern plumbing and a flush toilet. Thus, the Victorian bathroom, and bathrooms as we know them, came into being. For many traditionalists, the Victorian bathroom is the quintessential bathroom, second to none. People who like the traditional bathroom idea aren't necessarily into the basic bathroom design, which was what they had on offer in the 19th century.
Can a Traditional Bathroom be Modern?
With the trend to move toward more vintage and bespoke, it could be viewed that traditional bathrooms overlap with retro, vintage and even eclectic styles. Traditional bathroom suites can uphold just about every iconic era you can imagine. Bathrooms, which are predominantly viewed as traditional, are not sleek, 'spa-like' or minimalist. So, what allows a modern bathroom look and take on a traditional bathroom is not necessarily the tub in front of a fire or cold, black and white tiles. As the bathroom evolves into a room where mood and escapism are essential in today's world, the design focus should be not only on the traditional physical style but also on the softer sensations created by essential accessories.
For a modern take on the traditional, you'll need to bring out the softer side of the chosen period to combine with a gentle contemporary feel for ultimate luxury. The traditional style of today is more about a bathroom which is dominated by classic elements that transcend the ages and modern trends.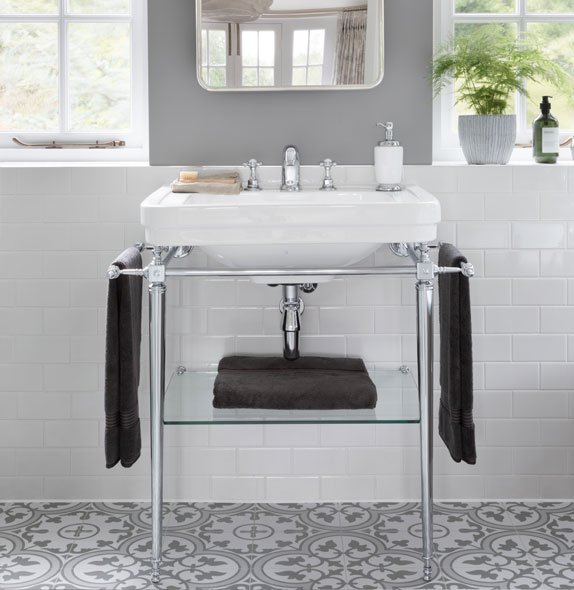 "Architecture should speak of its time and place, but yearn for timelessness."
Frank Gehry – Interior Designer
Some of the characteristics of traditional Victorian bathrooms tend to sway on the side of hex tiles, natural stone countertops, freestanding bathtubs, especially with ball and claw feet, hinged mirror medicine cabinets and chrome or nickel-plated fixtures, to mention but a few. But even if you don't live in a period house, traditional style is always enticing. It's up to you how you do it. Creating traditional style bathrooms that are classic in design and feel like a soothing spa experience with an aesthetic of refined tones and charmingly luxurious finishing touches, isn't always the most cost effective option. However, from your budget's perspective, you shouldn't necessarily scrimp on your traditional bathroom design.
Victorian - Georgian, Regency and Colonial
When designing or redecorating your bathroom along traditional lines, there's a lot of authentic features to consider, to avoid your bathroom ending up a mish-mash of ideas and styles. You'll have to take into consideration all the traditional fittings, from showers to basins, and taps to toilets.
The designs typically take their lead from what is currently trending in the bathroom design world combined with materials and décor that are respective of their historical period, albeit Victorian, Georgian, Regency, or Colonial. Then you'll also have to consider the atmosphere to make it seem truly authentic. If you want your taps and shower to last, then it is important that you invest in the best you can afford, which will pay dividends in the long run.
If you own a Georgian, Regency, or Victorian property, you'll want stylish products that work sympathetically with the period of your home. You'll want beautiful, high-quality products from a bathroom specialist company that uses the finest materials and advanced manufacturing techniques to create traditional bathrooms of the highest standard. With an enormous range of traditionally styled bathroom fixtures and fittings, at C.P. Hart we pride ourselves on being the best in the UK. Established in 1937, C.P. Hart has seen many trends come and go in the world of bathroom design, meaning we know there are some traditional tastes, styles, and trends that won't disappear. Our in house design team has created its own range of traditional sanitaryware, brassware and accessories.
Make Your Dream Bathroom a Reality
If you are slightly unsure about renovating and transforming your bathroom into a beautiful space, then visit one of the 15 C.P. Hart showrooms to explore whether a Professional Design Service is an option for you. Visit a showroom for inspiration; and if you can, come to the flagship showroom in Waterloo, London. Each showroom demonstrates high-quality materials, ideas, and inspirational designs from leading manufacturers and designers covering contemporary, classic, and cutting-edge bathroom collections. There is an entire area in the Waterloo showroom dedicated to traditional bathroom products and suites.
Making the leap from a bathroom idea to the reality can be achieved by using C.P. Hart's planning design and sales teams to translate your concepts onto a digital mood-board. The finished article will have been inspired by you and advised by them - bespoke and luxurious - just for you.
"Innovation is often the ability to reach into the past and bring back what is good, what is beautiful, what is useful, what is lasting."
Sister Parish – Interior Designer
So, what constitutes traditional ideas for either an existing traditional bathroom or designing one from scratch? Surfaces in a traditional style bathroom are integral in creating an aesthetic traditional look. Countertops are imperative to as they can help to set the mood and tone of the bathroom. As are the floor and wall tiles - choosing the correct size and colour will aid the overall look of the room.
You can opt for natural or faux-natural materials, which can include granite, engineered stones, and even slate. Patterns for these materials can range from the historical looks with their hexagonal and subway tiles or the more flamboyant styles and colours of yesteryear. Ball and claw freestanding baths are the ultimate in traditional design as well as luxury. Throughout many bathroom fashions, the ball and claw foot on the bath is an iconic bathroom design that has survived since the 18th century. It originates from the Chinese myths and symbolises the foot of a dragon, holding onto a ball with its talon. The dragon represents the Chinese Emperor guarding the 'pearl' or ball of wisdom, from any evil that might have wished to steal it. It later came to represent the British empire holding onto power and glory, and it is seen on many pieces of traditional furniture as well as the freestanding cast iron bath.
The ball and claw motif is part of the English heritage now and has a timeless appeal. Usually, the centerpiece of a bathroom, a traditional cast iron bath with its several layers of porcelain enamel fused onto a cast iron shell, can retain the heat to enable the water to stay hotter for longer.
Perhaps you're more inclined towards the classic 18th century design of the bateau bath or, as it's more commonly referred to, the 'boat bath.' Contemporary designs of this traditional bath have enabled it to retain its elegance and unique shape across the centuries. Traditionally made in copper, it is now a cast iron bath with copper cladding. Its steep, high, symmetrical sloping sides were extremely popular in the 18th and 19th centuries.
What also helps to inspire the traditional look of your bathroom is the metal finish. Whether the brassware is finished in bronze, chrome, or copper, what you'll need is high-quality materials, precision manufacturing, and a flawless finish whatever the metal. The traditional antique-bronze look, which is characterised by its rose-gold undertones, gives it a copper look and feel and is an extremely popular choice for a traditional bathroom fixture.
For functionality in your elegant, classic bathroom, you'll need to think of fixtures, including bath and shower mixers, which can also feature a classic bath spout. Pillar taps are the most traditional option, but you could combine pillar and mixer taps to complement your space and to emphasise the specific traditional look you are trying to achieve. Brass is elegant and timeless and is a popular metallic finish. You'll have to think of the overall look of your bathroom as the finer details can make or break the design. There are hundreds of metal functional taps to peruse with a variety of finishes from basin taps to floor-standing bath fillers. The choice can be overwhelming, so advice as to what suits your bathroom design and what will work within your home's plumbing system, is a sensible option.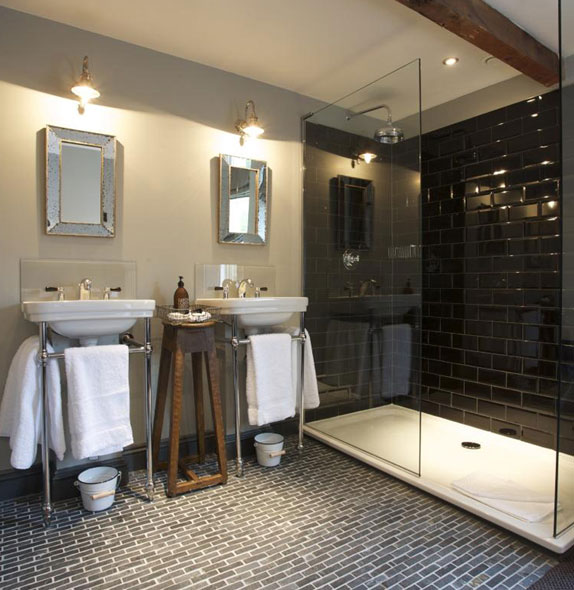 C.P. Hart Bathroom Showrooms
Visit the C.P. Hart showrooms or website for inspiration as well as advice. With over 80 years of bathroom expertise, C.P Hart identifies the needs and desires required in the bathroom industry. With a passion for innovation, C.P Hart offer an experienced and highly trained design and sales team with technical expertise to help you plan every aspect of your bathroom project. With customisable options such as wall and floor designs and a wide range of colours within full bathroom product ranges, you can be inspired by every traditional offering there is.
People are now more than ever interested in uniqueness and thus choosing a bespoke finish for taps, baths, and vanity units with specific colours and finishes for a traditional style will give the desired effect. Chrome and nickel are popular choices and can be paired with a dramatic backdrop for a bold statement. The Victorians, for example, were happy to use inspiration for their wallpapers from the natural world, including animal prints and floral themes, and created bright, bold patterns for a statement bathroom wall as well as vibrant patterns such as flock and damask. Gilt and metallic were widespread effects used in the bathroom and can add a splash of decadence to your bathroom.
However, equally classic are charcoal-greys, maroon, dark blues, mossy greens, off whites, and black painted walls, which are cheered up by the use of watercolour artworks or large elaborate mirrors - a traditional way of lighting up a dark room. Paint effects were also commonly used in that period, which included marbling, stenciling, and stippling. Eclecticism was a significant feature of the Victorian design and style, as was their obsession with detail. Fireplaces were incredibly ornate and often inset with tiles, and ornamentation was busy in the bathroom.
So, although trends come and go, the essence of a traditional style bathroom is that the room is made up of timeless and classic pieces that last. By using traditional accessories such as colourful jars, candles and soaps, beautifully crafted linens and towels, you can recreate a personalised and yet beautifully traditional bathroom scheme.
Indoor plants are back in fashion, and we no longer see them as ways to dress up a room but as a practical solution as well. The Victorians, in particular, loved indoor plants and had a fashion for conservatories. Plants in the bathroom, apart from adding to the design, can provide a wide range of health and well-being benefits as they can clean the air of impurities and reduce condensation. In fact, just one plant can remove up to 87% of toxins in a small room.
So, if you are in need of a revamp or a complete overhaul of your bathroom, you can't go far wrong with a bit of traditional inspiration. Consult the experts to ensure your ideas turn from dreams into reality. Sometimes the old ways are the best ways…