Traditional Bathroom Design Ideas
Are you looking to enhance your home with a timeless bathroom that will deliver peace and tranquillity with every use? Our professionally qualified design team shares their most impactful design ideas for creating an exceptionally traditional —and beautiful— bathroom.
We aim to inspire your next traditional bathroom project through expert design suggestions and selected recent projects featuring our own, exclusive ranges and those from industry-leading manufacturers. Whether you're creating a master bathroom or reworking a cloakroom, read on to discover the many ways of achieving a statement space that celebrates tried and tested traditional styles while still embracing the best features of modern advancements.
Stand Out with a Roll Top Bath
A bath plays a vital role in any bathroom design, drawing the eye as the room's centrepiece. For a traditional bathroom design, a freestanding roll top bath will set the tone effortlessly. "A roll top bath makes a great feature in the room, especially in front of a window or fireplace", says Emma Scott, director of client design.
At C.P. Hart, we offer many freestanding roll top baths, often crafted from cast iron due to its durable nature and inability to conduct heat, meaning bath water stays hotter for longer. Some of our best-selling roll top baths include the Cambridge freestanding bath, a slipper-style bath with a higher back for languorous relaxation, the Camden freestanding bath, a high-waisted cast iron bath in a more contemporary shape, and the Greenwich Boat Freestanding Bath, available in cast iron or with an opulent copper outer.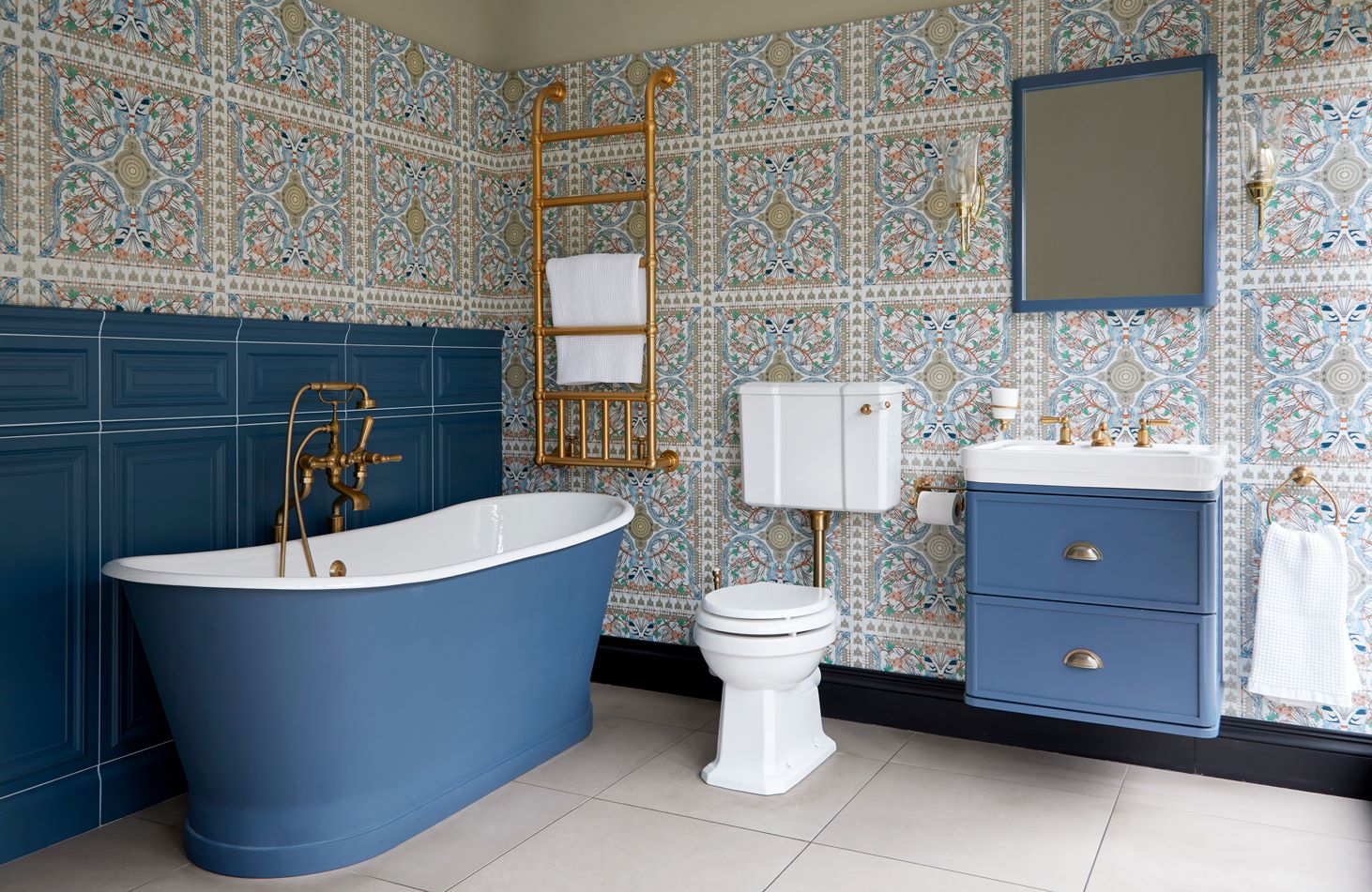 Shop the Camden Freestanding bath, featured above in our Muswell Hill showroom.
Our cast iron baths are supplied primed and ready for painting on-site or at home, allowing you to customise the colour of your bath to best suit your interior. Should you wish to redesign your bathroom in the future, simply repaint your bath in keeping with the new style.
Our selection of claw feet are available in various finishes to complete the bath, from lustrous chrome to a matt black cast iron. Please note that our claw feet are sold separately and do not universally fit our baths. Please do contact your nearest showroom for further product specification or assistance.

Bring Back the Bidet
While bidets are still found in contemporary bathrooms, they are synonymous with traditional bathroom designs - an excellent choice for adding an extra element of charisma.
Our selection of bidets caters to classic bathrooms of all styles. Our Henley back-to-wall bidet, available in white or black, features a prominent pillar stand and rounded bowl, while the Duravit 1930 Series back-to-wall bidet features a far more angular shape.
Modern-day bidet taps are primarily created with a single hole, some with single levers, where the user can twist the lever to their desired temperature, and others with dual levers, where the user can adjust the amount of hot and cold water separately. Should you wish to go down the single lever route, may we recommend our exclusive Mono Bidet Mixer from our Epoch range, characterised by its art deco-inspired etched indices and available in various finishes, including chrome, brushed nickel, brushed gold, and living aged brass?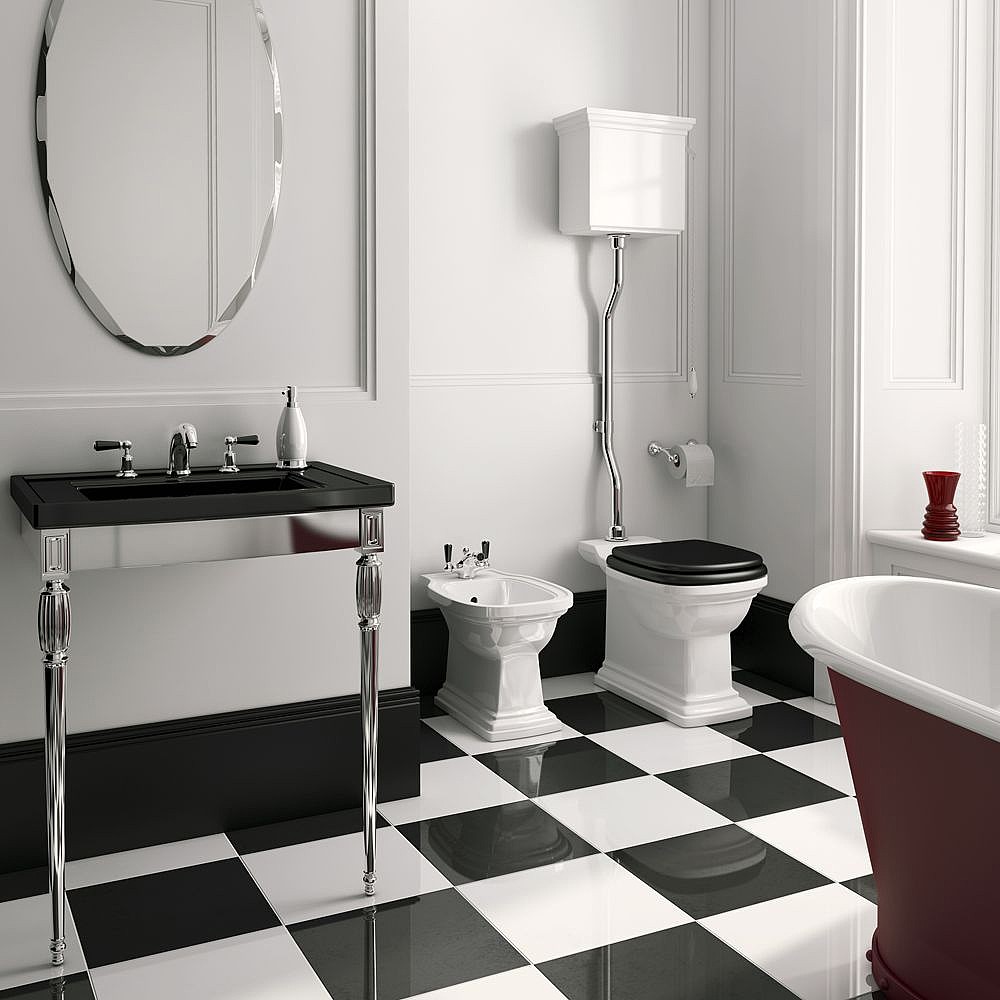 Shop the Henley Back-To-Wall Bidet, featured above with the Henley High-Level WC and the Henley Troon Basin Stand.
If a dual-lever or two-handle bidet tap is more in keeping with your interior, please explore C.P. Hart's own Empire Mono Bidet Mixer, Original Mono Bidet Mixer, and Admiral Mono Bidet Mixer, as well as the Madison Mono Bidet Mixer by Dornbracht or the Montreux 2-Handle Bidet Mixer by AXOR.

Be Bold in Your Brassware Choice
Most traditional brassware boasts a stunning, classical aesthetic while embracing modern features like quarter-turn technology. This internal mechanism allows the user to turn the tap on and off by a simple 90-degree turn rather than the traditional valve that requires multiple full turns to operate. Quarter-turn basin mixers are far more beneficial in today's bathrooms due to their easy operation and accessibility.
Our Original brassware range perfectly demonstrates traditional style with quarter-turn technology, offering bath taps, basin taps, bidet taps, and shower controls, available in over seven finishes for bathroom personalisation. To make a true statement, our Original Bath and Shower Mixer, available as deck-mounted, wall-mounted, and freestanding configurations, features dual cross handle levers, a shower head placed on a stunning cradle and a diverter for the easy switch of water flow.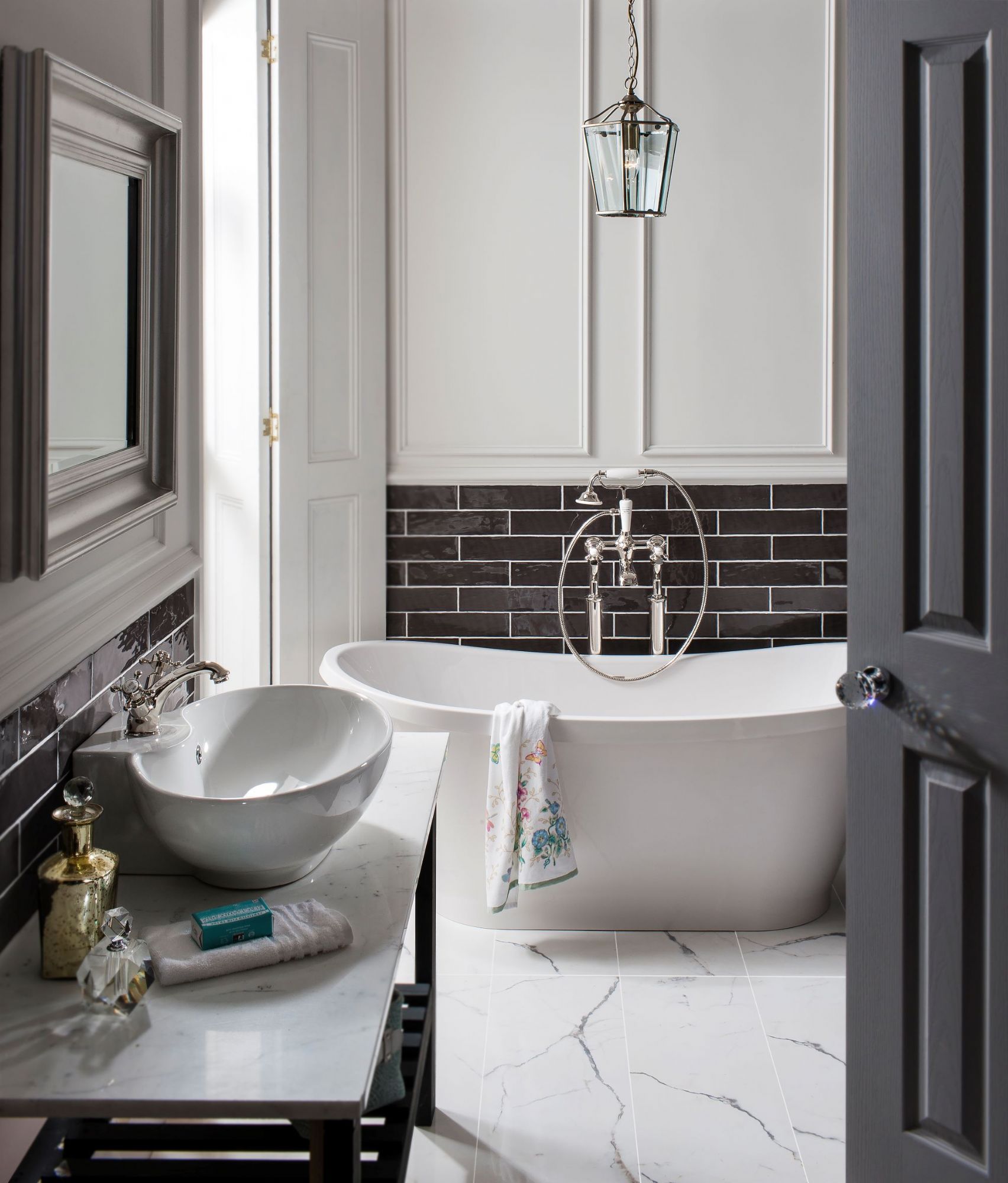 Shop the Original Floor-Mounted Bath and Shower Mixer featured above.

Opt For a High-Level Toilet
A high-level toilet is a style that predominantly features in classic bathroom designs, particularly Edwardian or period bathrooms. High-level toilets do well to make a statement, featuring a long flush pipe connecting the WC to the cistern mounted high on the wall. Typically, high-level toilets are complete with a chain pull flush.
Our exclusive London and Henley collections feature beautiful high-level toilets in white, black, Moseley Blue, and Stoneywell Slate. "The joy of our high-level toilets is that you can mix and match the colour of the WC to the toilet seat," says Emma Scott, director of client design. "Make the most of this feature to add elements of personal flair to your bathroom."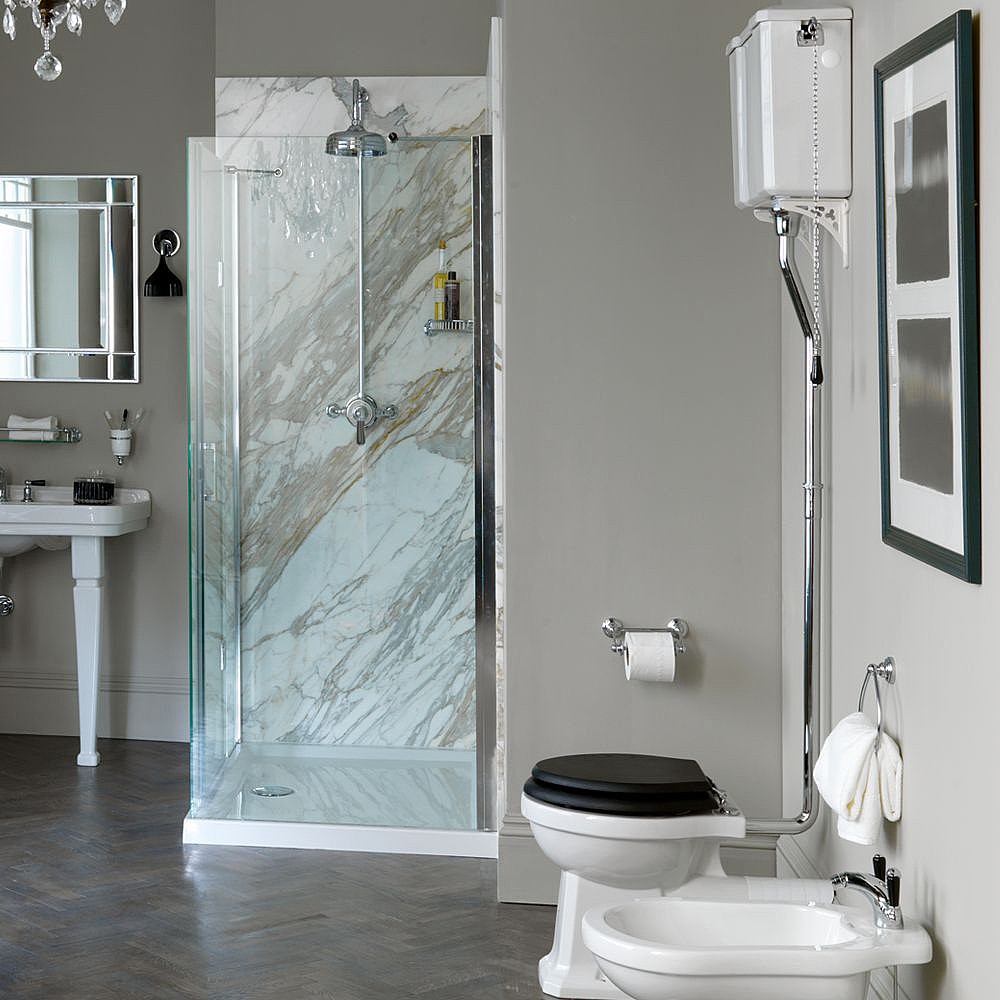 Shop the London High Level Toilet, featured above in white with the black London Soft-Close Toilet Seat. Please note that toilet seats are sold separately.

Store Your Essentials in Traditional Style Furniture
Bathroom furniture, also referred to as vanity units, has significantly increased in popularity over the last decade. Today, many use their bathroom as part of their daily routine or as a place for downtime and relaxation, requiring additional storage to stow amenities and essentials.
Our selection of classical bathroom furniture is in keeping with the traditional appearance yet functions as well as any contemporary vanity unit. Our Rowan, Hawthorn, and Hazel furniture ranges provide a place for everything, each showcasing design details that make these units truly unique.
Each cabinet from the Rowan, Hawthorn, and Hazel range is made to order to your personal specification, hand sprayed in one of 20 colour options to produce a rich matt finish that subtly reveals the wood grain's beauty beneath. Please click here to discover Rowan, Hawthorn, and Hazel in more detail.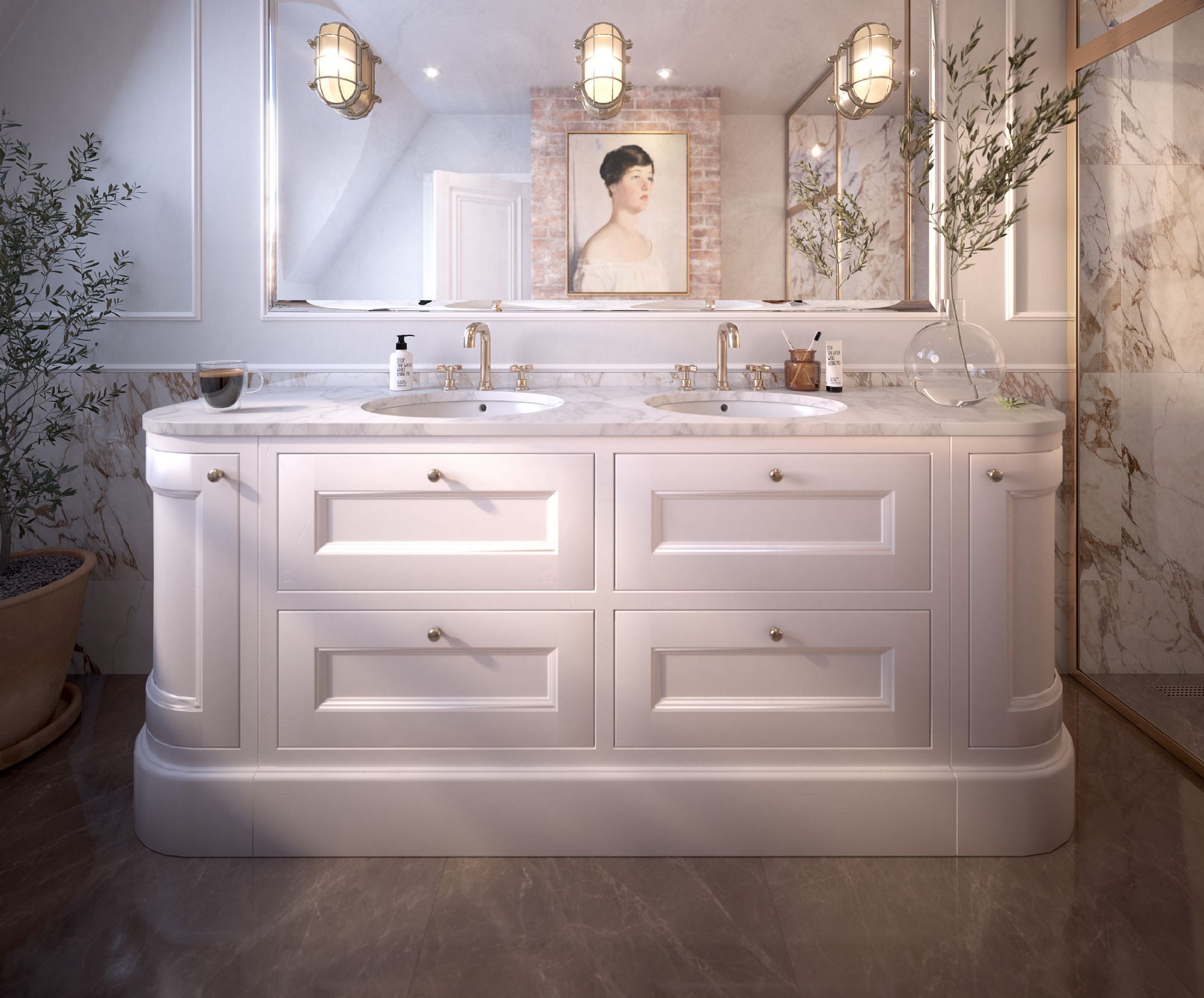 Shop the Rowan furniture range featured above, available in various dimensions to fit bathrooms of all sizes.

A Focus on Classic Materials and Finishes
While chrome may dominate contemporary bathroom styles, your traditional bathroom ideas may focus on introducing materials such as copper or brass. Refer to the aforementioned Greenwich Boat Freestanding Bath, for example – the copper outer provides a luxurious bathroom feature with stunning classical appeal.
When it comes to selecting your brassware, C.P. Hart supplies many finishes that accentuate the character of a traditional bathroom. Living brass, or antique brass, is particularly popular, due to the fact that it naturally changes colour with time, creating a beautiful patina with age that is completely unique to you. Other sought-after finishes include polished nickel, brushed brass, and gold.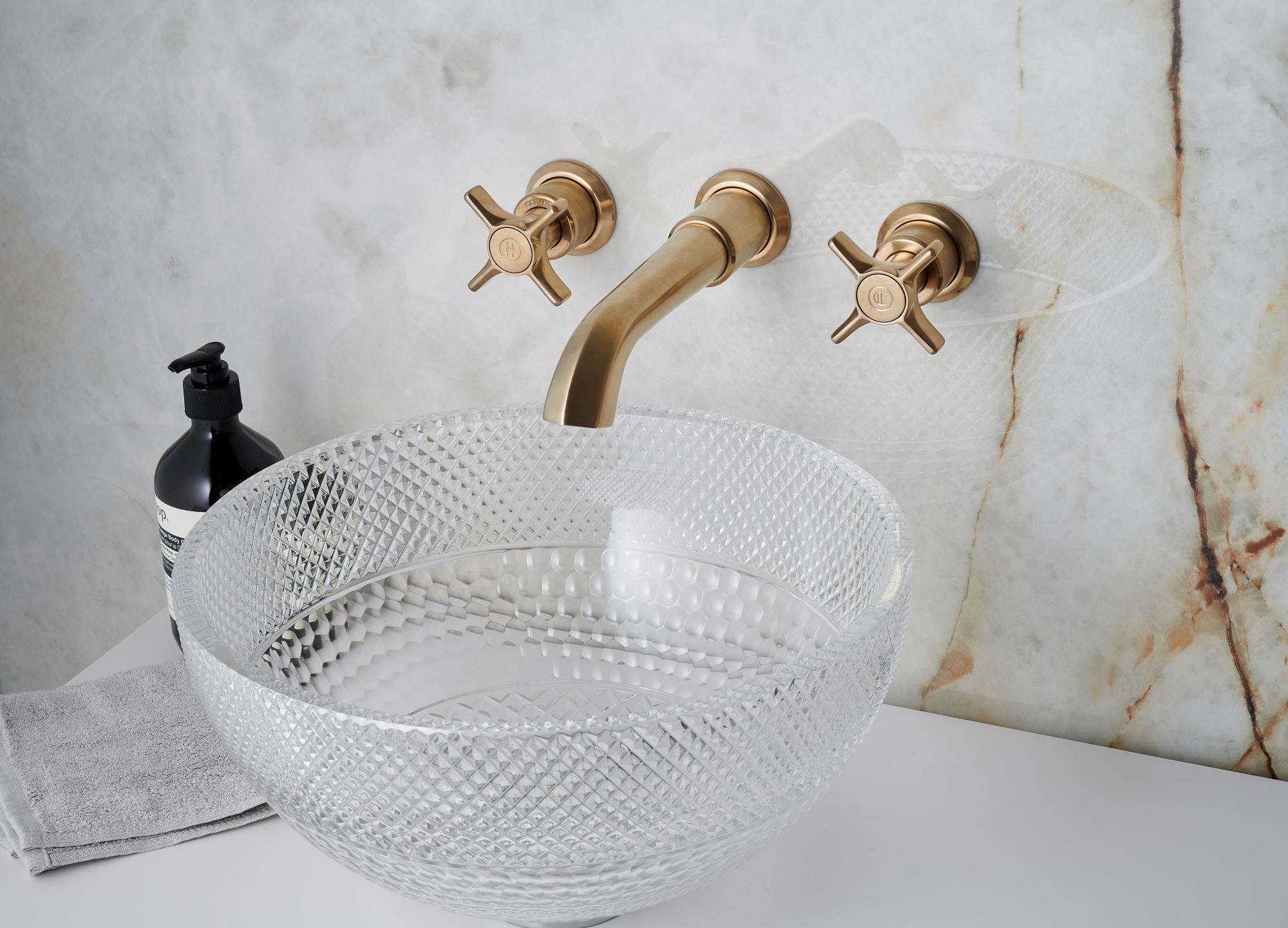 Shop our exclusive Epoch range, featured above in the living aged brass finish.
There are countless options for creating and styling a traditional bathroom to your preference and taste. We do hope these recommendations have inspired your next project.
As always, our professionally qualified team of consultants and designers are on hand to advise you on all areas of your project, from product specification to curating mood boards and technical 3D drawings of your space. Please get in touch with your nearest showroom via the link below to discover more about our award-winning design and installation services.