Whilst our C.P. Hart Contracts team are well known for their work on some of London's most high-profile hotels and residential developments, it is also worth highlighting projects we have worked on that have other uses – in this case, The Department Store, an office building in Brixton that has recently been given a new lease of life…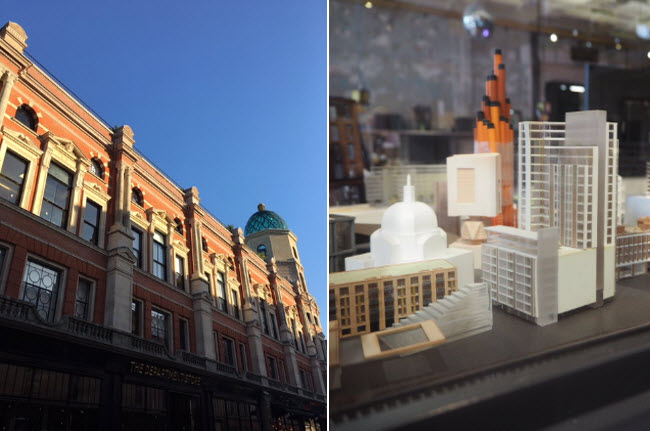 Stepping into the reception area of The Department Store in Brixton, there's no doubting who occupies this remarkable workspace. It has the design expertise of architectural firm, Squire and Partners, etched all over it. Formerly a neglected annexe to the neighbouring Edwardian department store, Bon Marché, its painstaking transformation has been thoroughly steered by its previous incarnation. We were kindly accompanied on our tour of this grand building by two Squire and Partners directors – Julia Nicholls and Maria Cheung – who talked us through the thought processes behind the two-year-long restoration.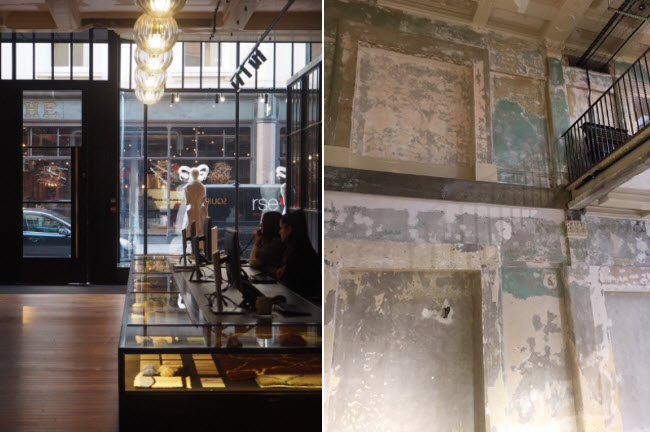 The vast reception area is a far cry from the usual non-descript entryways that greet us in offices. The reception desk is modelled on a haberdashery display case showing a myriad of architectural finishes, while mannequins stand in the windows harking back to its retail past. This striking space introduces us to the aesthetic seen throughout the rest of the building: raw surfaces and exposed walls mixed effortlessly with polished fixtures and fittings. Unrefined industrial meets genteel decadence. And goodness, does it work.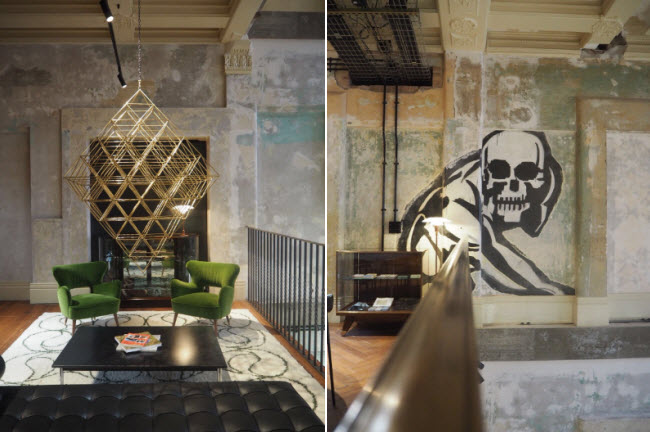 Visitors relax on plush green velvet armchairs and a tufted leather daybed beneath a gold geometric pendant that immediately draws the eye. But it's the walls that bring the most intrigue. They're a huge expanse – scaling three floors within the entry hall – of verdigris plaster punctuated with original graffiti art, a calling card from its more recent inhabitants. Had the walls been painted in a uniform shade, it would have deprived the building of all its glorious, rebellious character. It's the layers of history lovingly stripped back that brings warmth and soul to Squire and Partners' HQ. Heading downstairs, the practice is blessed with masses of events space, currently set up as an art exhibition. This almost-blank canvas provides the ideal square footage for anything from launch parties to yoga classes. Also on the lower-ground floor we find plenty of bike storage, along with C.P. Hart-designed staff changing rooms and bathrooms complete with a series of showers, particularly handy post-cycle.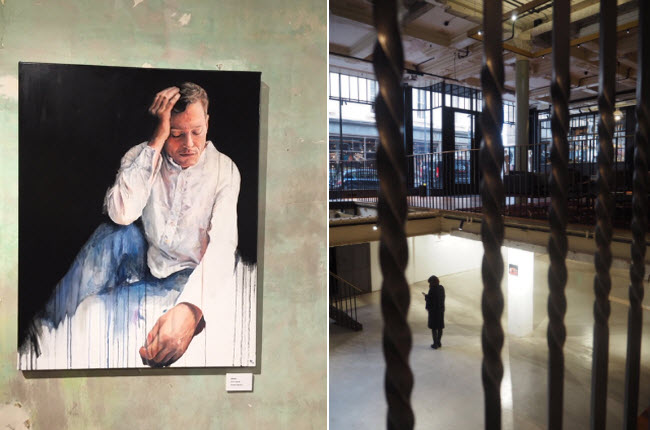 We then make our way to the grand central staircase. Here, the star of the show is the 111-year-old original Art Nouveau tiling, uncovered and restored to its former turn-of-the-century glory. The rich emerald shade of green is the common thread that appears throughout the otherwise natural and neutral-coloured building. The original teak and mahogany parquet flooring and brass treads juxtapose perfectly against the patinated plaster walls and exposed brickwork. Meanwhile, the steelwork in the arched stained glass windows mirrors the intricate black balustrade that, in turn, picks out decorative foliage from the tiles. None of the separate components appear by accident.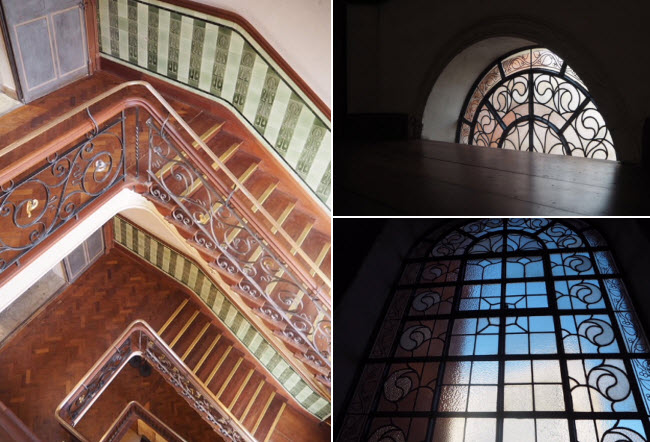 The workspace that occupies three floors features ply desks, display cases and plenty of project areas – or 'concessions' – that encourage collaborative working. It's quite apparent that minimalism doesn't live here. There are models and prototypes on display at every turn, and shelves of design books providing further inspiration when needed. Black and copper power cables are suspended in nickel mesh trays, rather than hidden behind walls, echoing the feeling of openness and honesty that's inherent to this building. Kitchen areas are a cut above the norm, with copper backsplashes providing a glamorous touch, while an enclosed staircase gives a sense of French department store that was so important to retain.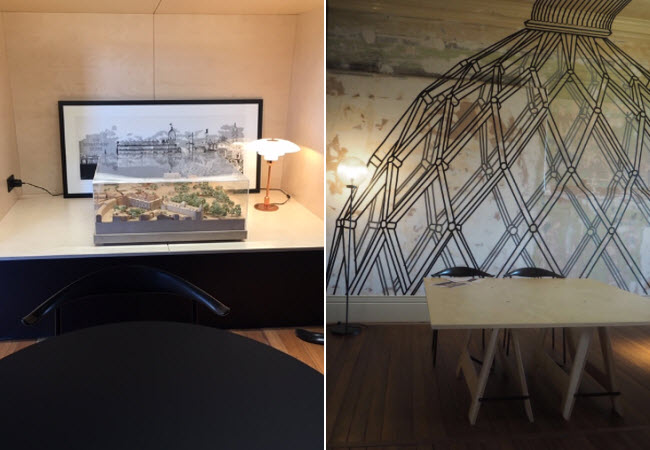 Our final port of call is the rooftop restaurant and social area. Natural light floods through full-height Crittall doors onto cosy seating areas, bistro-style green banquettes and a fireplace with an expansive polished copper surround. Running alongside this space is a landscaped roof terrace with views over south London, to gain fresh perspective throughout the workday, and, as the week draws to a close, a well-stocked bar can be enjoyed by colleagues.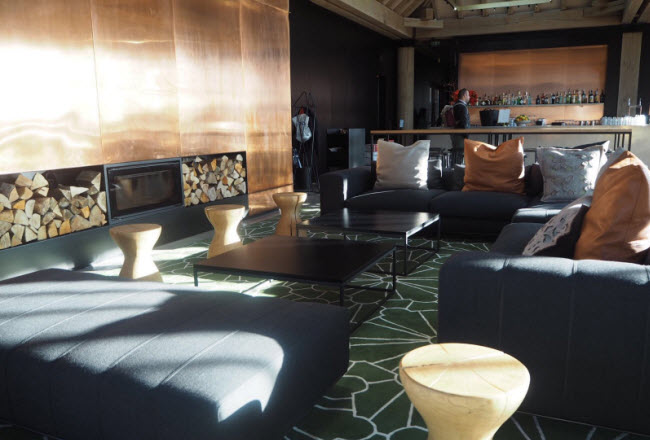 This building has creativity and a compelling history at its core. Original features that have been beautifully preserved celebrate its past, while modern additions cement its future as a collaborative and innovative workspace. Quite simply, it's a joy to spend time in. And what could be more inspiring than that?