Range Of The Month: Darley
01/09/2016
OVERVIEW

VIEW THE DARLEY COLLECTION HERE.

Details of the range
Samuel Heath was established as a brass foundry in Birmingham 200 years ago. Today, in the same place, they manufacture high quality brassware, combining traditional skills with state of the art technology. It is at the vanguard of small British manufacturers who now have global reputations for design and quality. Just 40 miles north of Samuel Heath is another: The Royal Crown Derby Porcelain Company. The oldest remaining British porcelain manufacturer, Royal Crown Derby began making tableware in 1750. They produced porcelain for King George III, who liked it so much he visited the factory and allowed them to incorporate a crown into their stamp – hence 'Crown Derby'.

These exciting British manufacturers have collaborated to create a set of unique brassware that pays homage to the founding principles of the Arts & Crafts Movement. Samuel Heath's Royal Crown Derby collection blends elegant, traditional brassware with bone china handles and collars. These have a delicate Georgian filigree pattern from the Royal Crown Derby archives.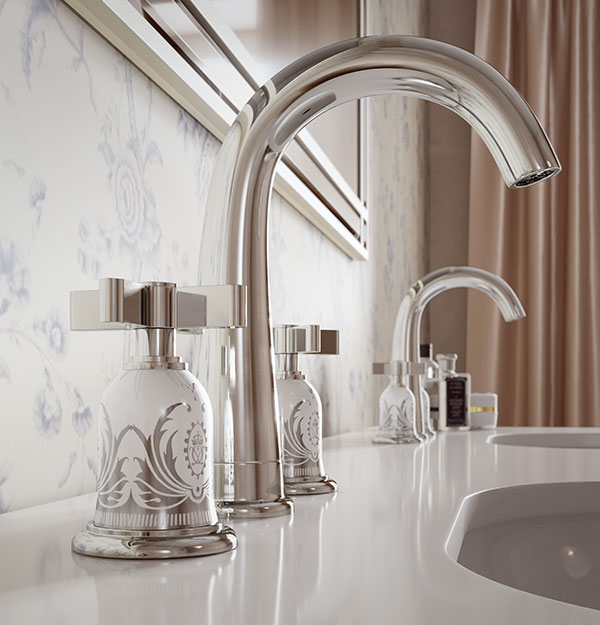 The standard pattern is very beautiful, but customers at C.P. Hart are fortunate enough to have a choice. Samuel Heath and Royal Crown Derby kindly agreed to produce a version especially for C.P. Hart, using the famous Darley pattern. Fired with either 22 carat gold or platinum leaf, it captures the luxury and sophistication of the Regency age.

Our exclusive Darley edition includes basin mixers, shower valves and bath fillers, all available in a choice of Chrome, Stainless Steel, Antique Gold or Nickel finishes.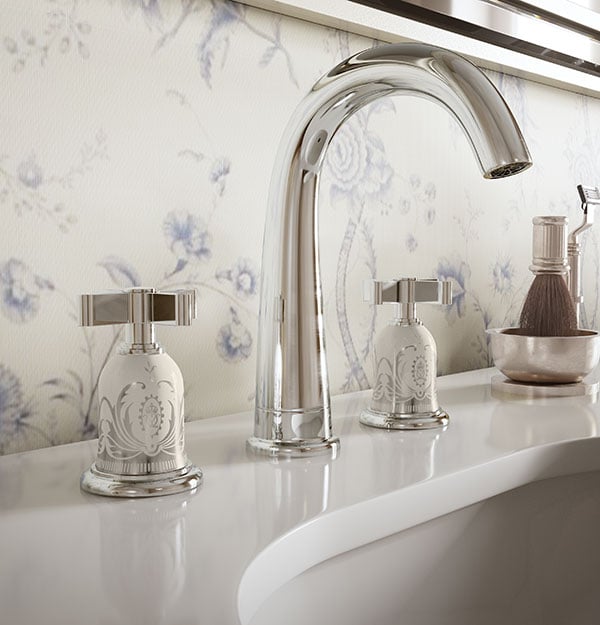 What we love about Darley
C.P. Hart is always delighted to showcase the best British design and craftsmanship. With a combined creative heritage of nearly 500 years, Samuel Heath and Royal Crown Derby's new collection has a unique provenance. The design of our exclusive Darley edition is inspired by the familiar Darley Abbey pattern, designed by Royal Crown Derby over 200 years ago. We believe it's a true object of desire.
BEHIND THE DESIGNS
2 minutes with Nick Webster at Samuel Heath

What makes Darley such a special collection?

The 460 years of combined creative heritage of both companies comes together very sympathetically when we combine our highly finished brassware with RCD's Fine Bone China, resulting in a very unique product.

The collaborations between Samuel Heath and Royal Crown Derby is unprecedented, what have they bought to the design and manufacturing process that you have really enjoyed?

Royal Crown Derby are a mirror image of ourselves in the sense that they rely a great deal on skilled people in addition to the latest technology in their kiln firing to create the superior products they produce. There are no shortcuts taken and each component goes through many hands to ensure it meets the standards required of this iconic company.

Where did the pattern originate?

The pattern originates from Royal Crown Derby's highly successful tableware pattern 'Darley Abbey', which is in the Regency style.