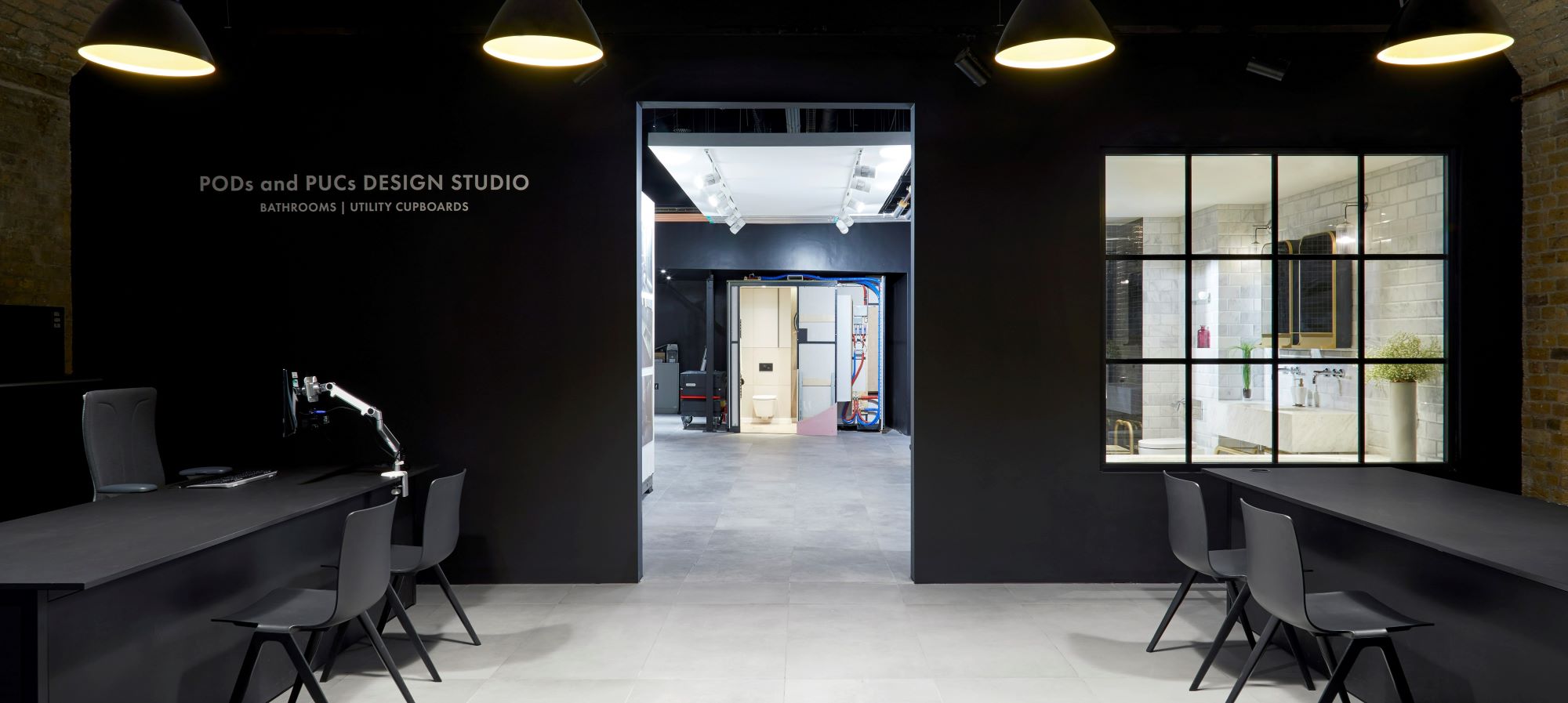 PODs and PUCs
Design Studio
Off-site construction – see the new, dedicated area for bathroom PODs and PUCs at our Waterloo flagship showroom, the first of its kind anywhere in the UK.
PODs
Bathroom PODs are complete bathroom units, factory fabricated off-site, fully fitted with building services, plumbed, and ready to be 'slotted' into any building. They provide a truly innovative building solution. Our PODs are designed and built by specialist manufacturers – see them first-hand in the dedicated studio at our Waterloo flagship showroom, the first of its kind anywhere in the UK.

PODs are increasingly popular in the building industry. They provide cost effective and environmentally sensitive building solutions, even for premium sector developers. On-site, PODs facilitate more efficient project scheduling, reduce the costs of site management and facilities, result in fewer lost and broken products, and lower overall transport costs and emissions.

C.P. Hart is working with a small number of carefully selected POD manufacturers and projects are being commissioned through our own, specialist Contracts team.
PUCs
To complement, or accompany, our bathrooms PODs we can also supply PUCs - Production Utility Cupboards (PUC), or pre-fabricated utility rooms. These provide another pre-built solution for today's developers. Built off-site, each PUC unit is manufactured fully fitted, pre-tested, and ready to slot in on-site.

As well as increasing installation efficiency and safety, PUC units provide the same benefits as bathroom PODs: lower production and installation costs, fewer product losses and damages, and a significantly lower carbon footprint.

Our Contracts team works with select PUC manufacturers to deliver the best possible quality product for every project. Please note, our PUCs can be tailor made to accommodate any domestic appliance.
Contact Us
We welcome all clients, especially property developers and architects, to inspect this exciting new concept first hand in our Waterloo flagship showroom.

For further information on our bathroom PODs and PUCs or to book an appointment to view, please call our Waterloo showroom on 020 7902 5250 or get in touch with our Contracts team via the link below.

POD Bathroom Project
C.P. Hart supplied bathroom PODs for the prestigious Mayfair Park Residences, an exclusive collection of 18 private apartments and townhouses overlooking Hyde Park.
BRANDS WE WORK WITH