New & Exclusive Tile Collections
As the leading source of bathroom inspiration, we are constantly expanding our product range to offer the best in bespoke bathroom design. We have recently introduced an extensive new range of contemporary porcelain tiles to our existing exclusive tile offering.
Tiles are a very versatile choice for bathrooms and wet rooms. Hardwearing and extremely practical, there are thousands of styles and colours to choose from – with new technological innovations meaning that many porcelain tiles can now be digitally printed to mimic real wood, marble and stone. Our head of design, Yousef Mansuri comments, "Porcelain tiles are fantastic. As ink-jet technology has improved dramatically over the last 10 years, manufacturers can create some of the most beautiful and realistic stone lookalikes - porcelain is now a genuine alternative to real stone. A strong non-porous surface with a reduced weight, a porcelain tile wall or floor is incredibly easy to maintain and will stay looking clean and smooth in years to come."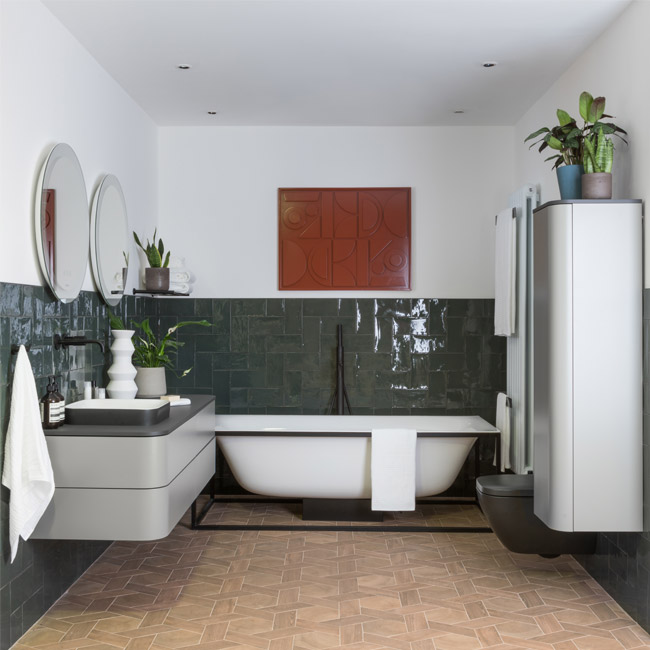 Our new collection welcomes in several neutral and patterned designs in varying sizes to allow for as much individualisation as possible. Earthy and muted tones continue to prove popular in bathroom design, so we've created a range of industrial-inspired greys for our Boeri range; presenting a new development in technical, non-enamelled porcelain. Gentler greys can be found in our new Scarpa tiles which are available as both floor and wall tiles, giving the opportunity for seamless integration throughout the bathroom. Once again, the muted palette and concrete-style finish provides a minimalist alternative to more traditional designs. Other muted designs can be found in our new Elia, Palladio and Leoni ranges.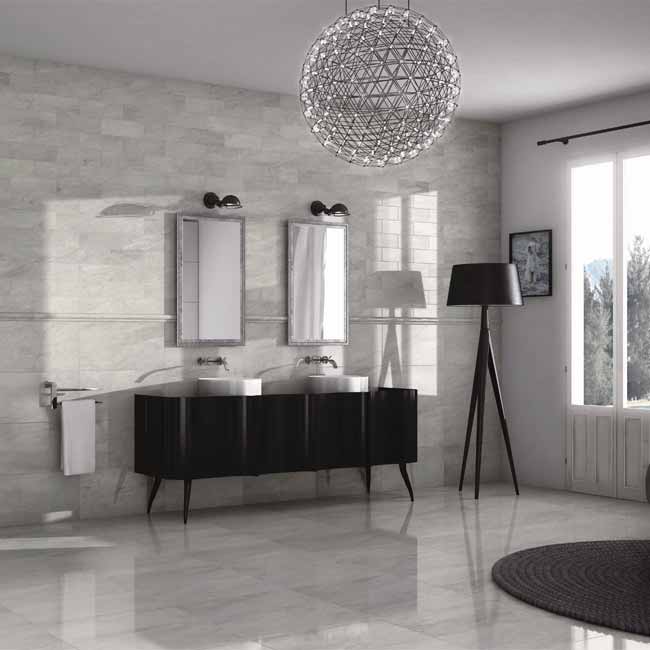 While the most popular colour palette tends to be light and natural, there are some bolder hues on the market if you are looking for something a little bit different. Our Renna collection is simple in design, but the colourful brick-shaped and glazed tiles offer a much more vibrant substitute. Its distressed edging and glossy finish intend a decadent aesthetic. 2019 is all about the colourful bathroom as a myriad of new shades and finishes emerge. Colour is staging a comeback and we're seeing a huge move towards colour contrasts within the bathroom – between furniture, sanitaryware and brassware. This is where bold bathroom tiles can really come into their own and unite a vibrant scheme together. For example, our recent bathroom design with 2LG Studio featured bright red taps from Fantini and a pale pink bath from Bette. The pieces were pulled together using red and pink mosaic tiles from Bisazza, creating a playful yet cohesive scheme.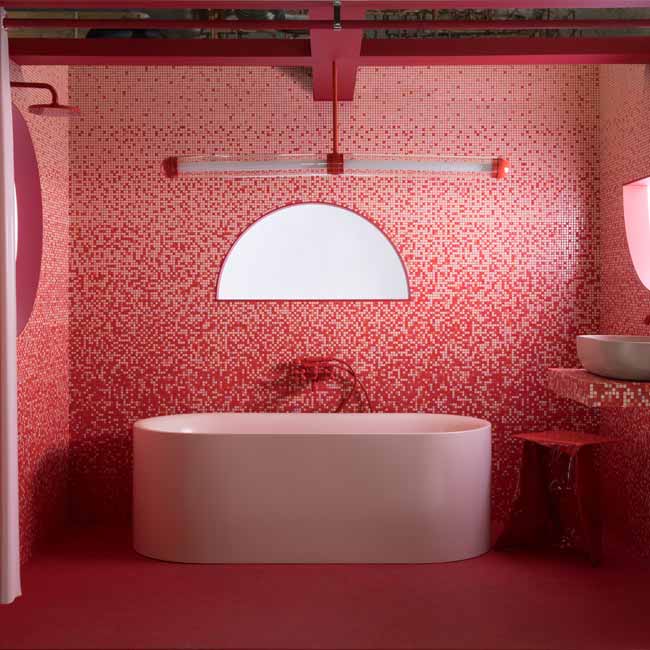 As individualisation becomes increasingly important in design, it isn't just colour that makes a difference. The ability to personalise laying patterns and finishes is also key. Our new Soleri range is made up of hexagonal and chevron shapes which permits numerous pattern options. With a natural wood finish in soft colourways, the tiles can be used across walls and floor for maximum design flexibility.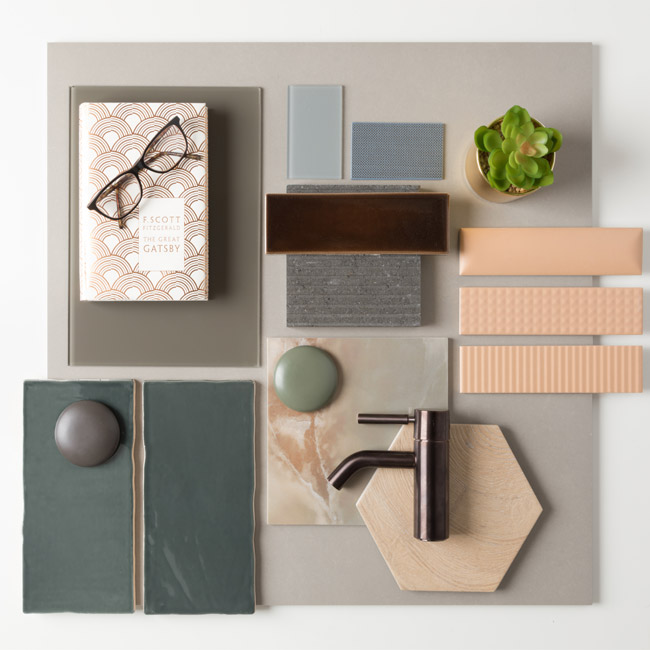 When choosing floor tiles, make sure that they are non-slip but not too textured. You want to make sure they have grip – a rating of R9-10 is ideal - but if they are too textured lime scale and discoloration can easily build up. It's also wise to consider under-floor heating, especially if you are tiling a wet room space. Electric matting is easy to install and very reasonable, cost-wise, to run and will not only help to heat the bathroom but will dry out wet floors in super quick time. It is also much easier to install than water-based under floor heating systems.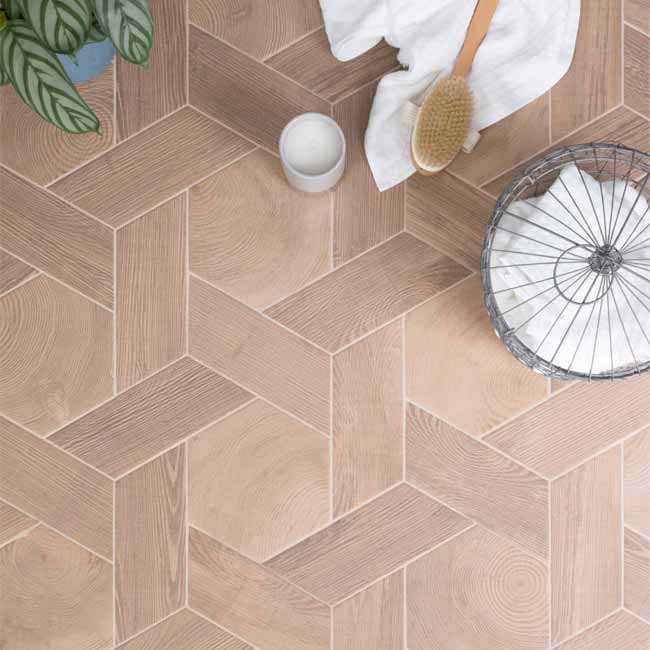 Choosing your bathroom tiles can be a bewildering experience with all the variability of styles, quality and sizes. However, our extensive Tile Library in our Waterloo showroom offers the perfect destination for inspiration. All our tiles are manufactured from hand-picked plants in Italy and Spain and each collection is fully vitrified to create a hard, stain resistant surface. Request stock samples in store to take home for matching purposes. Alternatively, download our new Tile brochure for the latest ranges and bespoke options.