9 Design Tips For Choosing Bathroom Tiles
Choosing tiles for your bathroom is an exciting and essential step, though, with so many tile textures, colours, and patterns available, it can be challenging to know where to begin. We put our clients' most pressing tile-related questions to our C.P. Hart designers to help you narrow down your selection.
Many of our clients find their tile selection to be one of the most crucial aspects of their bathroom design – and for good reason. With the power to completely transform the bathroom's appearance, whether conducting a complete renovation or simply upgrading your existing tiles to give the room a new lease of life, it's important to pick a range that suits both the space and your scheme.
We've collated our most frequently asked tile-related questions and put them to our professionally qualified C.P. Hart designers. Please read on to discover their top tips for buying tiles.

What tile materials should I go for, and which are most durable?
Typically, bathroom tiles are crafted from porcelain – an incredibly durable and hard-wearing material. Porcelain is denser than ceramic, meaning it's not porous and is water-resistant, even after prolonged exposure.
Impervious porcelain tiles are available in countless colour and pattern options – there truly is a tile for every interior scheme. Should you wish to achieve the effect of marble or stone, materials that exude opulence in premium bathrooms but come with their drawbacks (exceptionally heavy, porous, costly), our marble or stone effect porcelain tiles offer the perfect solution. Upholding the luxurious aesthetics of marble or stone, our ranges, such as our stone-effect Norway collection and our marble-effect Exigo collection, are ultra-realistic but crafted from porcelain to reap its many qualities.
Please follow the link below to explore our many porcelain-made marble and natural stone tile collections.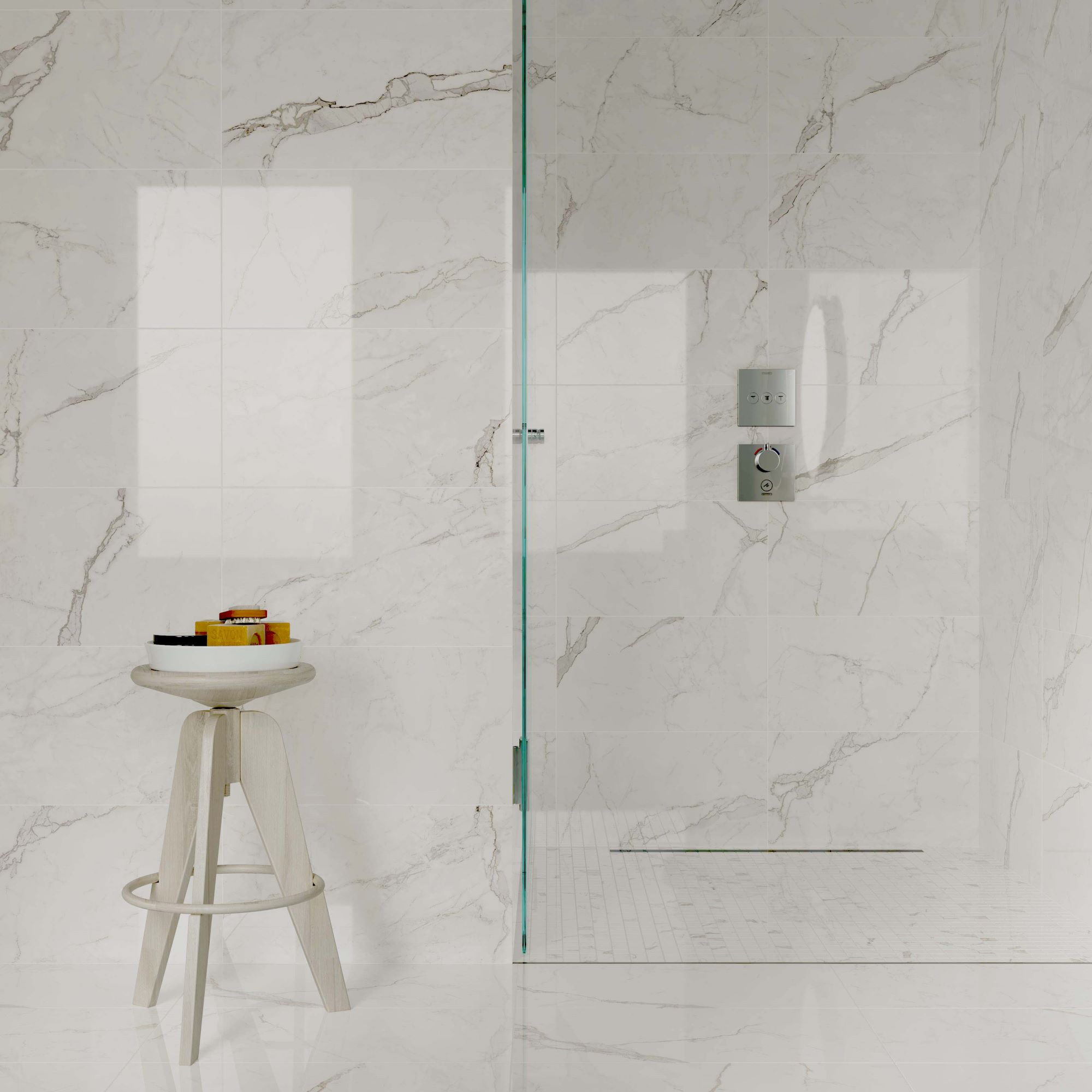 Exigo tiles in Calacatta
What are the best tiles for small bathrooms or en-suites?
If you have a small bathroom or en-suite and want the tiles to create the illusion of a larger space, we recommend opting for 60x60cm tiles, such as those from the Clay collection - our concrete-inspired contemporary tiles available in a versatile palette of solid colours.
In small spaces, we don't recommend going larger than 60x60cm as that can present complications during installation.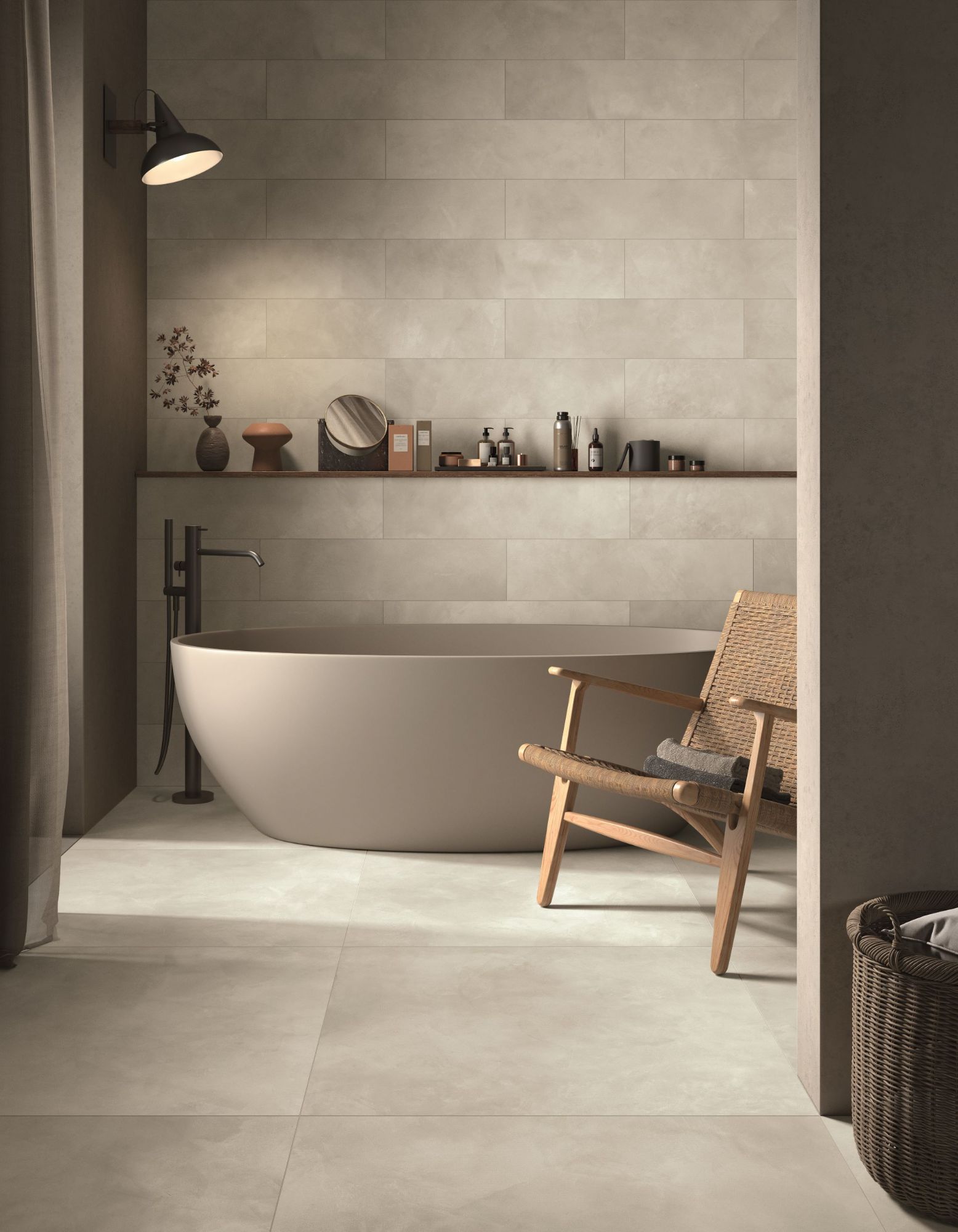 The Clay tiles in Delight

Are colourful or neutral tiles best?
This entirely depends on your personal preference. At C.P. Hart, we are big advocates of helping you design your perfect bathroom, no matter how bright, bold, or niche it may be.
If you shy away from colour in everyday life, we suggest sticking to a more neutral tile. Neutral tiles can be dressed up with colour by adding bright towels or bathroom accessories, which can be updated as often as you please. Another way to introduce colour into a bathroom with neutral tiles is to use coloured paint in the non-tiled areas - you can always paint over the area if you fancy a refresh.
On the other hand, if you know you love colour and wish to create a vibrant bathroom to reflect this, then, by all means, go for a bold tile. Colourful tiles can be installed all over or in select areas of the room, such as above the basin or in the shower enclosure. Our Wanderlust tiles are an excellent choice for this, presenting a striking palette of jewelled colours and textures in seven marble finishes and three agate conglomerates.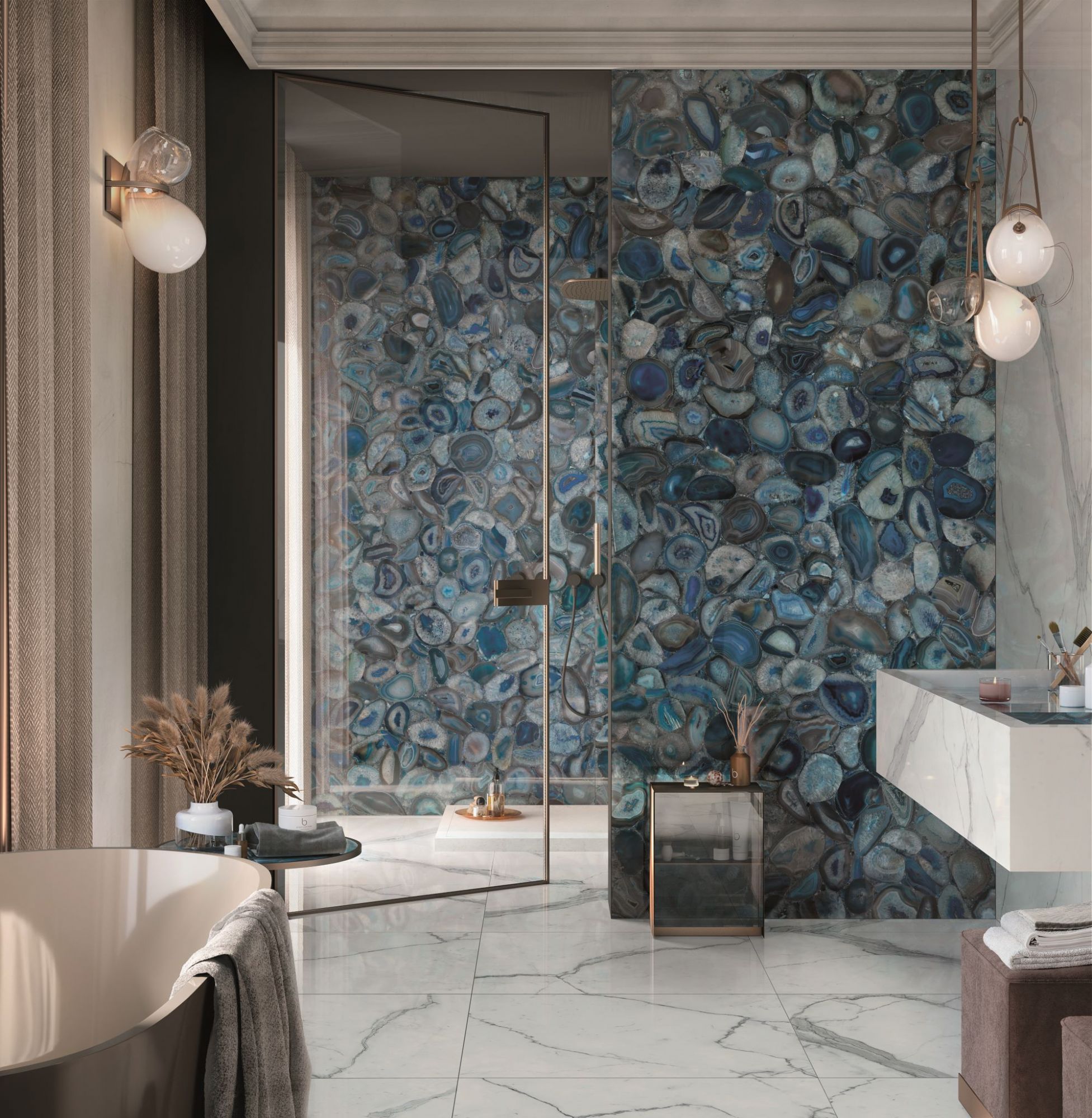 Wanderlust tiles in Agate Blue
Which bathroom tiles are easiest to clean?
You can clean all bathroom tiles, though you will find that non-porous porcelain or glass tiles prove easier to clean due to their dense properties. Non-porous tiles can simply be wiped clean with water and a cloth, whereas the porous properties of natural stone tiles make it tougher to remove dirt.
How do I pick my bathroom tile colour?
Do you want your bathroom to flow through the rest of your house? If your home follows a specific colour scheme, why not choose tiles that align with that? Or, if you're unsure, keep the tiles timeless with natural shades and add pops of colour through paint or accessories. Below, our Lagoona tiles in Sandshell, are paired with natural wood to warm the space.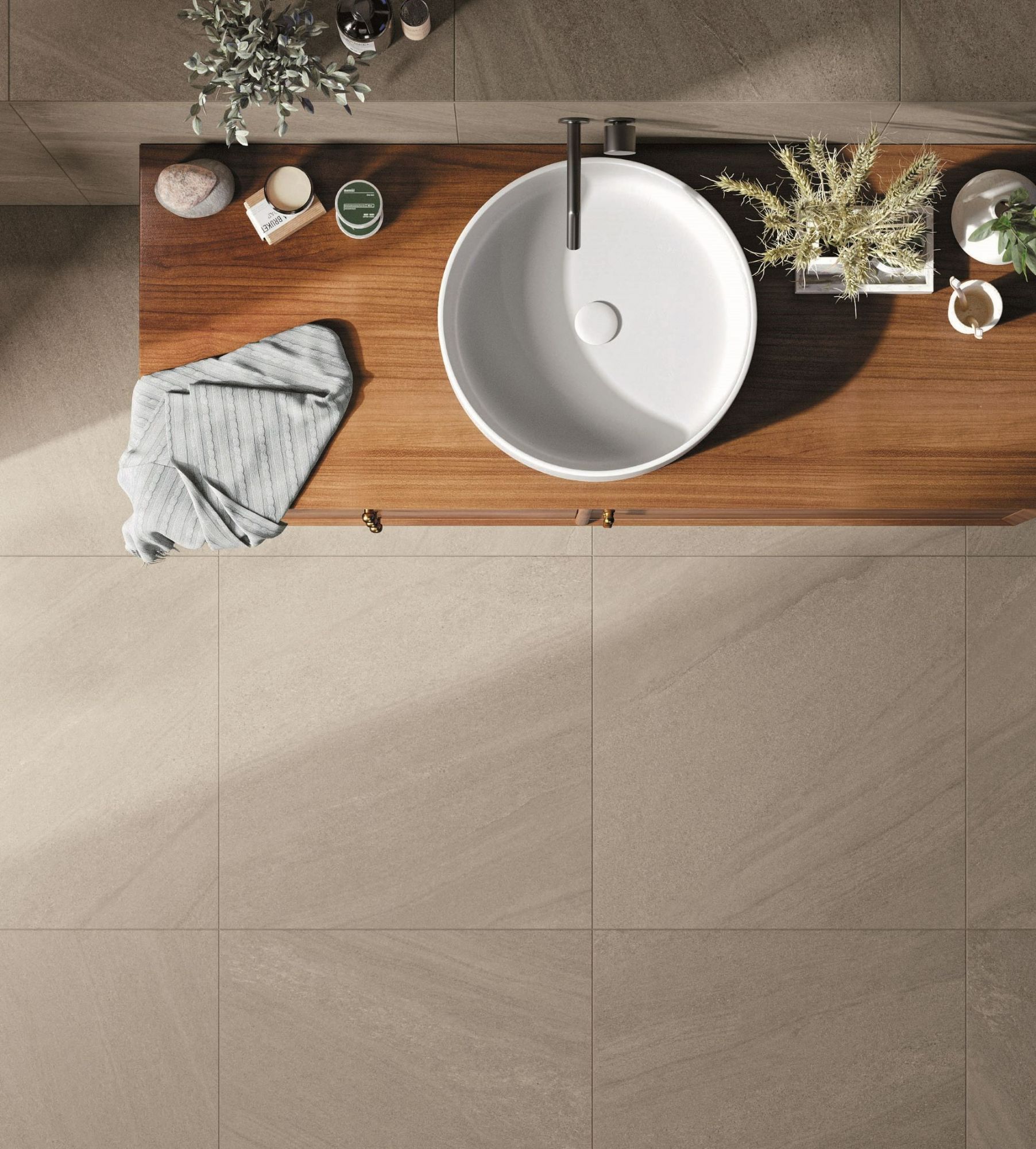 Lagoona tiles in Sandshell
What's the best placement for bathroom tiles?
It's not at all necessary to tile the whole bathroom. We recommend installing tiles in the wet areas, such as the basin splashback, around the shower enclosure, and around the bath.
Interior designer Eva Sonaike selected our Luminous Lume tiles in Blue to splashproof her bathroom room set collaboration, now on display in our flagship Waterloo showroom. Our Luminous Lume tile collection offers 12 lustrous colours that give the bathroom depth and shine with a decadent feel.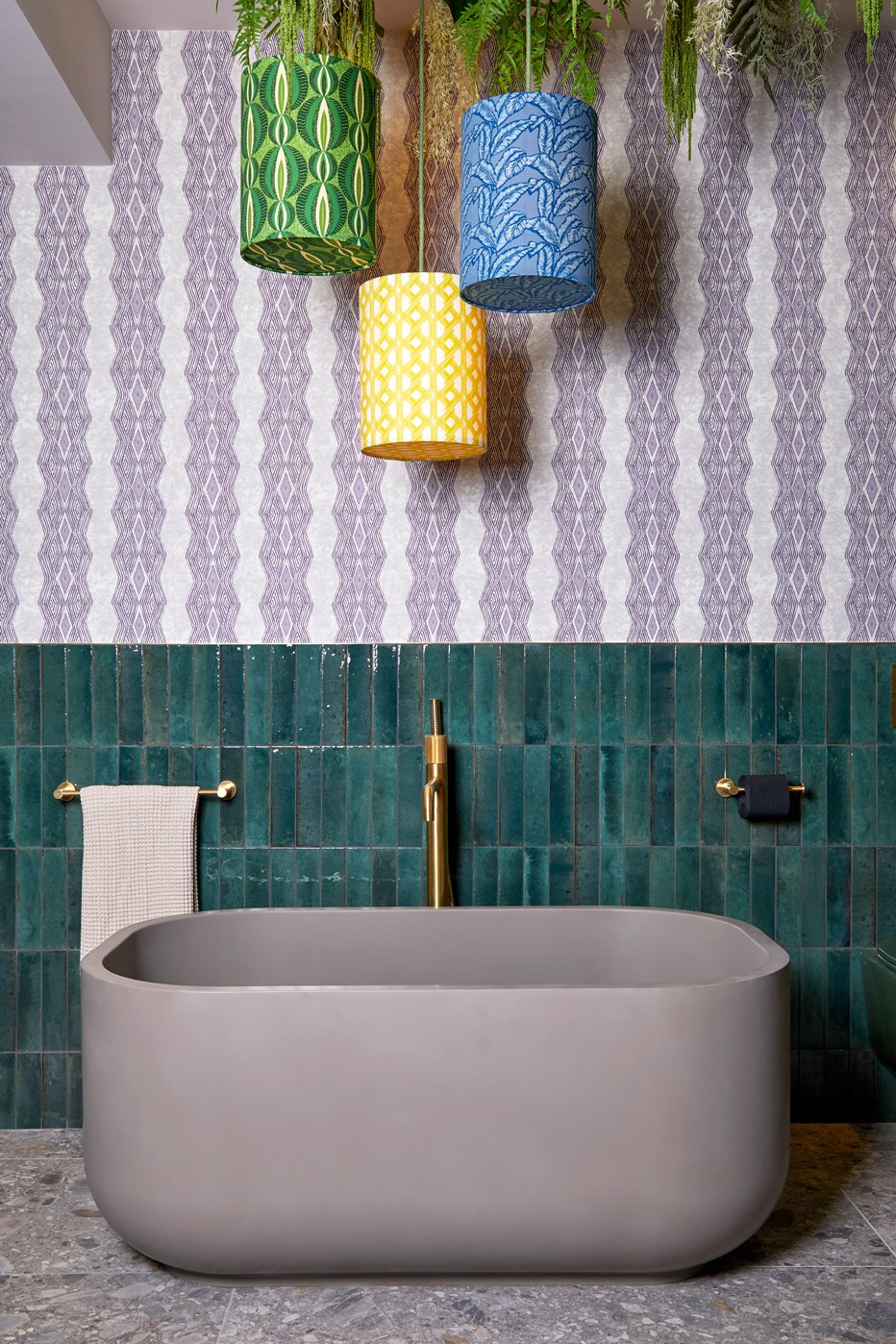 Luminous Lume tiles in Blue

Can I use the same bathroom tiles on the wall and floor?
Yes, so long as the selected tiles are suitable. Porcelain tiles are best for wall and floor installation as ceramic tiles are brittle and are more likely to crack underfoot.
Our striking metallic-look Blaze collection is a popular choice for wall and floor tiles, offering a seamless, spacious appearance. Blaze tiles are available in three shades of Aluminium, a metallic silver, Iron, an inky black, and Corten, a rustic red.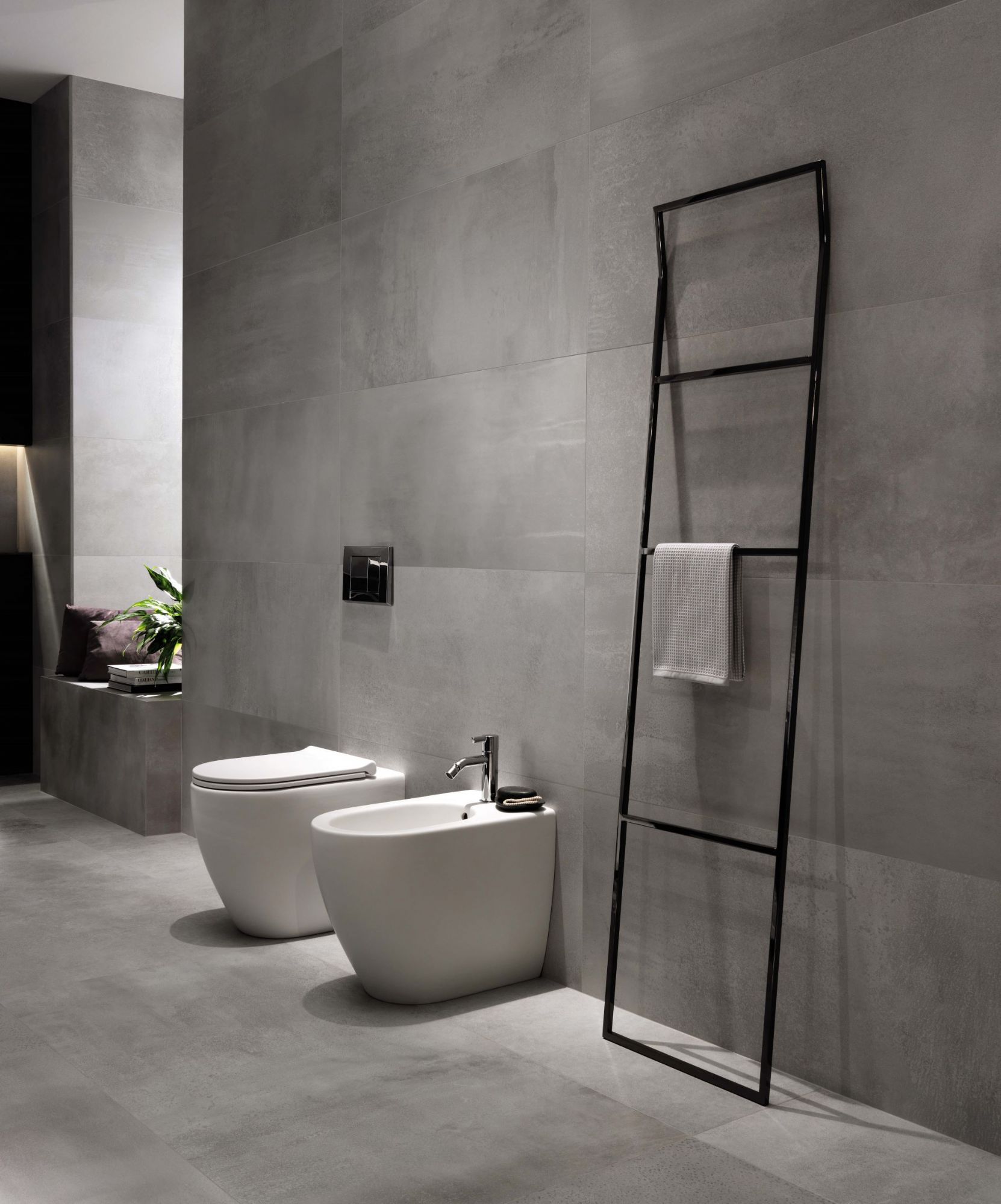 Blaze tiles in Aluminium
Are patterned or plain bathroom tiles best?
There's truly no right or wrong answer. Both can look exceptional; it simply comes down to personal taste.
From a design perspective, keeping tiles plain can help all the other bathroom products stand out, such as specially finished brassware and patterned or textured vanity units.
If you choose a patterned tile, we suggest doing the reverse and keeping the vanity unit simple to allow the pattern to sing. Our Venti collection, one of our most sought-after patterned tile ranges, is an eye-catching porcelain option that breathes warmth into any bathroom, whether classical or contemporary.
Still undecided? You could always mix plain and patterned tiles by creating a patterned feature wall with plain tiles across the rest of the space.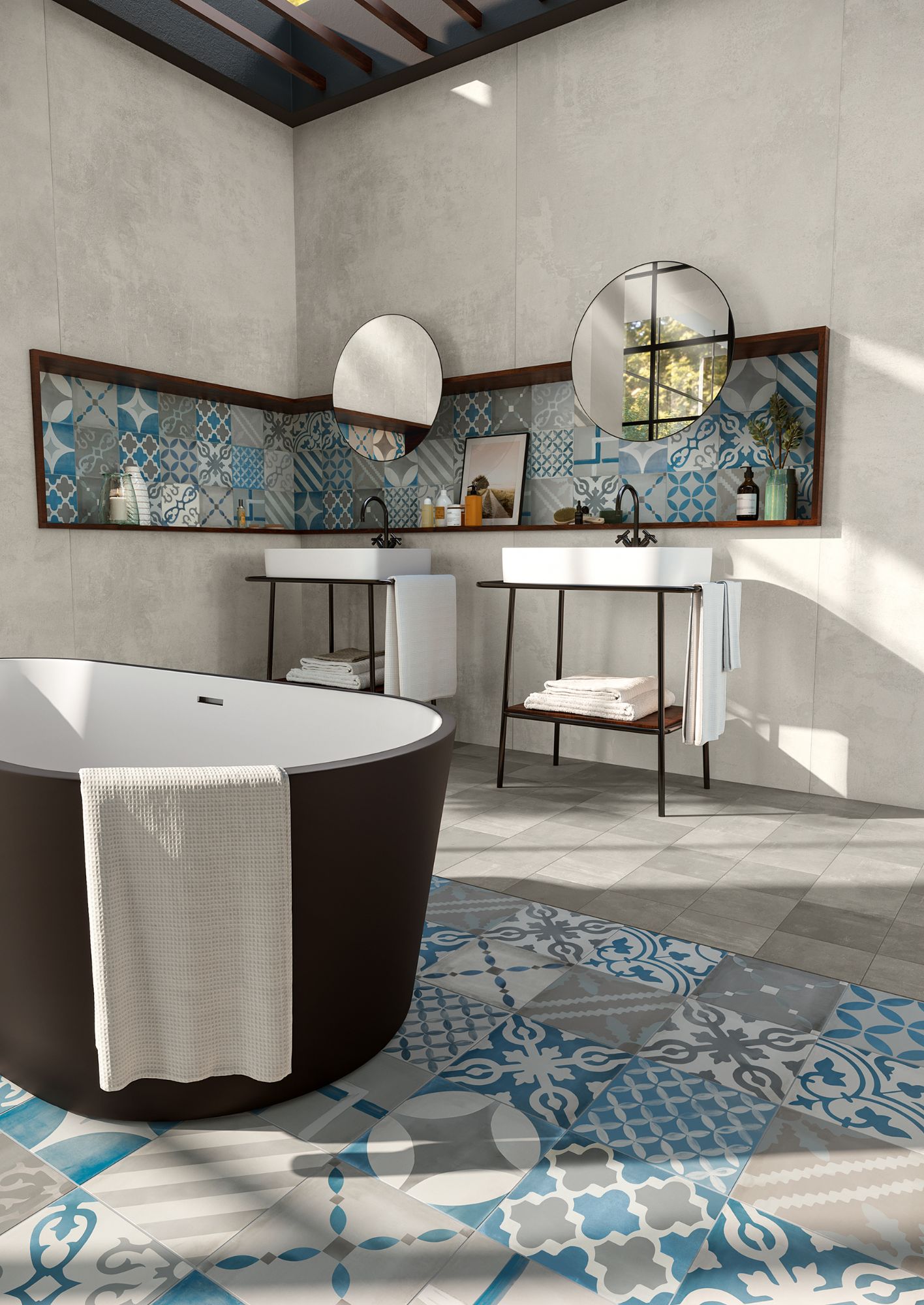 Venti tiles in Venti Classic Mix
How do I install bathroom tiles?
Installing your own bathroom tiles comes with the risk of improper application, a poor finish, and possible wall damage. If you wish to retile your space, we strongly recommend contacting our sales consultants, who will be able to share our extensive tile catalogue, advise you on suitable collections, and introduce you to our accredited installer service.