Mini ISH Trend Report 2019
Held biennially, the ISH Bathroom and Heating Exhibition has long been a launchpad for new products and cutting-edge innovations. Presenting the latest in bathroom design together with modern sustainable technology, over 2,500 exhibitors showcased new products and intelligent home systems. As is the C.P. Hart custom, we aim to bring a piece of Frankfurt to Waterloo through our mini ISH exhibition at our flagship showroom. Bursting with colourful ceramics and new brassware, our launch night saw hundreds of architects and designers descend to the
for the big unveiling. The new products will remain at the showroom for the next few months, so be sure to head down to see for yourself.
Four Emerging Trends From Fankfurt
1. Personal restoration
Bathrooms are no longer an in and out utilitarian space; we are all becoming increasingly in tune with the emotional elements of bathing space. Here at C.P. Hart we believe that the bathroom is a place of healing and rejuvenation; whether in a bath or a shower, water treats and soothes the body. Whilst wellness is not a new trend from ISH, this year we witnessed personal restoration at the forefront of many designs. Designs such as RainFinity from hansgrohe, boasting a concave spray surface and diffused arrangement of disc holes which is deliberately designed to softly cocoon and caress the body whilst consuming less water.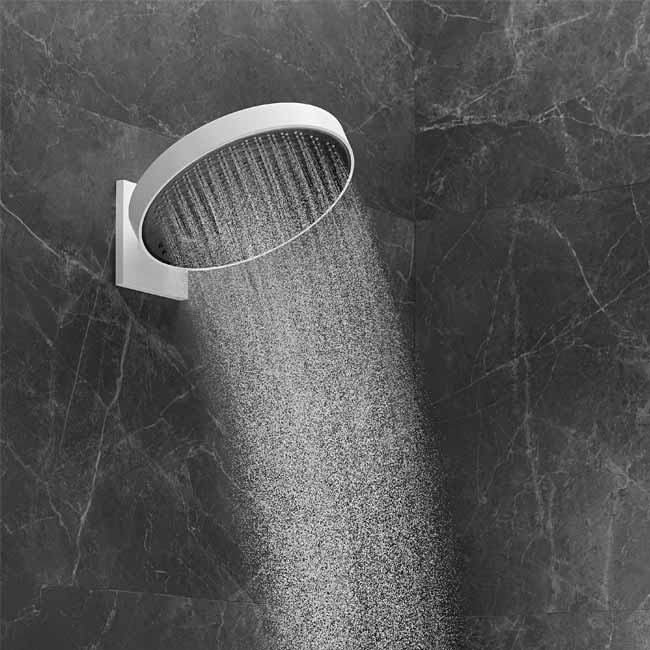 2. Plucky pastels
After years of being confined to white and neutrals, the bathroom was finally bathed in colour. The resurgence of colour is proof that a departure from white is now welcome in even the most minimalist of homes. However, the major difference between the bold colour pops of today and the avocado bathroom of circa 1975 is that the contemporary take is not necessarily for entire suites – a mix-and-match approach to tones is in evidence so that as much or as little colour as it desired can be incorporated into bathroom schemes, according to personal tastes.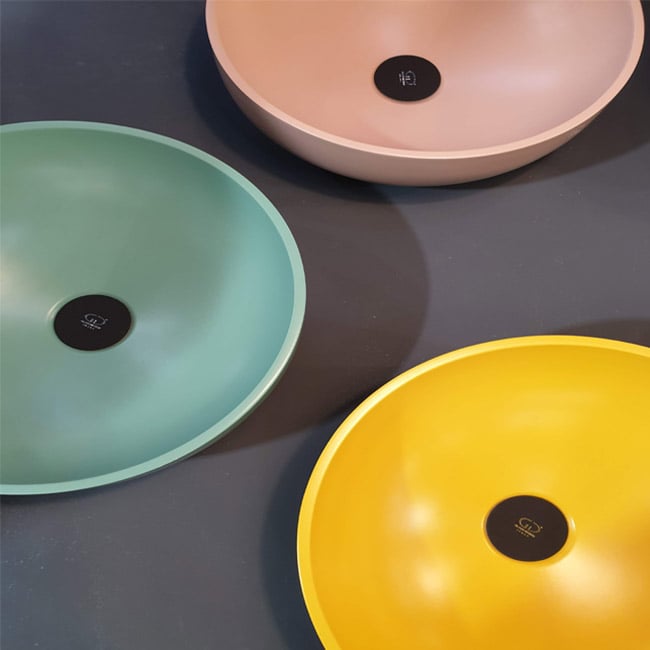 3. Radio Gaga
Heralding a return to the 60s and 70s, several brands played on a retro aesthetic as inspiration for new collections. this year, we witnessed the return of Rockstar glam, an effortlessly cool and edgy take on modern design. With shapes referencing the designs of stereos and gramophones, worked in with textural elements – darker hues and matt sanitaryware taking the lead, possessing a velvety-soft appeal. Gessi's Hi Fi collection introduced the characteristics and essence of the old sound system into contemporary, sleek thermostatic mixers. Duravit's Viu freestanding bath is part of its range created by Sieger Design and has a prominent matt black metal frame that forms a striking contrast with the white acrylic of the tub.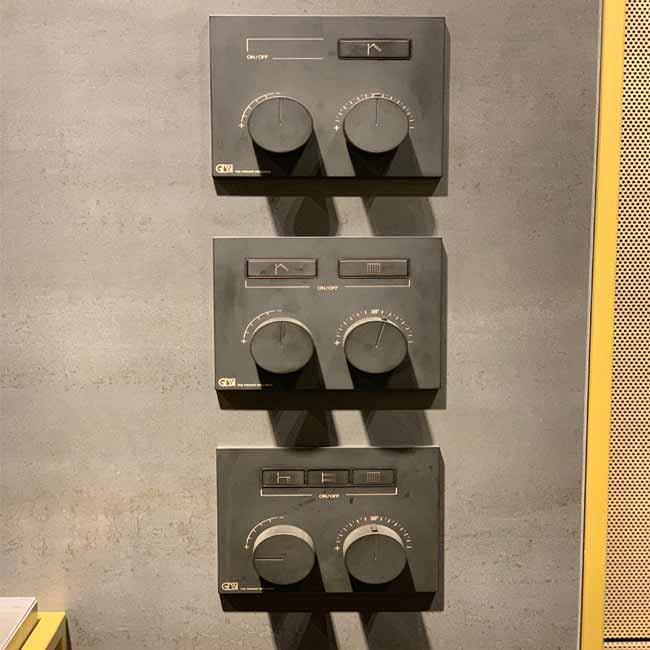 4. Raw & Reclaimed
Raw & Reclaimed takes from nature and reinterprets into clean forms. Natural, unrefined finishes offer respite from the hard, cold surfaces commonly found in the bathroom. Wood, marble, and metals are the mediums used to create inspiring spaces; rooms that speak of substance and longevity. Wood is an obvious go-to. Faking it with wood-look porcelain tiles can be equally as effective, provided there is a textural finish to recreate the tactility factor. Look to our own exclusive range Soleri for a good example of this.
Exciting the senses at ISH was a rich mix of old materials used in new ways, as well as cutting-edge innovations developed to produce very different effects. Cue So design from, exclusive to C.P. Hart, features the option of wood or metal handles, and AXOR MyEdition offers a number of unique plate finishes such as leather, wood, marble or mirrored glass to create a sensuous new experience and look.