Luxury Bathrooms For Your Home
The Height of Luxury Bathrooms
No longer is it the bathroom's primary role to be a merely functional, practical room in your home for bathing and showering in. No longer does it have to be a room of purely sanitary needs. Over the last few decades, we have seen a move more towards that essential room in our homes becoming part sanctuary, part spa - a place for space and serenity from the outside world. Style and well-being are paramount in today's contemporary living expectations; and therefore we are seeing a positive transformation in this vital room's usage and design. Gone are the days when this practical room was just thrown together by the builder and plumber with the help of a high street catalogue. In contrast to the rest of the house, which positively embraces the trend for open plan living, the bathroom has become the place of peace and tranquillity, far away from the madding crowd. So, what better way to exploit your idea of heaven than by gifting yourself the most luxurious bathroom that creates a genuinely unique sumptuous space, just for you?
Lavish Bathrooms
Designing a lavish bathroom for yourself and your family will give you the opportunity to throw away the textbook on what bathrooms should be, and create a luxurious room you love. Luxury is a unique concept to us all as individuals but putting it simply; luxury is defined as:
"A state of great comfort or elegance, especially when involving great expense."
The Concise Oxford Dictionary
The image of sinking into a soothing foamy bath, or stepping into a refreshing, steamy shower, only to rematerialise fresh and revitalised, appeals to most of us.
"I am going to make everything around me beautiful – that will be my life."
Elsie de Wolfe – Interior Designer
But how do we make the transition from that beautiful image in one's mind to one of reality? No longer do we have to suppose that a luxurious bathroom is out of our reach, as with the advent of technology and the abundance of products available, sometimes we are spoilt for choice.
Inspiration is essential to ensure we are aware of all the new trends in bathroom luxury, so research is part of the design process before embarking on actual construction. But, where can we go for truly luxurious bathroom inspiration? What you need is to be able to talk to like-minded, passionate people who don't just see bathrooms as practical washing spaces, but more as a place of haven. You need advice from those who understand plumbing and technical matters through to the interior design features and finishing touches.
C.P. Hart's Luxurious Bathrooms
There are outstanding professional bathroom designers at C.P. Hart, who specialise in offering a truly unique experience when it comes to creating that luxurious bathroom. C.P Hart's workforce understands the desire to create something beautiful from the mundane of necessity - with one of the world's leading bathroom design teams and over 75 years of bathroom knowledge, expertise, and skill. From the outstanding showrooms in central London, with over 23,000-square foot of retail space, the designers strive to work with you to design a bathroom that is unique and bespoke to your own understanding of what luxurious means. Spend time with the team, visit the showrooms, and you'll establish a warm and trusting relationship to take your bathroom adventure to the next stage - a reality.
C.P Hart is passionate about luxurious bathrooms – we understand and appreciate the importance of sourcing products from Europe and beyond to provide luxurious bathrooms, which we absolutely believe in. With the use of high quality beautiful products and materials which make up the impressive collections portfolio, staff at C.P. Hart can help you plan your luxurious bathroom from beginning to end, offering everything from technical expertise to advice on finishing touches.
It is often supposed that the defining elements of a luxury bathroom can be seen as infinite space; spectacular views, irresistible marble, ornate details, a wealth of available materials, as well as contrasting textures and finishes. Not to mention accent lighting, sunken tubs, decorative wall art … the list goes on. Luxury is truly in the eyes of the beholder and budget holder. As Charles Eames famously said, 'The details are not the details. They make the design'. However, we are confident to say that luxury is seen as a modern-day necessity.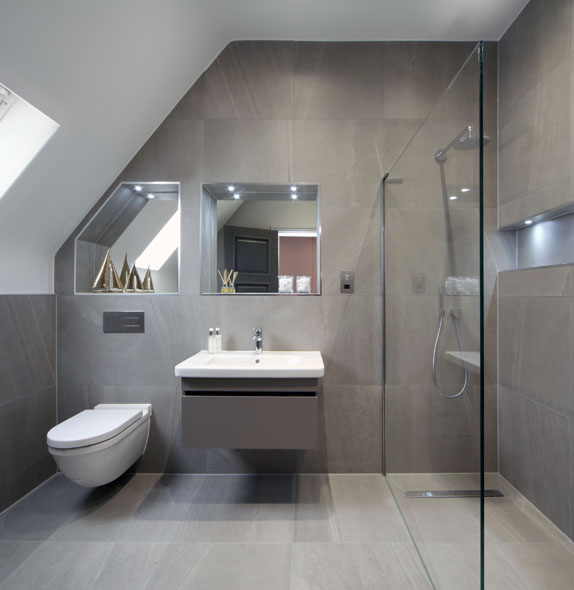 Exclusive Collections
C.P. Hart has showcased many exclusive and original luxury bathroom collections, which inspire and yet reassure that nothing is unattainable when it comes to bathroom luxury. This is why inspiration and support are of paramount importance. When designing your luxurious bathroom, remember, it isn't just about creating a beautiful space, but a practical one as well with all the comfort that your home interior needs. So, if you want a perfect place to unwind after a long day at work, then a beautiful bath that does that specific job, as well as establishing a peaceful and relaxing look for the entire room, is essential.
Replicating style is just a matter of finding creativity and pushing the limits from traditional bathroom expectations. In-house design experts here at C.P. Hart can advise you on how colour can create a relaxing and calming effect – decoration is one of the crucial decisions in choosing luxury over mere practicality, and chromotherapy holds many relaxing and therapeutic properties essential for creating a space of wellbeing.
It is believed by many of the world's renowned interior designers, that a minimalist design, perhaps of modern style with classic and elegant details, is the ultimate in luxury. However, what may be thought of as luxurious to some, may not to others. Perhaps installing a clawfoot bath is what makes it for you, or statement wallpaper… No matter which design direction you choose, there is one aspect you can't escape if luxury is the order of the day. Attention to detail.
The Best Fittings and Fixtures
Attention to detail is vital. Whether you are designing your ensuite or your entire family bathroom, you should not scrimp on detail. Peter Marino, an interior designer, believes 'luxury begins with accessorising your bathroom design.' So, whatever luxurious bathroom image you may have in mind, it is worth taking the time to look for inspiration from the experts. Regardless of the bathroom usually being one of the smallest rooms, the design clout you'll need is probably more, and not less, for your luxurious bathroom. From paint colour schemes, luxury waterproof wallpapers, to fittings, vanities and lighting, the list of your luxury requirements can be endless. Sometimes being practical must take prime importance over sheer luxury…
Five-star luxury is all about how you feel, so the last thing you'll want in your luxurious bathroom may be, for example, cold floor tiles, however beautiful they may look. If you want a certain pizzazz, then take time over your tiles. You could opt for the chic look of natural Onyx tiles, which combine the practicality of porcelain with natural beauty. Alternatively, the sheer elegance of the design house of Versace's marble with its warm, inviting ambiance. However, as beautiful as they may be, they will be spoiled if they are too cold first thing in the morning, so the technical advice of perhaps, underfloor heating is also of paramount importance.
Mirrors can make or break the overall look of the bathroom, but how frustrating is it to experience steamed up mirrors – this is again where the advice of technical solutions with anti-fog mirrors, is essential. Your choices are more than just to create a bathroom haven, as according to the 'New York Times,' the more investment you put into your bathroom, your house gets more valuable because of alterations.'
Inspiration is endless, and big brand suppliers of bathroom materials are too. Whether you opt for Moroccan, minimalist, zen, Greek, tropical, or Neoclassical looks for that luxurious touch, no doubt you'll be purchasing a major bathroom brand somewhere along the line.
Visit a C.P. Hart showroom to see whether the freestanding or stone bath is what you really desire before you splash out on a large and expensive piece of bathroom furniture. Seek advice, and for luxury, it is imperative your bathroom is designed with only you in mind. C.P. Hart's creative and knowledgeable designers have the ability to customise almost anything you wish.
"Be faithful to your taste, because nothing you like is ever out of style."
Billy Baldwin – Classical and Modernist Interior Designer
Trends come and go, but as Billy Baldwin says, as long as you love your luxury bathroom then you shouldn't be afraid to have what you desire. Many luxury bathroom collections from famous bathroom brands offer longevity in their design – so you can create luxury that lasts.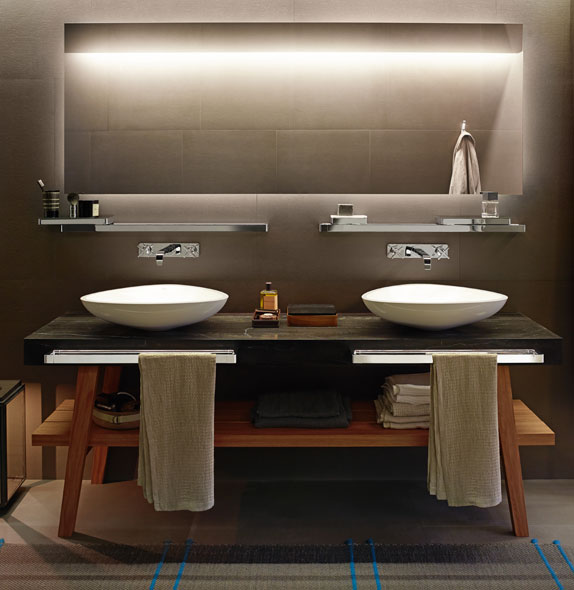 Design and Plan your Perfect Bathroom
Whether it's a grand bathroom or a bijou wet room that is your idea of luxury, there's a myriad of designs and styles for you to peruse at C.P. Hart's UK showrooms from contemporary to traditional, taps to tubs, showers to sinks, tiles to toilets. At C.P. Hart, we appreciate that the chosen design and feel of your bathroom is a very personal thing.
We recognise that what delights one person may put off another; thus, by working closely with each client to help you realise your vision we can ensure that the potential of your luxurious bathroom becomes a reality. While suggestions and recommendations are made by the C.P Hart design team, client's wishes will always be respected. Your final choice of what you wish for in your bathroom will be of the utmost importance.
A lot of planning goes into creating your luxurious bathroom – it's an expensive venture, and thus mistakes aren't going to be accepted. Once you've visited a showroom and experienced the numerous stunning bathroom collections, you'll need an initial consultation to establish what your luxurious bathroom needs, and help with styling ideas. From there, the bespoke design of your bathroom is sketched with plans and drawings from the extensive range of fittings and fixtures, including furniture. Luxury bathroom furniture can include numerous different lines, all conveying a hint of the sumptuous by being hand-made, hand-finished, and designed to cope with bathroom humidity. These range from luxurious vanities with a multitude of sophisticated contemporary colours and precious finishing materials, all able to cope with the most challenging of spaces.
The different furniture collections feature doors and drawer fronts with luxury decorations applied in a mirror, glass, or metal finish … whatever you desire. Cabinets, tall units, and accessories are available with matching decorations hand-crafted by highly skilled artisans from around the world, making your bathroom unique and individual.
The right lighting is imperative to create the right atmosphere in your bathroom. So, whether you desire ceiling, wall, or standing lighting, it can be make or break when it comes to the overall required effect. The same goes for fittings – perhaps you wish to opt for an old-fashioned brass design or a contemporary colourful number. The story goes on…
Once the design is ready, your bathroom will be expertly installed, crafting tirelessly to fit the bespoke bathroom of your dreams. It's estimated that we spend an average of 40 minutes a day in the bathroom, which totals nearly eight days a year! That's a lot of time in this one essential room. Get it right, the first time.
So, if the atmosphere, a hint of decadence, and sleek sophistication are your idea of luxury and you want a bathroom that will be like no other, then seek inspiration from C.P. Hart. From concept to completion, C.P. Hart can offer the complete luxurious bathroom service, second to none. It's a safe bet we all recognise luxury when we see it – in a bathroom; it's usually because it's unusually spacious, finished with expensive, classy materials, stylish details, perhaps filled with light – our senses let us know. But whatever our definition of a luxurious bathroom, we all need inspiration from time to time.
"With a little help from my friends…"
The Beatles
Although luxury is a state of mind, a belief linked to our desire to reach our full potential and to stand out as individuals, what makes a truly luxurious bathroom can in fact be very simple features. Choice of materials, products, finishes and colour all contribute. Everything has to work in sync and to flow, to make the overall design and décor come together to create a truly luxurious bathroom.