ISH Trend Report 2015

ISH is the largest international trade fair for the bathroom industry. Held biennially in Frankfurt, it's a major focus for bathroom designers and manufacturers. This year, thousands of new products were unveiled during the event and, as always, our C.P. Hart team were on hand to pinpoint the products and trends that will define the next two years.

Here are the most significant trends that emerged from the biggest week on the bathroom calendar: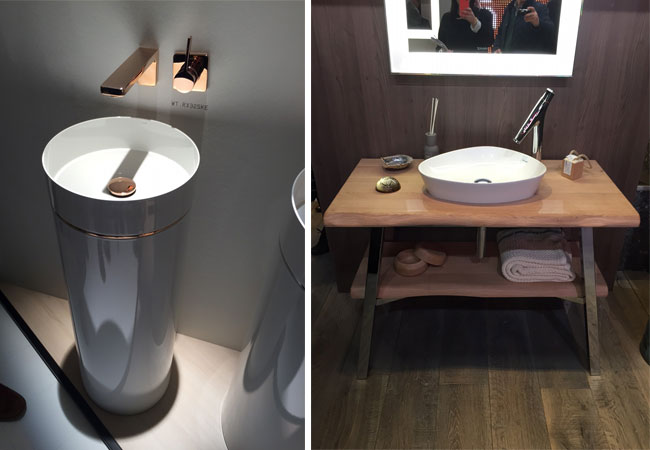 Industrial Revolution
Bathroom designers are responding to the demand for a more urban aesthetic, inspired by the
reclamation of industrial buildings for residential use and the exposure of construction materials in modern city living. ISH showcased details such as polished concrete, steel frames and functional pipework.

Hot Metal
In recent years, brassware has been dominated by chic, minimalist designs, with chrome mirrored finishes that almost invite you to look elsewhere in the bathroom. The emergence
of exciting new finishes, complementing bolder designs, has reignited this category. We're seeing the full spectrum from pale blondes and warm ambers, to dense matt black.

Skandi Tones
Scandinavian design continues to have a strong influence on interiors. At ISH, typically Skandi tones of greys, muted greens and blues could be seen across furniture, ceramics and surfaces. WCs and bidets in grey caught the eye. Furniture units in pale shades looked fresh and cool.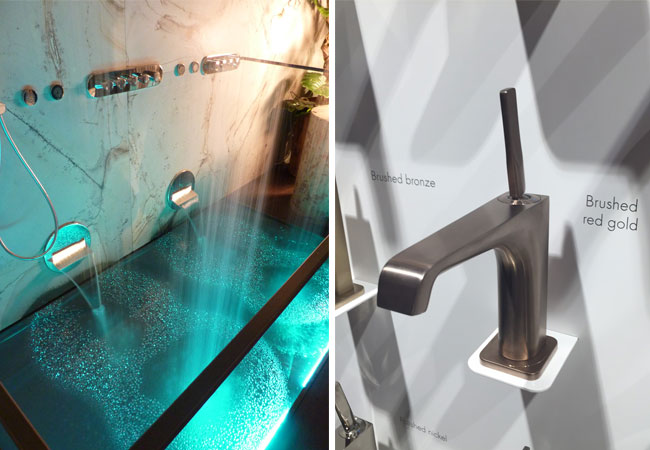 Touches of Class
Designers have begun to reject the more functional requirements of austerity and once again embrace flair and opulence. At ISH, this took the form of luxurious detailing – elegant, crafted touches rather than raw bling. Axor's Starck V was beautifully enhanced by diamond-cut engraving. We also admired Dornbracht's new CL1 brassware, a range far more exciting than its name suggests.

After debating the relative merits of the new designs on show at ISH, we expect to be showing exciting new products at our flagship Waterloo showroom within months. To find out more about our views on ISH, or to arrange a Waterloo tour, please contact our client liaison team or your local showroom.