23/02/2017
ISH, the bathroom and heating trade fair, is arguably the most important exhibition in the bathroom industry calendar. It's held once every two years in Frankfurt and, through the many innovations and literally hundreds of product launches, it offers a glimpse of the future of bathroom design. C.P. Hart sends the largest team of any UK bathroom supplier to talk directly to designers and manufacturers to secure the best new products for our showrooms.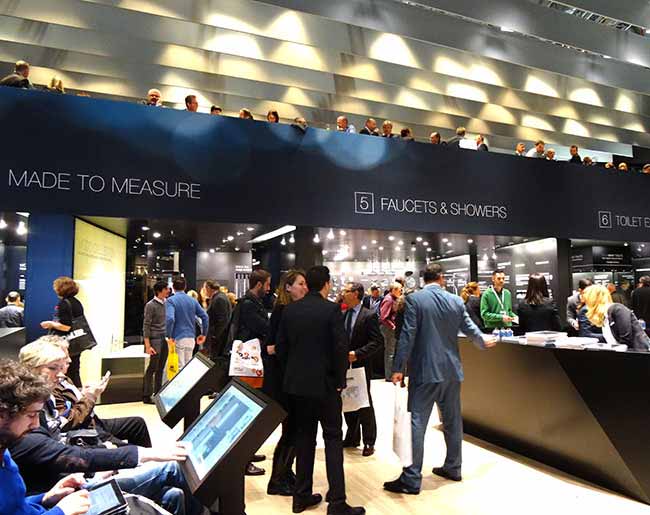 This year, for the first time, we are going to hold a special event of our own at our flagship showroom – behind Waterloo station in London – where we will display the best new products from ISH just a few short weeks after the exhibition closes.
We are calling this event exhibISH, and it will run from early May through to the end of July. The official launch will be on Thursday 11th May. More details will follow, but if you would like to register your interest, please send us your details at [email protected].
Naturally, manufacturers are not keen to reveal too much in advance, but we asked two industry names to preview ISH 2017. Martin Carroll, Managing Director of Duravit UK, is anticipating an exciting year: 'In 2017, technology will play an increasingly important role in the sanitary industry, whether in the form of products designed to make the bathroom more comfortable and smarter, or optimizing a home's impact on hygiene. In terms of colours and materials, we will meet a Nordic colour palette as well as high-tech materials like DuraCeram and DuraSolid.


'Urbanization is one of the most rapidly evolving processes in the last few years, and is a trend which tremendously affects the building industry and therefore also interior design. Since space is a limited resource in today's cities, new and smart concepts of living are necessary. Use of space needs to be perfected. With our smart bathroom solutions, we perfectly match smart houses. Especially when it comes to small bathrooms, Duravit offers a wide range of products to choose from – whether it's OpenSpace B, the shower enclosure that provides extra space, or our compact models for toilets, washbasins and furniture shown in our DuraStyle and Darling New ranges, which are suitable for any space requirements needed. Although these products take up minimal space, there is an emphasis on comfort.'
Christian Sieger, partner at leading German design house, Sieger Design, is a leading thinker on the future of the bathroom. He believes our increasing need for sanctuary from the 'always on' world has made the bathroom more important than ever, not just as a functional space but as an experience that can recharge us. Technology can provide us with a personalised approach, he explains: 'We should allow men and women to use the shower in a different way. The quality of the water, the intensity of the water can be used in a different way.'
ISH 2017 Preview: Christian Sieger talks to C.P. Hart from C.P. Hart Bathrooms on Vimeo.

ISH 2017 starts in Frankfurt on 14th March, and the C.P. Hart team will be sending back their immediate reactions via social media. Follow C.P. Hart by clicking on the Facebook, Twitter, Pinterest or Instagram links at the bottom of the screen. And to register for more details of our May event where we will present the 'best in show', please email us at [email protected].