Interior Trends At Decorex 2015
Decorex International is always a much-anticipated highlight of the London Design Festival. Set in the grounds of historical Syon Park, this annual event is a must-see for design professionals looking to discover the emerging industry trends that will feature heavily over the coming year.

During our visit, we perused the stands of over 400 exhibitors – both established and up-and-coming – admiring the creativity that went into each one. Here is a round-up of the most prominent trends we saw on show:

Malachite print
In 2014, marble was very much the rock of choice, but 2015 has seen the emergence of malachite as the stone of the moment. We spotted the striking green swirls throughout Decorex and felt it worked particularly well printed on lampshades at Graham and Green, and Ecco Trading.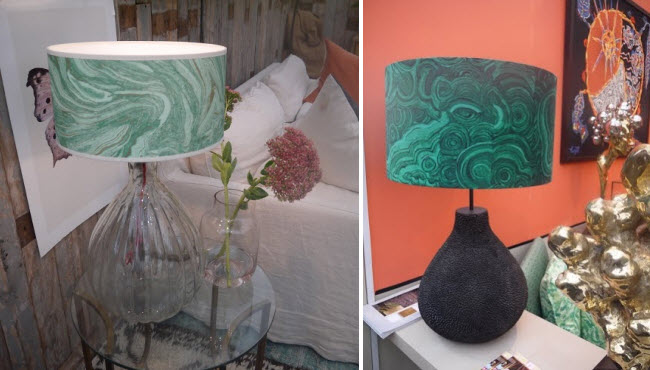 Statement lighting
We saw countless stunning examples of statement lighting, including exquisite cluster lights, dramatic lamps and oversized custom-made chandeliers. The detail and craftsmanship that had gone into them was astonishing.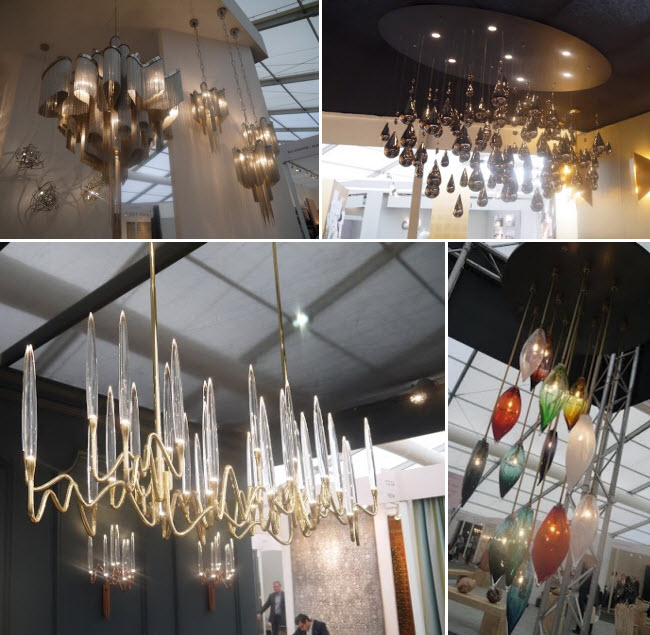 Return to bright colour
Greys and neutrals have commanded the interiors world of late, so we're pleased to see the return of a brighter colour palette. Vibrant hues were dominant at this year's show, with pink and green in particular taking centre stage. They featured on everything from cushions and sofas, to wallpaper and rugs, perfect for adding a single pop of colour or a multi-coloured theme for maximum effect.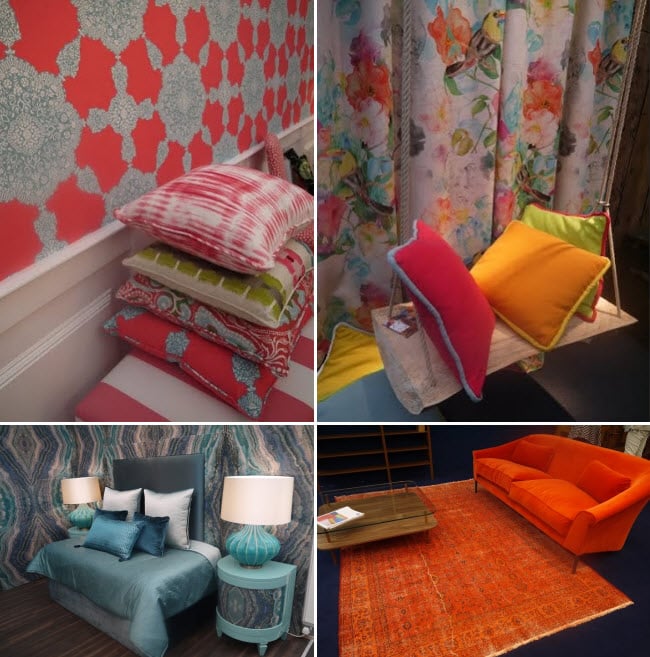 Exposed light bulbs
A perfect example of this trend is the wall-mounted lights we saw at Copper & Silk's stand. Combining gold – another trend that has made a welcome return this year – with exposed light bulbs, this light fixture created a dazzling effect against the deep blue backdrop. One of our favourite stands at Decorex was the one designed by Pooky – their quirky painted furniture and coloured lamps with exposed bulbs caught our eye.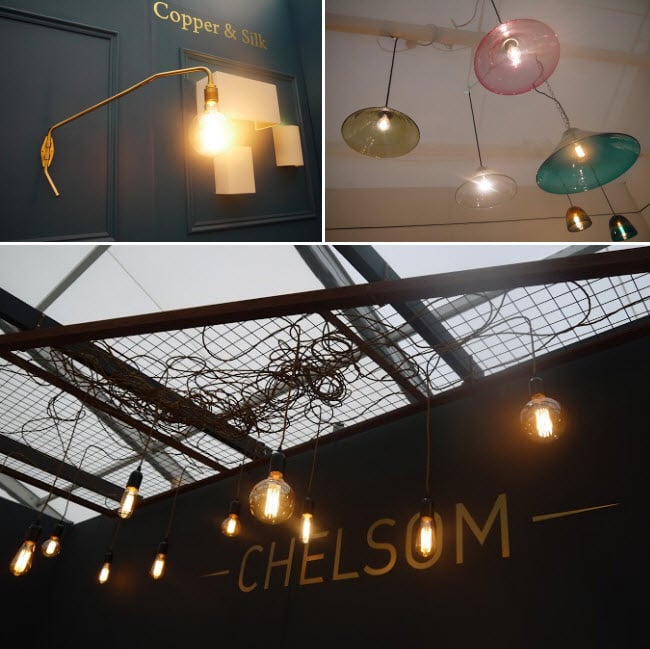 Exotic birds
Tropical decor is an easy way of bringing the outside in. In particular, exotic birds are emerging as a major design trend, thanks to the diverse range of styles and colours they offer. At Decorex we saw it being used extensively on fabrics and wallpaper, often punctuated by the likes of banana leaves and pineapples, also proving popular in the interiors world.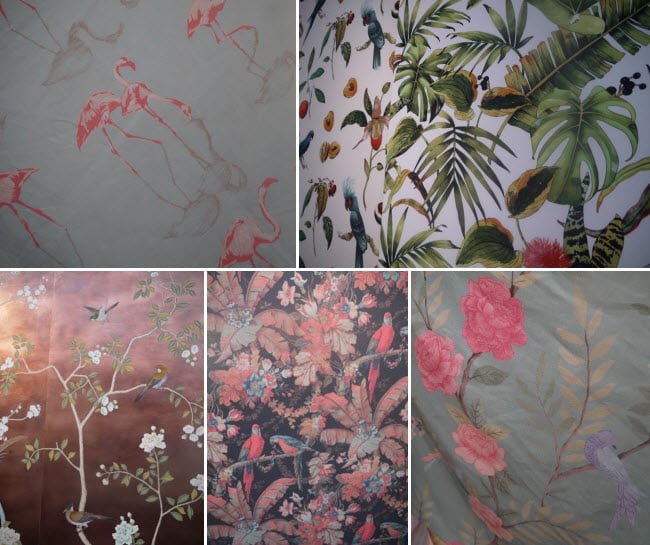 Herringbone
Another key trend we picked up on was herringbone. A more interesting take on a traditional linear pattern, this design was widely used in very different ways throughout Decorex. We liked the subtle use of herringbone in Sarah Hardaker's materials and were bowled over by the eye-catching use of the trend on Voyage's multi-coloured fabric. Ted Todd opted for muted tones on hardwood flooring, while Jennifer Manners had chosen bright blue and white on a rug design.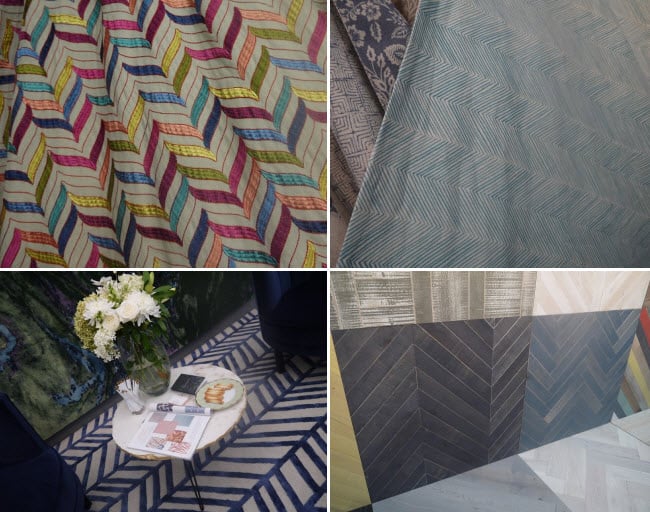 Oversized items
Understated is out. Excess is very much in. From giant chandeliers by I Dogi towering at over seven feet tall, to enormous marble baths by Lapicida, at Decorex it was a case of the bigger, the better. Paintings and artwork also followed this trend, with pictures spanning three frames instead of one – ideal for creating a feature wall.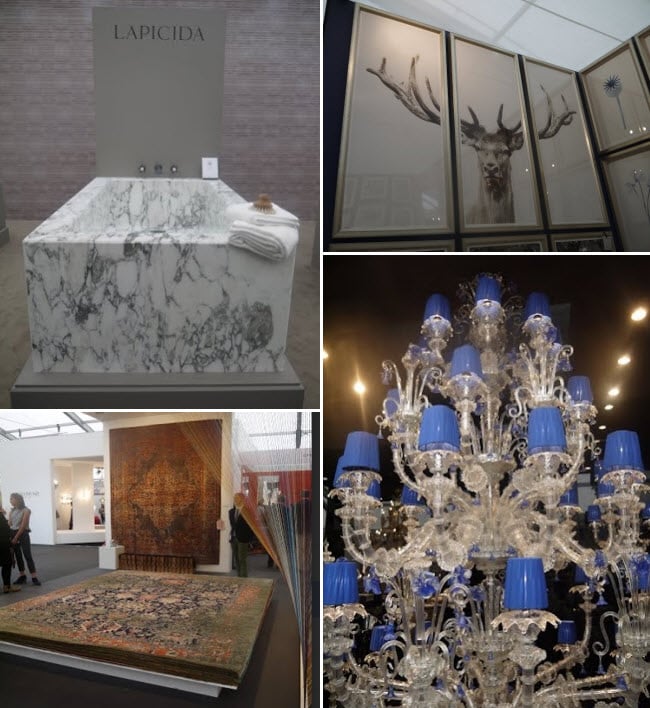 Blue and white china patterns
There was a taste of the Orient throughout the tent at Decorex, with blue and white china patterns exhibited at a number of stands. Nicholas Haslam, in particular, had an extensive display of beautiful china vases, plant pots and ornaments in various hand-painted blue and white patterns. Justin Van Breda also showcased the trend with decorative blue and white china plates, which worked perfectly with his new 'English Home' collection.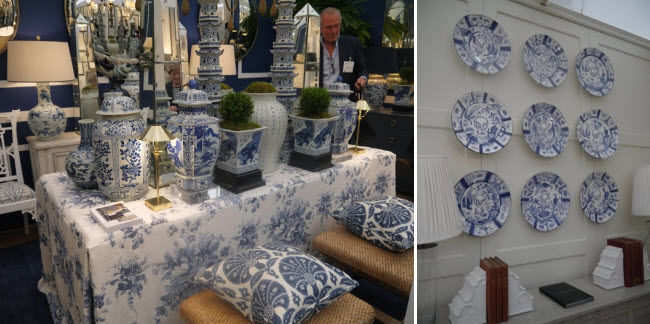 Which design trends have you seen emerge this year? Get in touch with us on social media.