Practical considerations:
Toilets and bidets are usually made of porcelain or china.
The size of your room will affect your choice when choosing a toilet. For example, if you're buying for a cloakroom bathroom, you'll need a more compact type of toilet. However if you have a more spacious bathroom, you have many options available to you and may also wish to include a bidet.
When buying both a toilet and a bidet, it is best to choose them both from the same range/collection. There are many collections available at C.P. Hart in both contemporary and traditional styles.
Toilets use a considerable amount of water, so it's worth doing a little research or asking advice on which of your preferences are the most water-saving.
When buying a toilet, make sure to check that you have everything you need, as components like toilet seats and cisterns may need to be purchased separately. An advisor will be able to help you with any questions you may have.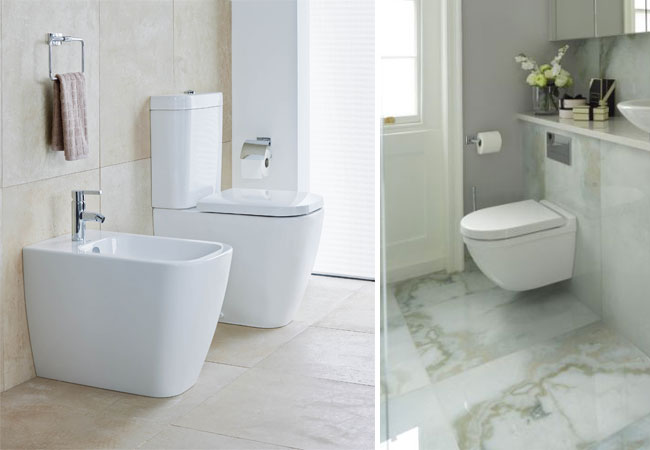 Types of toilets:

Close-coupled
The cistern sits directly on top of the pan which is fixed to the floor, and the cistern is attached to the wall.

Wall Hung
These toilets are suspended from the wall, meaning the wall needs to be strong enough to take the weight. The cistern is concealed behind a panel.

Low Level
This consists of a floor-mounted pan connected to a low level cistern by a short flush pipe.

High Level
This consists of a floor-mounted pan connected to a high-mounted cistern by a long flush pipe. The flush is operated by a pull chain.

Back-To-Wall
The cistern is concealed within the unit or wall, and the pan is floor-mounted. These toilets are perfect for a contemporary bathroom in particular.