The Toilet Buying Guide for Luxurious Bathrooms
The key to any bathroom is functionality. When creating a new bathroom, it's helpful to consider both the style and function of your toilet, whether you prefer traditional designs, such as a high-level toilet, or a technologically advanced toilet from the likes of TOTO or Duravit. Within C.P. Hart's toilet range, you will find every type of WC, including back-to-wall toilets, close-coupled toilets, and wall-mounted toilets.
Embarking on a new bathroom project is always an exciting experience. Whether it's a minor update or a complete renovation, we believe in the importance of understanding how your bathroom works in order to optimise your space fully. In this toilet buying guide, we will explore each different toilet style that C.P. Hart offers, as well as share some tips on what to consider when finding the best toilet for your home.
Please click here to shop all of our toilet ranges, and click here to learn more about our selection of toilet seats.
Back-To-Wall Toilets
A back-to-wall toilet is often first choice for those seeking a modern bathroom design. The pan sits on the floor, flush to the wall, with the cistern hidden behind the wall, usually by a partition wall or with a furniture unit that harmonises with the bathroom's interior scheme. You would opt for a back-to-wall toilet due to its sleek and contemporary appearance – please do check whether the cistern comes with the toilet pan or whether it needs to be purchased separately.
C.P. Hart offers an extensive back-to-wall toilet range, showcasing products from our own exclusive collections, as well as styles from world-renowned manufacturers and suppliers; our ranges cater to all those who wish to buy a toilet for their updated bathroom. Explore our designer toilets from the Duravit Happy D.2 pan to the Cielo Shui back-to-wall pan, available in various finishes including 'Glossy White' and 'Glossy Black' as well as soft, matt tones such as Cielo's 'Arenaria'.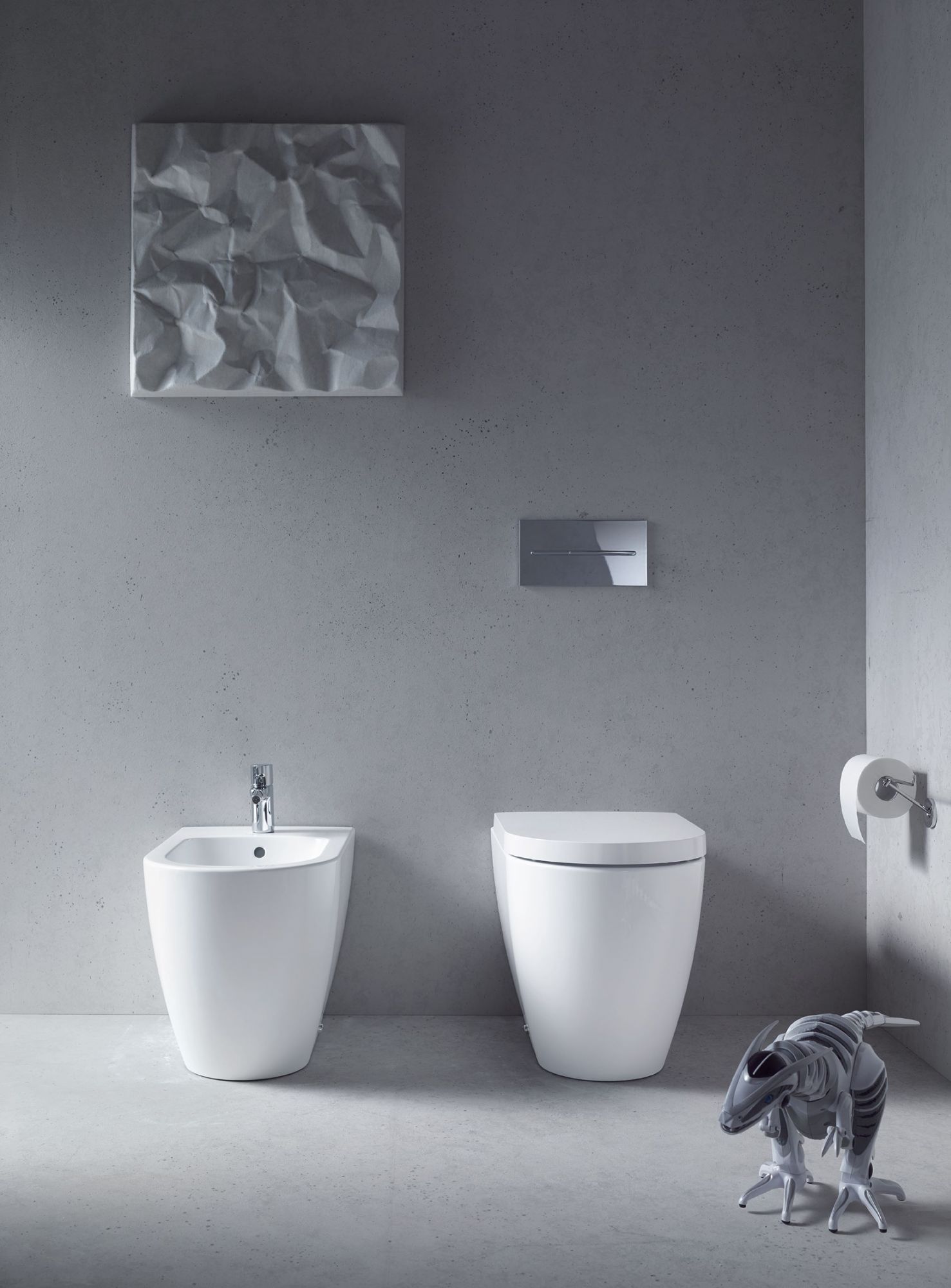 Shop the Duravit Me By Starck Back-To-Wall Pan featured above.
Close-Coupled Toilets
Unlike a back-to-wall toilet, the cistern of a close-coupled toilet is visible, usually placed directly on top of the toilet pan. A close-coupled toilet will suit most bathroom styles due to its universal design. For a classic bathroom, our exclusive London collection offers traditionally designed, close-coupled toilets in white ceramic, black, blue, and slate finishes. For those who prefer a more modern take on bathroom design, look to Duravit's ME by Starck close-coupled pan.
A close-coupled toilet offers diverse flush mechanisms; you could choose a traditional handle, a flush plate, or a cistern with a built-in flush button, such as those from Duravit's White Tulip range.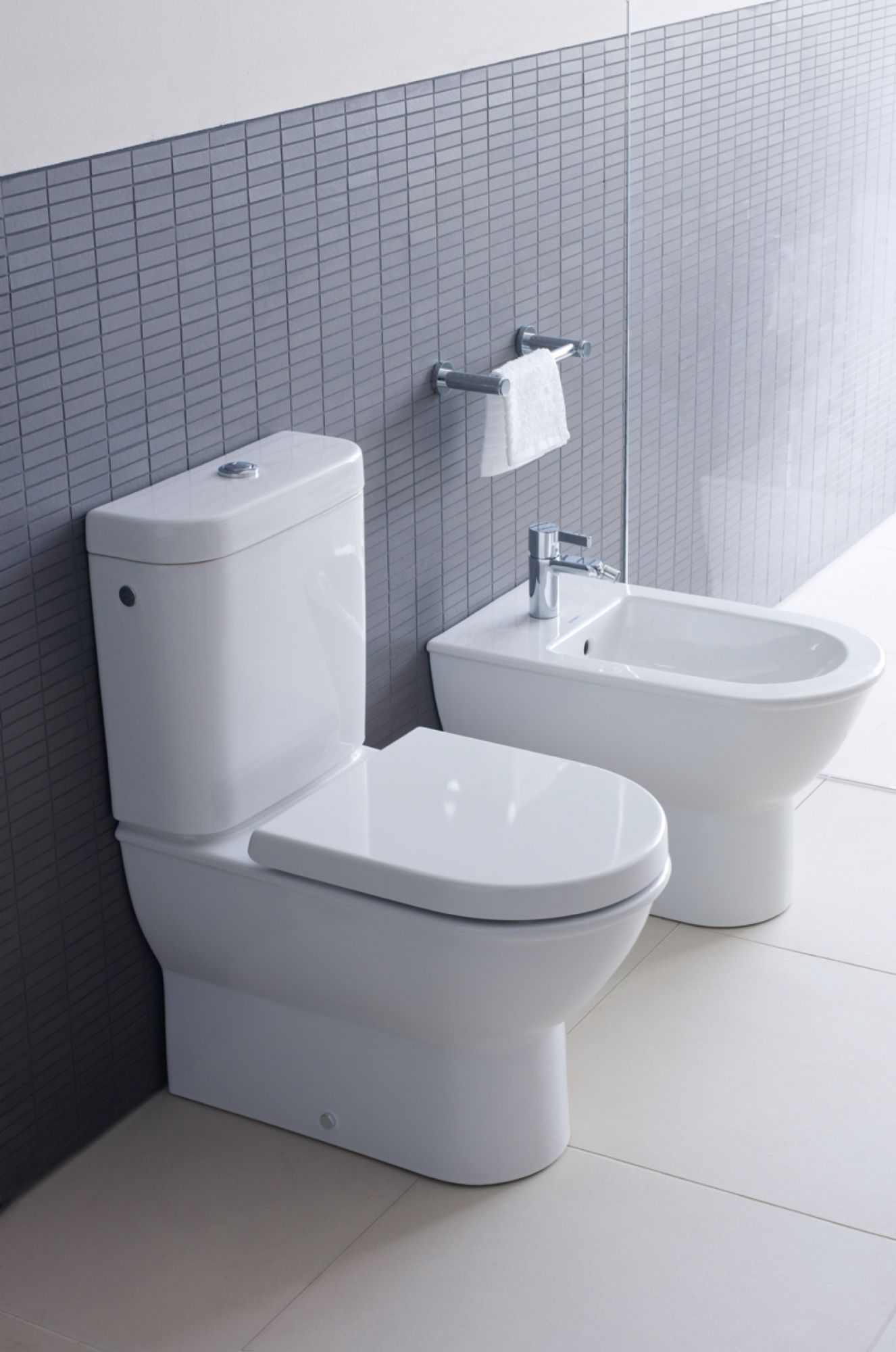 Shop the Duravit Darling New Close-Coupled Pan featured above.
Wall-Mounted Toilets
A wall-mounted toilet is considered the most modern toilet design, suspended from the wall and mounted on a concealed frame. Set above the floor, a wall-hung pan allows bathroom tiling to be fitted flush to the wall, creating the feel of a larger floor space. This design detail is particularly beneficial in smaller bathrooms, cloakrooms, and en-suites.
At C.P. Hart, you will find many wall-hung toilets, including those from our exclusive Zone and Henley ranges, as well as options from Cielo, Duravit, Gessi and TOTO. Geberit, a leading manufacturer of sanitaryware and sanitary technology, is best known for its Duofix Frames, innovatively designed with built-in cisterns for an effortless installation.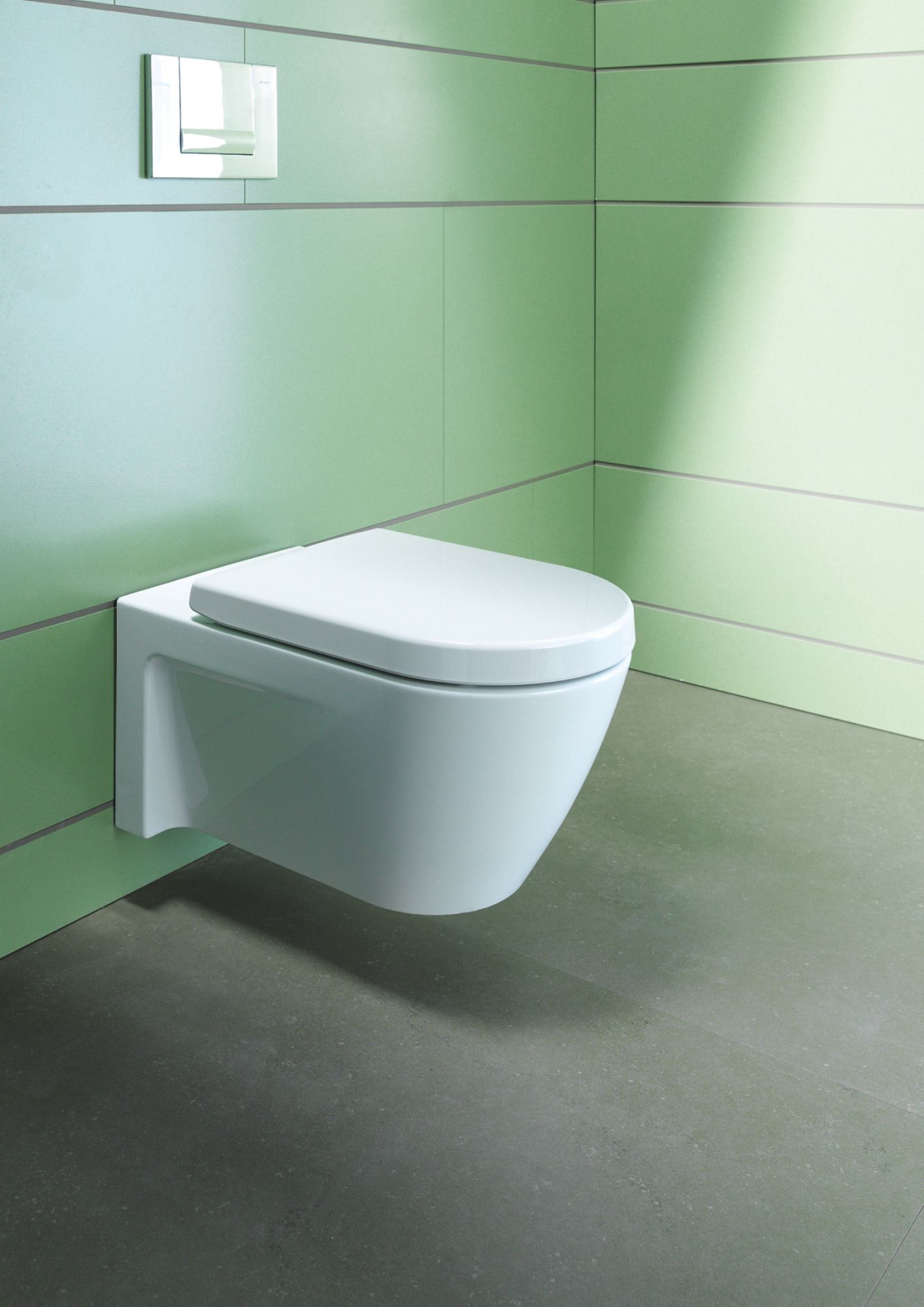 Shop the Duravit Starck 2 Wall-Mounted Pan featured above.
High-Level Toilets
High-Level toilets are best suited to traditional bathroom designs, characterised by a cistern mounted high up the wall with a long flush pipe connecting it to the pan. Typically, high-level toilets are complete with a chain pull flush, a design feature that truly sets the tone for a classic bathroom. Our exclusive London and Henley collections feature beautiful high-level toilets, available in White, Black, Moseley blue, and Stoneywell Slate.
Low-Level Toilets
Low-level toilets are much like high-level toilets in design, the main difference being that the cistern is set far lower down the wall. You will often find a flush handle on a low-level toilet, adding to its traditional appeal. Again, look to our exclusive London and Henley ranges for classic low-level WCs, complete with your choice of White, Black, Natural Oak, and Mahogany soft-close toilet seats.
Japanese Toilets/Shower Toilets
Shower toilets are the latest technological innovation that many of our clients wish to have in their homes. Recognised as the world's leading producer of shower toilets and named the "best two-piece toilet of 2021" by Good Housekeeping, TOTO has, without a doubt, revolutionised the bathroom. TOTO toilets, such as the TOTO WASHLET, features heated seats and self-cleaning, auto flushing, and deodorising advancements. With the TOTO TORNADO FLUSH technology, every bathroom use promises optimal hygiene while using less water and a quieter-than-ever flush. For the complete TOTO experience, one may create a personalised profile with your preferred functions pre-saved.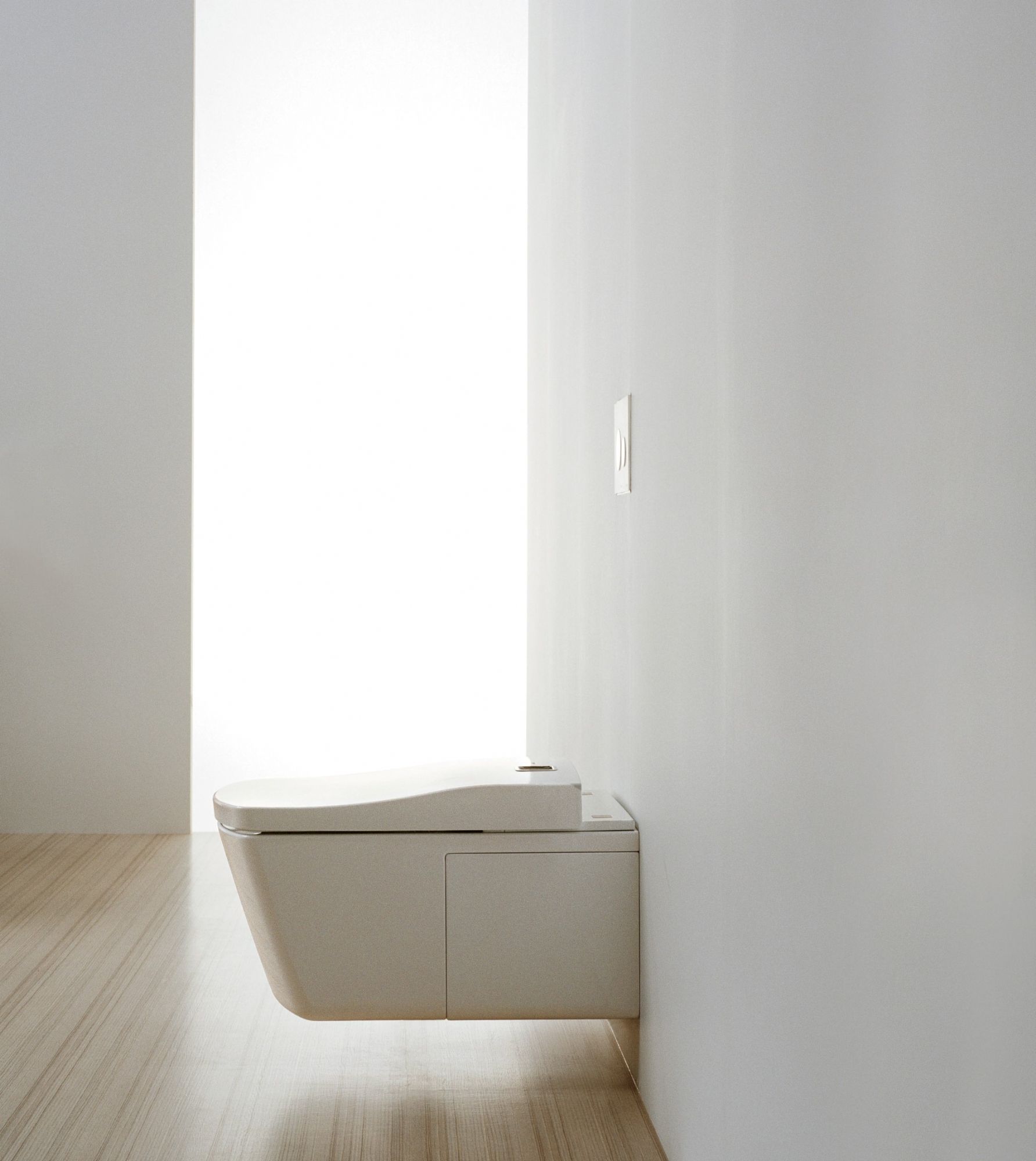 Shop the TOTO Neorest AC Washlet Set featured above.
The Best Toilets for Small Bathrooms
Although creating a small bathroom may seem like a challenge due to its limited floor space, C.P. Hart is well equipped with an array of toilets for cloakrooms and en-suites. A wall-hung toilet is an excellent way of opening a room, allowing tiles or flooring to be placed right up to the wall.
In addition to standard wall-hung toilets, suppliers such as Duravit create exceptionally high-quality yet space-saving toilets that don't compromise on function. Explore compact toilets from the Duravit Starck ranges or browse our exclusive London collection.
Tips For Buying a New Toilet
C.P. Hart's team of professionally qualified designers and consultants have over 80 years of luxury bathroom knowledge. From practical considerations to water-saving concerns, please find some of their top tips for buying a new toilet below.
When specifying a new bathroom, you may consider purchasing your toilet and bidet from the same range. By doing so, you will ensure that the design features, such as detailing, colour and finish, are consistent for a coordinated interior.
It is important to check that you have every required component when buying a toilet, as they are often sold separately. The main components include the pan, the cistern, and the toilet seat. Our website features a convenient 'you will need' function to act as your checklist. Please do get in touch with our dedicated consultants if you are unsure of any toilet components or product inclusions.
Before deciding which toilet to purchase, it is worth establishing what you would like from your bathroom. For example, if you wish to create a spa-style bathroom, you may want to consider the high-tech shower toilets from TOTO, such as the TOTO WASHLET model.
We are all environmentally aware and saving water is an important factor for most. It is worth carrying out some research or speaking to one of our sales consultants on which water-saving toilets are best. For example, Duravit's Rimless® design and HygieneFlush technology offer a more efficient water flow and increase bathroom cleanliness.
For further information on toilet designs, finishes, advice on what toilet is best for your space, and for details on our award-winning design and installation services, please do book an appointment at one of our showrooms where our consultants will be more than happy to assist.