The washbasin is often the focal point of your bathroom from a design perspective, helping to set the tone and style of the room. Below we explain practical things to consider when choosing which basin would best suit your bathroom, as well as helping you navigate your way though the many options available. We've also included a list of extras that you may need to complement your basin.

Practical considerations:
Basins come in different sizes to suit different rooms. For example, if the space you're working with is small or an awkward shape, corner basins and handbasins are available as a solution. For a larger bathroom, you could consider a pedestal basin.
Most basins are pre-drilled with tapholes, but check to make sure it is suitable to your needs. Some basins will have an option of one or three tapholes, whilst others may only be able to accommodate one, or even none. If you've already purchased brassware, be sure to check it fits with the basin before you buy it.
Materials like glass are lovely to look at, but they are not necessarily suited to heavy use. Basins are also available in ceramic (standard), stone and wood. Consider what the use will be and what best suits you. For example, in a frequently-used family bathroom, ceramic will be best, whereas in a guest bathroom you can be more flexible.


Types of basins:

Washbasin
This is a very popular style of basin. It is fixed to the wall using basin bolts and is usually supplied with one or three tapholes. These basins can be used with a pedestal or syphon cover. Handbasins are also available for small areas, such as a cloakroom bathroom.

Console or furniture basin
Designed to sit on top of a worktop, furniture or shelf, with only the bottom part of the basin in contact with the worktop. Available in a number of taphole options and usually with a built-in overflow. Some basins are referred to as 'grinded' when the bottom is smoothed to allow a flush fit.

Washbowls
These are an attractive and modern alternative to the wall-mounted washbasin. They can be combined with wall or deck mounted taps and normally require a free-flowing waste.

Semi-inset basins
These basins sit on top of a worktop and are partially sunk into it. They are normally supplied with tapholes and basin bolts.

Vanity/inset basins
These are completely inset into a worktop. Some designs require taps to be mounted in the worktop or wall.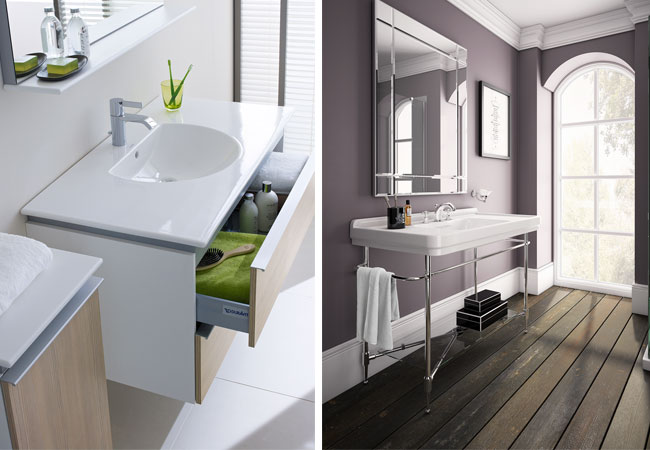 Left: Darling New furniture basin. Right: London console basin.

Additional Extras:

Pedestal
This is a cover for pipework that stands the whole length between the basin and the floor. It is assumed this takes the weight of the basin, however they are there for aesthetic purposes, as the basin is usually wall-hung.

Semi-pedestal
This does the same job as a pedestal, however it does not reach the whole length between the basin and the floor. It may be more suitable than a pedestal if you don't have as much room in your bathroom.

Bottle trap
This is usually used for wall-hung basins to hide the pipework.

Basin waste
All basins require this, but it isn't usually included with the basin. You can speak to one of our advisors to help with this matter.

Countertop
If you are having a vanity/inset basin, you will obviously need to have one of these to position it on.