The Basin Buying Guide for Luxurious Bathrooms
As handwashing is a more prominent part of everyday life, ensuring you have a basin that functions well, suits your requirements, and fits your interior scheme is more important than ever. This basin buying guide explains the various basin types available, how to choose the right one, and which accessories and related components you may need to accompany your product.
The washbasin is often the focal point of your bathroom, particularly from a design perspective. The basin, also known as a sink, helps set the room's tone and style and is a great starting point when creating or refreshing your bathroom scheme.
At C.P. Hart, we have a comprehensive selection of basins and washbasins from our own exclusive ranges and the world's highest quality manufacturers. Our options cater to bathrooms of all styles and sizes, from traditional cloakrooms to modern family suites.
To help you navigate the many available products, we define each basin type and outline the most significant practical factors worth considering when choosing which basin best suits your bathroom.

Types of Basins

The Washbasin
The washbasin, or wall-mounted basin, is perhaps the most popular basin style. It is fixed to the wall using bolts and comes supplied with one or three tapholes, or no tapholes to accommodate wall-mounted taps. Should you wish, you can add a pedestal or syphon cover to your washbasin to create a floor-standing appearance.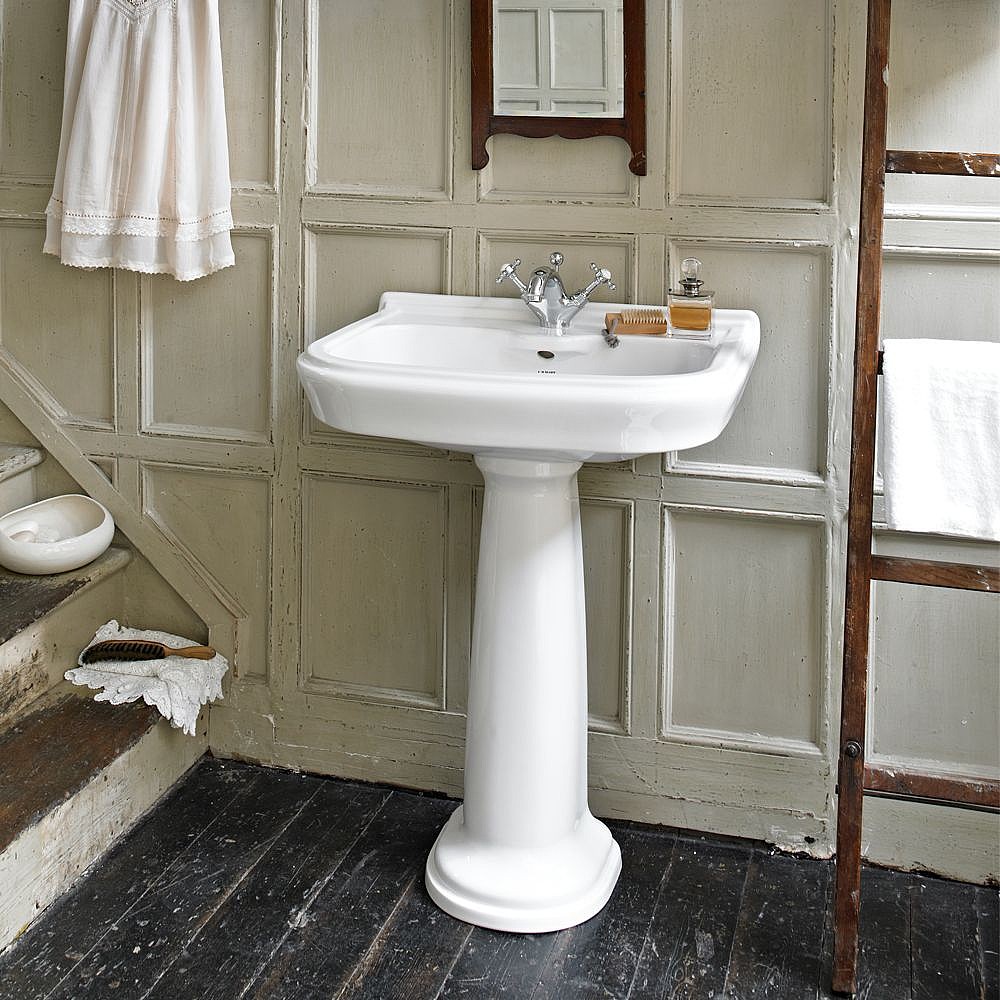 Shop the exclusive C.P. Hart Kew washbasin, featured above with the pedestal from the same collection.

Console or Furniture Basins
Console or furniture basins are designed to sit on top of a worktop, furniture unit, or shelf, with only the bottom part of the basin in contact with the worktop. This basin style is available in several taphole options and usually with a built-in overflow. Equally, they can be specified with no tapholes to comply with deck-mounted taps. Some basins may have to be sanded down before installation to allow the bottom to sit flush on the mounting surface.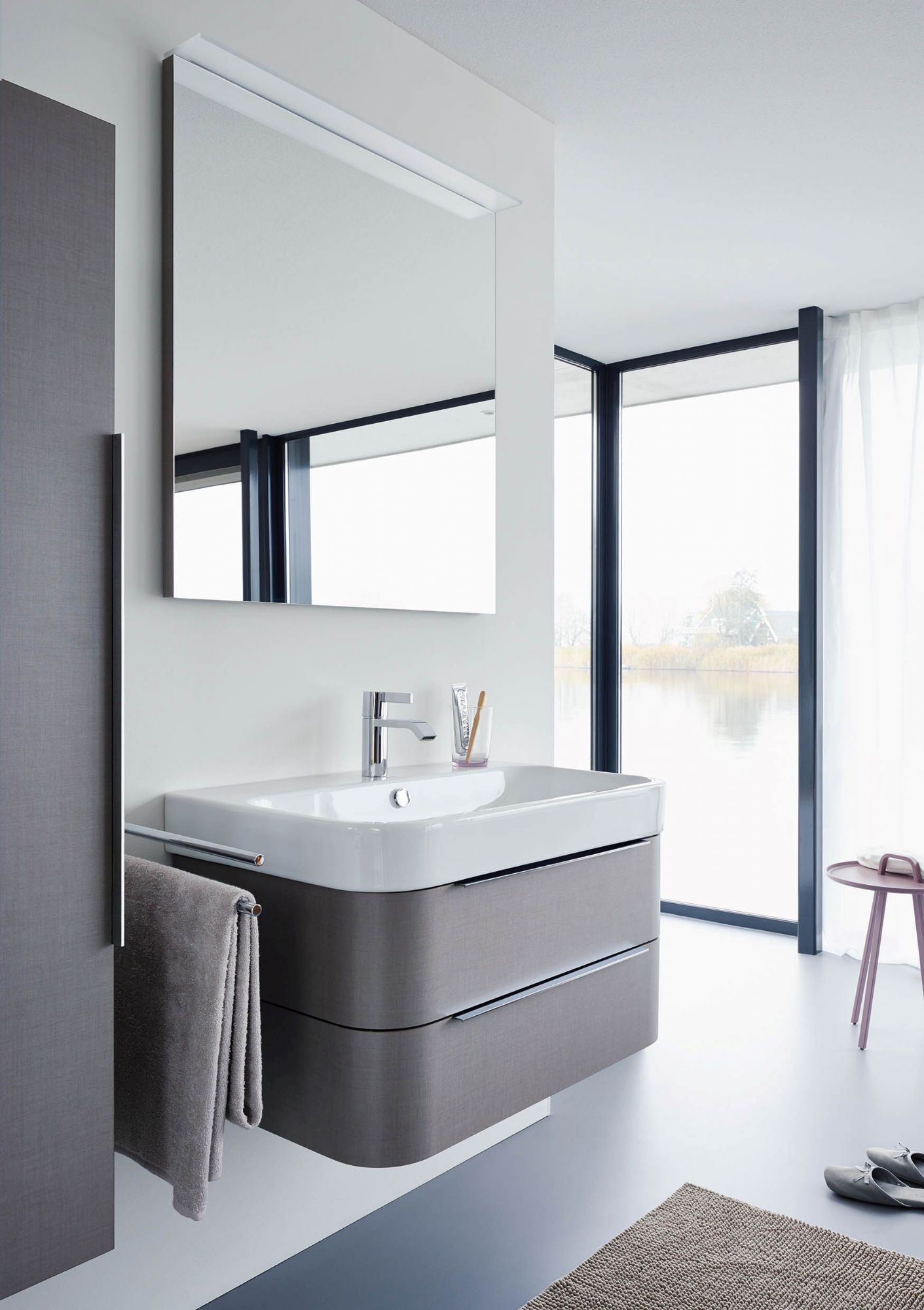 Shop the Duravit Happy D.2 Furniture Basin featured above, compatible with the Duravit Happy D.2 vanity units. Please check sizes and configurations with a C.P. Hart sales consultant.

Washbowls
Washbowls are an attractive and modern alternative to the wall-mounted washbasin, designed to sit on top of a shelf or furniture unit. We stock many designer washbowls from the likes of Cielo and Glass Designs, as well as Duravit washbowls imagined by design luminary Philippe Starck. Our options cover styles from classical to contemporary.
To complete the basin, combine your washbowl with your choice of wall or deck mounted taps, also available in a plethora of styles to meet your interior scheme. Please note: washbowls typically require a free-flowing waste. For further guidance, please speak to a sales consultant at your nearest C.P. Hart showroom.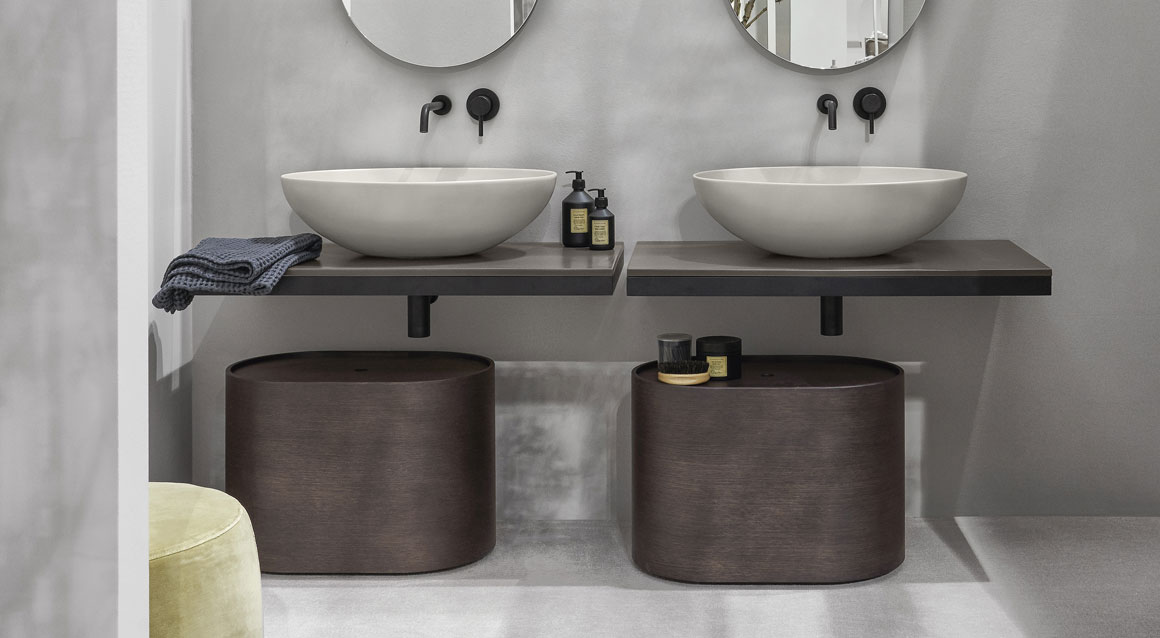 Shop the Cielo La Bacinelle Washbowl featured above.

Undercounter Basins
Also known as inset basins, undercounter basins sit completely flush with a countertop or furniture unit. This offers an incredibly sleek finish whilst creating more space on the countertop itself. Some undercounter basin designs require deck-mounted taps, whilst others are compatible with wall-mounted options.
Our extensive selection of luxury undercounter basins includes the finest quality English ceramics from our own exclusive ranges and contemporary designs from Germany, Italy, and Japan, all in various sizes to complement your bathroom.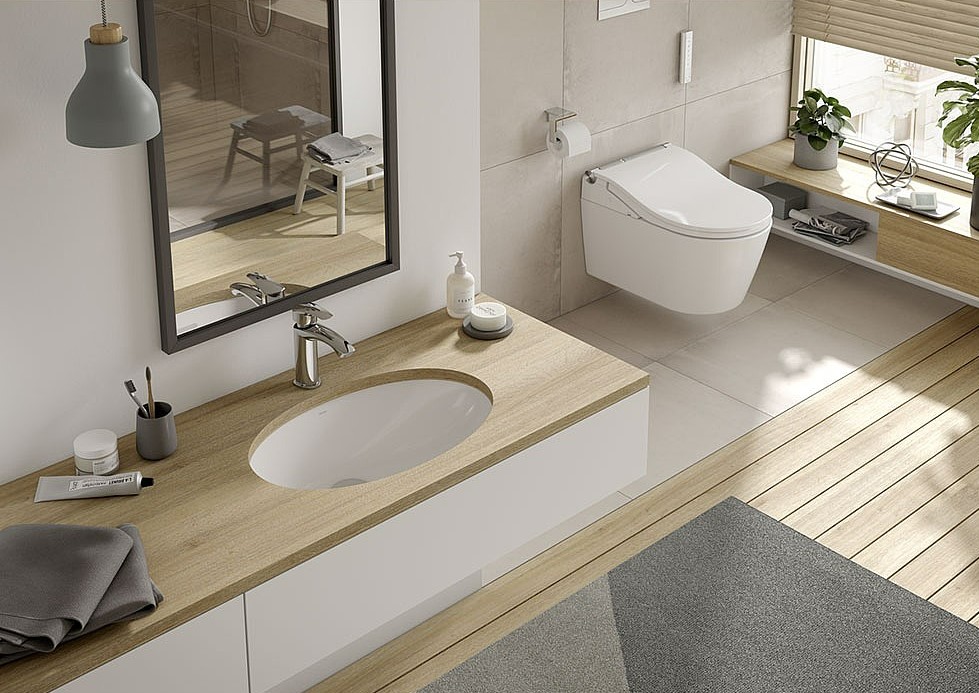 Shop the TOTO WU Series Round Undercounter Basin featured above.

What To Consider When Buying a Basin
The Shape and Style of Your Basin
Basins are available in different shapes and sizes to suit bathrooms of all styles. If you have a small bathroom or a cloakroom, or your bathroom is simply an awkward shape, you may want to consider space-saving basins, compact basins, corner basins, or handbasins.
While many of our small basins have integrated tapholes, we also supply basins that are compatible with wall-mounted taps to optimise space further.

Larger bathrooms provide the luxury of space, perfect for incorporating furniture basins for essential storage, such as those in our classical furniture range, Rowan.
For bespoke designs, please book an appointment at your nearest C.P. Hart showroom, where you will be able to discuss your requirements with a professionally qualified sales consultant.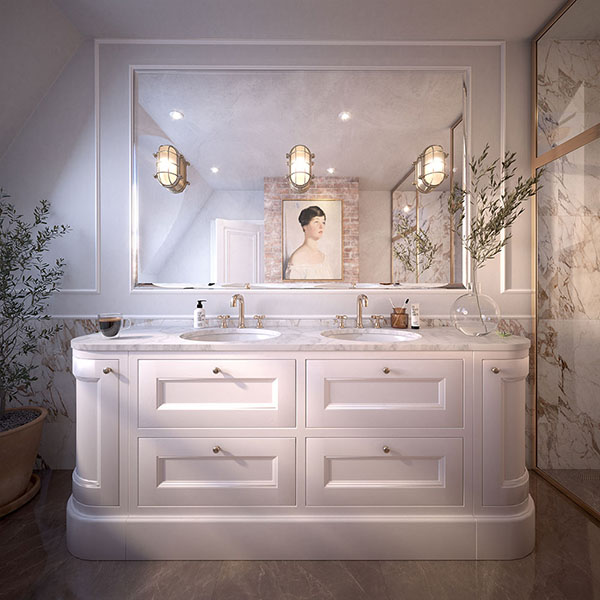 The Rowan curved double vanity bathroom furniture unit with integrated basins.
Check Your Taphole Requirements
Most basins are pre-drilled with tapholes, so when buying a new basin, you will need to ensure that it will accommodate your chosen brassware. If you are yet to select your brassware, the basin's tapholes may refine your options; this is well worth considering during the design phase of your project.
Some basins are supplied with one taphole, whilst others come with three. If your basin has one, you will need to acquire a mixer tap, where the hot and cold temperatures are controlled via the tap's integrated handle. Should you opt for a basin with three holes, a three-piece mixer provides two separate hot and cold water controls. Alternatively, you may choose a basin with no tapholes, compatible with wall-mounted taps. Please note: we do not recommend drilling tapholes into basins yourself – please do speak to our sales consultants to answer any queries or look into bespoke requests.
Another factor worth considering during your bathroom's design phase is the height of your basin. If you have an integrated furniture basin, a low spout mixer, such as our exclusive Original 3-Piece Basin Mixer, will sit at the right height, providing the user with an optimal water flow 'comfort zone'. On the other hand, if you specify a washbowl, you may need to explore our high spout basin mixers, such as our Spillo Steel Tall Single Lever Basin Mixer, which offers ample space for comfortable use.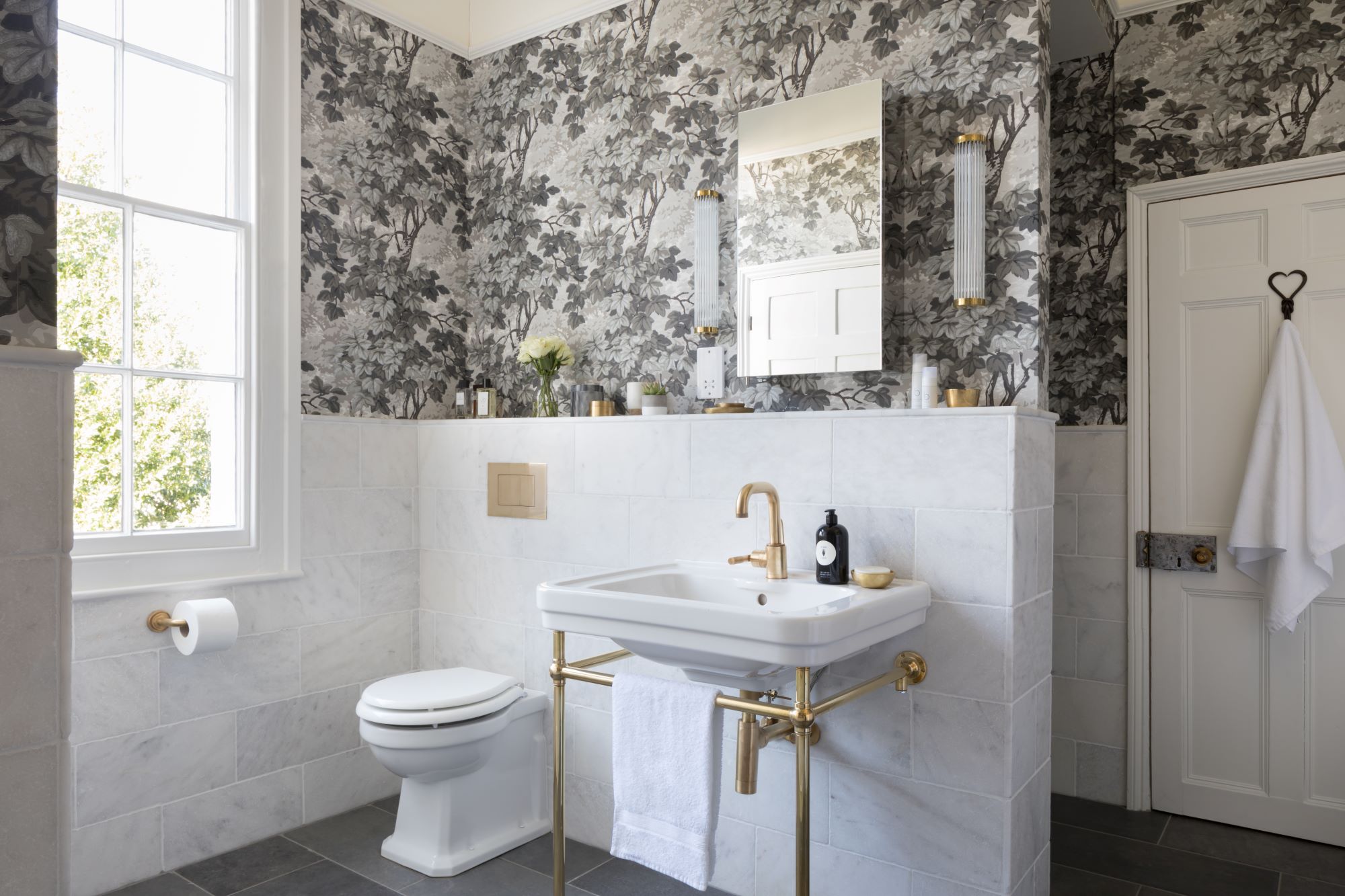 Our exclusive London Basin and basin stand paired with Samuel Heath brassware, as seen in Cheltenham House, a recent C.P. Hart project.
The Basin Materials Available
Ceramic & Porcelain Basins
The material of your basin determines its style, durability, and maintenance. Ceramic and porcelain are both popular basin materials, renowned for having extremely hard-wearing, easy-to-clean, and scratch and chip-resistant surfaces. The difference between ceramic and porcelain is that ceramic is made from pure clay, whereas porcelain has glass and metal mixed in to strengthen the material further.
Glass Basins
Glass basins are becoming ever more in demand, though, as one may imagine, they come with a higher risk of damage. Despite most modern-day glass basins being crafted from tempered glass (a stronger glass with a higher thermal resistance), these basins are still at risk of damage should something drop on them. That being said, when used with care, glass washbowls offer a truly stunning touch to your bathroom design.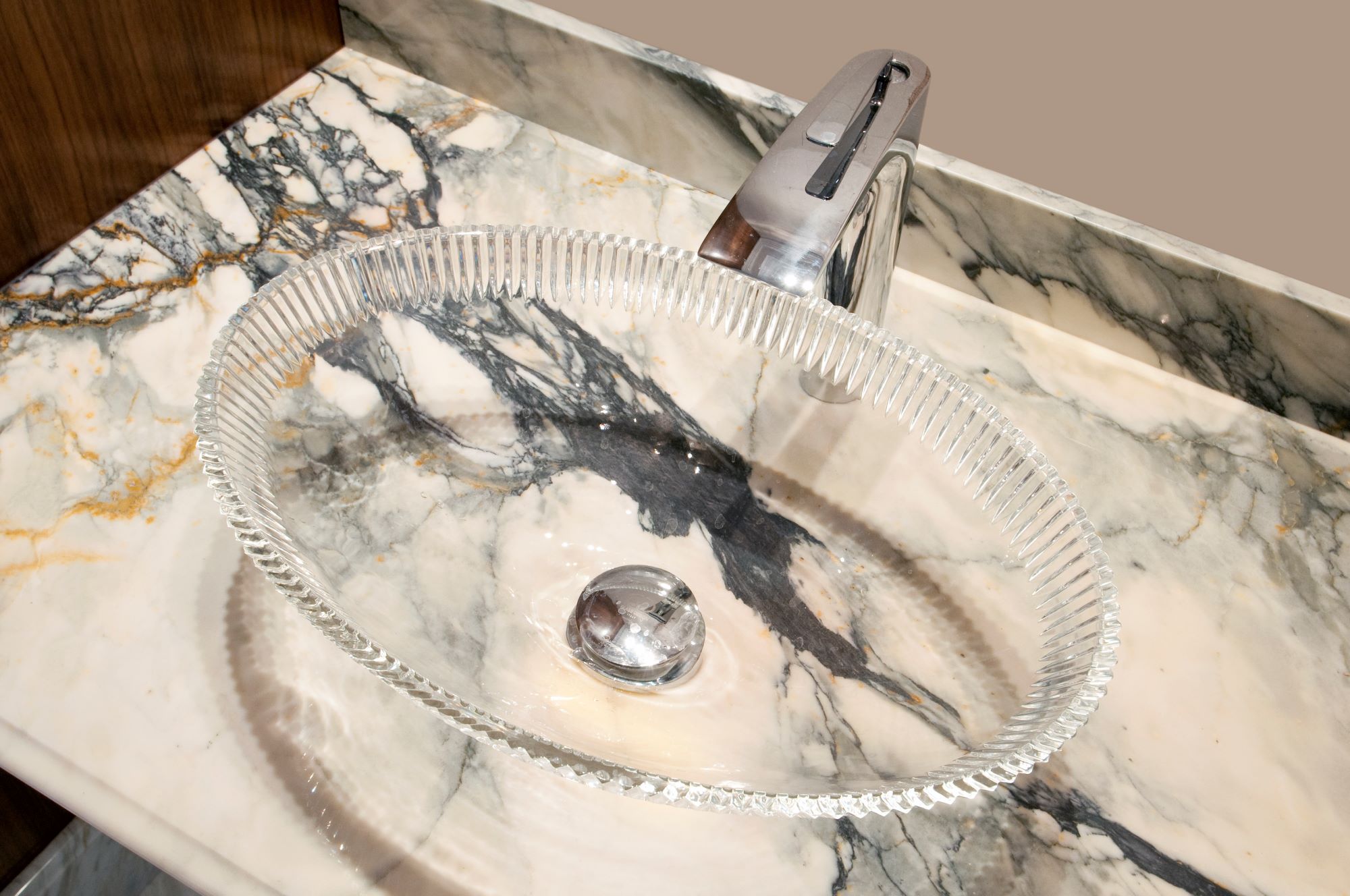 Shop the Glass Design Clivia Washbowl featured above.
Natural Stone Basins
Natural stone is another favoured basin material that's exceptionally luxurious, especially granite and marble basins. Whilst some stone basins are left in their natural state, others are treated to boost their longevity. Treating stone is generally recommended in the bathroom, as stone is a naturally porous material, and long-term exposure to water may lead to damage. Due to the weight of natural stone, some stone basins may not be suitable for specific properties. Please check with a C.P. Hart sales consultant if you are unsure.
Concrete Basins
Finally, we'd like to mention concrete, particularly Kast's concrete basins. Kast is an award-winning British brand that specialises in luxury concrete basins, internationally renowned for innovative and durable designs. Kast basins are formed from traditional, aggregate-based concrete using limestone from local suppliers in Derbyshire alongside specially sourced sands and high-quality pigments, carefully blended to create Kast's palette of 28 vibrant colours.
Kast is available to shop online and explore in our showrooms.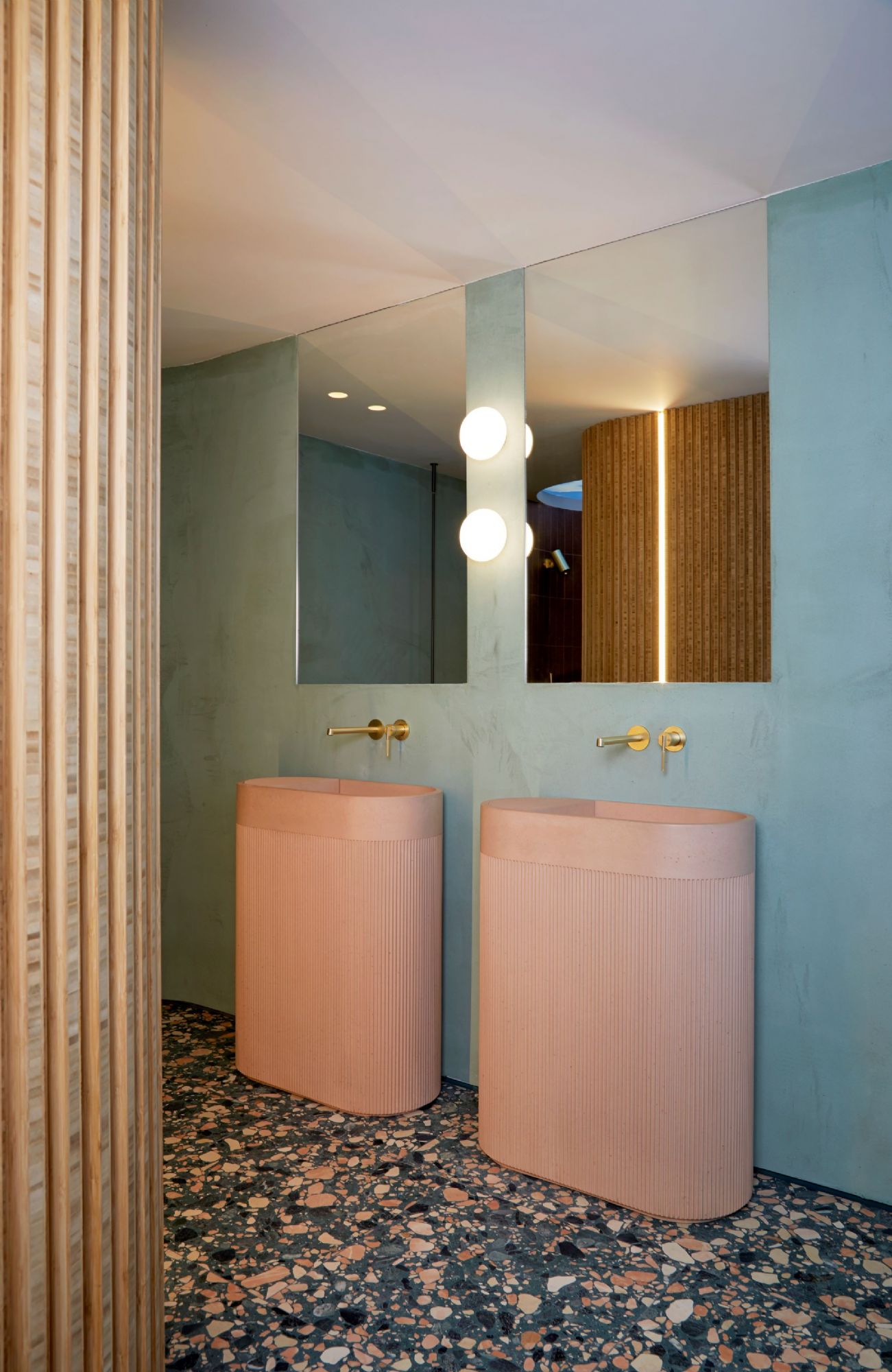 Shop the Kast Aura Pedestal Basin featured above in the Bradley Van Der Straeten room set design.
Useful Terms
What is a Pedestal or Syphon Cover?
A pedestal or syphon cover covers the pipework that stands the entire length between the basin and the floor. You may choose to install a pedestal or syphon cover if you wish to hide the basin's pipework or purely for decorative purposes.
It is often assumed that a pedestal takes the weight of the basin, however, the basin is often wall-hung.

What is a Semi-Pedestal or Semi-Syphon Cover?
A semi-pedestal or semi-syphon cover does the same job as a pedestal, however it does not reach the entire length between the basin and the floor. Instead, it covers the pipework from the basin to the end of the pipework itself. This is typically the preferred option in smaller bathrooms or cloakrooms as it frees up crucial floor space.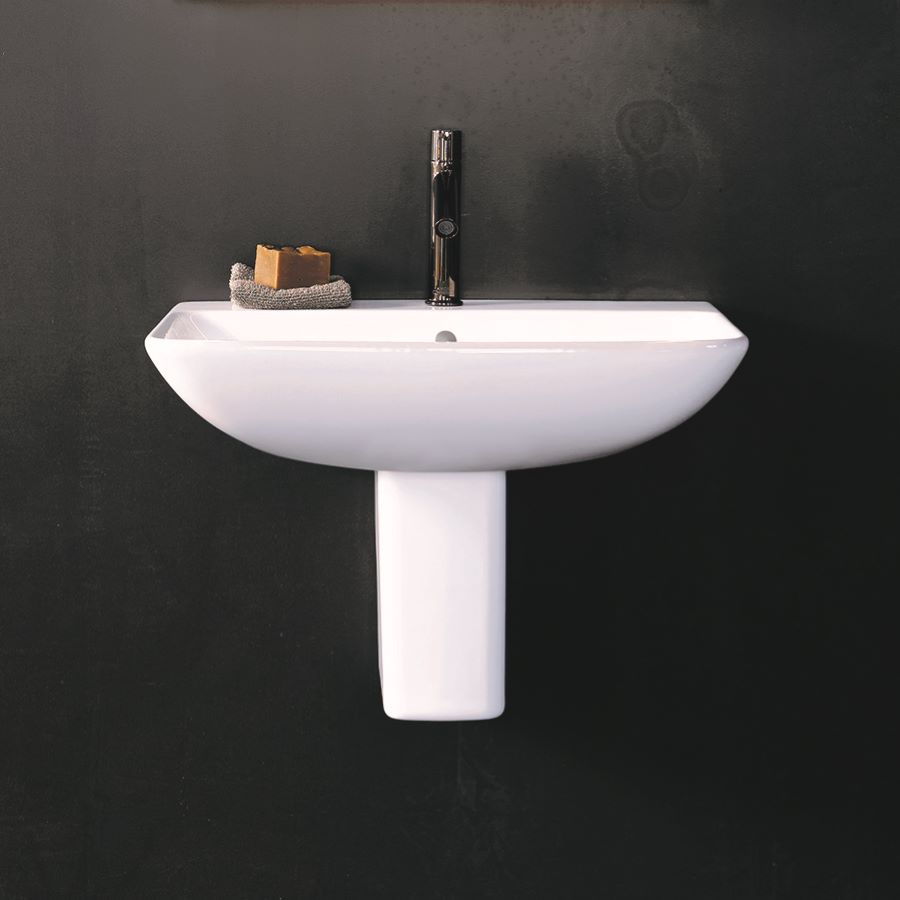 Shop the Duravit ME by Starck Semi Pedestal featured above.
What is a Bottle trap?
A bottle trap is installed between the basin and the wall where the pipe connects to the rest of the property's plumbing. Its function is to conceal the bend in the pipe in an aesthetically pleasing way, often in keeping with the style of the basin itself. The bottle trap is an essential component of the basin's plumbing as it keeps the bathroom hygienic and odour free.
What is a Basin waste?
A basin waste is a channel where water flows out of the sink, usually accompanied by what is commonly known as a plug. All basins require a basin waste, and there are many different plug styles available, including pop-up wastes, flip-top wastes or the traditional plug and chain.
Basin wastes are not usually included with the basin itself. Please speak to a sales consultant at your nearest C.P. Hart showroom for specific product specifications.
For further information on basin designs, finishes, advice on what basins are best for your space, and for details on our award-winning design service and approved installer recommendations, please do book an appointment at one of our showrooms where our sales consultants are more than happy to assist.