December 1st will see the opening of a dedicated, exclusive and one of a kind Cielo design centre within the C.P. Hart flagship Waterloo showroom. The 'showroom within a showroom' concept is the first of its kind in the UK and second globally only to the Cielo design centre in lower Manhattan, New York.
Opening in time for Advent in the UK's largest premium bathroom showroom, the design centre will showcase a colourful new range by Italian artisan ceramic and bath manufacturer, Cielo. The design centre will become a destination for anyone wanting to purchase or specify Cielo in upcoming projects. Interior Designers can meet clients within the Waterloo showroom to show them at first hand the inspirational palette of exclusive baths and basins, a rainbow selection in 16 colours.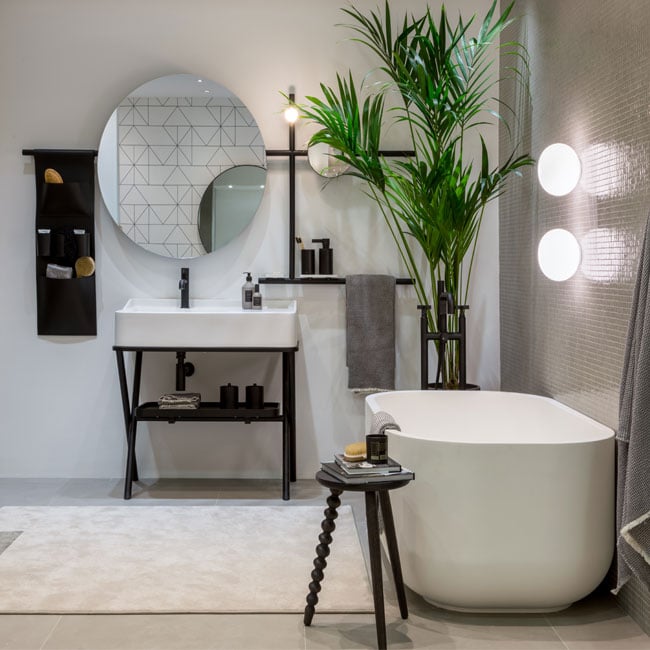 Cielo is steeped in contemporary design heritage. Based in the heart of Italy, the founder and master craftsman, Antonio Coramusi, first began producing sanitary ware in the early 1900s. But from these humble beginnings, Cielo now creates exclusive collections of sanitary ware, washbasins, shower trays, baths, toilets and urinals revolutionising the bathroom experience with unprecedented shapes, sizes, thicknesses, surfaces and colours.
To quote Alessio Coramusi, Cielo CEO, "I wanted to rediscover and pay tribute to our roots. Our company is what I call a real laboratory of ceramics. The production is characterised by a sartorial approach and a strong link with the values of craftsmanship. Through constant stylistic research and an innovative approach to the choice of materials and shapes, we place the quality of our product and design at the centre of our research".
The Cielo design centre in Waterloo covers nearly 750 square feet, exclusively. It features 5 key room sets and 2 cameos, plus a central basin pedestal display. Each of the following different designs within the Cielo collection will be on display: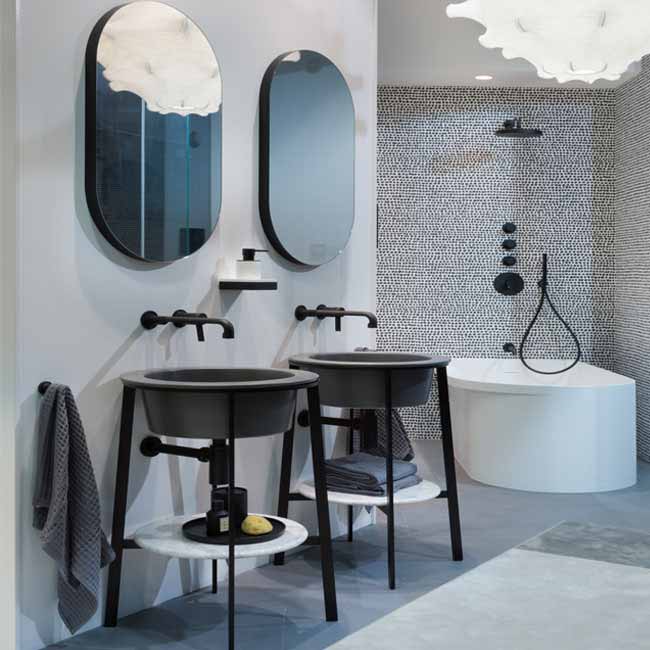 I Catini – designed by Andrea Parisio & Giuseppe Pezzano
The I Catini collection features the Catino Tondo (round), Ovale, Doppio (double) and Recttangolare basin systems that create a unique and signature look in a stylish contemporary bathroom setting. Each basin shape gives the opportunity of combining a simple structured steel stand in 3 finishes with a choice of 16 coloured matt ceramic basins and the added advantage of a marble shelf or storage drawer. The collection can be completed with a selection of accessories, mirrors and mirror cabinets.
Narciso – designed by Andrea Parisio & Giuseppe Pezzano
Narciso brings the dressing room into the bathroom. The large vanity basin console has an innovative "beauty" case with a convenient mirror in the lid and plenty of storage, ideal for makeup. The new Doppio (double) and mini version can be enriched with a full range of accessories including a side mounted towel rail, leather laundry bag and drawer combinations. The steel frame is available in 3 finishes to compliment the 16 colours of matt ceramic basins.
Elle – designed by Andrea Parisio & Giuseppe Pezzano
Available with Tondo (round) or ovale shaped bowls, Elle has a classical linear style that expresses the innovation and craftmanship of Italian made ceramics. The basin appears suspended and features a practical splashback, available in 16 matt ceramic colours framed in a metal structure in 3 finishes including popular matt black.
Siwa – designed by Andrea Parisio & Giuseppe Pezzano
Siwa is a majestically refined basin console that offers a unique balance of mirrors with structured storage. The washbasin is available in 16 matt ceramic colours that gives a striking combination with the 4 wood finishes for the stand. The stand can have a simple shelf or storage drawer.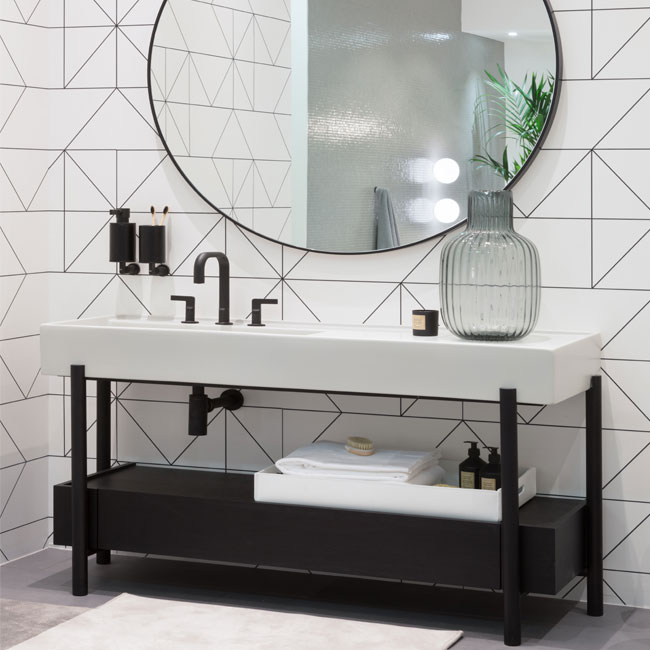 Plinio – designed by Andrea Parisio & Giuseppe Pezzano
When it comes to an extra-large basin, Plinio delivers generous functionality with finesse. The soft lip around the ceramic basin, available in 16 matt colours, adds balance and harmony whilst appearing to float, almost on stilts. The wooden stand offers customised storage including natural leather baskets and matt lacquered drawers.
Delfo – designed by Andrea Parisio & Giuseppe Pezzano
Delfo makes a powerful statement with both ceramic and wood. The ceramic washbasin sits on an oval shaped ceramic tray, both available in all 16 matt colour finishes. The wall hung cabinets feature either a classic smooth front or an elegant ribbed design in 5 light to dark finishes, including Eucalyptus.
Multiplo – designed by Andrea Parisio & Giuseppe Pezzano
Multiplicity is what makes Mutiplo such a dynamic and versatile collection. It can start with a simple design of a ceramic top combined with a variety of ceramic basins, to a more complex solution with a mixture of open and closed storage. The design possibilities are infinite.
La Bacinella – designed by Andrea Parisio & Giuseppe Pezzano
La Bacinella is about deep, shallow or spacious bowls in captivating shapes. Within the collection there is the curvaceous Tina and Tino bowls, the open shallow depth Eco, the practical design of an integrated tap ledge with the Handy bowl and the latest minimal design Era. All the bowls are available in the 16 matt ceramic finishes to complement any contrasting or matching surfaces.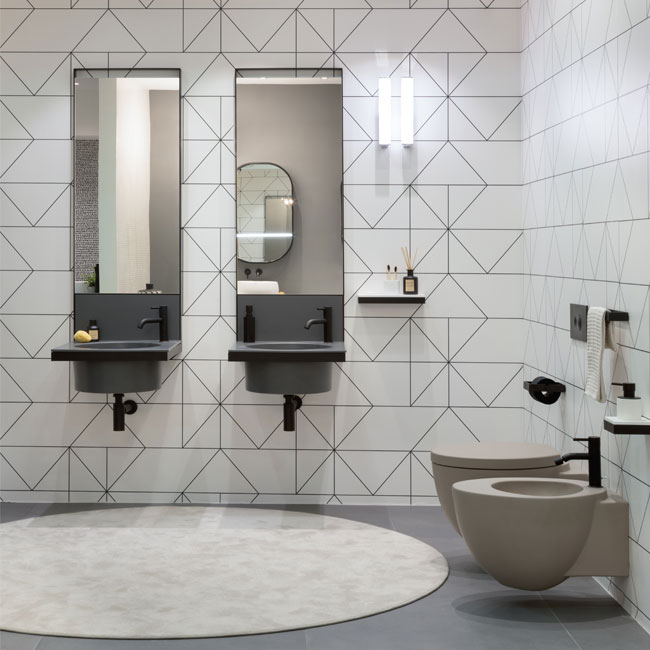 Pop along to see the collection, book an appointment with a designer at C.P. Hart Waterloo and enjoy the shapes and colours on offer – a different colour for each bathroom, downstairs loo and en-suite in your home!