OVERVIEW

VIEW TOTO'S RANGE HERE.

Details of the range

TOTO's innovative WASHLET was launched in June 1980, and since then the range has continually expanded and evolved. The WASHLET is defined by its warm water washing technology, amongst many other functions, and is pioneerning in its design and engineering.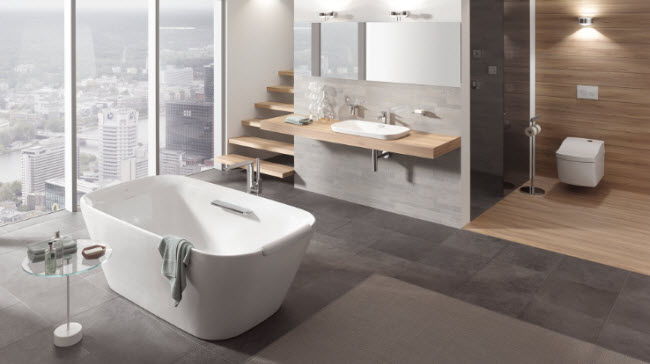 In Japan, WASHLETS are standard bathroom options for both residential and commercial markets, where respect for water and cleansing rituals are an integral part of daily life – in fact, around 77% of Japanese households use warm water washing systems.

Building on its original WASHLET concept, TOTO has developed an extensive range, each one having more advanced functionality.

TOTO Neorest AC
The TOTO Neorest AC WASHLET boasts superior levels of hygiene. The toilet bowl is coated with a special zirconium coating to ensure that waste, bacteria and limescale do not accumulate. A UV light is integrated in the lid to activate a decomposition process when combined with the zirconium coating, eliminating the need for a toilet brush. This combined toilet and bidet unit features a hands-free function using a remote control, a sensor-operated lid, warm-air drying, and an air-purifying system that deodorises during use.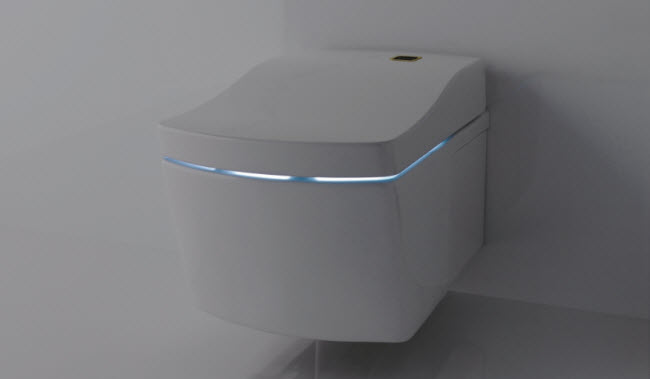 TOTO Neorest EW
The TOTO Neorest EW is akin to the AC, but is distinguished by the spray of electrolysed water on the toilet bowl to prevent a build-up of waste. It offers the same convenient features as the AC, such as a sensor-based lid that opens and closes automatically, a heated seat, a deodoriser to absorb unpleasant odours, and a dryer that can be activated as desired. A remote control is provided for ease of use.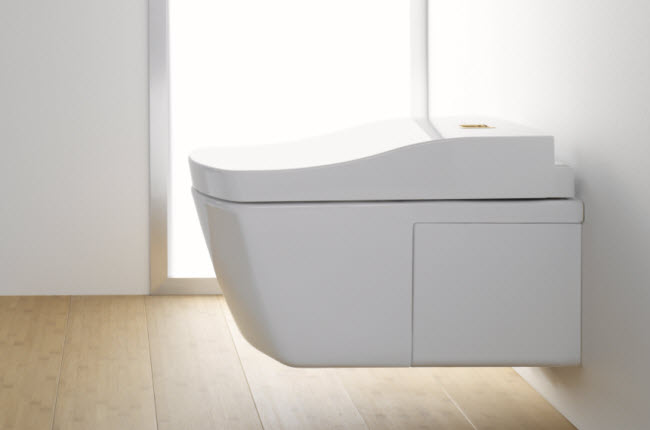 TOTO SG WASHLET
SG stands for 'Square Geometry'. The wall-mounted SG WASHLET is the perfect solution for the style conscious seeking the latest in WASHLET technology. Smooth, almost seamless surfaces reveal chrome and stainless steel detailing for an enduring look. In addition to a heated seat, an odour-absorbing deodoriser and a dryer, it also features the new ewater+ function. This anti-bacterial spray using electrolysed water prevents waste from accumulating.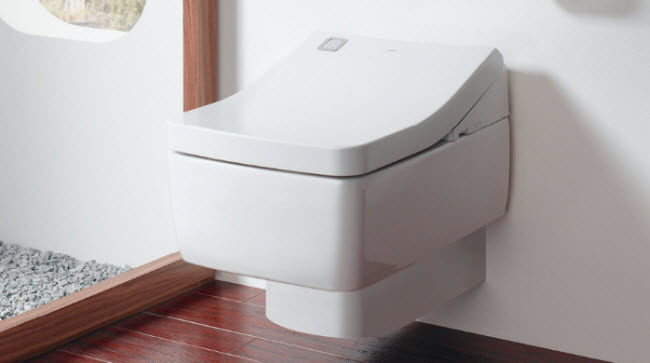 TOTO WASHLET GL & MH
The WASHLET GL can be used in conjunction with all TOTO WCs, including the TOTO MH. Its naturally curved shape blends in harmoniously with a range of bathroom styles, and provides a clean and comfortable bathroom experience. The WASHLET GL includes all of TOTO's comfort technologies, including warm water spray, heated seat, deodoriser and drying function – simply adjust the features with an easy-to-use remote control.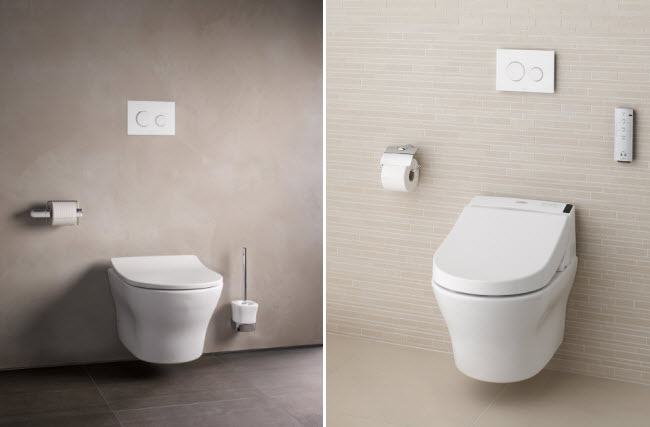 TOTO Showers
TOTO have created a shower experience for any time of the day – an overhead and hand shower with three types of spray. The 'Warm Spa' envelopes your body in a soothing stream of warm water, the 'Comfort Wave' regenerates you with a gently pulsing spray, while the 'Active Wave' awakens the spirit, with a jet that stimulates the nervous system. Each is available at the press of a button, so it's easy to start the day on the right foot, reinvigorate before a night out or completely relax before bedtime. TOTO has transformed time in the shower from the purely functional into a restorative and rejuvenating ritual.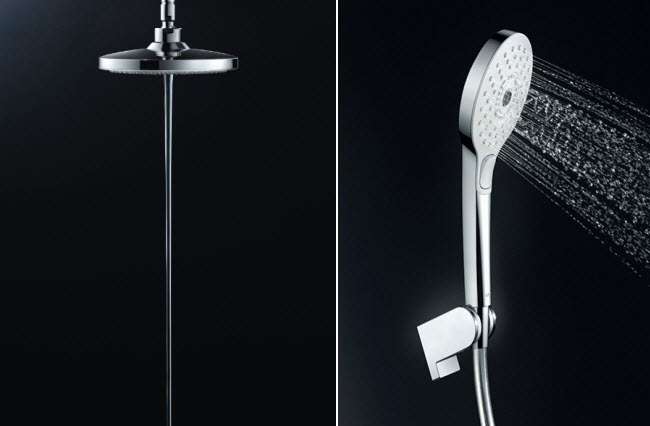 What we love about TOTO

TOTO are true pioneers. This acclaimed and much-loved Japanese brand were the creators of the world's first integrated toilet – the WASHLET – that combines the functions of a WC and a bidet. Established just over 100 years ago, in 1917, TOTO have since been associated with the advancement of bathroom culture, with features such as a sensor-operated lid, warm-air drying and an air-purifying system that deodorises during use. Put simply, TOTO delivers the ultimate in luxurious bathroom experiences, with well-being at the centre of all they create.

BEHIND THE DESIGNS

2 minutes with Floyd Case, Project and Branding Manager at TOTO

What sets TOTO apart within the bathroom industry?
TOTO is Japan's leading producer of sanitaryware and is a name that has been synonymous with the advancement of bathroom culture since its creation in 1917. Its technological innovations, hygienic credentials and high standard of quality have made it an iconic and much-loved household brand in Japan. That said, it's TOTO's unique cultural foundations that set it apart within the UK market.

From a technological perspective, there's no doubt that Japanese culture has influenced virtually every aspect of our European lifestyle. Japanese innovations and advancements could legitimately be described as having an entirely beneficial effect on our day-to-day routines – from the way we decorate our living spaces to the way we travel.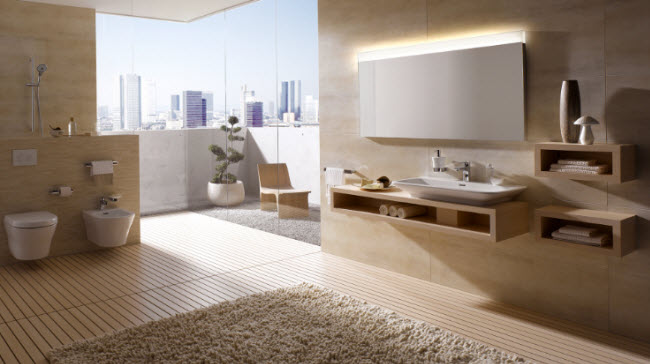 How has the brand evolved in the 100 years since it was created?

In 1912, five years before TOTO was established, founder Kazuchika Okura had set up a laboratory to develop the kind of sanitary ceramics that had become commonplace in Europe and America. Ironically, considering how sophisticated Japan's bathroom culture is today, wooden toilet bowls were still prevalent and there was no sewage system. With its first sales, Okura's company begins challenging accepted notions of cleanliness, something that TOTO continues to do today.

Japanese companies have been the pioneers of innovation, putting increasingly complex electronics within the reach of consumers in domestic settings. By bringing this spirit into the bathroom, TOTO has become established as the leading bathroom design company in Japan. They promise to do to washing what technology has done to home entertainment: to make one inconceivable without the other.

Describe TOTO's product range in three words…

Clean innovative technology.

In what ways does the Japanese culture of cleanliness inspire their collections?

It has been said that in the West a bath is where you clean your body, but in Japan it is where you cleanse your soul. In the home, Japanese architects and interior designers are generations ahead of those in Europe when it comes to creating spaces where time spent in the bathroom can be the relaxing, meditative core of each and every day. Within Europe, TOTO promises to educate customers on the beauty and restorative benefits of Japanese bathing traditions – taking the more enlightened attitude from the East and making it available to a whole new market with an unprecedented degree of quality and authenticity.

Kaizen – meaning continuous improvement – is a key notion within TOTO's company philosophy, and focuses on constantly changing and improving processes over time. This Japanese concept is reflected in all TOTO products. For example, at the top of the WASHLET product family tree which has evolved over three decades, is the Neorest AC WASHLET. The AC 'Actilight' features a toilet bowl coated with a special zirconium coating. The hydrophilic properties of this coating ensure that waste and bacteria are effectively eliminated. The UV light integrated in the lid combines with the zirconium coating to trigger a decomposition process, meaning toilet effectively cleans itself and stays completely hygienic.




What can we expect to see from TOTO in 2018?

This year we launch two new toilet innovations to expand our offering to customers throughout Europe.

Which bathroom trends do you think will emerge (or reappear) this year?

In the UK, our team of experts are very much of the opinion that the 5-star hotel experience influences consumers within their own homes. Since our European launch in 2009, TOTO has seen a huge increase in WASHLET and shower toilet specification in the hotel market which is encouraging interior designers to incorporate these into their residential schemes. Well-travelled customers want to recreate the finest hotel bathroom experience within their own homes.


VIEW TOTO'S RANGE HERE.