Signature & Tosca: New Contemporary Italian
Furniture Ranges
Italian design is matchless, its inventiveness legendary. We are so proud to introduce Signature and Tosca, our latest ranges of exclusive bathroom furniture, sourced from inspirational
makers in Italy.
Signature and Tosca: Italian design supremacy
Signature and Tosca are our latest contemporary vanity collections from Italian maker Karol. Karol was founded in 1980 and continues to lead the market for beautiful bathroom vanities, renowned for its high quality and chic designs, many using materials from its location in Tuscany.
Signature Bathroom Furniture
Signature is a highly versatile range, making it the perfect storage solution for bathrooms of all styles and sizes. The collection of clean-lined and contemporary wall-hung vanity units and wall cabinets, or 'columns', come in various shapes, allowing you to configure your bathroom furniture to optimise space.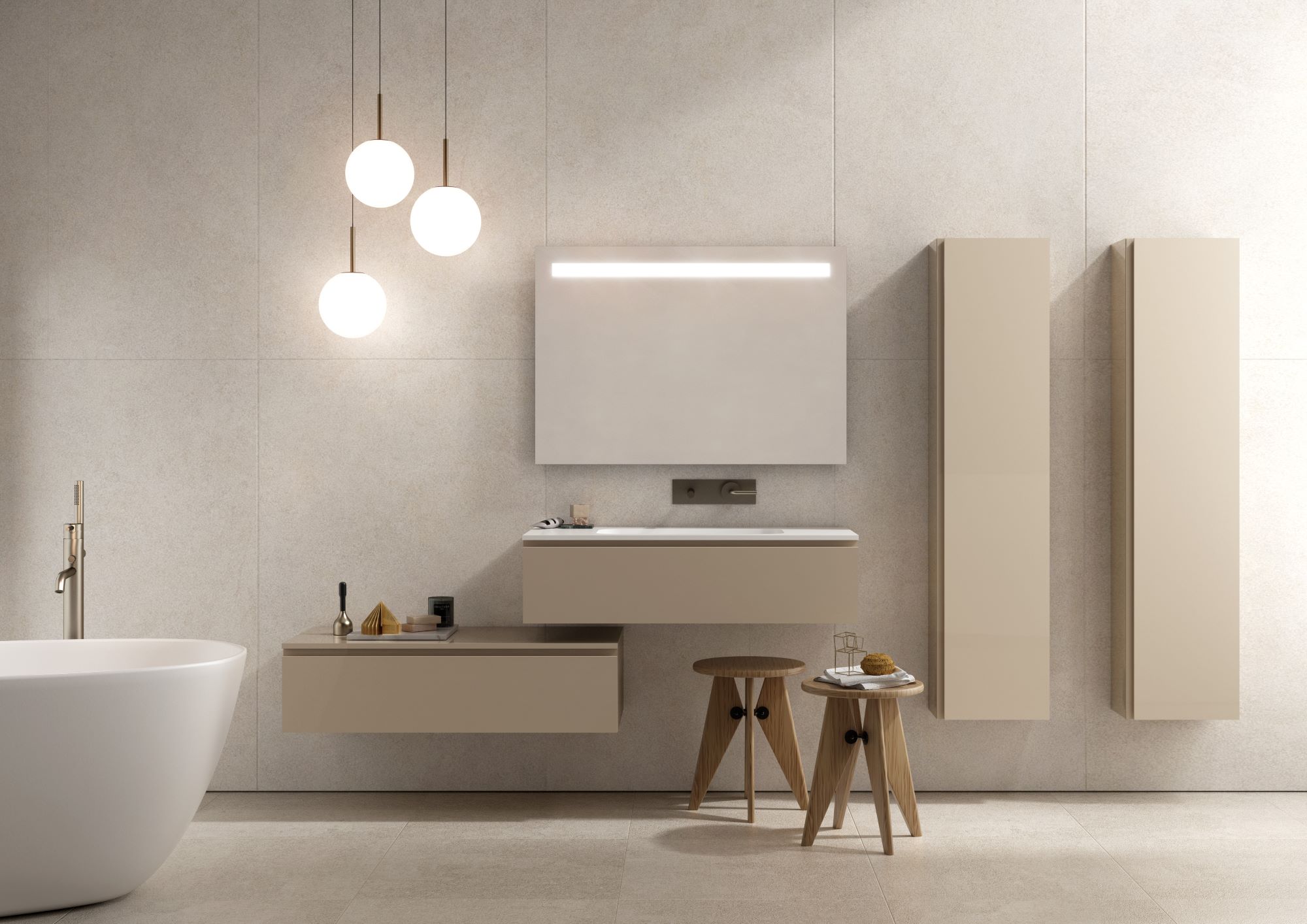 Signature cabinets and columns in the Glossy Beige lacquered finish. The vanity top has an integrated basin in Matt White Mineralmarmo, displayed with the Signature LED mirror.
The Signature range is crafted with exceptional attention to detail. Vanity drawers are internally painted in Anthracite Gray and come equipped with soft-close and push-pull mechanisms, accessible through recessed handles that are subtle yet practical, offering a comfortable and secure grip.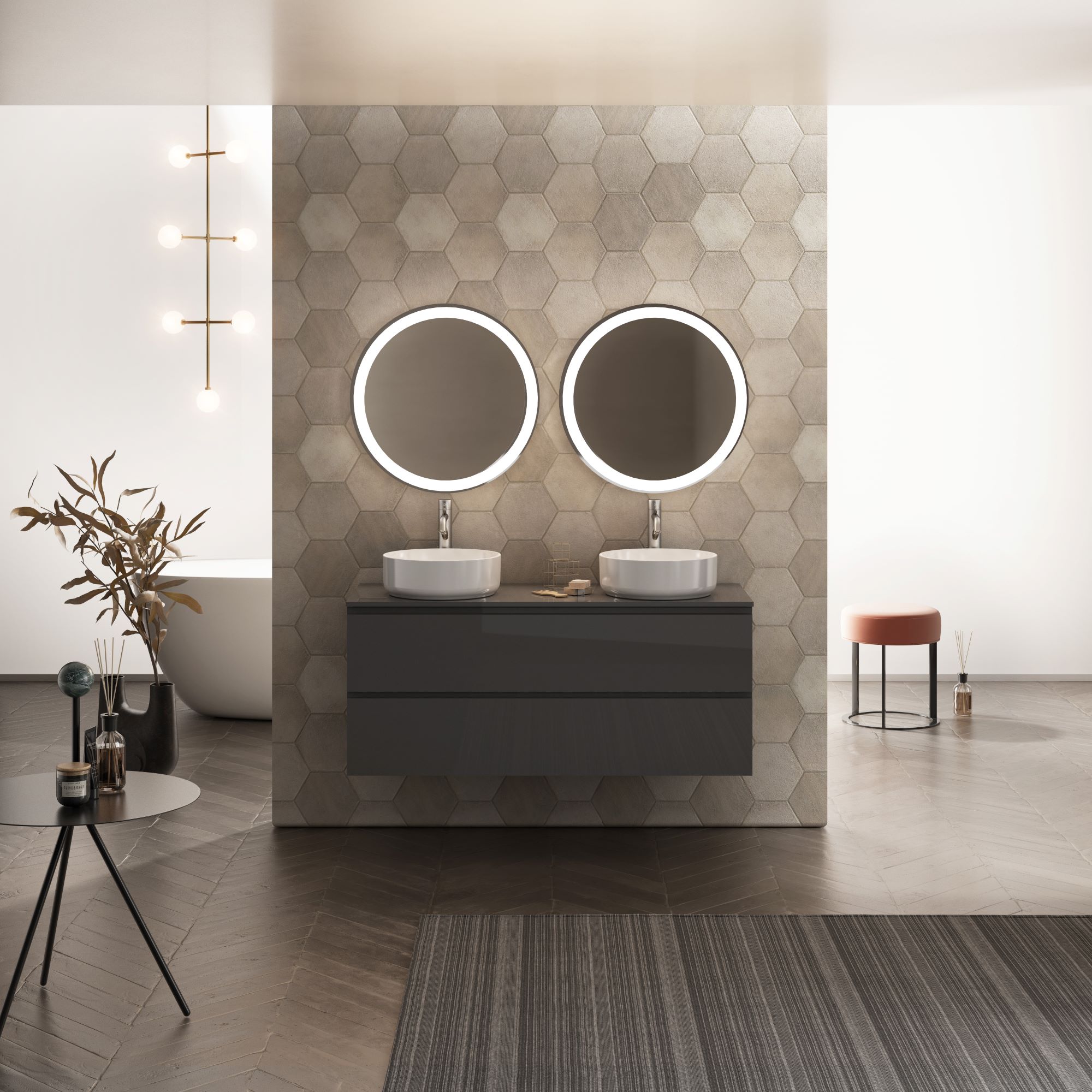 The Signature vanity unit with the lacquered Glossy Grigio Piombo finish on the top and cabinet, shown with the LED round mirrors from the same collection.
Cabinet tops and finishes are available in natural and timeless shades, including glossy and matt lacquers and wood finishes. A range of stunning marble stoneware tops with integrated basins or countertop ceramic basins are also included in the collection.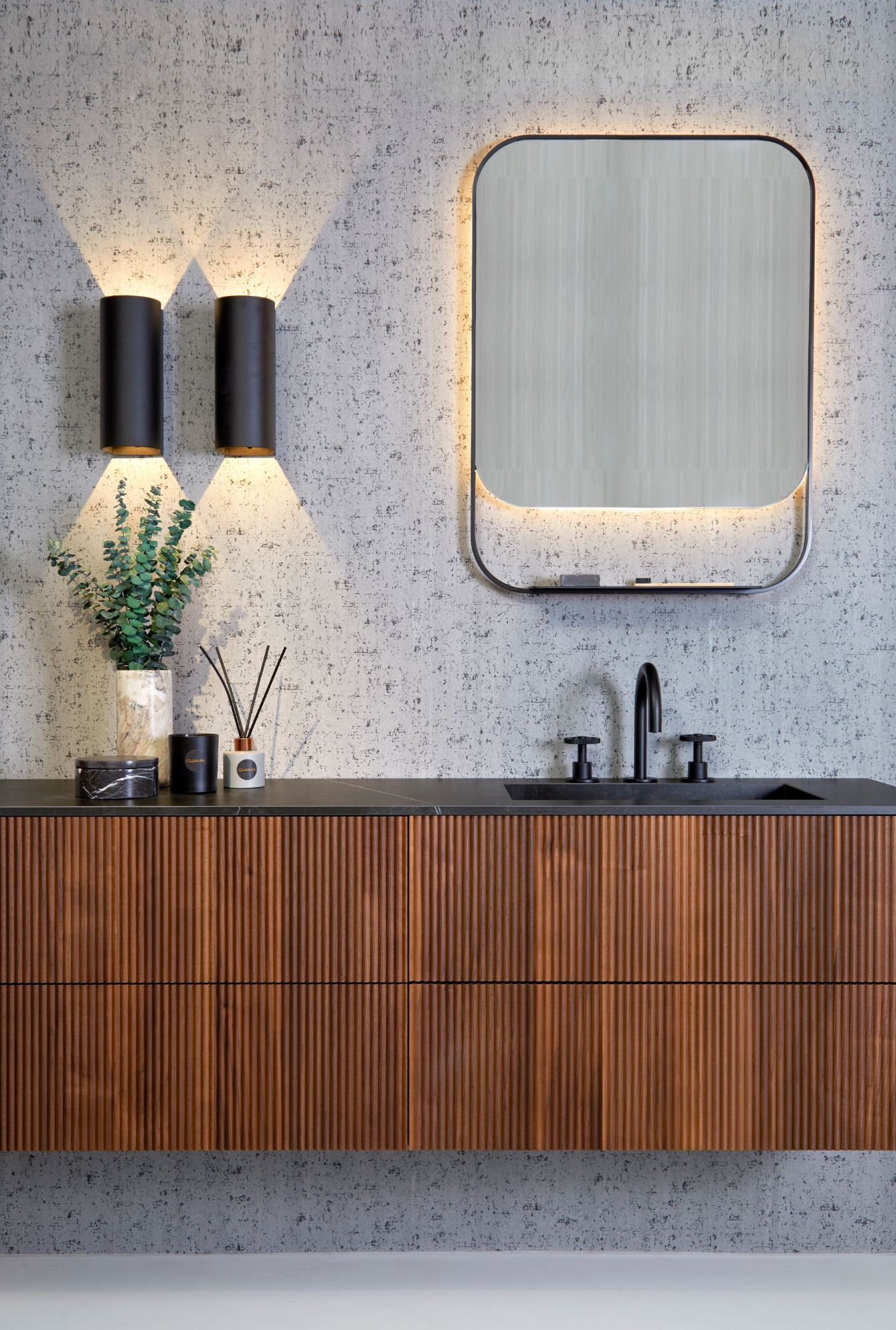 Signature wall-hung vanity unit in Noce Canaletto Rigato (ribbed Canaletto Walnut) with push-pull drawers and a Gres Marquina stoneware top and integrated basin.
The Signature range offers a selection of sleek LED mirrors and towel holders to complement the furniture.
Signature is currently displayed in our flagship Waterloo showroom.

Tosca Bathroom Furniture
The Tosca range, designed by Italian architectural designer Enzo Berti, breathes its classical heritage in a thoroughly contemporary way. The collection showcases a statement display of modular wall-hung and floor-standing vanity units, cabinets, and benches, available in various sizes allowing you to configure your optimal bathroom set-up.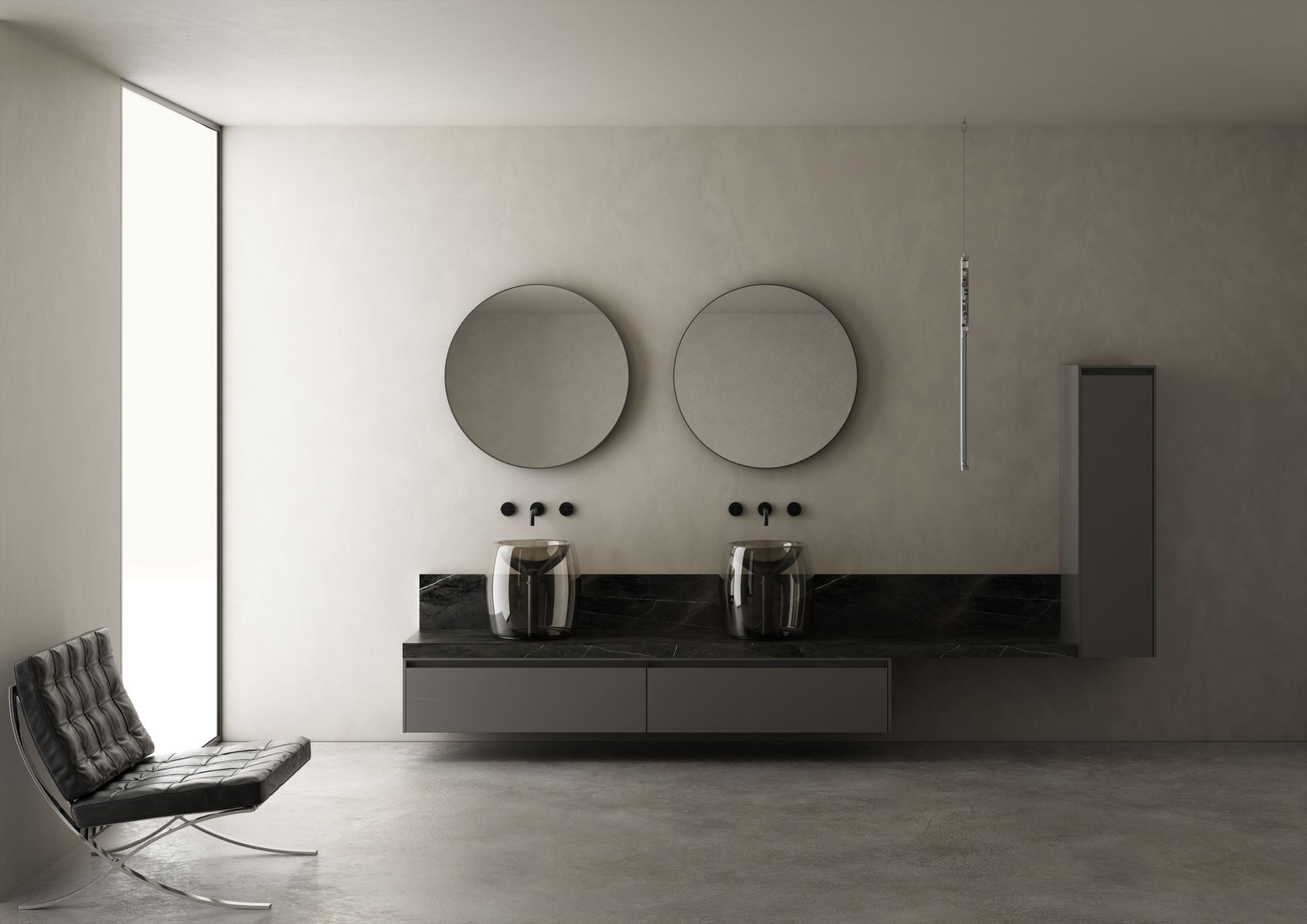 Tosca vanity and column cabinet in Polished Glass Grigio Fumo with a L-shaped top in Gres Marquina and countertop washbasins in Blown Glass Grigio Caldo, plus mirrors from the same collection.
The units feature simple, elegant lines enhanced by an Anthracite Grey frame and spacious, soft-close drawers. The front panels and tops can be crafted from wood or stone for a natural textured effect, or they can be lacquered or made of glass for a sophisticated feel.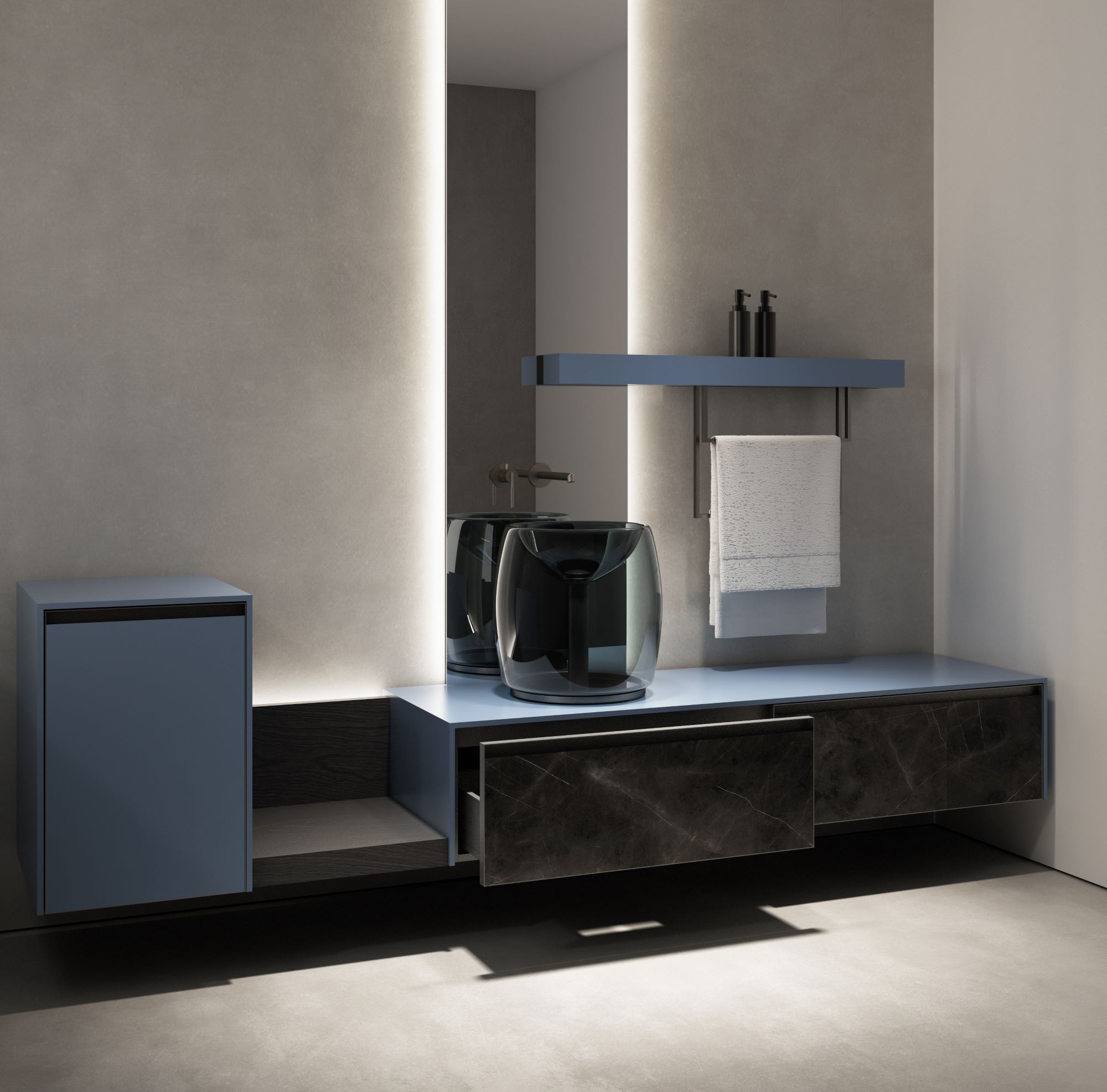 The Tosca washbasin cabinet in Gres Marquina, with the top and sides in lacquered Matt Blu Navy. The countertop washbasin is Transparent Blown Glass Grigio Freddo.
The Tosca range comes with washbasin options for maximum customisation, including blown glass countertop designs, integrated basins, undermounted or countertop solutions, and freestanding designs for an eye-catching and highly individual result.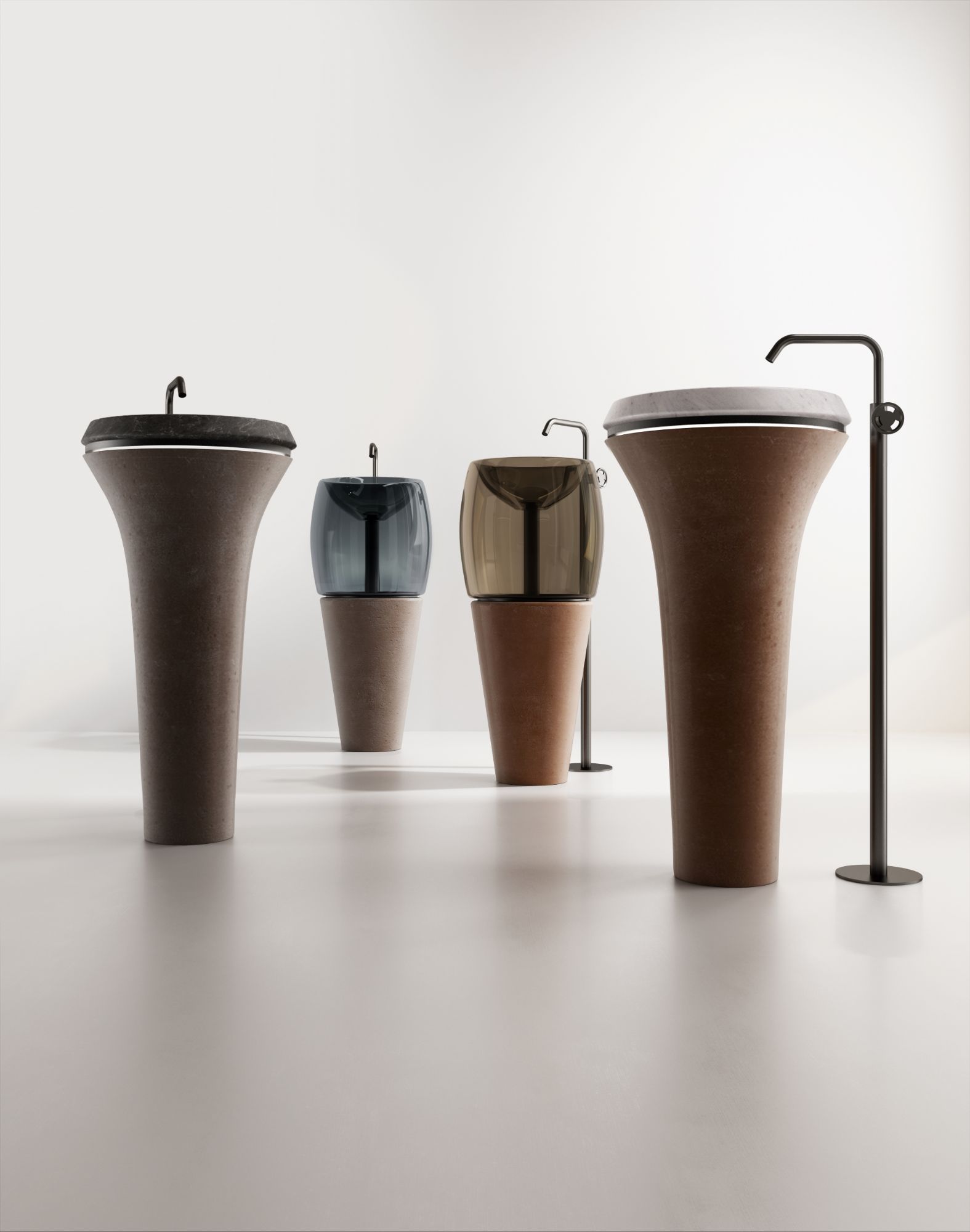 Freestanding Tosca washbasins in various design/finish combinations.
"The use of age-old Tuscan materials, such as traditional terracotta, blown glass, and marble, introduces a timeless appeal to these collections, while the natural colour palette adds softness to minimalist design."
Yousef Mansuri, C.P. Hart director of design.
Tosca is currently displayed in our flagship Waterloo showroom.