NEW Italian Furniture: Alexander, Quadra & Smyle
Are you in the market for beautiful bathroom furniture? Alexander, Quadra & Smyle are our newest bathroom furniture ranges, showcasing Italian design ingenuity with supreme build quality, combining modular configurations and impressive storage capacities.
Contemporary, Tactile, Beautiful
NEW & Exclusive Italian-Made Vanities
Alexander
Alexander is a contemporary wall-hung vanity collection characterised by balanced proportions, pure, clean lines, and gently rounded corners to introduce a touch of softness. This new and exclusive collection is built in breathtaking Tuscany.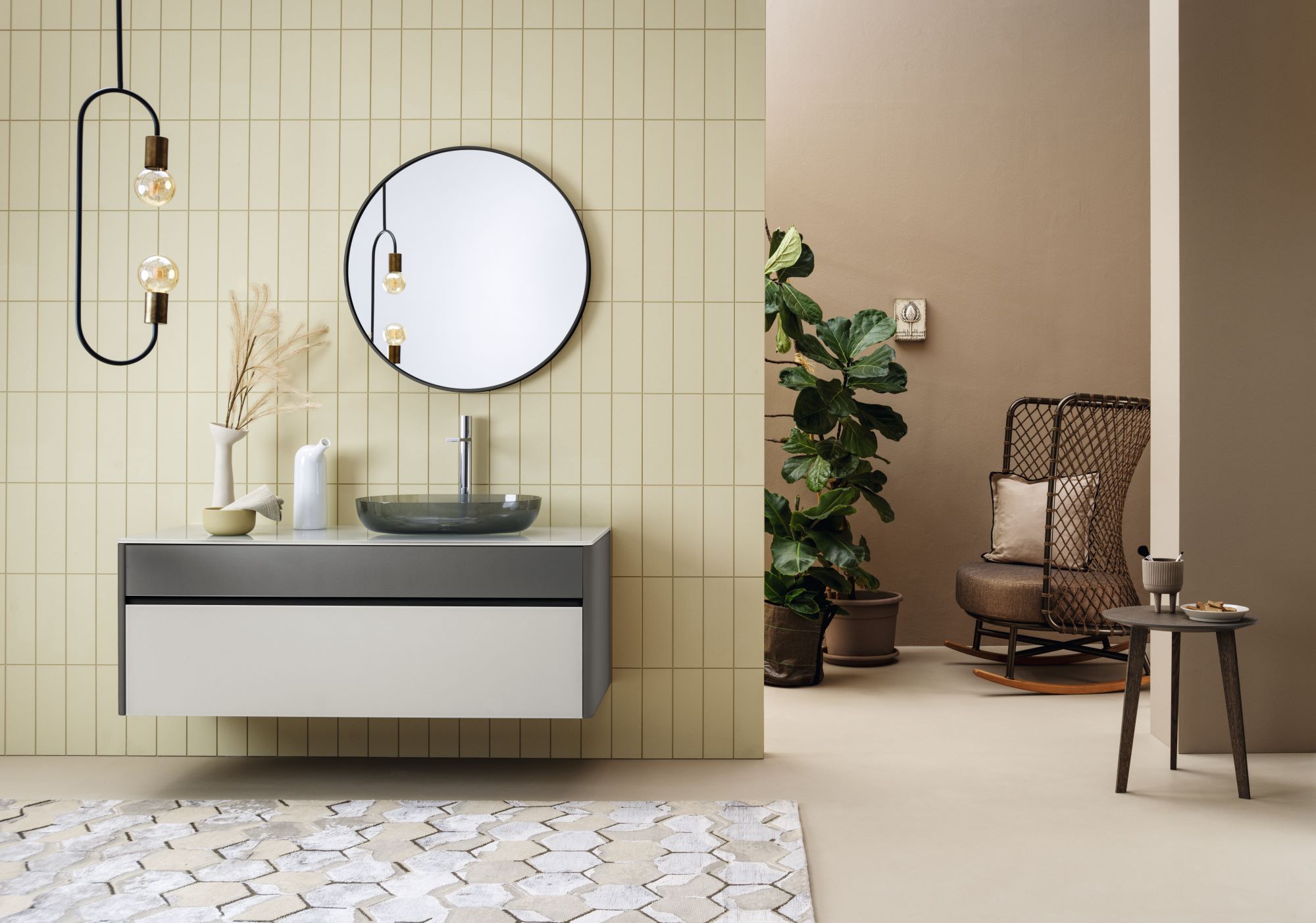 Alexander vanity with two drawers.
The Alexander bathroom furniture range presents a subtly curated display of glass finishes, including mirror glass, fluted glass, silk glass and gloss glass, as well as textured Laminam and marble, plus a choice of additional materials for the tops. Wood and metal options can be selected for the side details and for the optional towel rail that can be fixed across the front.
Available in various sizes, Alexander can be configured to suit almost all bathroom shapes and sizes.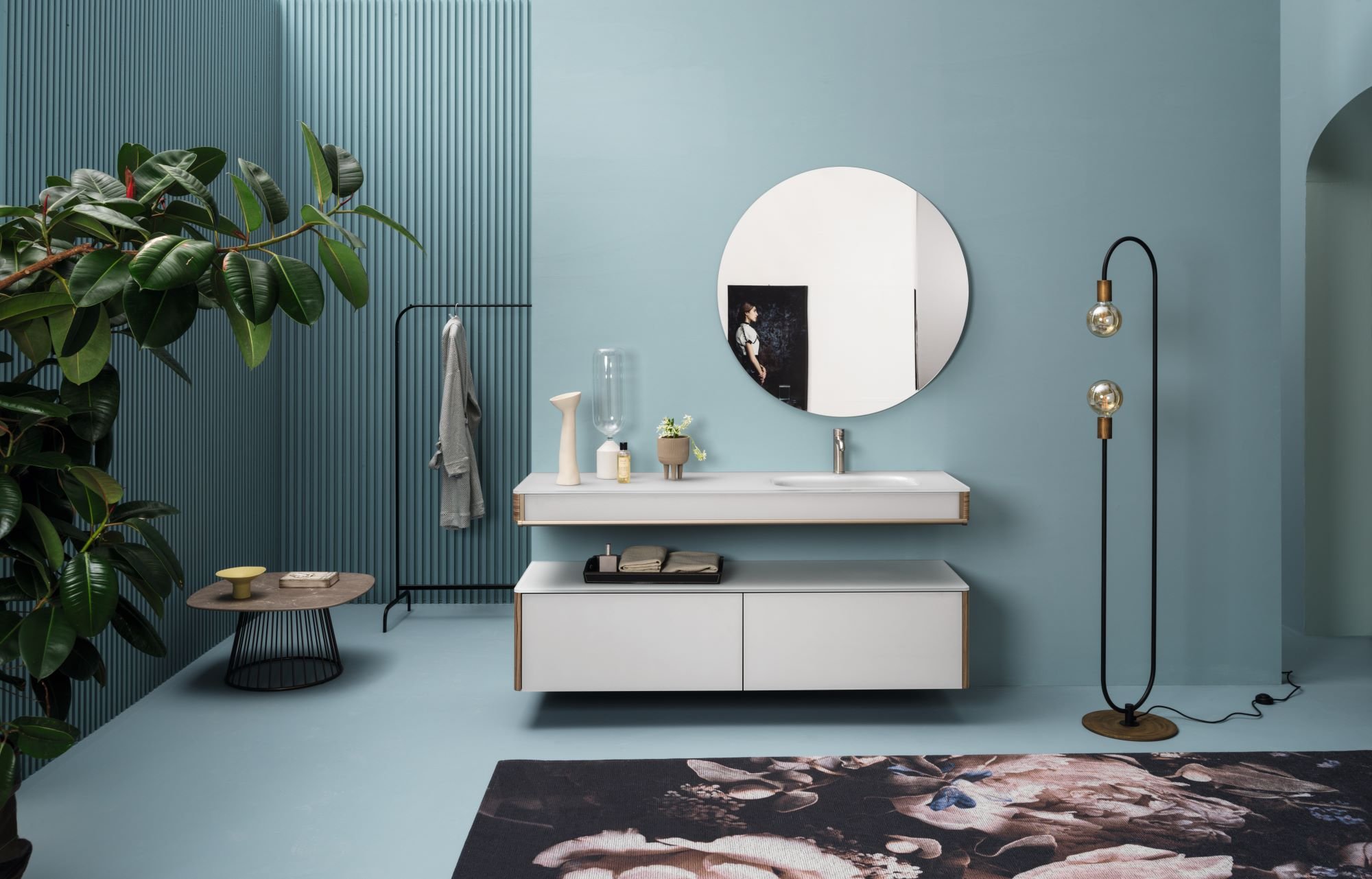 Alexander basin top in Gesso Silk with Noce Canaletto trim and Bronzo towel rail, with matching base unit with push-pull opening drawers.
"These vanity units appear to float, such is their lightness of form and suspended design, while the wide choice of finishes and colours encourages individualisation."
Yousef Mansuri, C.P. Hart Director of Design
Alexander is available to view on display at our Waterloo flagship showroom, and samples are available in all other C.P. Hart showrooms.

Quadra
Quadra displays a range of wall-hung vanity units with refined, minimalist elegance, where considered detail meets exceptional function. Designed for simplicity, the furniture's frame is 2cm deeper than the unit's drawer compartments, finished in black to highlight the customer's exterior colour and finish choice.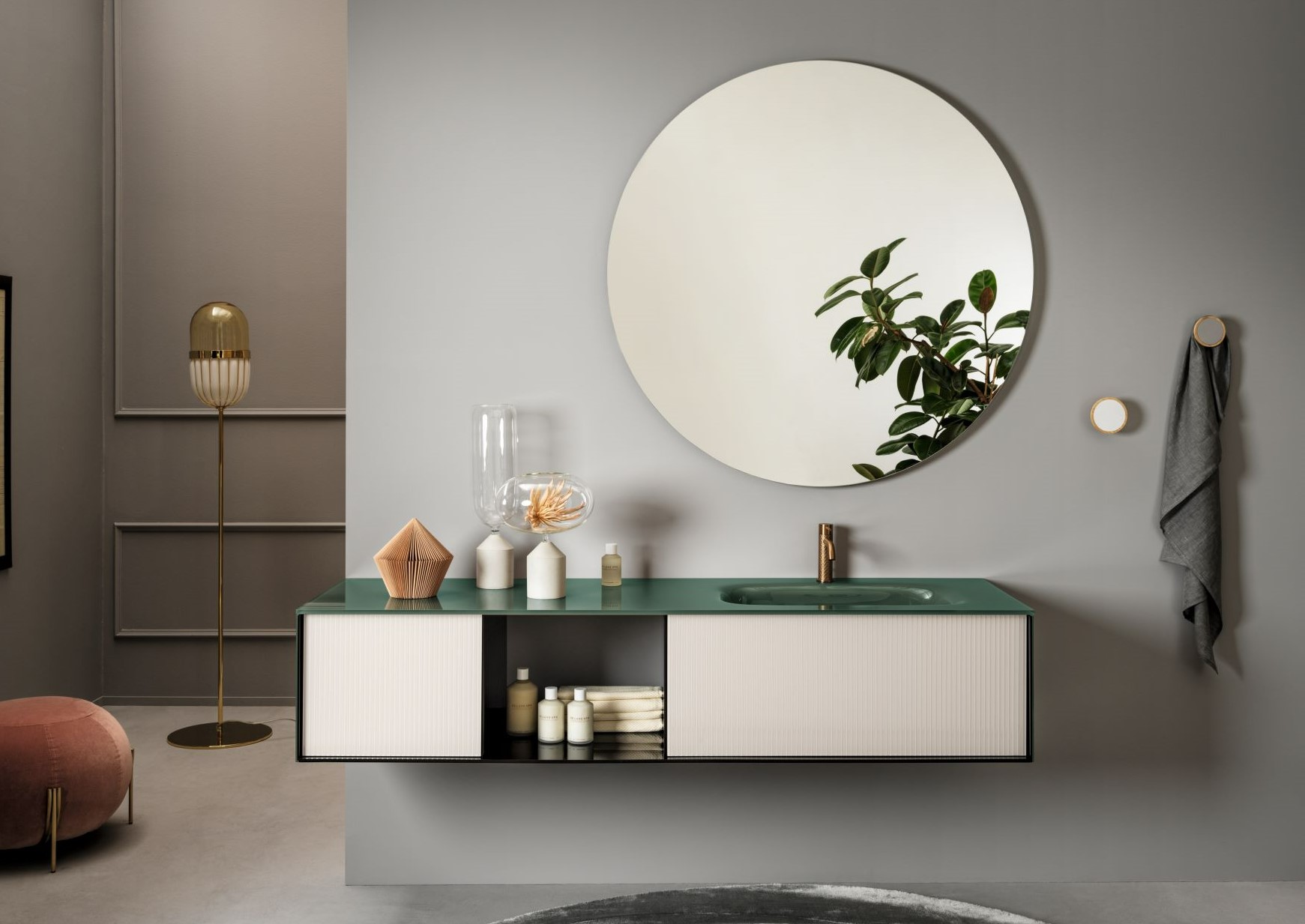 Quadra vanity in Smeraldo with fluted Peonia front.
Both Alexander and Quadra combine centuries-old glass processing traditions with the latest manufacturing technology. As such, Quadra is also available in a wide choice of glass finishes and colours, as well as textured Laminam and marble.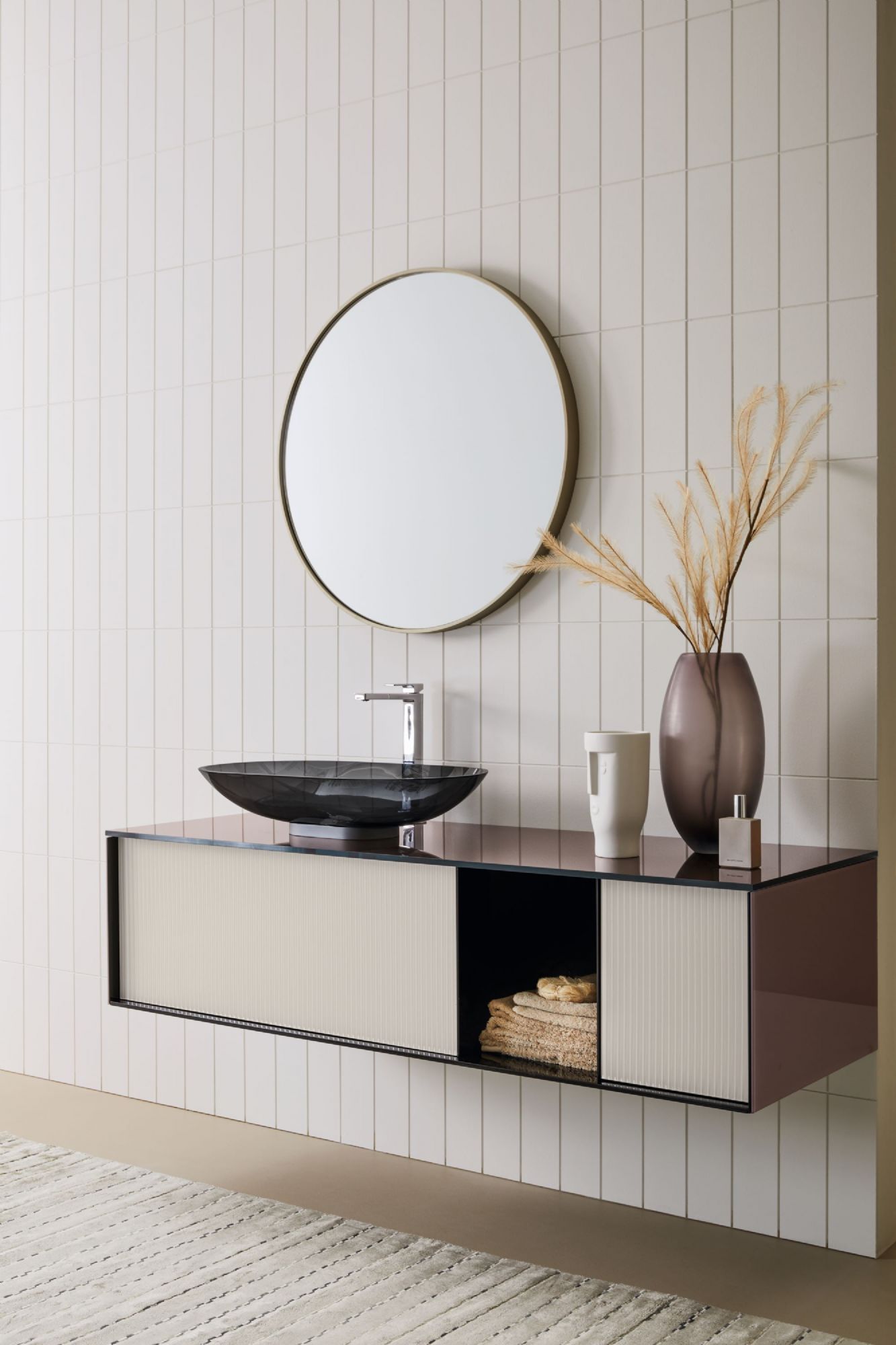 Quadra wall-hung vanity unit with fluted glass finish.
Varied sizes allow the furniture range to be modularly configured, making it viable for bathrooms of all shapes and sizes.
Quadra is available to view on display at our Waterloo flagship showroom, and samples are available in all C.P. Hart showrooms.
Smyle
In keeping with our commitment to introducing cutting-edge bathroom design to the UK, C.P. Hart launches Smyle, our new and exclusive range of luxury contemporary furniture solutions teaming sleek design with tactile finishes and impressive storage capacity.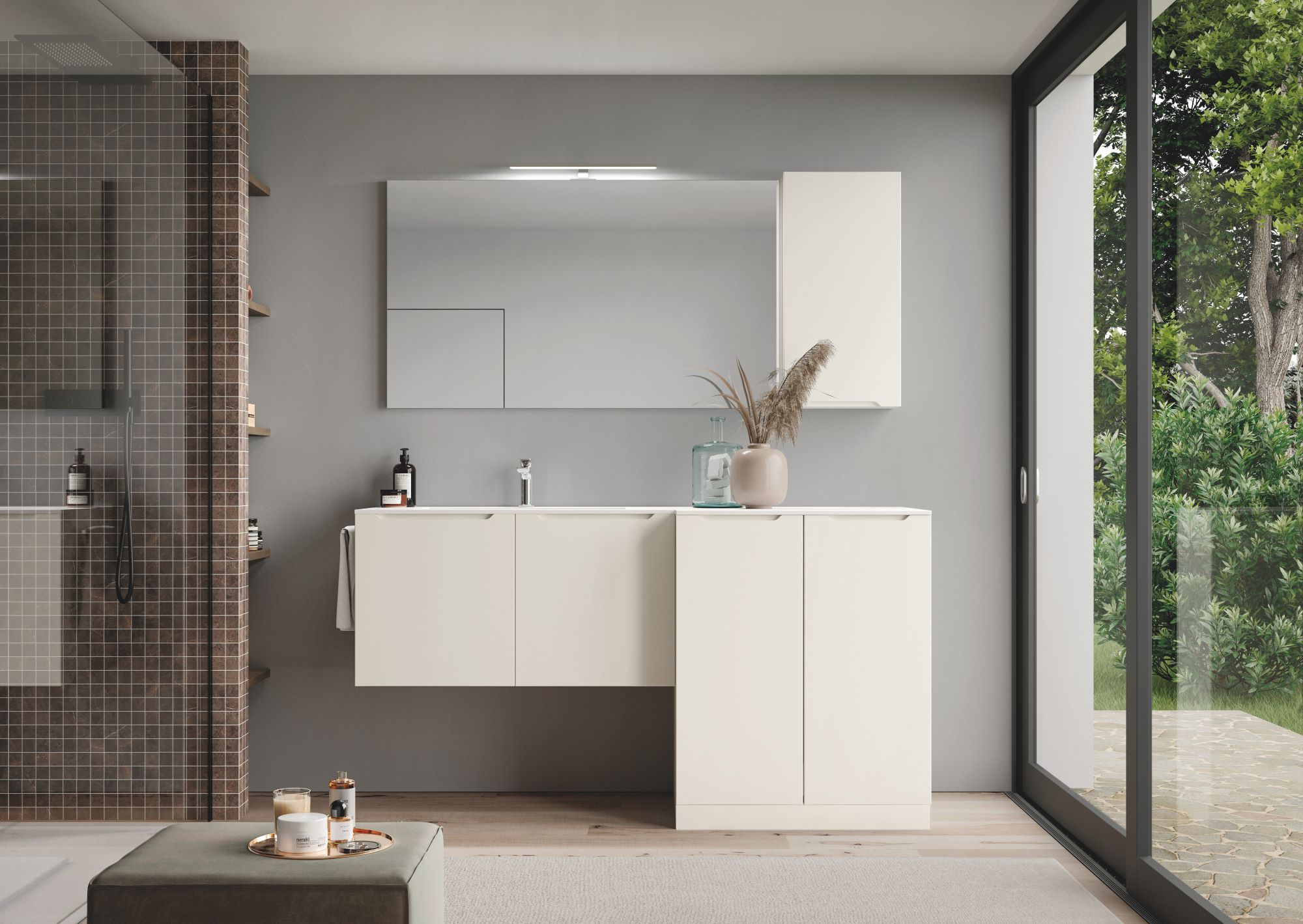 Smyle wall-hung vanity unit in Matt CB 001 finish with Matt Bianco Acritek top and integrated basin, plus matching floor-standing base unit.
The Smyle vanity unit's wall-hung configuration showcases elegant visual weightlessness, creating more floor space in the bathroom, a beneficial detail for smaller bathrooms and en-suites.
A contemporary channel handle is integrated into the front of the furniture units allowing for easy opening of the upper and lower drawers, both generously spacious, perfect for storing bathroom necessities.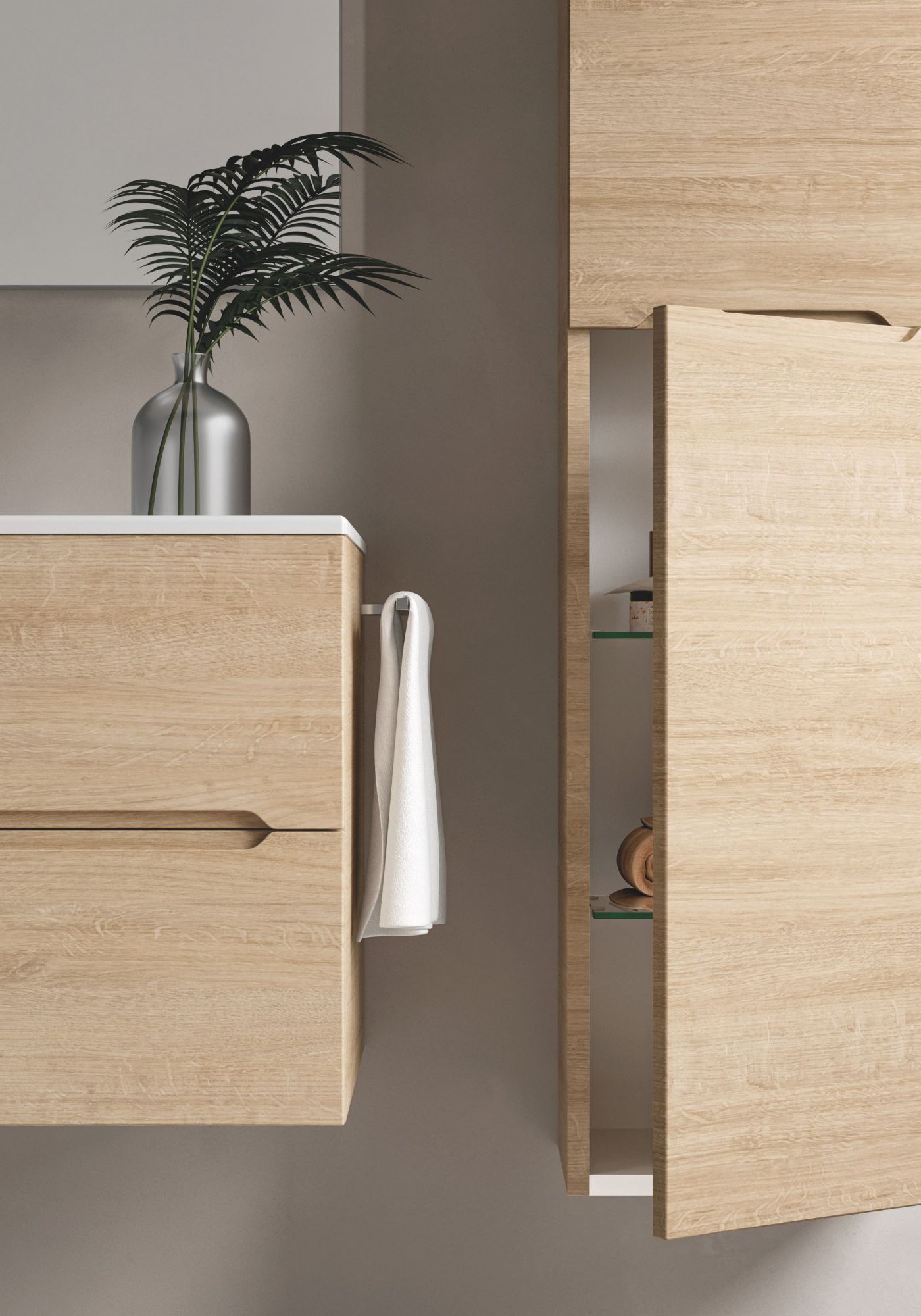 Smyle vanity unit in LB 004 wood finish with ceramic top and integrated twin basins, plus matching column cabinet.
Smyle is adaptable to every space requirement thanks to its modular versatility and a choice of over 50 impactful finishes, including lacquer, soft touch, and wood designs. Integrated washbasin options are available with the range, as are solid tops for deck-mounted washbowls or basins.
"Modern luxury is not just about outstanding design appeal, but also about careful attention to detail. Smyle combines pleasing shape and tactility with every element considered for simplicity of everyday use."
Yousef Mansuri, C.P. Hart Director of Design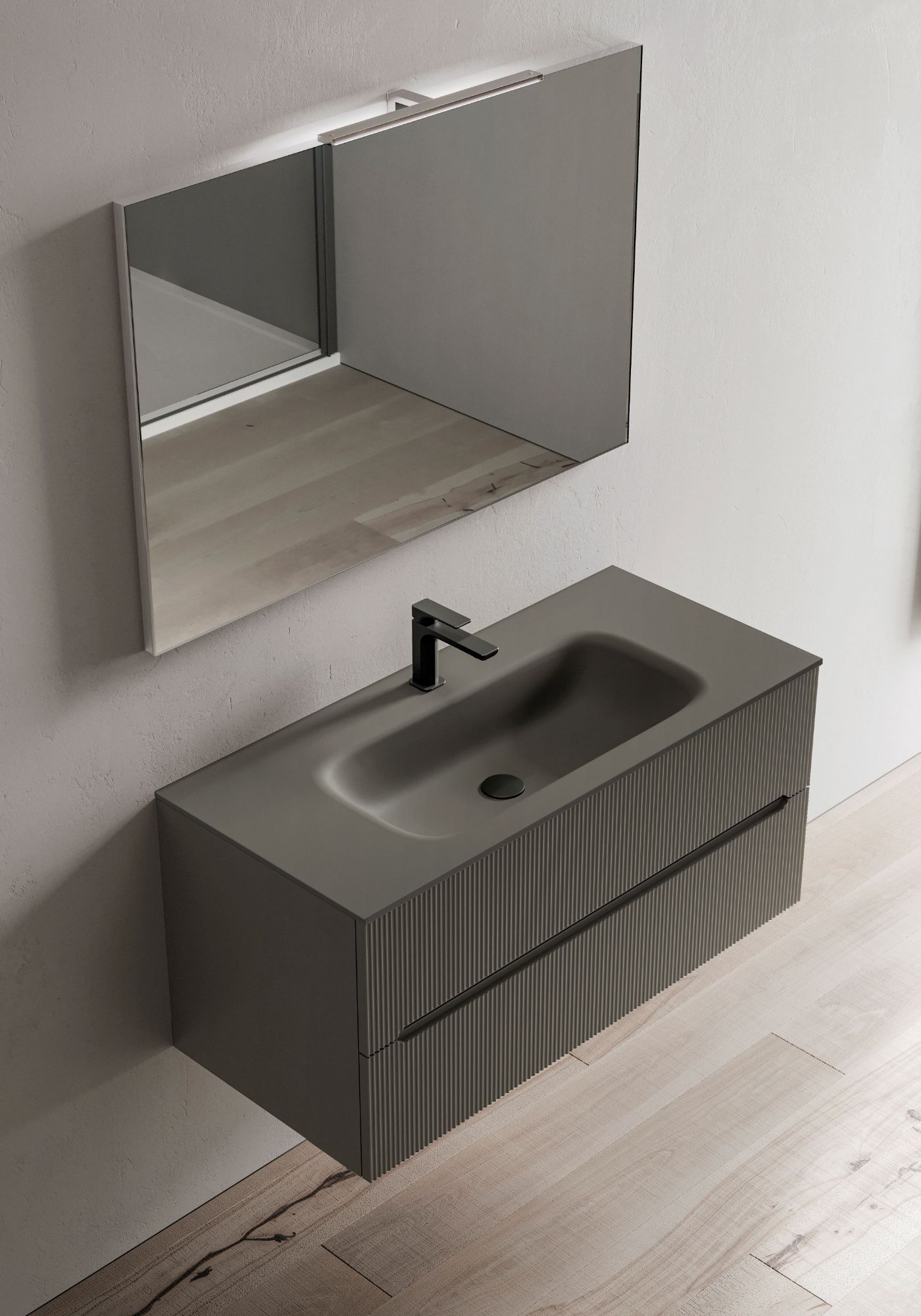 Smyle vanity unit in fluted lacquered finish with integrated twin basin.
View Smyle on display at our Waterloo flagship and Guildford showrooms and inspect finish samples in all other C.P. Hart showrooms.

Visit A C.P. Hart Showroom
Spring is springing – is there a better time to refurbish your bathrooms? We don't think so. To begin your bathroom selection process, please book an appointment at any one of our showrooms to be inspired by room set displays, inspect product quality, and finishes first-hand, and to be introduced to our exclusive and first-to-market product collections. No other showroom in the UK has a wider selection than our Waterloo flagship.