Design Ideas for Luxury White Bathrooms
Bold, colourful bathrooms are not to everyone's taste; many find the clean, bright simplicity of a white bathroom better captures their interest. In this article, we share our white bathroom ideas to spark inspiration for your next project.
White bathrooms create a sense of calm and cleanliness in a home. If you are looking to curate a white bathroom from scratch, or even to simply update your existing bathroom to incorporate more white features, then please read on.
We call upon our professionally qualified and award-winning design team to share their most impactful white bathroom design ideas for both traditional and contemporary bathrooms, from how to incorporate texture to give your space dimension to selecting the perfect white bathroom furniture for your interior.
Incorporate Textured Tiles
Though creating a white bathroom may sound straightforward, you will want to avoid unintentionally designing a space that feels cold and clinical. The key to creating an inviting white bathroom is to build surfaces and textures into the scheme. "Every white bathroom needs layers to add depth to what can be a particularly bright and open space," suggests C.P. Hart's design director, Yousef Mansuri.
A white tiled bathroom is a timeless backdrop. While plain white tiles offer a clean and understated appeal, why not add interest to your bathroom by introducing patterns or textures? Our range of tiles comes in a choice of materials, including hard-wearing porcelain and ceramic, and are available in various finishes from high gloss to soft matt.
A few of our standout tile ranges that will do well to inject depth into your white bathroom design includes Clay, a porcelain concrete-effect range, and Timeless, a hexagonal porcelain tile collection – perfect for bathroom floors.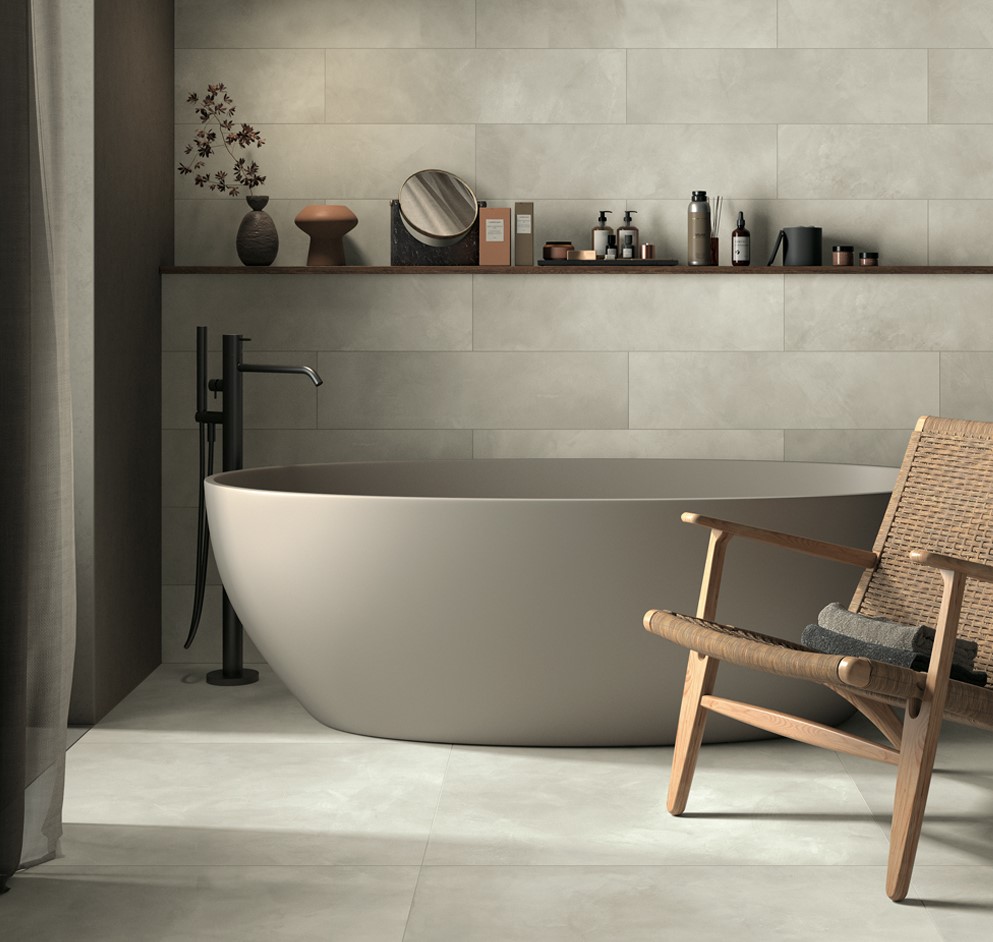 Explore our Clay tiles collection featured above in the 'Calm' finish.
Consider White Brassware
White basin taps, bath taps, and shower heads and controls are unusual yet incredibly striking choices in a bathroom. The Dornbracht Tara range, described as the 'charismatic icon', sets the standard for archetypal design with its combination of curved forms and sharp lines. The entire range is available in seven finishes, including matt white, offering a truly avant-garde interior.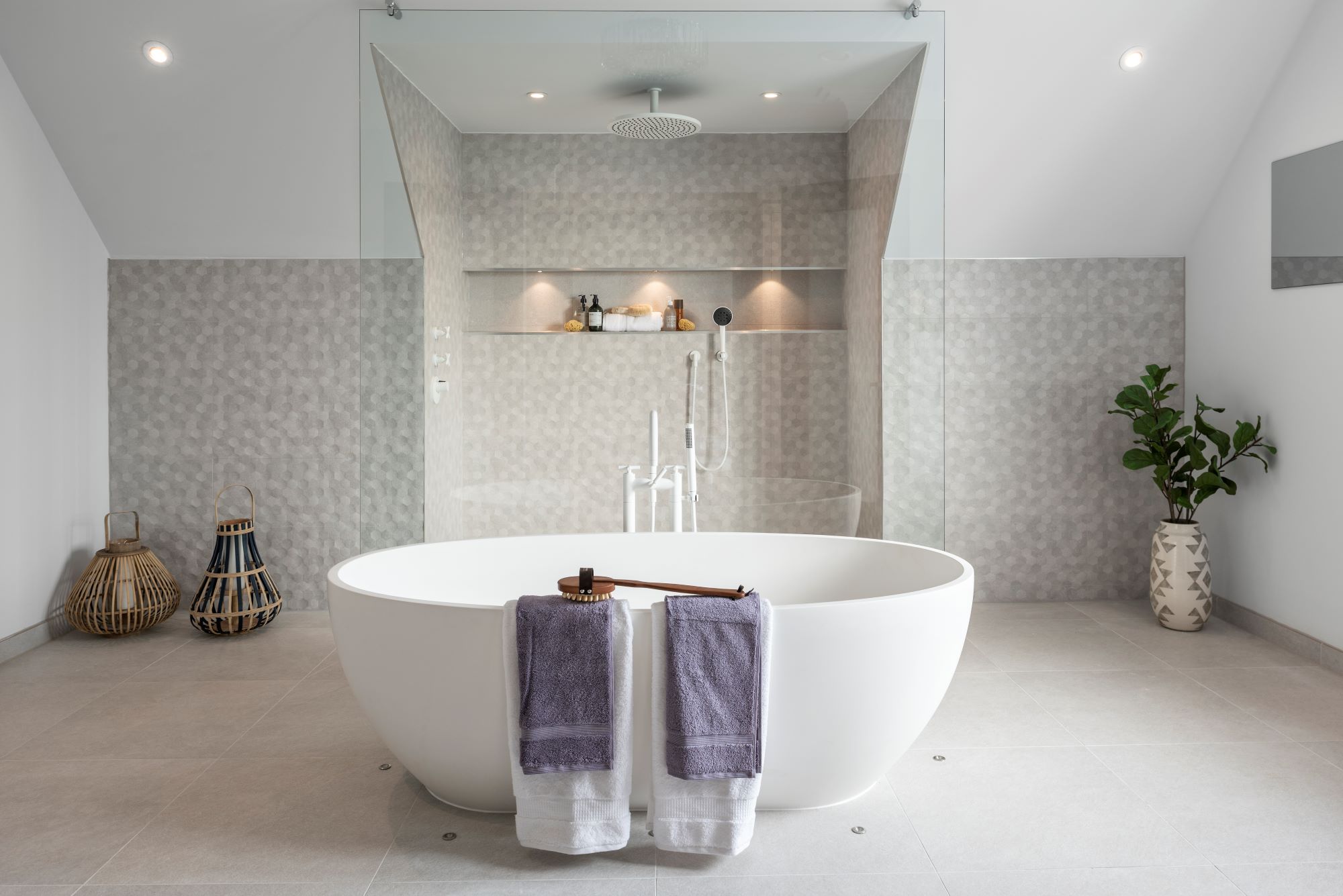 Shop the Dornbracht Tara freestanding bath mixer featured above.
Install a Metro Tiled Wall
Metro tiling is a tiling style inspired by the London Underground, the Paris Metro, or the American Subway. Originating from the 20th Century, architects would use this style of tiling, an appearance that closely resembles brickwork, due to its durability and glossy finish. From the 1920s onwards, metro tiling played a considerable role in Art Deco styles.
Recognised for their bevelled edge detail, metro tiling is still a popular surface choice for many. Whether installed vertically, horizontally, or brickwork bonded, these tiles add a retro-modern feel to any bathroom.
The C.P. Hart design team recently conducted a bathroom renovation at The Laslett Hotel in Notting Hill. Following an overriding monochrome palette, these bathrooms beautifully display metro tiling in white and a softening grey.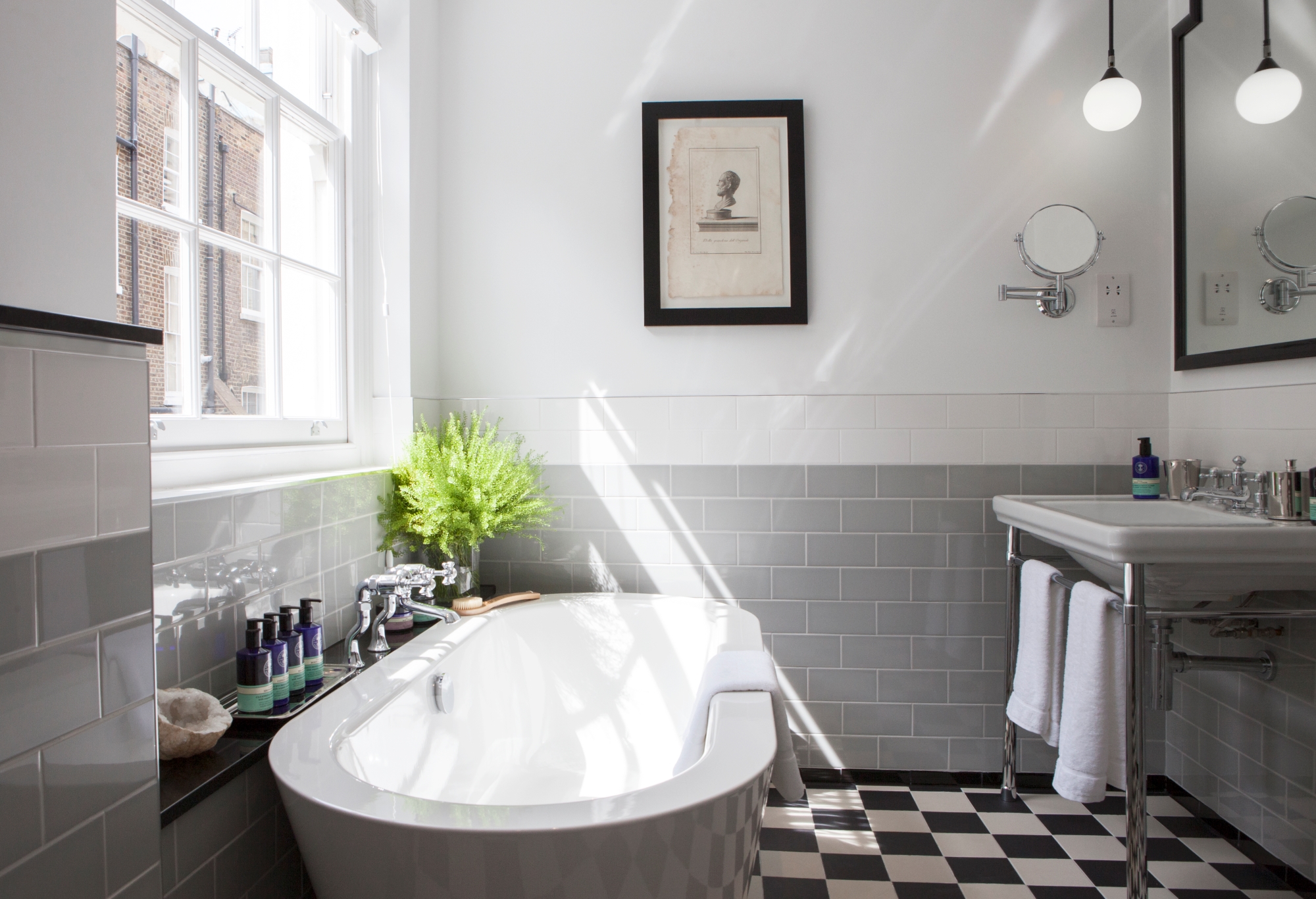 Shop the Canova Royal washbasin by Catalano and the basin mixers from Crosswater, as featured above.
To create a metro tiled wall in your own bathroom, be sure to explore our Renna tile collection shown below, available in not only white but various lustrous colours to suit all bathroom schemes.
Shop the Renna tiles, available in Bianco, Nero, Verde, Rosa, Grigio, and Giallo.
Create a White Marble Bathroom
A white marble bathroom is a time-honoured design that breathes elegance, perhaps one of today's most sought-after tile styles. While natural stone marble is undoubtedly an opulent choice, it is not often recommended for use in bathrooms or kitchens. Natural marble is extremely porous, meaning it is not watertight and is susceptible to staining and scratching. In addition, natural marble stone is exceptionally heavy, making it a complex material to install.
As a solution, C.P. Hart has developed an entire range of marble-look tiles, perfect for creating a white tiled wall or floor, crafted from high-quality porcelain that is more affordable, remarkably strong, and far easier to maintain. Our Marvel, Cosmopolitan, Wanderlust, Altisimo, Lira, and Modico ranges each resemble a different marble finish, from Italy's most well-known white Carrara marble to recreations of striking Amazonite.
To explore our marble-look tiles in more depth, please download our tile brochure or visit one of our showrooms for first-hand inspection.
The recent residential project below is a first-class example of how to create depth in a white bathroom. The design team injects accents of marble tiling on the floors and in the shower enclosure in two different tyle shapes: rectangular and hexagonal.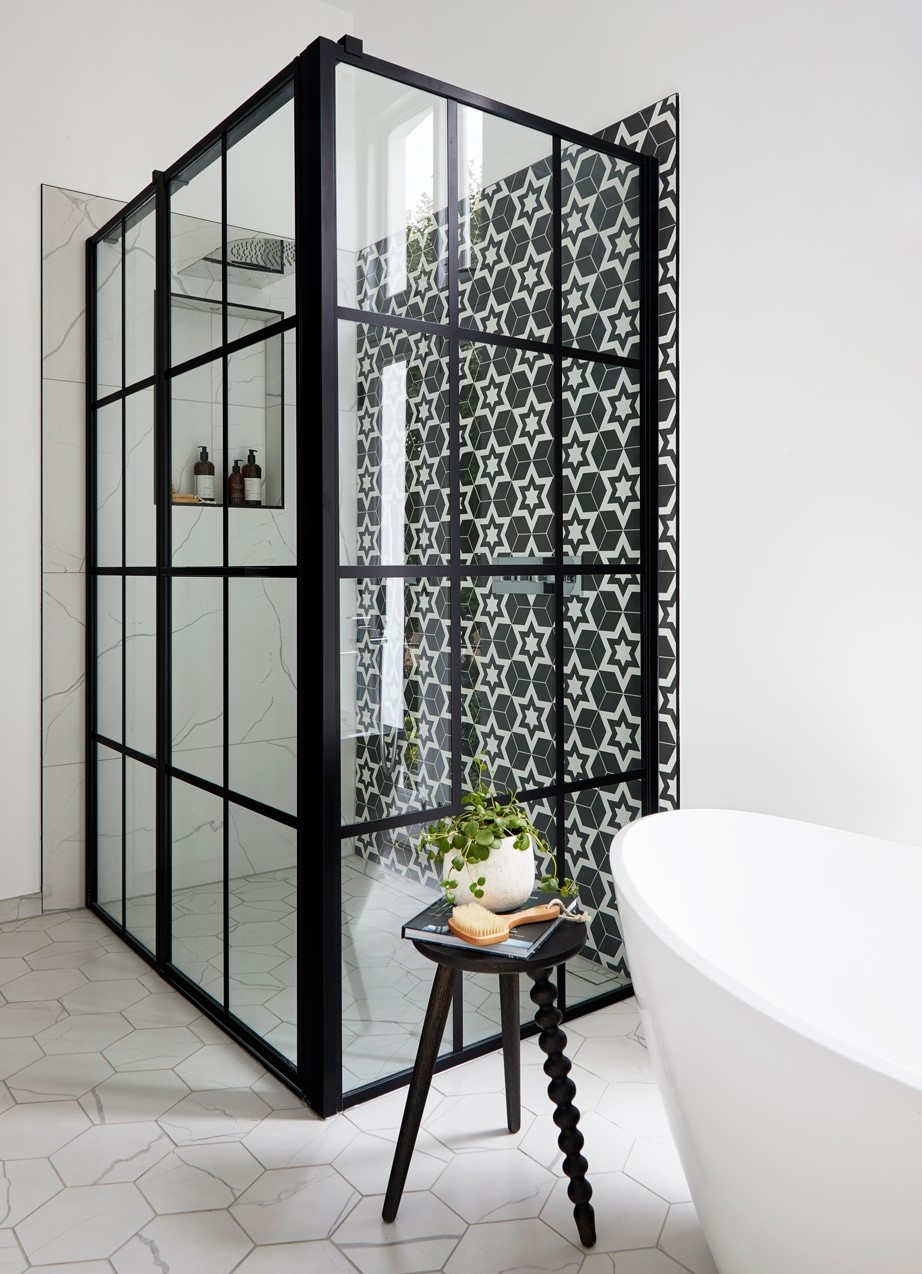 Shop the Elter freestanding bath featured above.
Combine Your Tiles with White Paint
"Try to diversify the walls of your bathroom to give the space more depth," says Yousef Mansuri. "Tiling will help accentuate areas such as the shower, while paint creates a clean backdrop for a bath to take centre stage."
Aside from creating more depth, white bathroom paint is a favourable choice for many as it suits bathrooms of all styles, whether classic or contemporary. In addition, it complements any tiling or pops of colour you may choose to incorporate in your design.
When painting your bathroom white, ensure you use a paint that states its use for humid areas. These paints will be water-based for a quicker, odour-free dry, and will dry to be moisture repelling, washable, and stain and scuff resistant.
The below bathroom, a residential project located in Buckinghamshire, features a soft white painted wall to complement the off-white floor tiles.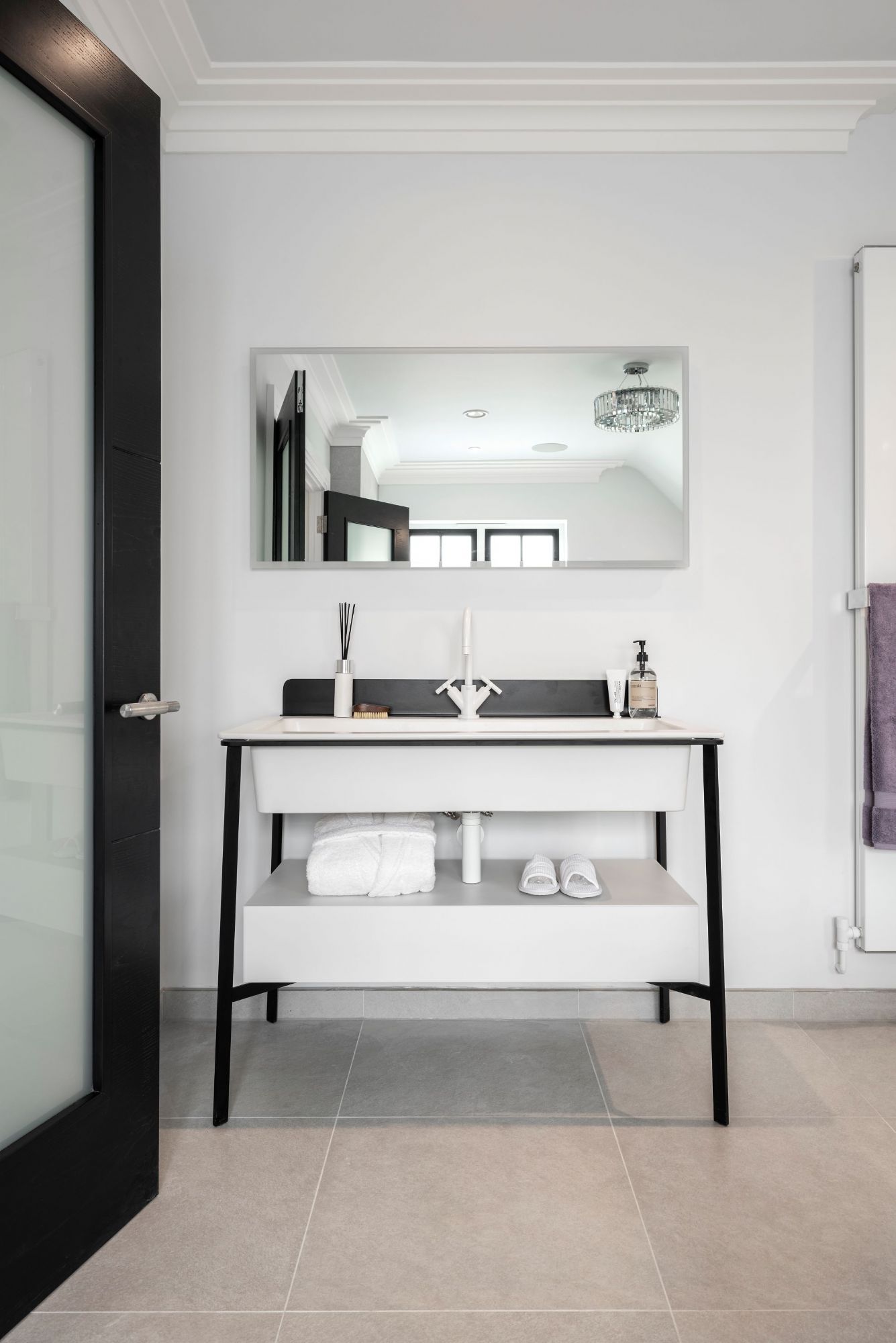 Shop the Cielo I Catini washstand featured above.
Add White Bathroom furniture
To create the ultimate all-white bathroom suite, complete your bathroom design with vanity units that look beautiful in traditional and contemporary bathrooms while offering practical storage for your everyday bathroom necessities.
Our Rowan, Hawthorn, and Hazel furniture ranges are exclusively created for C.P. Hart, designed and manufactured in the UK from premium quality solid timber. The units are available in not only white but a selection of painted finishes, hand sprayed to produce a rich matt finish that subtly reveals the wood's grain beneath.
Each cabinet from the Rowan, Hawthorn, and Hazel range is made to order to your personal specification with optional coordinated mirrors and mirror cabinets. We welcome you to view the ranges in our Waterloo flagship showroom – only in person can you experience the ranges' exceptional quality and durability, achieved by the finest British craftsmanship.
Explore Rowan, Hawthorn, and Hazel here.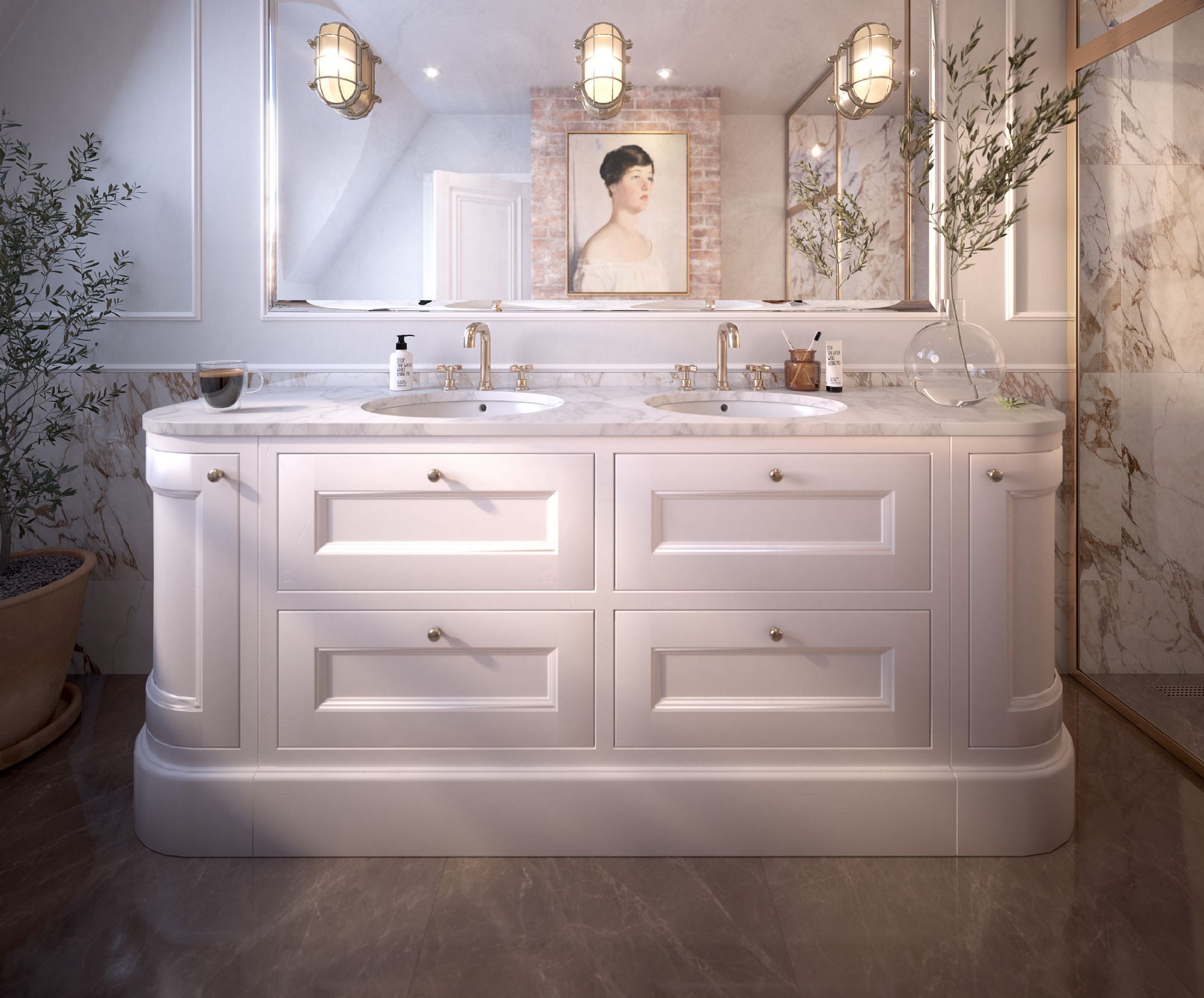 Shop the Rowan vanity unit featured above.
For further white bathroom inspiration, may we suggest you visit our Instagram or Pinterest page, where you will find ample examples of how homeowners and industry professionals have curated our products?
For further design advice and product specification, please do visit our showroom or book an appointment where our professionally qualified design team are able to guide you through your next bathroom project, backed by over 80 years of luxury bathroom expertise and our award-winning design and installation services.