Designer Room Set Collaboration: Eva Sonaike
We are pleased to share our designer room set in collaboration with London-based interiors company Eva Sonaike. Eva Sonaike's room set is one of four stunning bathroom displays, each designed by a different leading designer, exploring their interpretation of wellness with a powerful emphasis on escapism.
Eva Sonaike is a London-based Interiors company specialising in luxury home textiles and soft furnishings with a vibrant, yet elegant West-African aesthetic. The company's ethos 'Bringing Colour to Life' is reflected in its signature collections of cushions, rugs, furnishings, lamps, wallpapers and interior textiles designed by Eva Sonaike herself.
Driven by her enormous passion for African fabrics and interior design, Creative Director Eva Sonaike places emphasis on hand finishing, distinct designs, and high-quality manufacturing with the mission of bringing the vibrancy of African colours and aesthetics to the luxury home-décor and interior design market.
Click here to visit Eva Sonaike's room set, displayed at our Waterloo flagship showroom.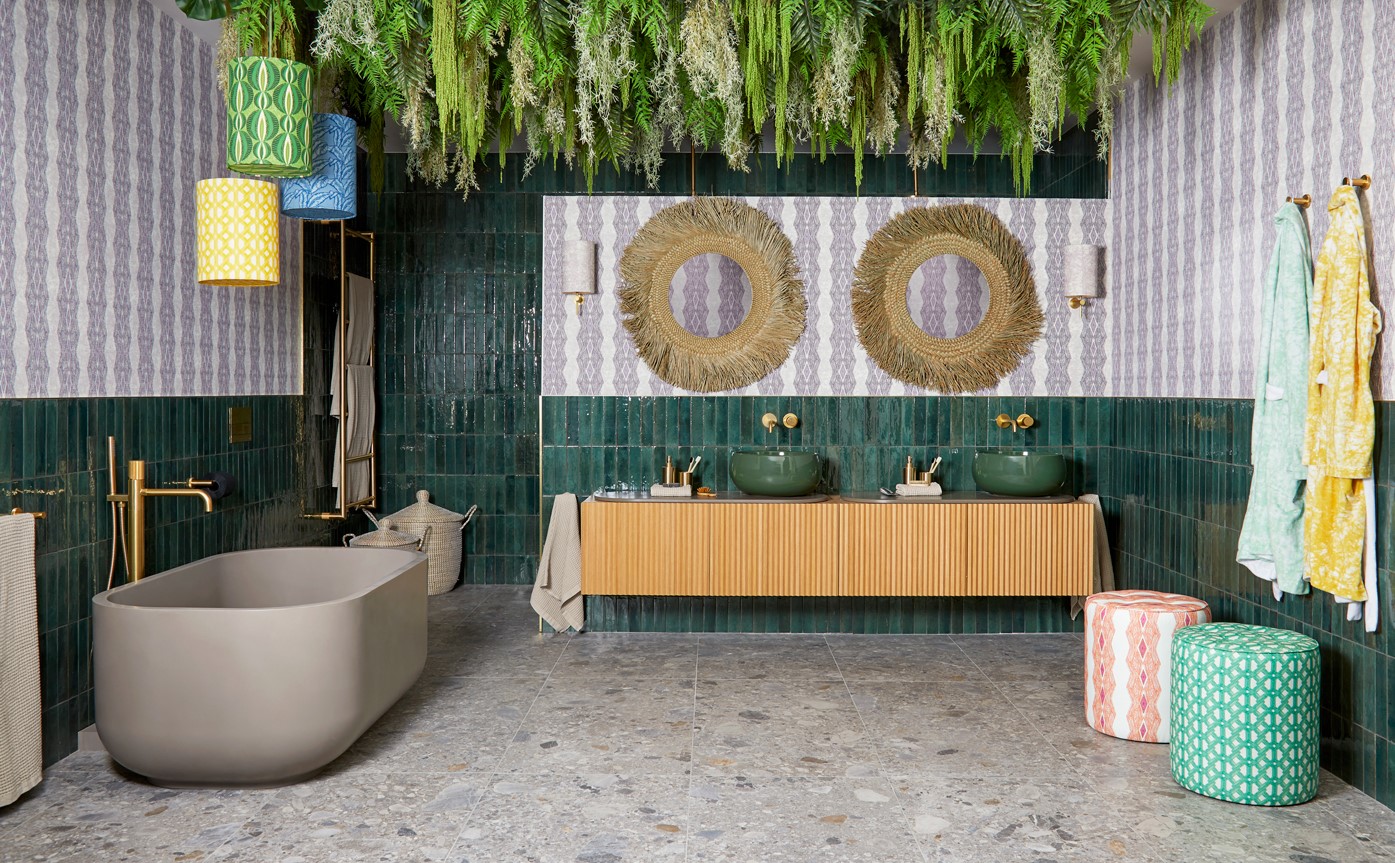 Eva's room set collaboration, housed in our flagship Waterloo showroom, is influenced by beach houses on West Africa's luxuriant Atlantic seashore. Inspired by mid-century architecture, and in particular Tropical Modernism, Eva Sonaike translates this aesthetic into a modern, luxury bathroom setting.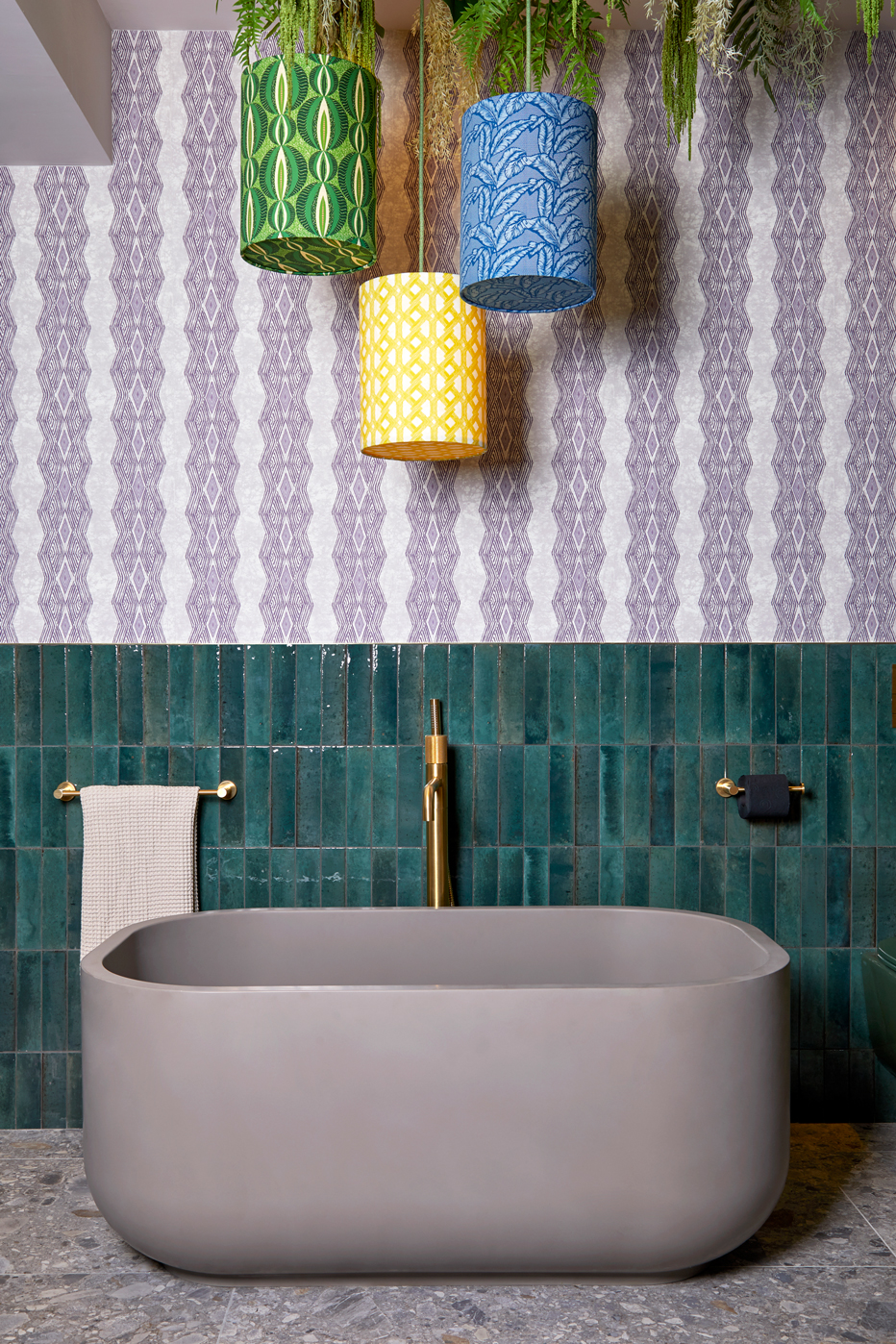 Shop the Spillo Tech G Floor Standing Bath Shower Mixer featured above.
"I loved every aspect of working on this bathroom set for C.P. Hart. It was important for me to incorporate colour, texture, and pattern into the design, but at the same time to create a relaxing and restorative atmosphere. The pattern of the purple Odi wallpaper gives the room a luxury African feel which, with the combination of the modern Delfo range, creates a perfect harmony."
- Eva Sonaike
The Norway Farge Matt tiles, exclusive to C.P. Hart, echo terrazzo stone floors, cool underfoot. The Luminous Lume tiles, in warm green, represent lush foliage and tropical palm shores; they offer a striking contrast to the Spillo Tech G taps in brushed gold.
Download our Tiles Brochure here.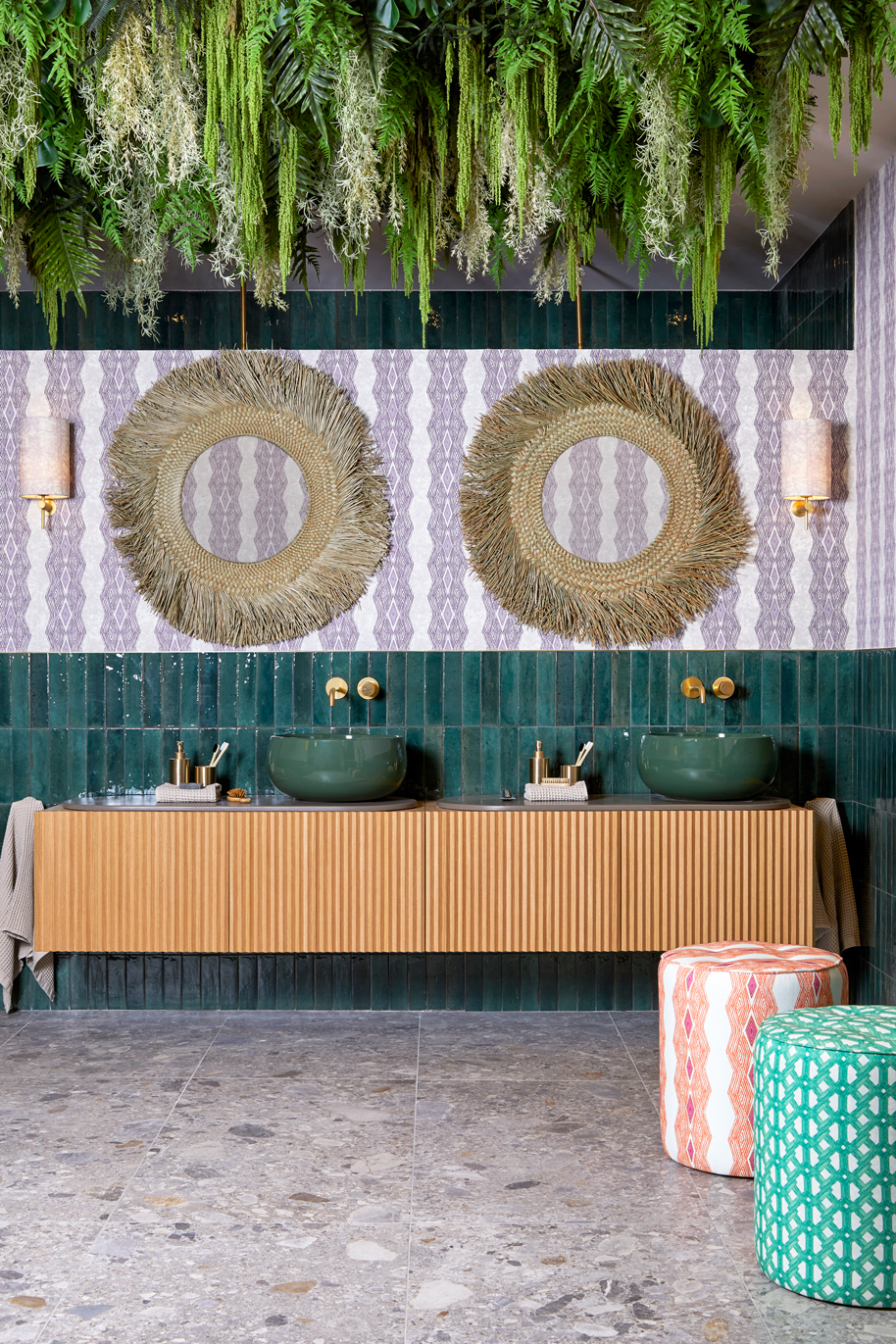 Explore the Norway tile collection, featured above as floor tiles in 'Farge'.
The Archiproducts Design Award 2021 award-winning Delfo vanity units by Cielo are Eva's favourite pieces in the room. Their textured drawer front and light wood impart an African character, as does the Tura heated towel rail with its knurled detailing. These beautifully partner with our dark green Alga gloss washbowls. To complement the green colour palette, Eva chose the Odi purple wallpaper from her Eko Eclipse collection, with its geometric pattern and vivid lilac and purple hues.
We invite you to visit our Waterloo showroom, where you are able to experience all four room sets featuring our new product ranges, contemporary and classic.