The Tap Buying Guide for Luxurious Bathrooms
Whether completing a whole new bathroom or simply replacing your existing taps, our comprehensive tap buying guide aims to inspire your choice. This guide will explore the most sought-after options available at C.P. Hart, including taps from the world's leading manufacturers and from our own exclusive ranges.
The style and chosen finish of your bathroom taps can completely transform the appearance of your space. Regardless of your interior preference, you can find a basin tap, bath tap, or bidet tap that fits seamlessly into your bathroom's style. With many options to choose from, including wall-mounted, deck-mounted, and freestanding products, our guide will help you to refine your selection.
Below, we outline the five main tap styles: three-hole mixers, pillar taps, monobloc mixers, freestanding taps, and bath shower mixers, as well as listing tap collections for baths and basins and our most-popular tap materials and finishes.
Tap Styles
Three-Hole Mixers
Three-hole mixers, also known as three-piece mixers, add luxury and style to any bathroom as well as being entirely practical. This mixer is designed with separate tap valves that deliver water through a central spout, allowing for separate control of the hot and cold water and, therefore, the ability to control and achieve a more precise temperature.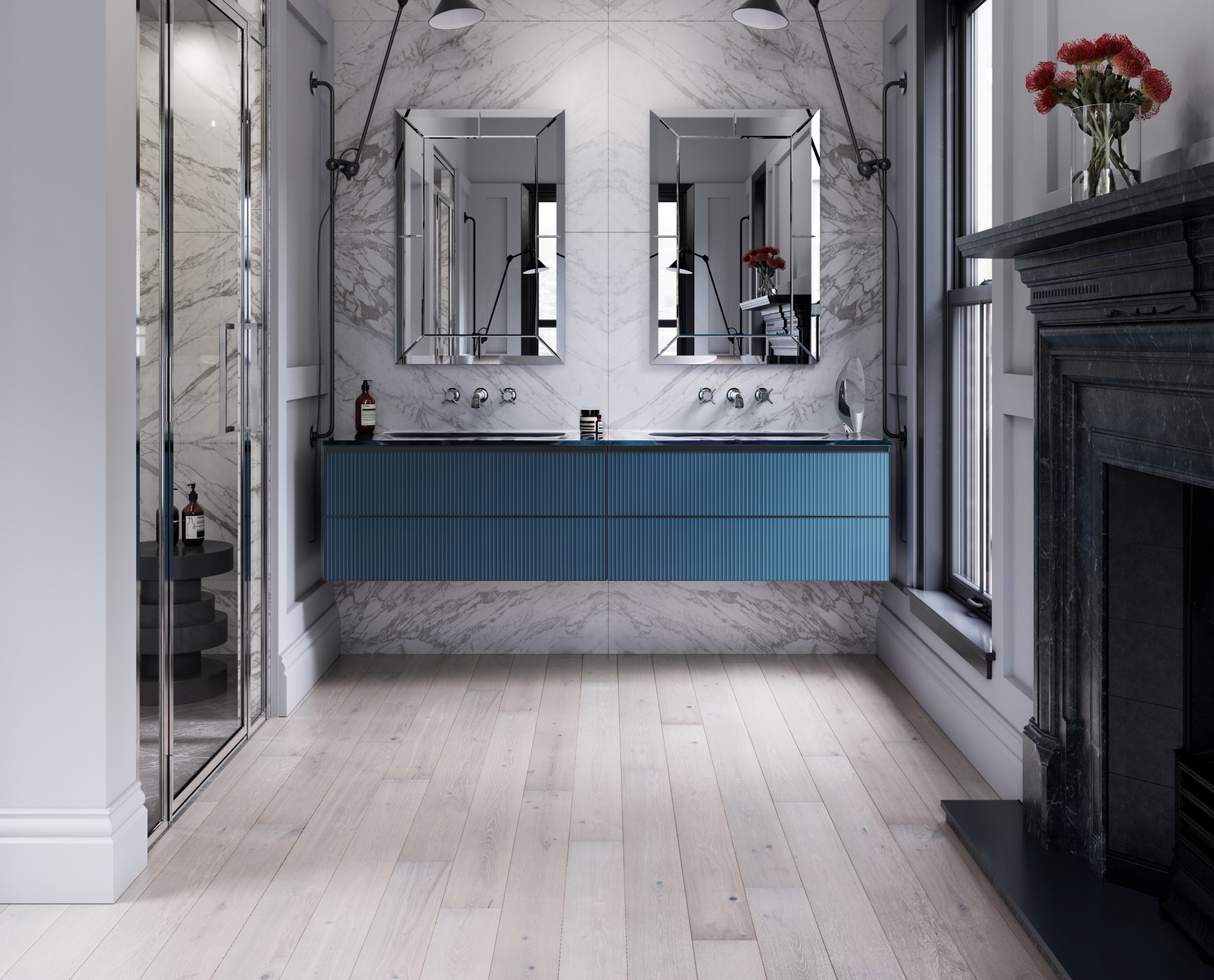 Shop the C.P. Hart Epoch Wall-Mounted 3-Piece Basin Mixer featured above, available in eight premium finishes.
Pillar Taps
Pillar taps are the most traditional tap style, best suited to a classic bathroom interior. Pillar taps are supplied as two separate taps, one for hot water and one for cold, requiring either a two or three-hole basin, with the central hole to house a tap hole stopper or a pop-up waste. The handles on pillar taps mainly vary between cross bar or lever designs. Lever handles usually require less effort to turn on the tap, but both are time-honoured design classics that function reliably and breathe elegance.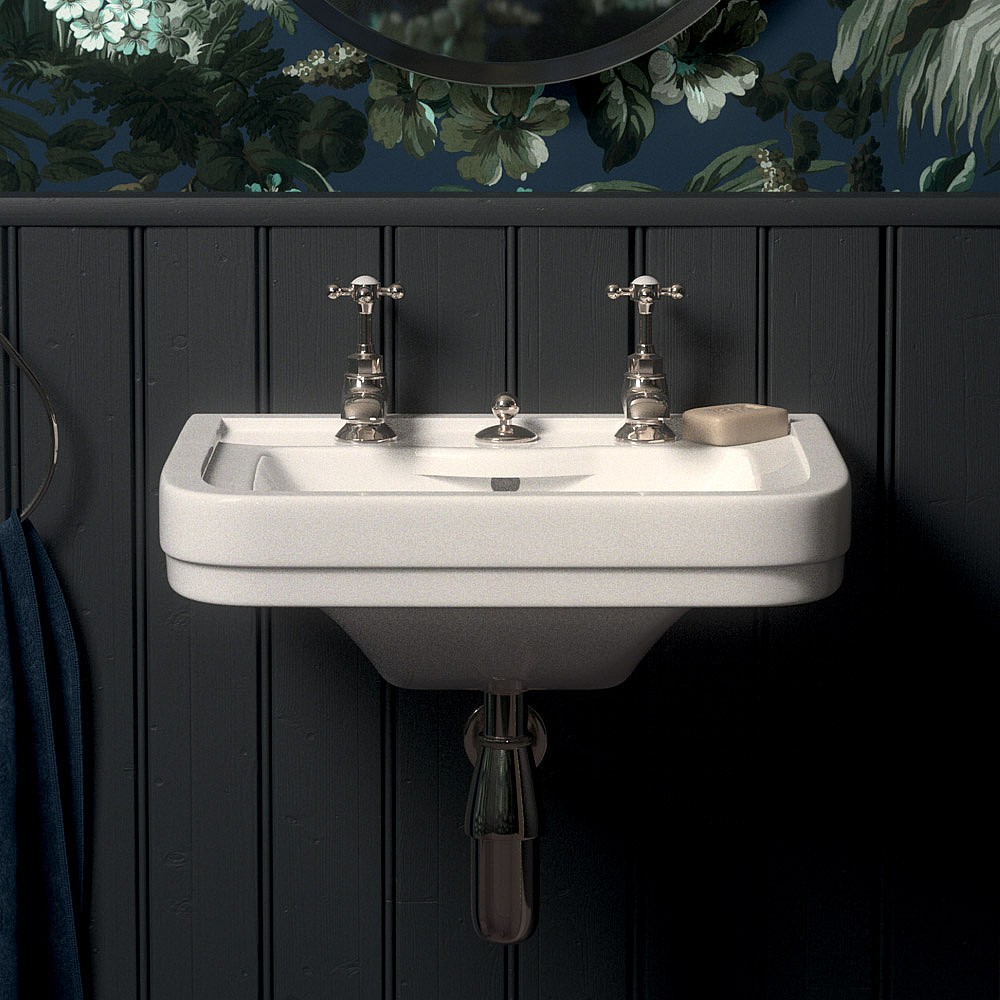 Shop the Original Basin Pillar Taps featured above, available in two sizes and seven finishes.
Monobloc Basin Mixers
A monobloc basin mixer, also known as mono or single lever, is the most popular brassware style – almost every brassware range will include a tap of this design.
Designed with either a single or double lever/handle, mono taps are readily available in both traditional and contemporary styles. Traditional monobloc mixers incorporate separate hot and cold handwheels, whereas the contemporary alternatives usually consist of a single lever that controls both the water's flow and temperature.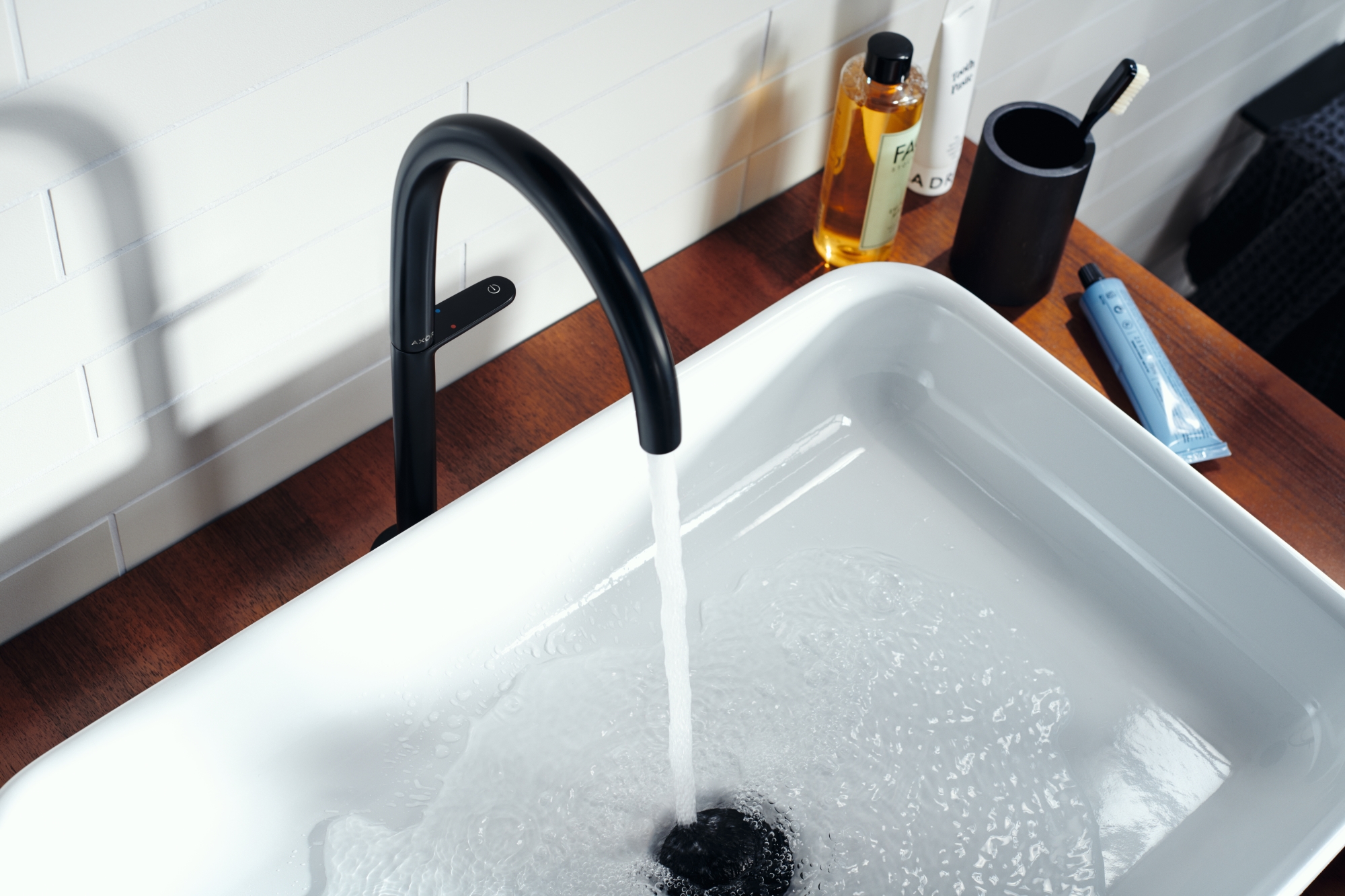 Shop the AXOR One Basin Mixer Select 170 with Push-Open Waste Set featured above, available in over 12 stunning finishes.
Freestanding Taps
Freestanding taps are eye-catching and bold, suiting freestanding baths best. Although freestanding bath taps are our most sought after freestanding option, we also supply a selection of freestanding basin taps, all designed for floor placement to stand tall over your sanitaryware. At C.P. Hart, you will find all-in-one freestanding bath shower mixers as well as floor-standing spouts with separate wall or deck-mounted controls.
We love freestanding taps for their sculptural quality and for the space they liberate around your bath or basin.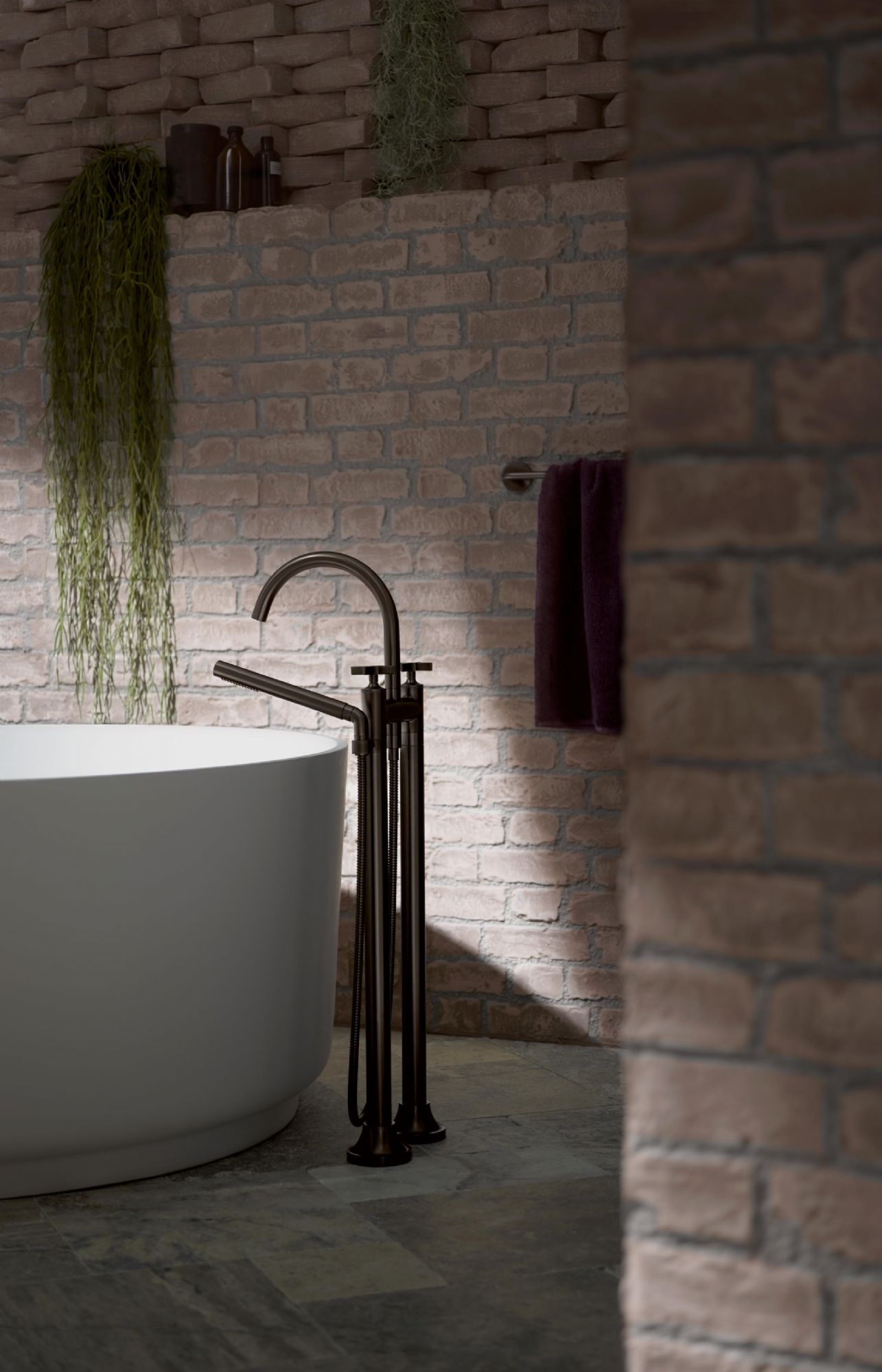 Shop the Dornbracht VAIA Freestanding Two Hole Bath Mixer with Hand Shower featured above, available in five standout finishes.
Bath Shower Mixers
Available in traditional and contemporary styles, bath shower mixers offer a versatile bathroom solution. While some sets come with a diverter for switching the water flow from spout to shower head, others are designed with individual shut-offs that control a single bath or shower fitting, be it a shower head, bath spout, or hand shower set.
Classic ranges usually include an all-in-one bath shower mixer with a telephone-style hand shower on a cradle, which can be deck, wall or floor mounted, or wall or deck mounted as individual components. Explore our range of traditional bath shower mixers from our classically designed Empire and Admiral collections, both exclusive to C.P. Hart.
Contemporary ranges, on the other hand, tend to consist of individual components such as the Piet Boon set featured below - these are usually supplied separately or on a backplate and are often wall or deck mounted. Leading manufacturers, such as AXOR, Dornbracht, and Piet Boon, have created slender bath shower mixers that function seamlessly - excellent options for every modern bathroom.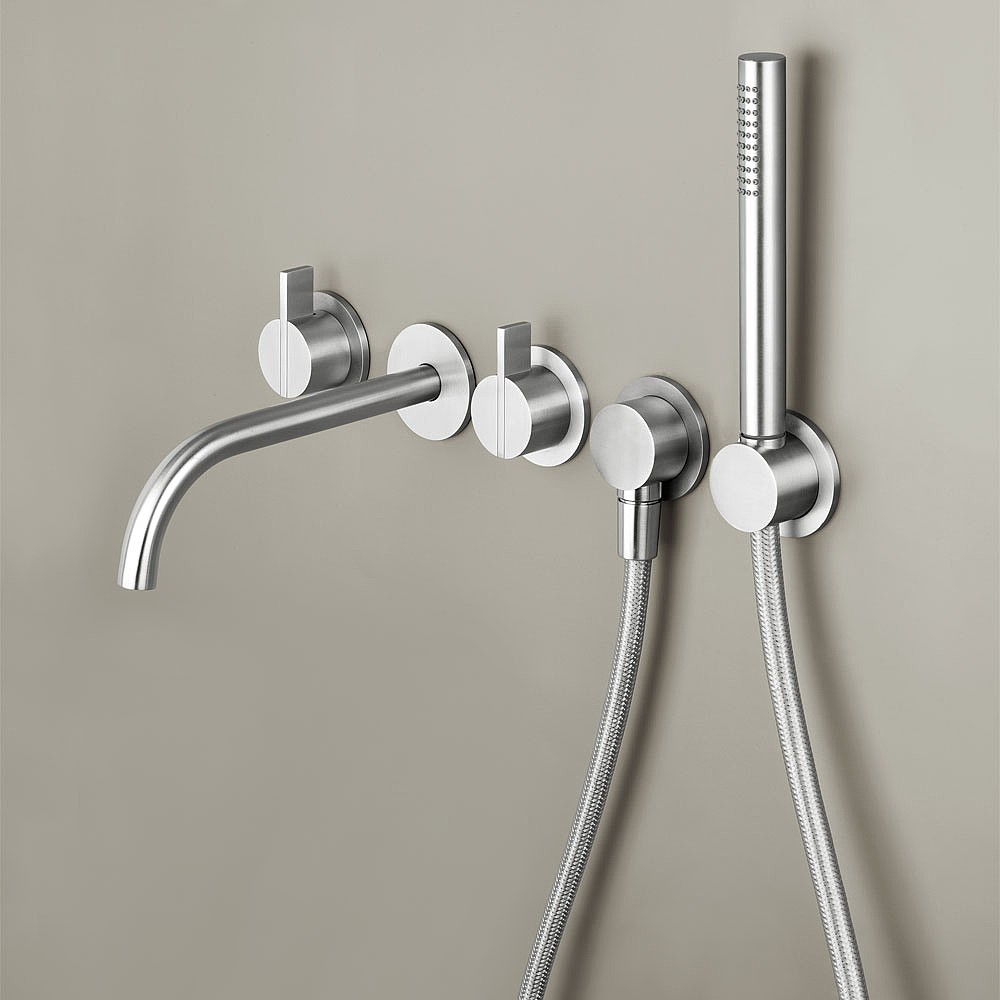 Shop the Piet Boon Set 24 Wall-Mounted Bath Set featured above, available in four finishes, including Brushed Gold and Gun Metal Black.
Tap Types
Basin Taps from C.P. Hart
Taps have excited attention and creative ingenuity from inspirational product designers, worldwide. Every year, it seems, fresh styles and functionalities emerge, and we are proud to show collections from the best. Basin taps, from traditional styles to taps that exude the very best of cutting-edge craftsmanship. Discover wall-mounted basin taps, deck-mounted basin taps, and freestanding basin taps from C.P. Hart, available online and in our showrooms.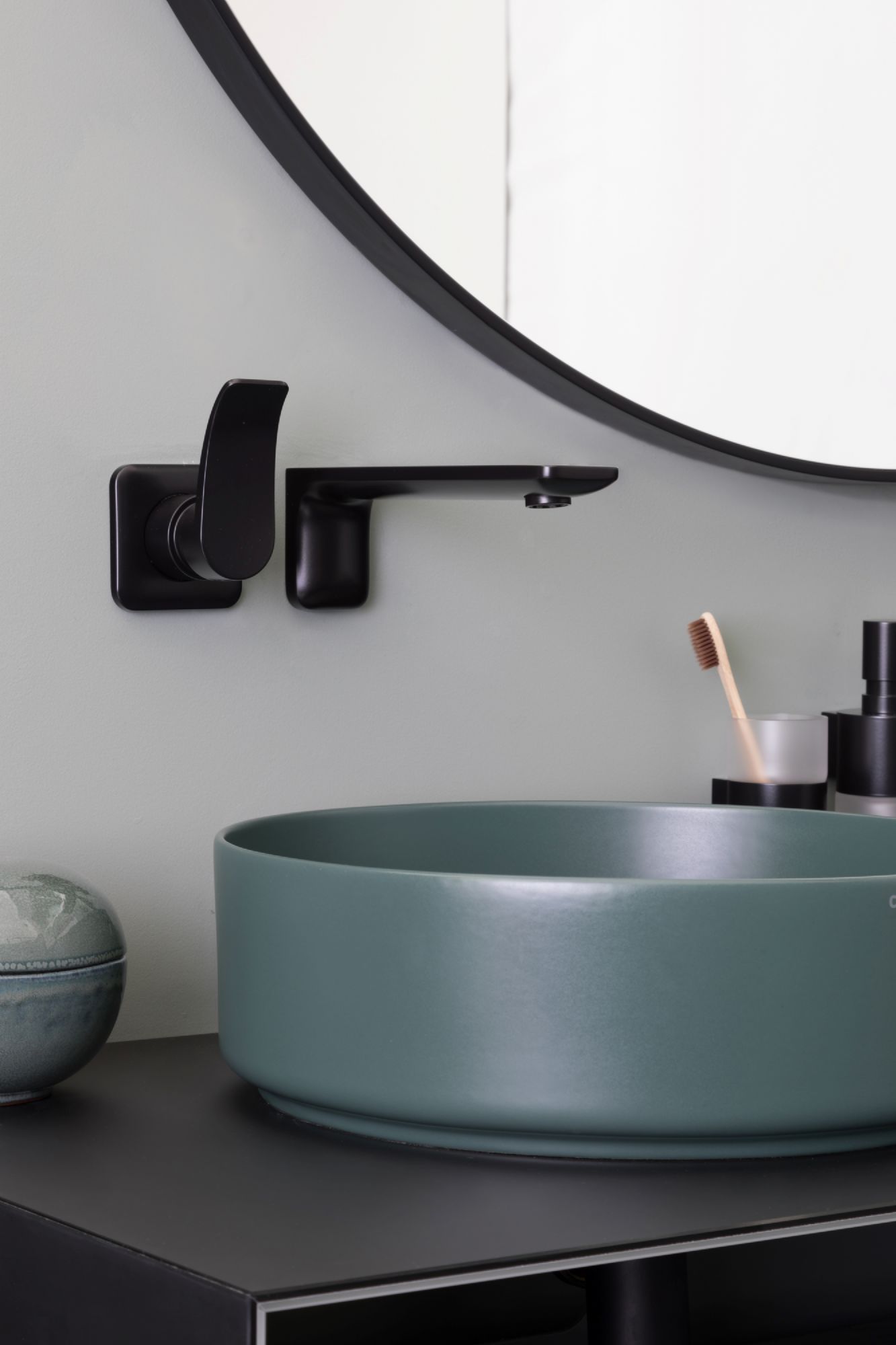 Shop the Dornbracht FIL Wall-Mounted Single Lever Basin Mixer featured above alongside the Cielo Shui Comfort Round Handbasin.
Bath Taps from C.P. Hart
We supply a painstakingly curated range of bath filler taps, floorstanding bath taps, and bath taps with shower attachments, each selected to suit a wide variety of interiors. In addition to C.P. Hart's expertly manufactured exclusivities, we offer designer bath taps from leading brands, such as Vola, AXOR, Gessi, and Dornbracht, as well as a large selection of exclusive own-brand ranges.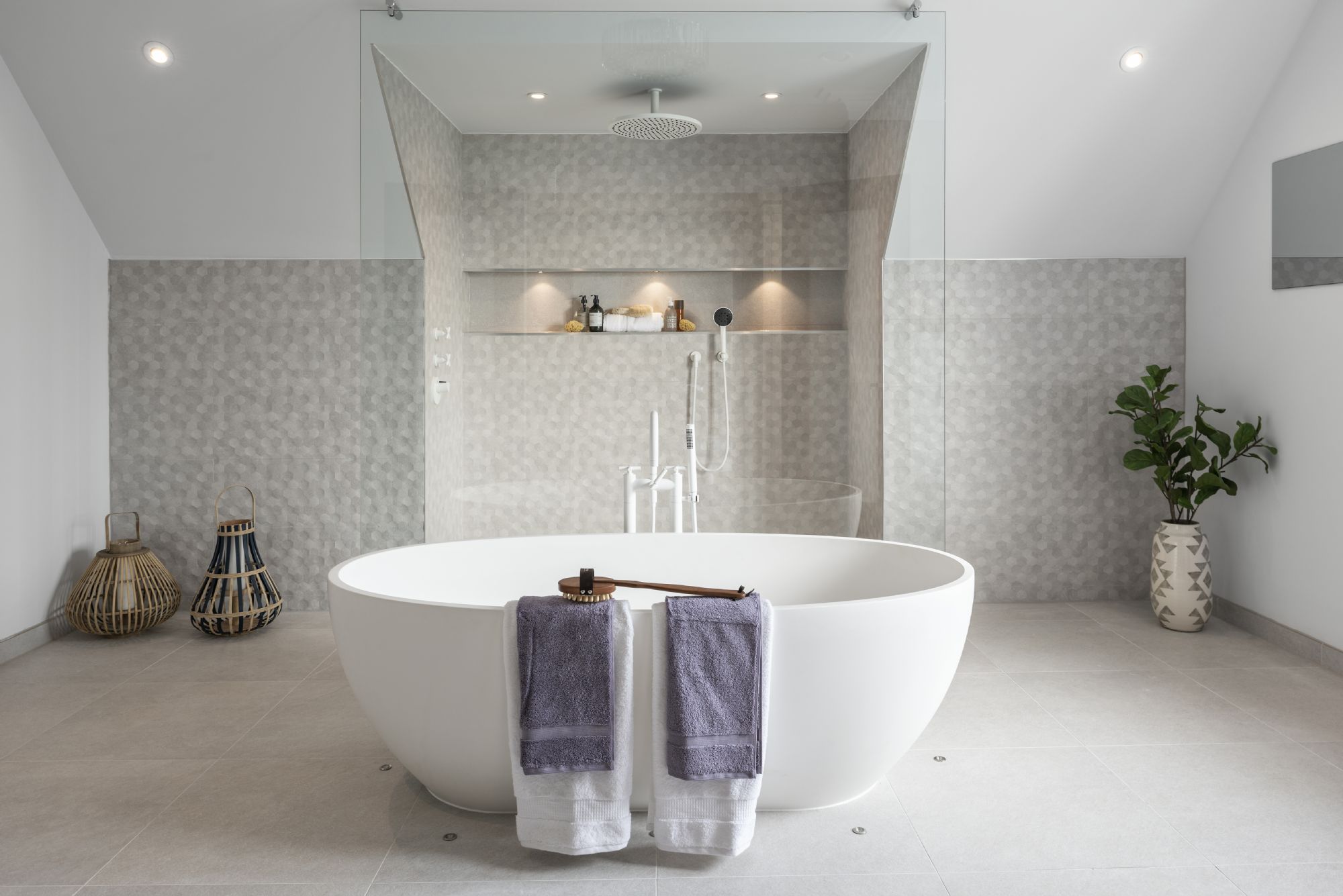 Shop the Dornbracht Tara Freestanding Two Hole Bath Mixer with Hand Shower in Matt White featured above, as seen in our recent residential project in Buckinghamshire.
Bidet Taps from C.P. Hart
Our range of bidet taps comprises single lever, two piece, and three-piece styles. For a modern bidet tap, look to the AXOR Citterio range, designed by renowned Italian architect Antonio Citterio, or the AXOR Starck collection, created by design luminary Philippe Starck. If a classic form better suits your bathroom interior, our exclusive Arc range, encompassing Art Deco decadence, is the perfect addition to any traditional bathroom.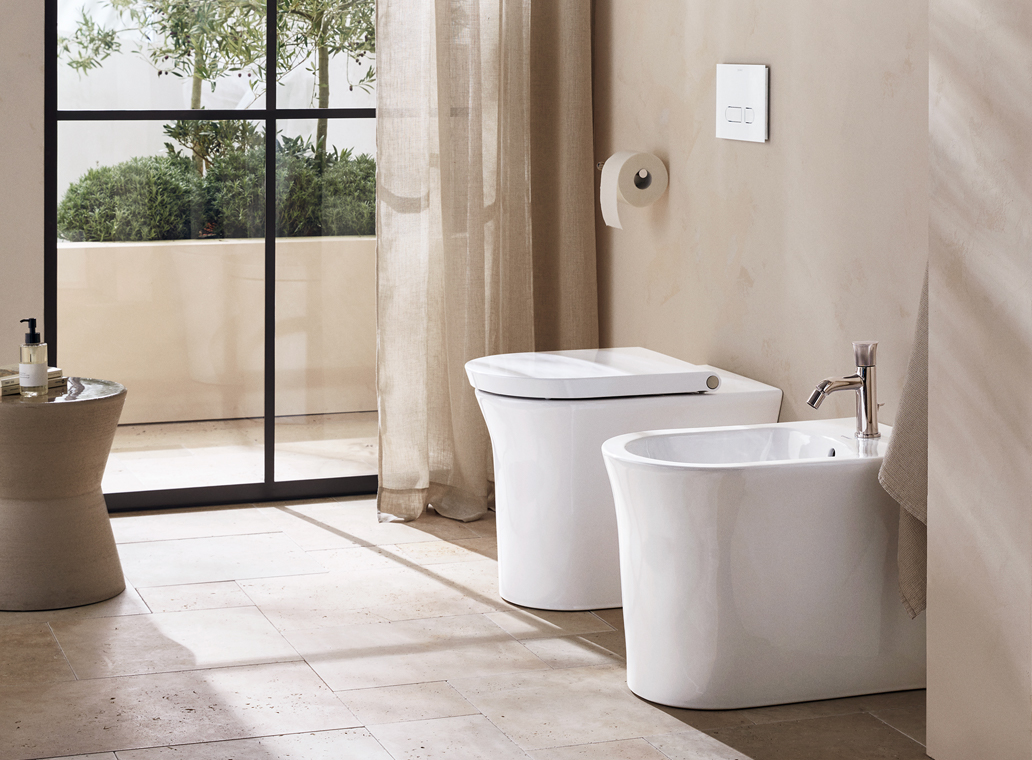 Shop the Duravit White Tulip Single Handle Bidet Mixer featured above, and explore the White Tulip collection here.
Popular Tap Materials
Brass Taps
Taps and shower fittings are traditionally made of brass, hence their collective descriptor of 'brassware'. They are then finished using a variety of manufacturing methods, including electro-plating, PVD, and powder coating to create a final polished, brushed, matt, or gloss appearance. Samuel Heath, for example, creates each tap from raw brass to finished product all under the same roof – a Grade II listed building occupied by the British brand since 1850.
Stainless Steel Taps
Stainless steel brassware, usually made from 100% stainless steel, is exceptionally hardwearing and resilient to heat. The manufacturing process has a lower carbon footprint by using less water which creates less wastage. Stainless steel is inherently anti-bacterial, easy to clean, highly durable, and can usually be completely recycled, making it a popular choice for modern-day bathroom designs.
Please do browse our stainless steel taps from MGS, only available from C.P. Hart. Due to the inability to cast stainless steel, each MGS tap showcases exceptional craftsmanship and is machine and hand-assembled to your individual order.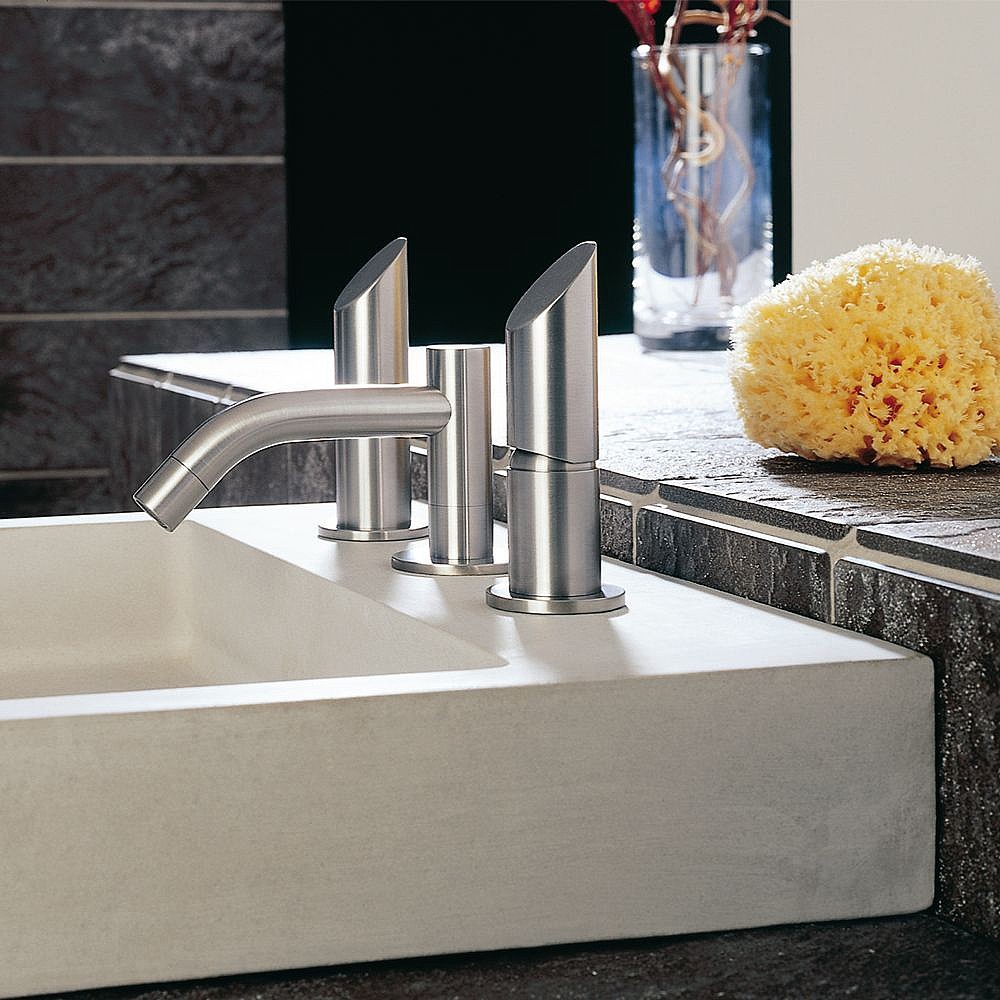 Shop the MGS 3-Piece Basin Mixer Horizontal Spout featured above, available in matt or polished stainless steel.
Glass Taps
Glass taps are most often seen in contemporary Italian design. 'Nice' by Fantini, a collection designed by Matteo Thun and Antonio Rodriguez, is supplied with Marino hand-blown glass handles, creating a refined range of mixer taps that feature truly mesmerising colourful, semi-transparent handles and sculptured chrome spouts. Click here to learn more about Fantini and to browse their extensive product catalogue.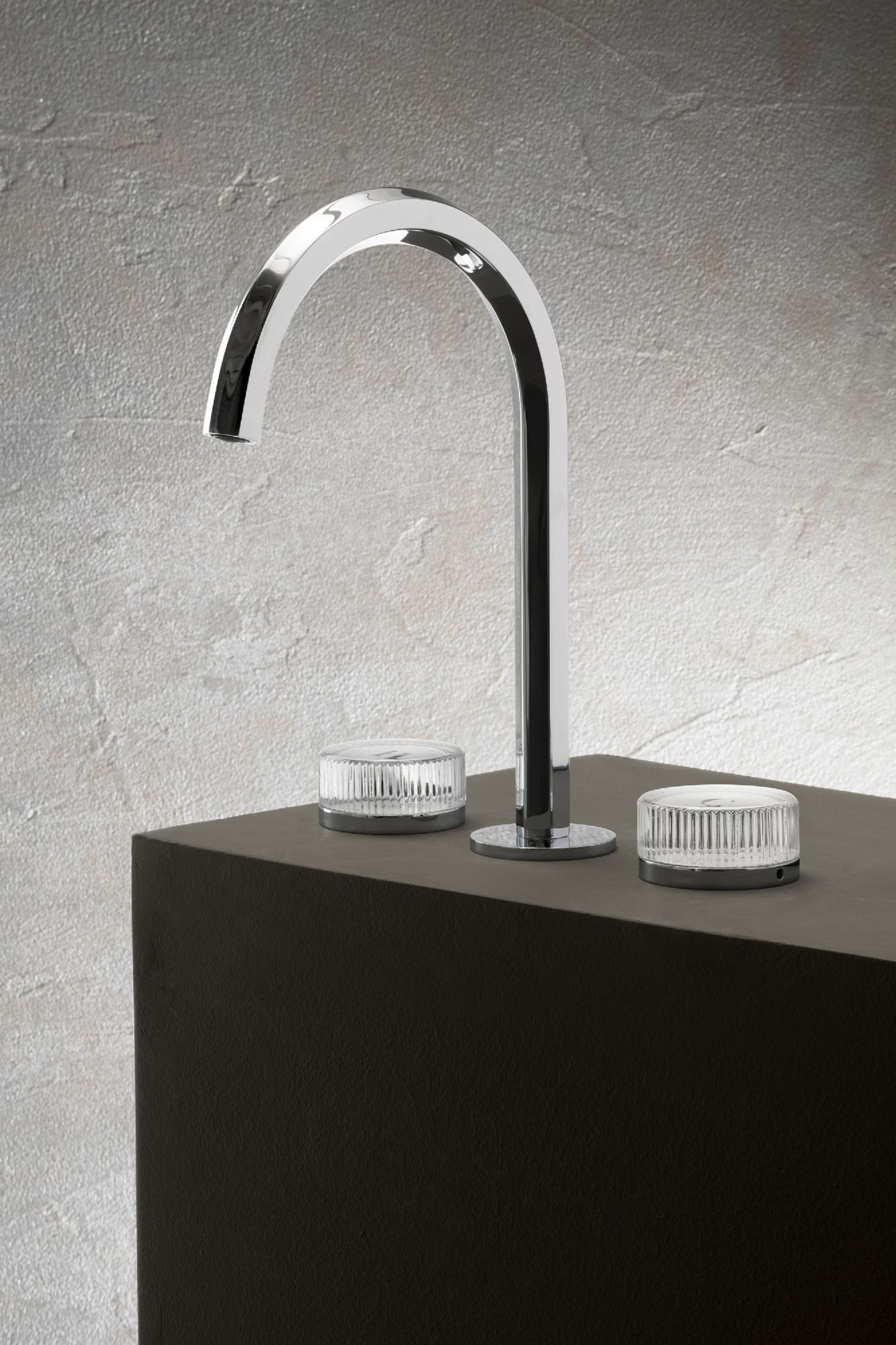 Discover more about Fantini's products as featured above.
Wooden Taps
Wooden finishes are softer, more natural, a feature to add warmth to warm an interior, drawing in elements that create a spa-like feel. The SO collection by Italian manufacturer Fima Carlo Frattini offers hornbeam or walnut wooden handles - please get in touch with our team to learn more about the brand and to obtain product specifications.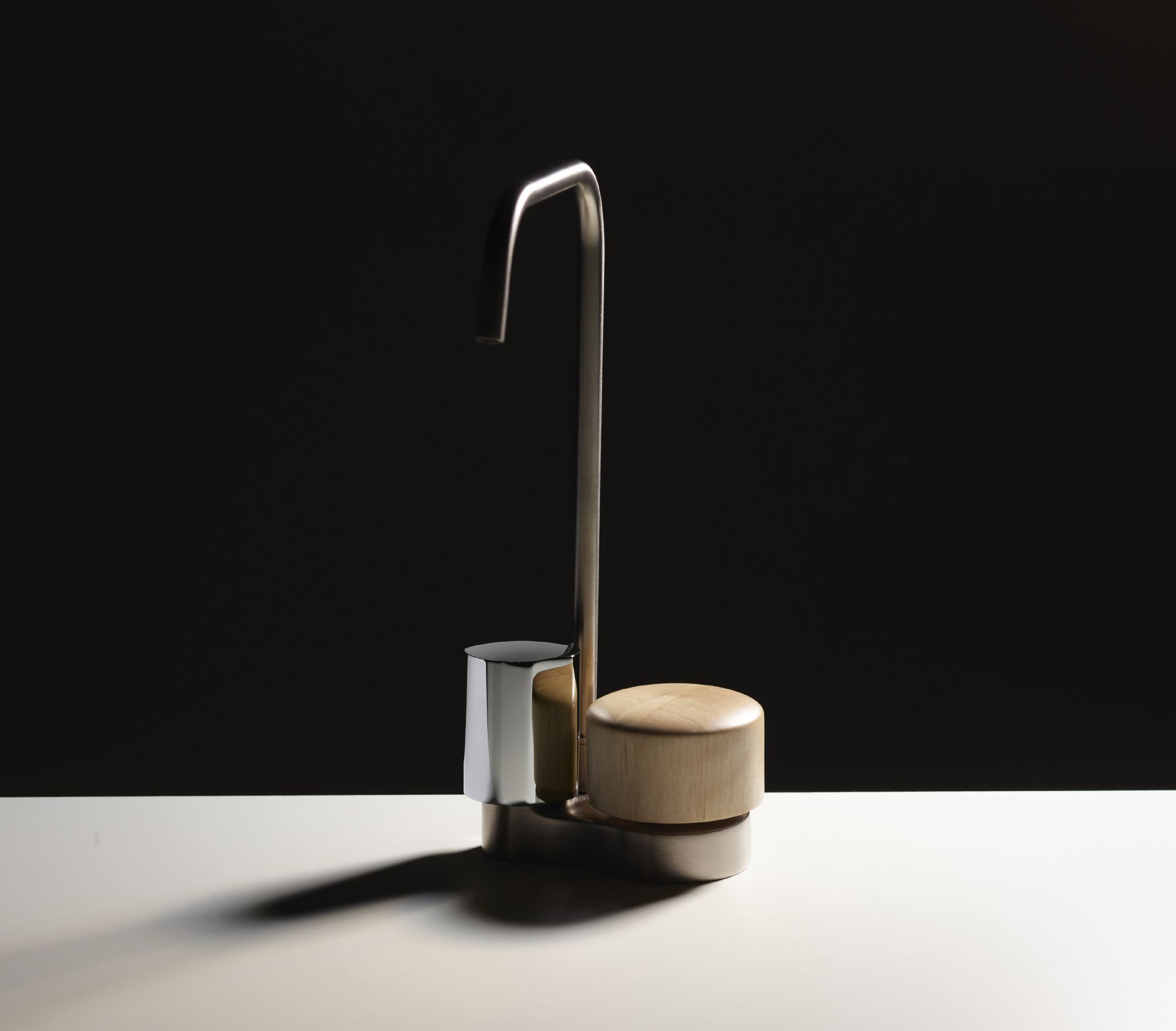 Explore the SO collection by Fima Carlo Frattini as featured above.
Popular Tap Finishes
Brassware is supplied in a vast range of colour finishes, often driven by the style of brassware in question. Traditionally, chrome was the predominant finish due to its versatility and being the easiest to match with other products in the bathroom. However, modern-day bathrooms are seeing finishes such as gold, black, nickel, and bronze become more in demand. Contemporary brassware suppliers have since adopted copper, brass, matt black, matt white, and even RAL colours (a universal colour system containing 1,625 colours) into their designs, creating a far broader offering.
If a range is supplied in raw brass or an unlacquered finish, the colour will "age" and take on a more antique or distressed patina, often a sought-after effect in traditional bathrooms.. Should you wish, some suppliers offer a ready-made antique finish, such as the Gessi Anello range in 'Antique Brass'.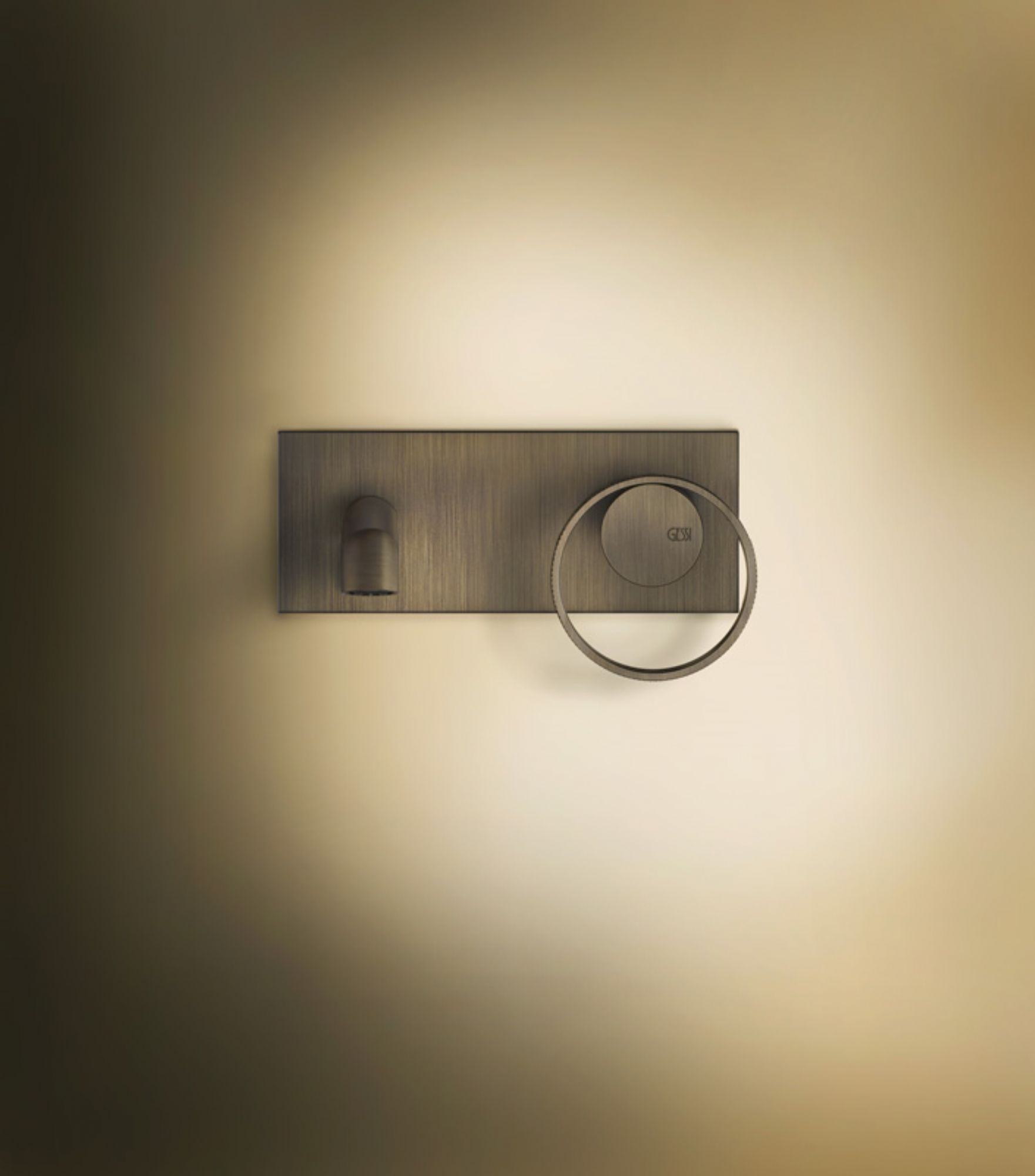 Explore the Gessi Anello range, featured above.
Popular Tap Textures
Faceted & knurled Taps
Faceted & knurled finishes offer a refined interior detail, carefully crafted to deliver understated luxury in any bathroom. Taking inspiration from Italian design, faceted or knurled finishes, a polished texture that's cut in an almost diamond-style shape, comes in various styles, such as the three available options from our Spillo Tech range.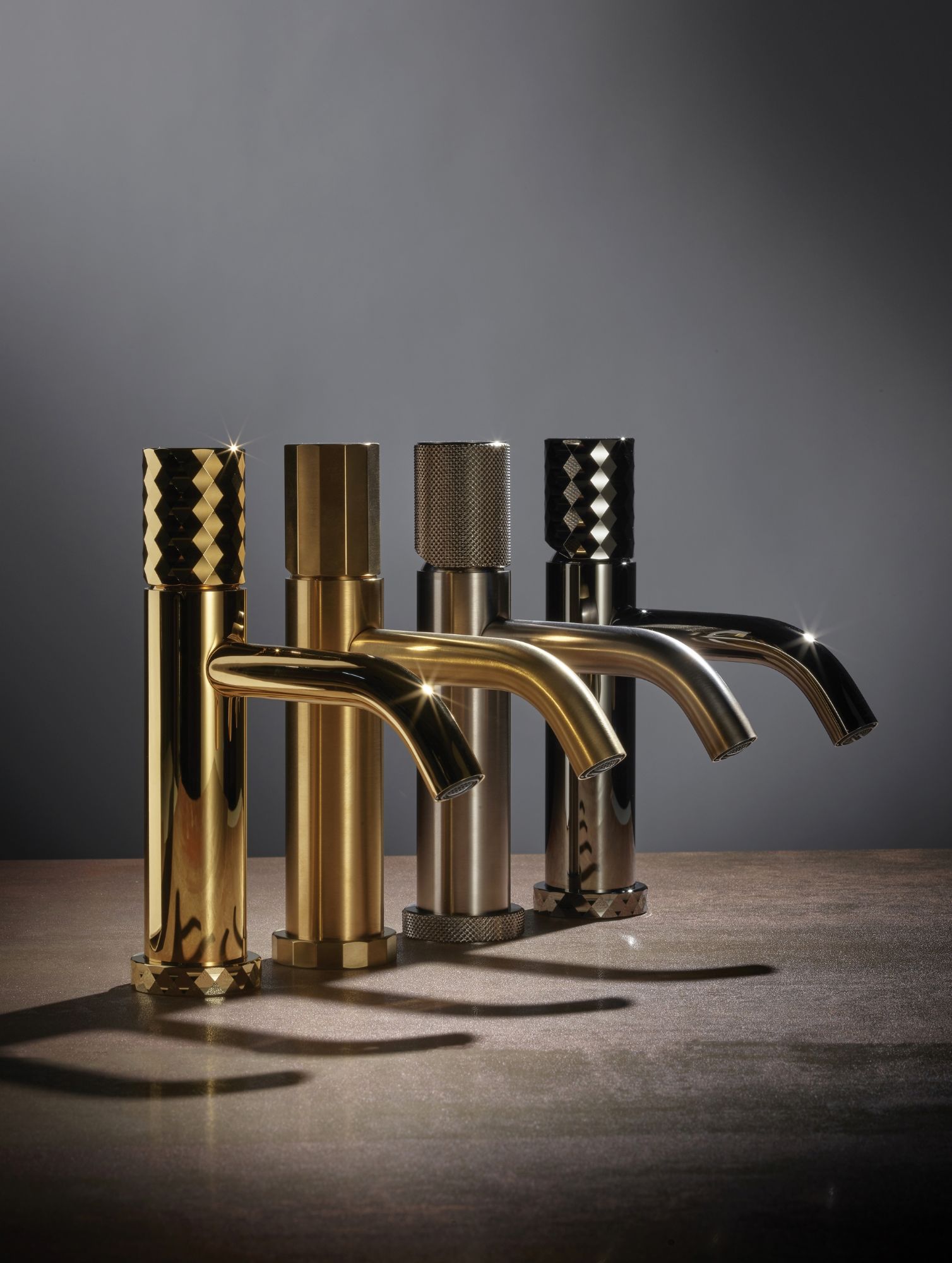 Shop the Spillo Tech X Single Lever Basin Mixer with Click Waste featured above.
Tips For Buying a New Tap
Your choice of brassware can dramatically change the overall appearance of your bathroom. Be sure to carefully consider your brassware style and finishes to align with the look you want to achieve.
Should you choose a wall-mounted tap, the C.P. Hart design team strongly recommend that you position the tap so that the water flows directly into the plughole.
Brassware is available in different materials, some that require more cleaning than others. Consider how much maintenance will be needed when selecting your taps. Though this may be a part of the desired aesthetic, such as beautifully aged brass, you may opt for a finish that can be effortlessly wiped clean. Any matt finish is a low maintenance choice.
An important consideration will be your choice of bath or basin and its location. For example, if you have an inset bath, you will most likely need a wall-mounted bath mixer.
The C.P. Hart design team recommends that you check your property's water pressure to ensure you get the most from your bathroom, as different brassware will work best at specific water pressures. Should you need further direction, our team will be more than happy to advise.
Please do book an appointment with C.P. Hart for further assistance in buying a new basin, bath, or bidet tap. Backed by over 80 years of luxury bathroom knowledge and skills, our professionally qualified team of consultants and designers are available to guide you through product specifications and compatibility, plus our award-winning design and installation services.
Click here to find your nearest showroom.
Should you wish to explore Dornbracht brassware in detail, please do visit our Dornbracht Design Studio, the UK's first-ever, located in our flagship showroom in Waterloo.