Bathroom Trend – Statement Wallpaper
05/10/2015
Wallpaper has the ability to completely transform a bathroom, and the growing emergence of statement designs is ideal for adding drama to your space. In recent years, all-white styling and neutral palettes have been dominant in bathroom schemes, but the trend for incorporating bold prints and strong hues with the use of wallpaper has increasingly become a popular choice.

To celebrate National Wallpaper Week (5-11 October 2015), here are some of our favourite designs to create a distinctive backdrop:

All creatures great and small
Adding wallpaper that features animals, fish or birds can inject a sense of fun into your bathroom. These playful-yet-chic designs are particularly versatile, as they can be matched with both contemporary and traditional fittings alike.

C.P. Hart recommends:
Harlequin Palmetto (left) // Osborne & Little Derwent (right)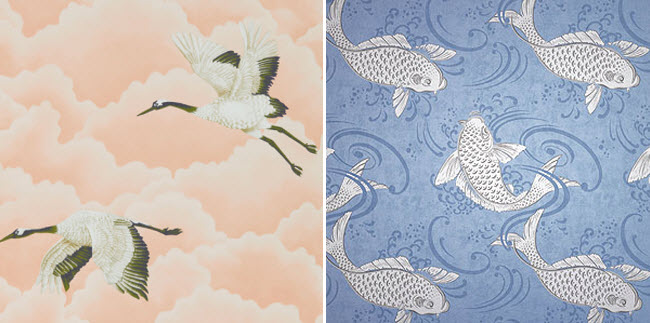 Natural elements
Wallpaper designs comprising natural elements such as a cloudy sky or a wavy sea can bring a soothing quality to your decor. Muted tones and undulating lines create an almost hypnotic effect, ideal for surrounding yourself with as you unwind in your bathtub.

C.P. Hart recommends:
Abigail Edwards Seascape (left) // Cole & Son Nuvolette (right)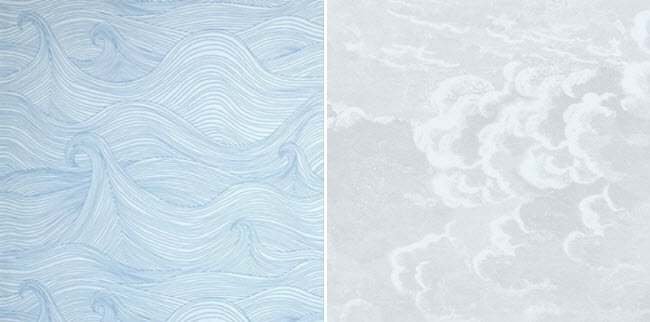 Botanicals
Botanical prints have been a major design trend this season, and one that translates well into the bathroom. For the more daring, tropical leaves and vibrant colours can be matched with warm metallics for a bold, striking look, or opt for a softer, whimsical motif to emulate a peaceful, outdoor setting for your soak.

C.P. Hart recommends:
Osborne & Little Tropicana by Matthew Williamson (left) // Cole & Son Woods (right)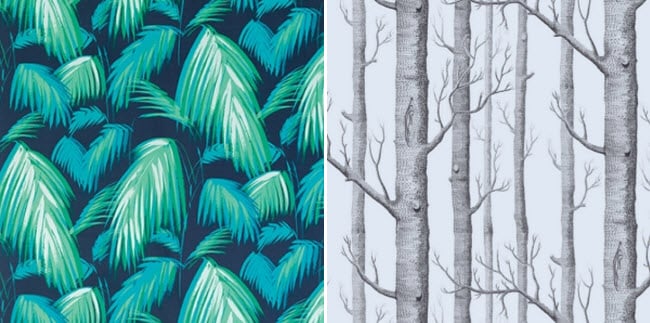 Geometric
Geometric prints have stemmed the tide of floral statement wallpapers in recent years, bringing a retro 70s vibe to the home. To avoid creating a dizzying effect in your bathroom with these repetitive patterns, keep sanitaryware and brassware minimal and unembellished, and consider covering just one wall as a focal point.

C.P. Hart recommends:
Cole & Son Puzzle (left) // Cole & Son Hicks Hexagon (right)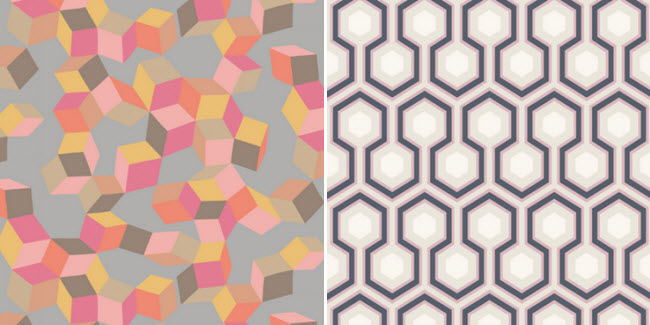 Exposed walls
Faux textured wallpaper featuring brick or timber allows you to bring some on-trend industrial style to your bathroom while retaining a clean, sophisticated finish. The realistic designs can give your space a tactile impression, and work especially well paired with modern fittings, and brushed or matte metallics.

C.P. Hart recommends:
John Lewis Brick Wall (left) // Stylish Life Wooden Planks (right)




What do you think of the statement wallpaper trend? Tell us on social media.
05/10/2015
Wallpaper has the ability to completely transform a bathroom, and the growing emergence of statement designs is ideal for adding drama to your space. In recent years, all-white styling and neutral palettes have been dominant in bathroom schemes, but the trend for incorporating bold prints and strong hues with the use of wallpaper has increasingly become a popular choice.

To celebrate National Wallpaper Week (5-11 October 2015), here are some of our favourite designs to create a distinctive backdrop:

All creatures great and small
Adding wallpaper that features animals, fish or birds can inject a sense of fun into your bathroom. These playful-yet-chic designs are particularly versatile, as they can be matched with both contemporary and traditional fittings alike.

C.P. Hart recommends:
Harlequin Palmetto (left) // Osborne & Little Derwent (right)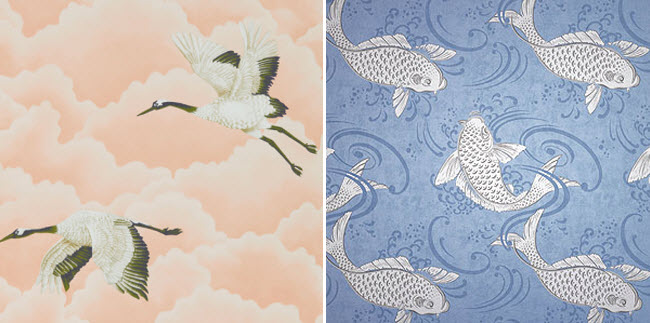 Natural elements
Wallpaper designs comprising natural elements such as a cloudy sky or a wavy sea can bring a soothing quality to your decor. Muted tones and undulating lines create an almost hypnotic effect, ideal for surrounding yourself with as you unwind in your bathtub.

C.P. Hart recommends:
Abigail Edwards Seascape (left) // Cole & Son Nuvolette (right)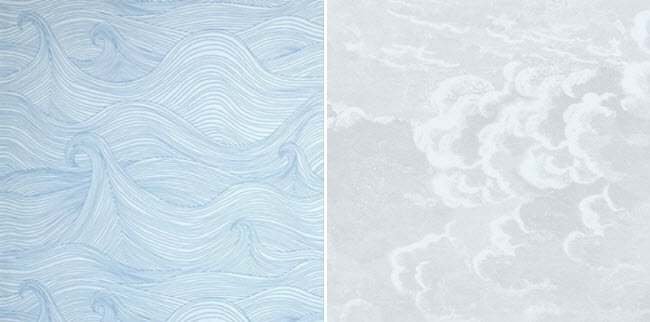 Botanicals
Botanical prints have been a major design trend this season, and one that translates well into the bathroom. For the more daring, tropical leaves and vibrant colours can be matched with warm metallics for a bold, striking look, or opt for a softer, whimsical motif to emulate a peaceful, outdoor setting for your soak.

C.P. Hart recommends:
Osborne & Little Tropicana by Matthew Williamson (left) // Cole & Son Woods (right)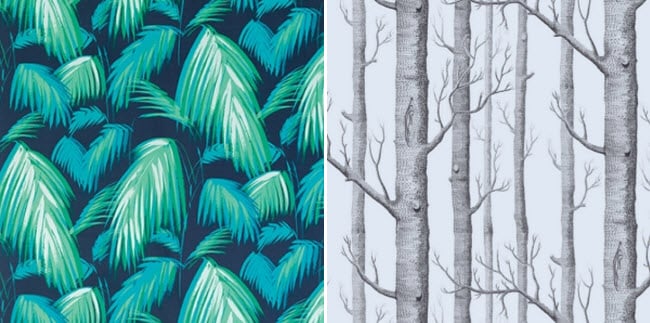 Geometric
Geometric prints have stemmed the tide of floral statement wallpapers in recent years, bringing a retro 70s vibe to the home. To avoid creating a dizzying effect in your bathroom with these repetitive patterns, keep sanitaryware and brassware minimal and unembellished, and consider covering just one wall as a focal point.

C.P. Hart recommends:
Cole & Son Puzzle (left) // Cole & Son Hicks Hexagon (right)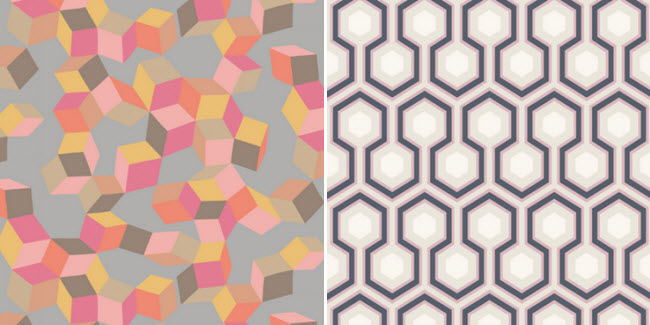 Exposed walls
Faux textured wallpaper featuring brick or timber allows you to bring some on-trend industrial style to your bathroom while retaining a clean, sophisticated finish. The realistic designs can give your space a tactile impression, and work especially well paired with modern fittings, and brushed or matte metallics.

C.P. Hart recommends:
John Lewis Brick Wall (left) // Stylish Life Wooden Planks (right)




What do you think of the statement wallpaper trend? Tell us on social media.