A Guide To Buying Brassware
Choosing the perfect bathroom suite poses many questions, and although the choice of brassware may not be the first thing you decide on, it is important to the overall look. It's the finer details that can really add to your space and so choosing the right tap that is both aesthetically pleasing and functional is crucial when perfecting those finishing touches.

There's a wide variety of styles on the market, from traditional through to contemporary Art Deco designs, and everything in between. From functional basin taps to floor-standing bath fillers, the perfect tap is out there to complete your bathroom. Our handy guide points out everything you need to consider before you choose.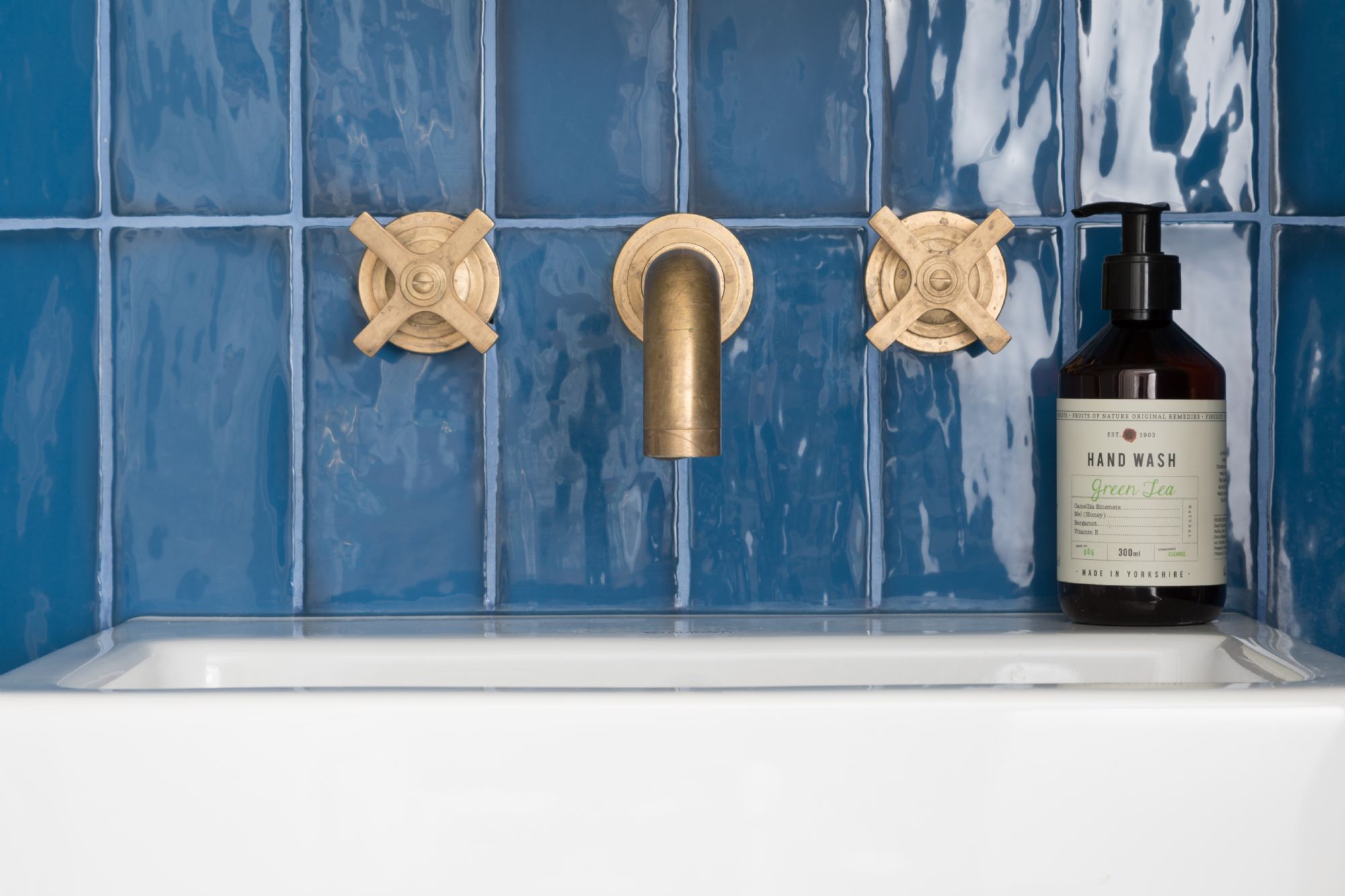 First things first – check your water pressure

Before you begin perusing the various designs available, you will need to determine the type of water pressure system you have in your home. Most UK households operate from a low pressure gravity system, which consists of a water tank filled with cold water (usually stored in the loft) and a hot water cylinder (usually stored in the airing cupboard).

The level of pressure the water outlet has is determined by height and gravity – in short, the higher your tank is stored, the greater the pressure. The majority of taps will work just fine from this kind of system, but if you're after a powerful showering experience, you will most likely need to explore other options.

A combi boiler will heat cold water from the mains supply as soon as the tap is turned on, meaning a powerful burst of hot water can be achieved without the need for a separate tank. A cold mains supply is ideally suited to electric showers, as the heat of the water and pressure is determined by the choice of shower unit. The higher the kilowatt, the more powerful your water flow will be.

If you need some help and advice as to what type of water system you have installed then you can speak to one of our design experts who will be happy to help.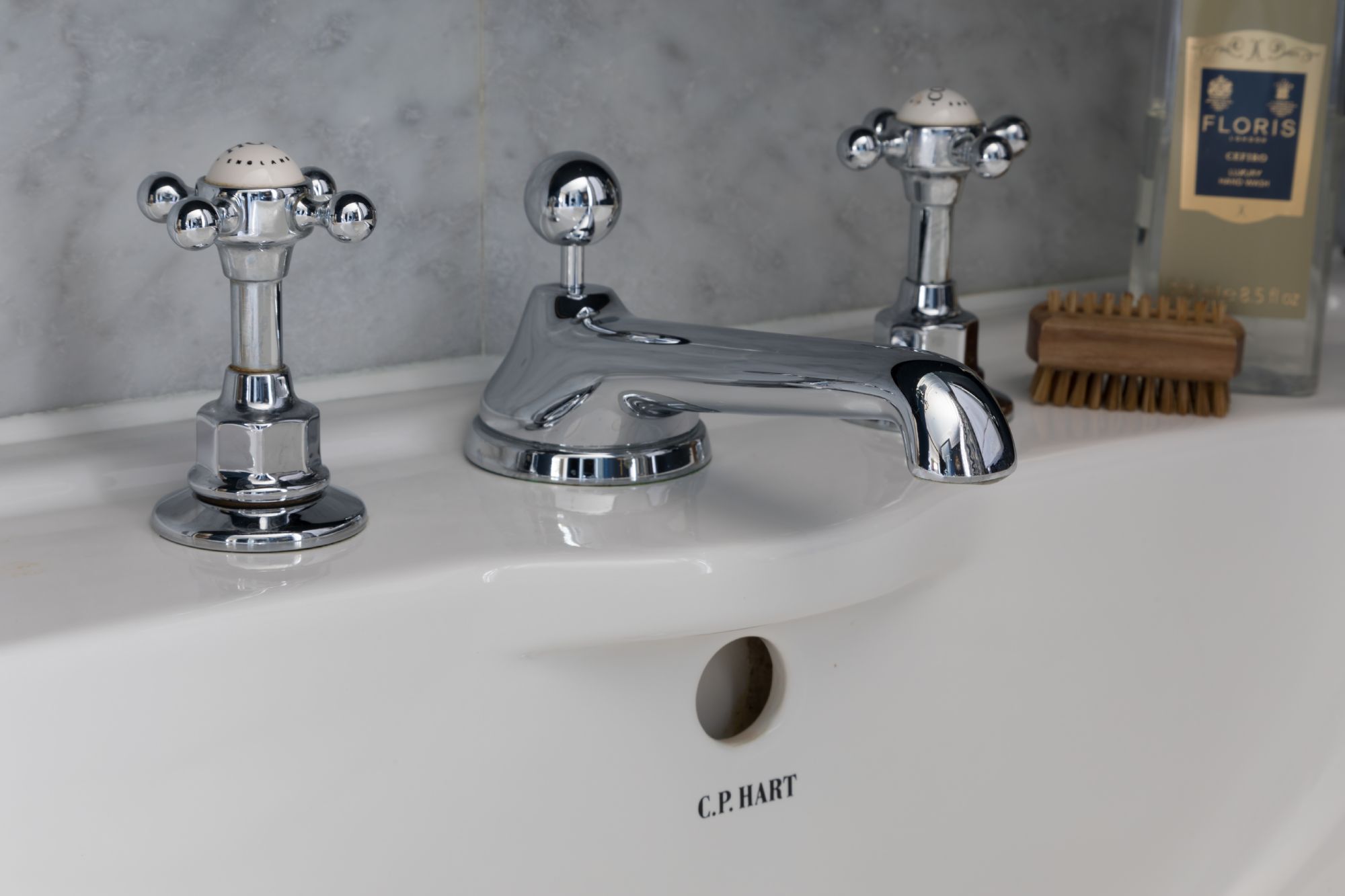 Styles of brassware

The method by which your bath or basin is plumbed can help narrow down your search for the right brassware. A bath or basin with two pre-drilled holes will require a pair of pillar taps, whilst those with just one hole will require a basin mixer that runs both hot and cold water.

From Art Deco-style three-piece basin mixers, to contemporary freestanding bath fillers, there are many styles of brassware available, all in a wide selection of finishes. The variety of choice is perfect as it means you can individualise your bathroom, but can also be a little overwhelming. Below we explain the different types of brassware available, as well as any practical considerations, so you can make an informed choice on which type of brassware will best suit your needs.

Pillar Taps
This is the most traditional option. It has two separate taps that require either a two or three-hole basin, where the central hole is occupied by a taphole stopper or a pop-up waste lever.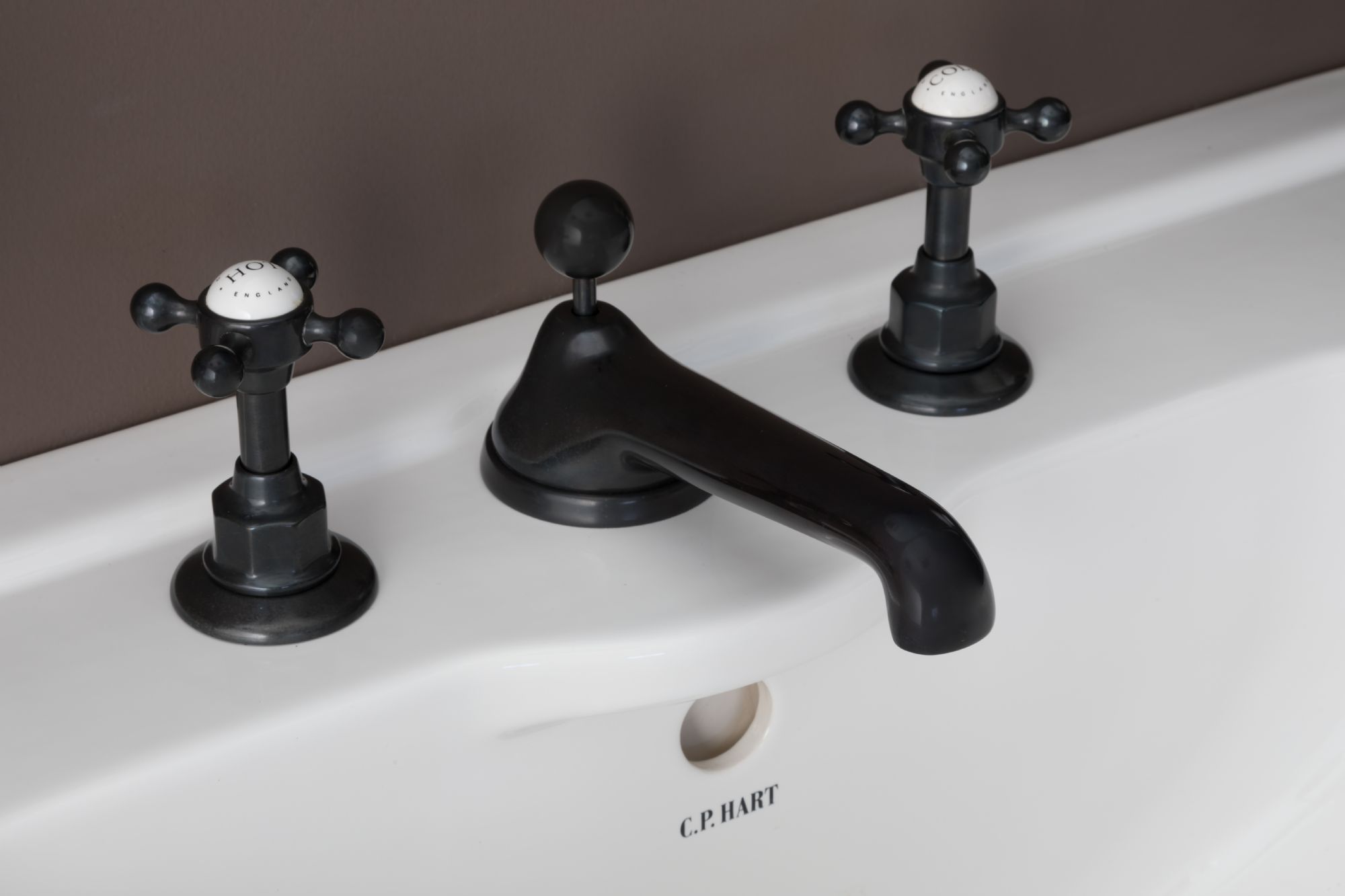 Three-Hole Basin Mixer
This mixer has separate tap valves that feed water through a central spout. These mixers often incorporate a pop-up waste lever.

Monobloc Basin Mixer
This type of brassware occupies a single taphole and is available in both traditional and modern styles. Traditional monobloc mixers incorporate separate hot and cold handwheels, whereas the contemporary alternatives are more often in the style of a single lever that controls both flow and temperature.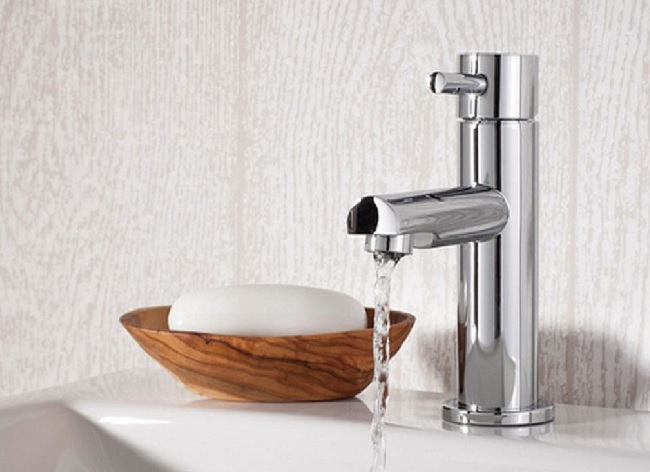 One-Piece Bath Filler
Fitting two standard tapholes, this single classic unit features separate controls and a central spout. Adjustments can be made to enable mounting behind the rim, on floor legs or onto the wall.

Three-Piece Bath Filler
Two tap valves and a spout can be mounted either on the side or end of the bath, or on the wall. This flexible configuration gives the option of mounting the pieces in unconventional positions, providing the projection of the spout is sufficient to go over the rim of the bath. In a contemporary setting, the spout could even be replaced with an overflow filler.

Bath/Shower Mixers
Available in traditional and contemporary styles, these offer a versatile bathroom solution, with a diverter switching water flow from spout to shower head as required. Traditionally, the shower handset rests in a cradle above the taps. Selected ranges can be fitted onto decorative, freestanding floor legs for use with freestanding baths or may be converted to mount on the wall. Contemporary freestanding versions are also available, typically as an all-in-one unit with a single lever mixer.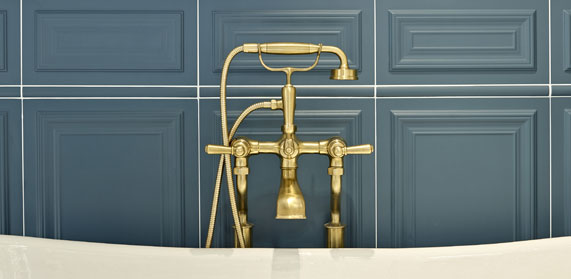 Four-Piece Bath/Shower Mixer
This type of mixer consists of two tap valves, a spout with a diverter and a hand shower, and requires four separate tapholes. This means that the bath will have to be specially drilled to order.

Five-Piece Bath Shower Mixer
Offering the same features and benefits as the four-piece mixer, this set requires an additional taphole as the diverter is a separate unit.

Style

Whether you opt for pillar or mixer, both types have a number of styles, ranging from Victorian chic right up to more cutting-edge looks. Getting the right style of taps is important to completing your space and will help emphasise the look you want to achieve.

There are traditional designs of both pillar and mixer taps, some of which are perfect if you're going for a vintage style, whereas others combine old and new styles.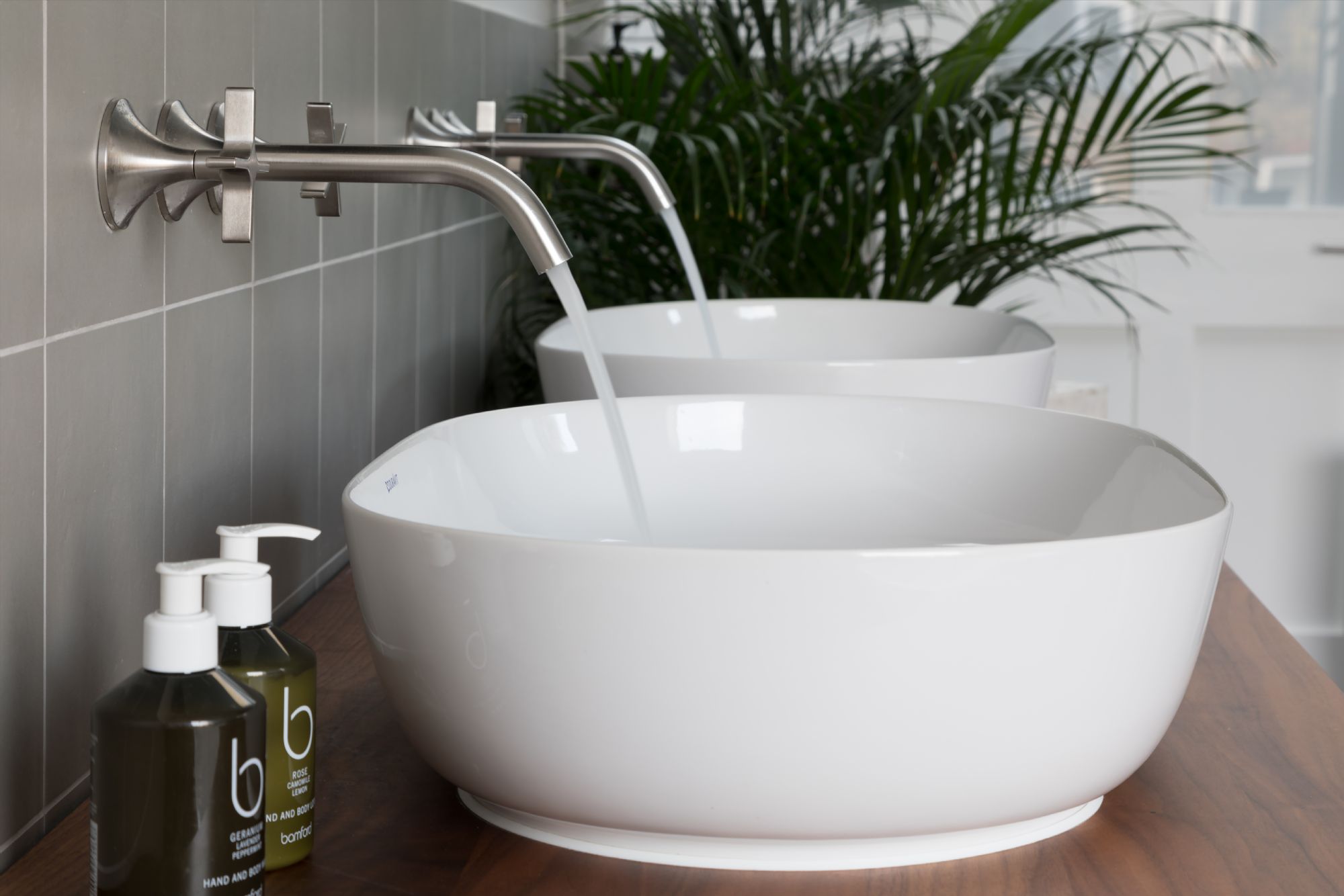 For a contemporary suite that's going to be real feature in your house, you are spoilt for choice as there are a number of designs on offer, from sleek minimalist looks to more unusual, avant-garde styles to get that off-the-wall look.

If you fancy that 'home spa' feel, then you might want to consider the luxury of a waterfall bath tap, which adds a touch of class to your suite for the ultimate indulgence.

Finishes

Alternative plated finishes are available on some ranges, but the options do vary. Plating is undertaken to the highest standards to ensure the longevity of the finish. Care must be taken when cleaning plated finishes to avoid damage. We recommend you do not use abrasive or chemical cleaners.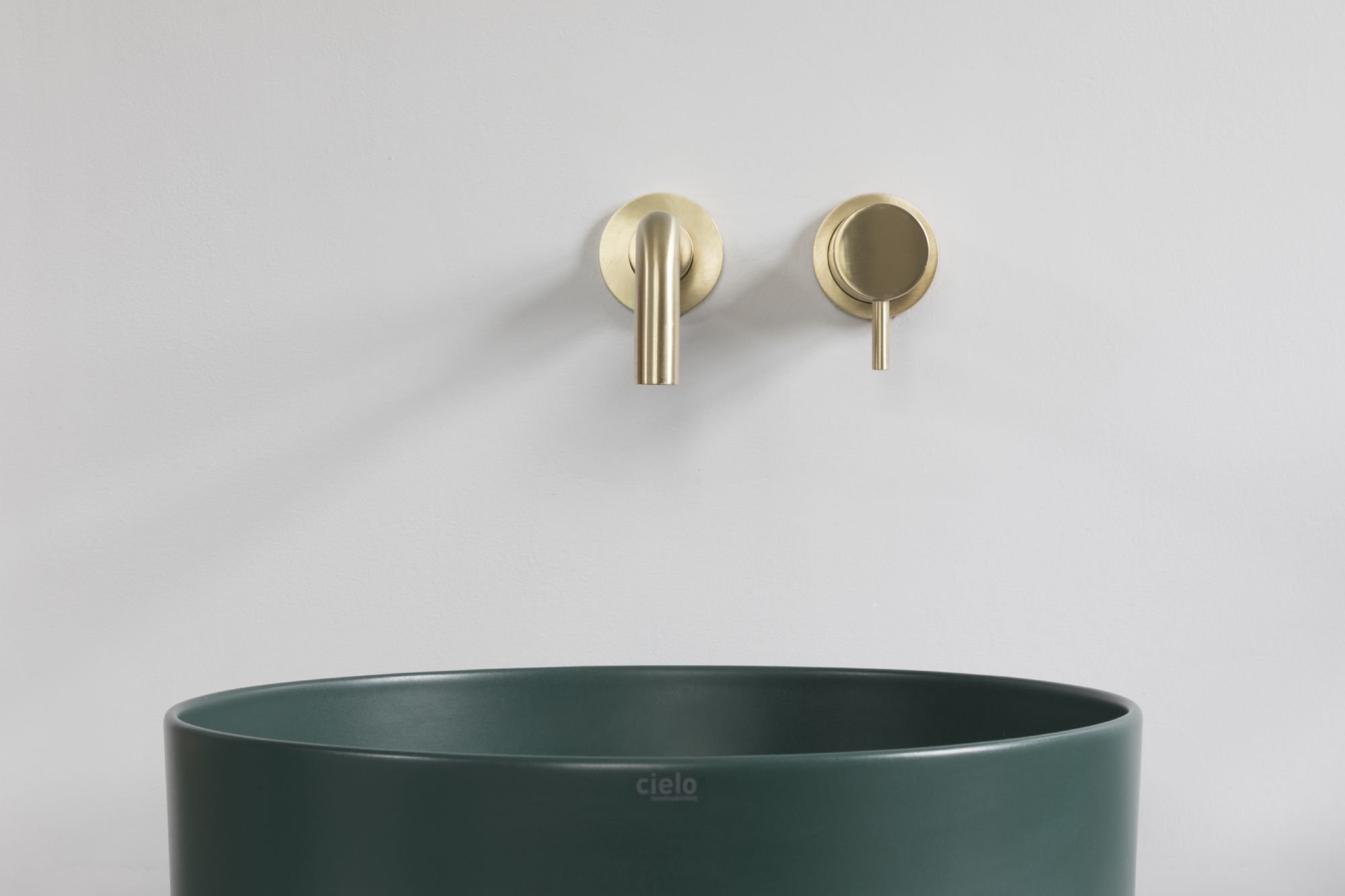 Wastes

To co-ordinate with tap finishes, we offer a range of wastes in chain or pop-up styles for basins, bidets and baths, where the waste is not incorporated or supplied. We also offer decorative metal exposed wastes and waste kits for use with classic roll-top baths.

Practical considerations:

• Make sure you choose brassware in a style that's in keeping with the overall look you want to achieve.
• If you choose a wall-mounted tap, it should be positioned so the water flows directly onto the plughole.
• Brassware is available in different materials, so consider how much maintenance will be needed, as this may affect your choice.
• There are many types of taps, so bear this in mind when choosing a basin or bath. For example, if you have an inset basin you are likely to need a wall-mounted basin mixer.
• Check your water pressure to make sure you get the most from your bathroom, as different brassware will work best at different water pressures.