5 Minutes With Our Showroom Designer
21/11/02016
We sat down with our showroom development designer, Rebecca Hitchman, who designed the two stunning room sets for our upcoming collaboration with House of Hackney. The room sets will be unveiled at our launch event on 24th November
What does the Urban Jungle theme encompass?
Urban jungle is not just about the 'outside coming in', its about the outside taking over our usual interiors by force. It is all about layers of depth, detail and textures. Whether this is mixes of patterns and colours or textures, finishes and choice of material.
With the House of Hackney collaboration we wanted to explore this in the extreme. A case to overwhelm the senses, and create a heighten level of intensity and to give the feeling of the outside breaking down our perceived barriers.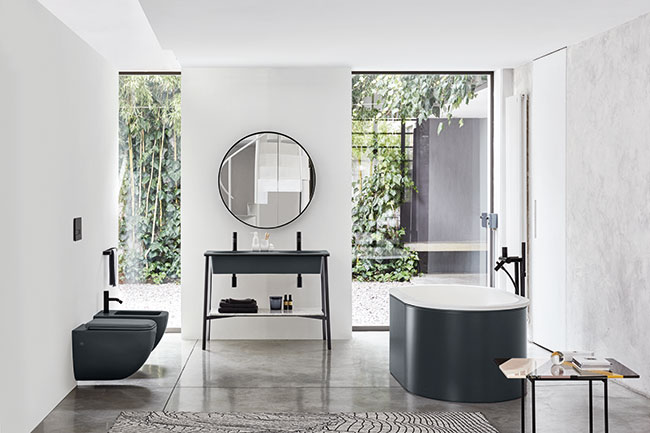 Cielo Catino collection
The idea that by working with polar opposites you can actually achieve various levels of harmony was an exciting concept to explore. Understanding that the expected can work hand in hand with the unexpected really does offer a fresh level of thinking and approach to interiors.
The Urban Jungle theme encompasses a diversity of finishes, colours and textures. We have some bold earth tones coming through in furniture from Karol, Cielo and EX.T, mixed with woods and metals - not to mention the new finishes in available in our own Marmo and Fil ranges. We have Samuel Heath's new 'Landmark' range, which really embraces the industrial/urban trend.
How did the partnership with House of Hackney begin?
We've been aware of House of Hackney for some time but were first introduced at Maison et Objet in Paris in January this year. We have pinpointed an evident 'Jungle' trend at the show and House of Hackney's 'Palmeral' print really reflects this trend.
Frieda and Javvy were also keen to work with C.P. Hart in supplying own branded, British made products for their own house so it was an ideal partnership for both parties.
We discussed collaborating on these displays and from very early days it was evident we were all on the same page with our visions. We are excited to carry on the partnership after launch and will be working on bespoke pieces with House of Hackney so watch this space.
Tell us about your two new House of Hackney room sets
The HoH wallpaper range is called Limerence and refers to a state of mind that results from a romantic attraction and typically includes obsessive thoughts and fantasies. Both the room sets that have been designed are deliberately intense and on levels overwhelming but they are styled to show harmony and calm through the subtle colours, hues and complimentary materials combinations.
The Traditional room:
Imagine a stately home full of grace, style, elegance and refined quality. A testament to the expected classic ideals that has stood the test of time carefully curated and cared for over centuries. Now imagine the deterioration created by neglect, the slow tick of time with nature creeping in with a quiet, subtle and inevitable power and taking control.
We have coupled an amazing natural stone filled with depth and detail and mixes of quartz, marble and semi precious iridescent stone with matt bronze shower brassware and a crittal window style glass shower panel to evoke the idea of 'Glass houses' from the grounds of our stately home. We've used hanging greenery from the ceiling to represent nature which compliments beautifully the House of Hackney Limerence wallpaper and showcases the idea of extremes working in harmony. Keeping with our ever present, ever classic London ceramic and Original brassware we have presented them in a new light using a matt antique bronze finish.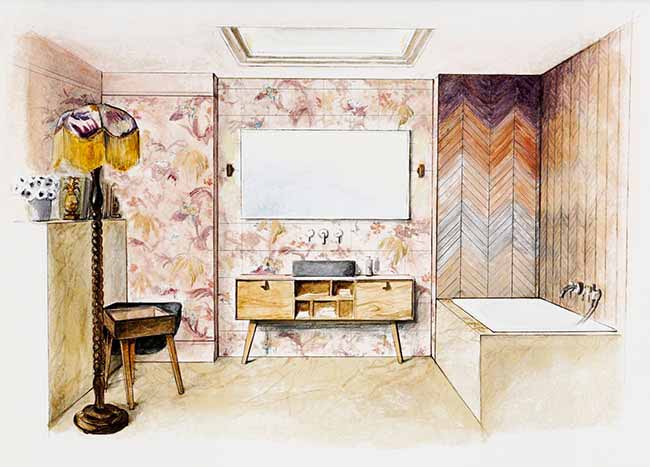 The Contemporary room:
This contemporary approach to the idea of the urban jungle is no less intense but is designed as a softer, smoother, journey and perhaps has those ideals of reciprocated love. The soft pink ceiling and gentle flowing pattern in the stone paired with the complimentary lighting is used to extenuate an idea of enveloped comfort and warmth. The choice of the Dama furniture range showing a revisited style. The contrast of the chevron tile pattern is there to bring in a retro feel.
Pantone colour of 2016 has been 'rose quartz'. It wasn't an intentional decision to use the colour in this display but it worked perfectly with the Cipria colour on the Dama furniture, and with the new House of Hackney Limerence quartz pink. It was almost too good to be true. This room feels very much like a Hollywood dressing room in the 1970's would have done.
What exciting trends or products are coming up in 2017?
Its an exciting time for bathroom design. We are seeing much more colour, that can be played up or down. We have had great fun this year with our 'pop' trend. This is allowing customers to add a pop of colour into their design. Whether it be through brassware, tiles, furniture, brassware or accessories there is a lot more fun to be had when creating exciting interiors. Also, furniture has become much more decorative. More attention has been paid not only to internal storage ideas but also the whole aesthetics of vanity units. Gone are the days of large box drawers, now you will find pieces that wouldn't look out of place in your lounge.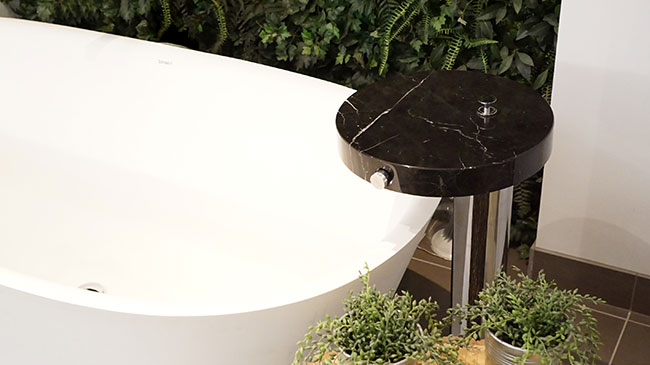 Marmo brassware
The wide variety of finishes available now with brassware is hugely exciting. Gold and rose gold have been featuring heavily in the last few years but we are now seeing more refined finishes, with our brushed durabrass in Fil and brushed gold in Marmo. We also have a brand new matt bronze finish in our Arc brassware which helps to bring a largely traditional range into today's trends.
With our confidence now in the House of Hackney brand we are looking forward to working with them on new products and supplying our customers with on trend pieces, bringing in bold prints and luxurious finishes.
Do you have a personal favourite from this month's product launch?
My personal favourite range we are exhibiting in this launch is the Mutevole furniture from Karol. I am excited to play with all the different compositions available with the colours and wood finishes when rolling the range out into our other 13 showrooms. The fact that it can come wall mounted or with legs, in just one wood finish or lacquer finish, or adding the 'pop' of colour by mixing the materials is something we don't often find with bathroom furniture so I am looking forward to being creative with the displays this range goes into.
Visit our Waterloo showroom from 25th November to see the new displays and collections.