1 Minute Interview With Natalie Parker
22/04/2015

This month we sat down for a chat with Natalie Parker, showroom manager of Wimbledon and area sales manager. The staff at the Wimbledon sh
owroom have an impressive combined history in the bathroom sector, and whilst the showroom is on an industrial estate, you will be pleasantly surprised by what you find there. The experience within the team means you will receive the best service, and there are beautiful room sets and products on display.

What are the latest trends and styles customers are likely to find in the Wimbledon showroom?
Walk in showers seem to be every person preference at the moment and we have two great displays from our Solo glass panel to the bespoke frameless 3-sided walk in area. Our exclusive tiles are doing very well, with the most popular muted greys and natural colour, with the colour Matt finish on freestanding bath giving a more stone look and as trends. Marble also seems to becoming back.
As the Showroom Manager, what is your favourite display inthe showroom and why?
Artelinea and SSI, Domino openshelf unit colour is lovely and I have the same in my bathroom.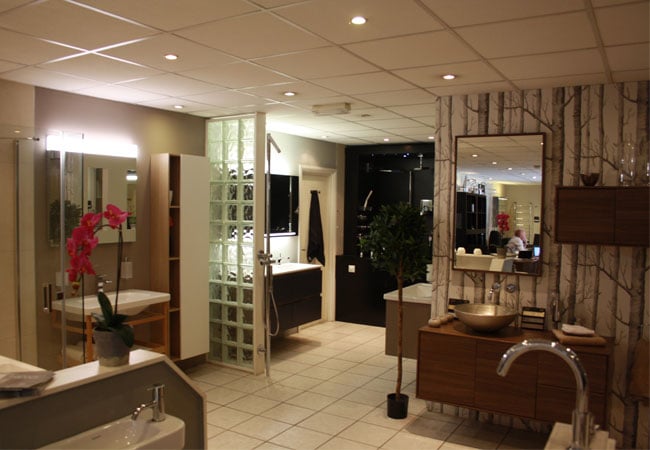 The clearance centre at Wimbledon is one of only two in thecompany. What sort of products can be found here, and is it possible to createa complete bathroom with products from your clearance centre?
We have lots of little gems around the clearance area at themoment we have a fantastic wooden freestanding bath and basin which wont behere for long, as a great deal on these, general client will find bit from theClearance and then fulfill the rest of the room for the main C.P. Hartshowroom
What makes Wimbledon stand out from other bathroom showroomsin the local area?
The years of experience andknowledge within the team means we can give our client a thorough service fromthe design and planning to tile colours giving them an over all package as wellas knowing what on trend.