C.P. Hart's new Dartford studio has free on-site parking and is conveniently situated just a couple of minutes' drive from the QE2 Bridge, the A2 and Bluewater Shopping Centre. The studio is an ideal place to meet your sales consultant, to decide your bathroom designs and to make product selections. Our studio sits in front of £6 million of bathroom stock, with access to all the main international brands in our portfolio. We recommend you book an appointment to ensure a consultant is available to discuss your bathroom requirements.

DARTFORD STUDIO
SHOWROOM DETAILS
C.P. Hart Dartford
Unit 40, Charles Park
Claire Causeway
Crossways Business Park
DA2 6QA
OPENING HOURS
Our Dartford studio is more of a convenient meeting place than a conventional showroom, but it does feature room set displays and a comprehensive library of product and tile samples.

9.00 – 5.30 Monday to Friday, excluding bank holidays.
GETTING THERE

Greenhithe, Stone Crossing

Fastrack A, Fastrack B

Car Park
Upon exiting the roundabout on to Claire Causeway, take an immediate left and follow the course of the road until you reach C.P. Hart. Free parking is available on-site.
If you would like to discuss your bathroom project, please book an appointment to speak to one of our expert sales consultants – you can book via the link below or contact the studio directly to arrange.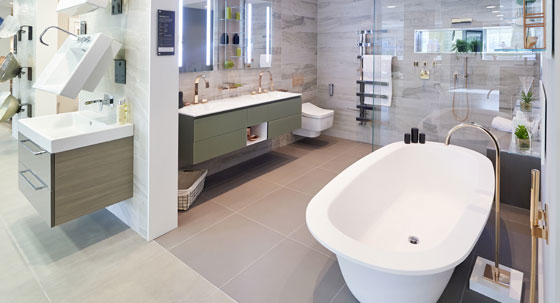 Get Directions to Dartford Studio
WHAT OUR CUSTOMERS SAY
"I have no hesitation in recommending C.P. Hart. Their showrooms are very impressive and the staff have been excellent - took their time to ascertain exactly what I was looking to achieve and designed it within my budget."
Moira
WHAT OUR CUSTOMERS SAY
"Absolutely brilliant service - couldn't fault in any way from order to delivery. Eagerness to help, great follow up on queries. My new favourite company to deal with!"
Linda
WHAT OUR CUSTOMERS SAY
"From our designer to the delivery staff, we found C.P. Hart to be professional, efficient and suppliers of great quality products. A big thank you."
Helen
C.P. HART BATHROOMS
C.P. Hart Dartford Bespoke Bathrooms
If you have decided you would like to have a completely unique, design-led, and bespoke solution when it comes to revamping or ultimately designing your bathroom possibly from scratch, then it is easier than you think. Having a bespoke bathroom means that your bathroom will be designed from concept to the finished design with only you in mind, to your specifications. Your bathroom might be a functional room in your house, but that doesn't mean you can't make a personal statement with beautiful bathroom design. A bathroom reflects your home and your lifestyle, so choosing a style that personally suits you, is understandable and of course highly appealing.

Traditional Bathrooms in Dartford
Some of the characteristics of traditional Victorian bathrooms tend to sway on the side of hex tiles, natural stone countertops, freestanding bathtubs, especially with ball and claw feet, hinged mirror medicine cabinets and chrome or nickel-plated fixtures, to mention but a few. But even if you don't live in a period house, traditional style is always enticing. It's up to you how you do it. Creating traditional style bathrooms that are classic in design and feel like a soothing spa experience with an aesthetic of refined tones and charmingly luxurious finishing touches, isn't always the most cost-effective option. However, from your budget's perspective, you shouldn't necessarily scrimp on your traditional bathroom design.

Modern or Designer Bathrooms
Whenever anyone is thinking of redesigning or improving their bathroom with new fixtures and fittings, you don't necessarily plan on creating a designer bathroom. Maybe you were thinking of just popping along to the high street DIY showroom and seeing what they have on offer rather than going the full Monty with a designer bathroom for your renovations? The mass-produced bathroom suites are made to standard-sizes, with perfect proportions, so if your bathroom space is very small, or an awkward shape with a sloped ceiling, you'll find you probably can't use some of the off-the-shelf fixtures. You might want a more original bathroom with traditional, modern, or contemporary styles rather than a mainstream bathroom that everyone you know seems to have in their home.

Your Perfect Luxury Bathroom
There are outstanding professional bathroom designers at C.P. Hart Dartford, who specialise in offering a truly unique experience when it comes to creating that luxurious bathroom. C.P. Hart Dartford's workforce understands the desire to create something beautiful from the mundane of necessity - with one of the world's leading bathroom design teams and over 75 years of bathroom knowledge, expertise, and skill. C.P. Hart Dartford is passionate about luxurious bathrooms – we understand and appreciate the importance of sourcing products from Europe and beyond to provide luxury bathrooms, which we absolutely believe in. With the use of high-quality beautiful products and materials which make up the impressive collections portfolio, staff at C.P. Hart Dartford can help you plan your luxurious bathroom from beginning to end, offering everything from technical expertise to advice on finishing touches.