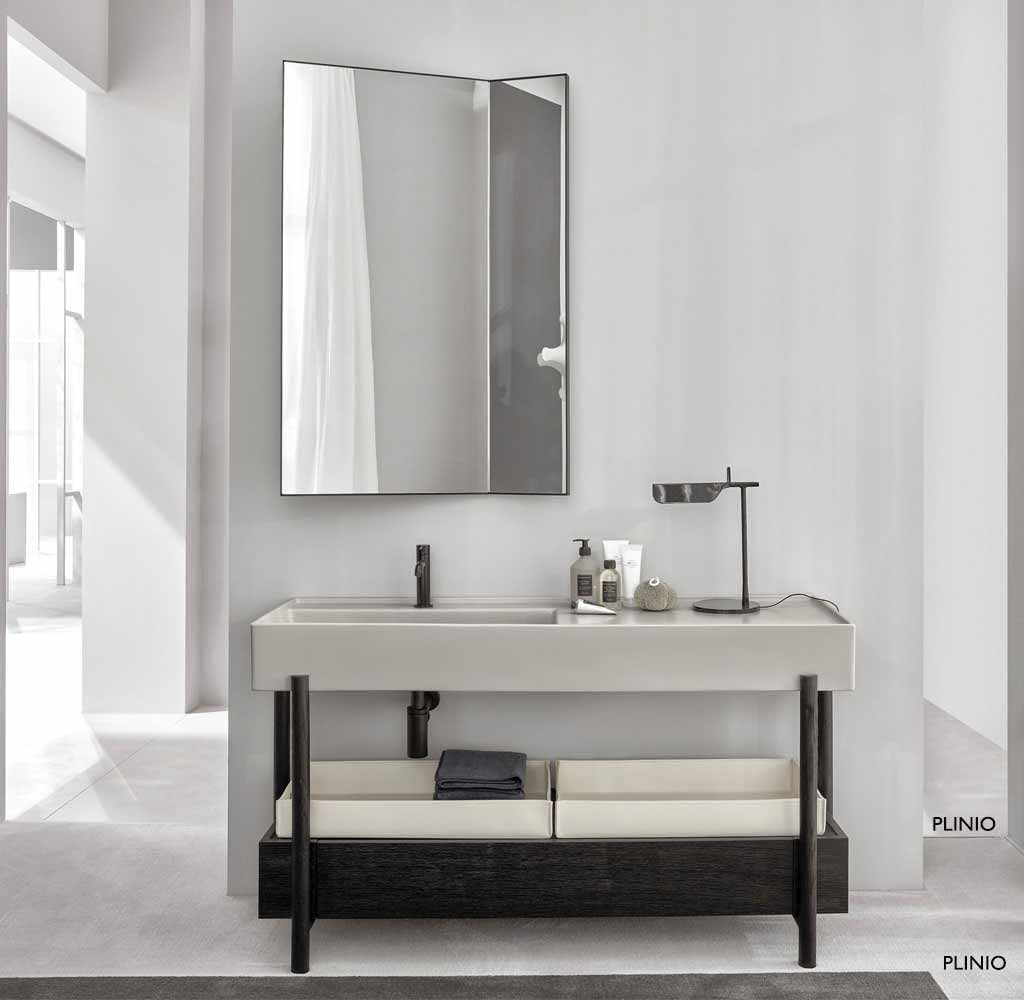 Narciso
Narciso – designed by Andrea Parisio & Giuseppe Pezzano Narciso brings the dressing room into the bathroom. The large vanity basin console has an innovative beauty case with a convenient mirror in the lid and plenty of storage, ideal for makeup. The new Doppio (double) and mini version can be enriched with a full range of accessories including a side mounted towel rail, leather laundry bag and drawer combinations. The steel frame is available in 3 finishes to compliment the 16 colours of matt ceramic basins.
Plinio
Plinio -designed by Andrea Parisio & Giuseppe Pezzano When it comes to an extra-large basin, Plinio delivers generous functionality with finesse. The soft lip around the ceramic basin, available in 16 matt colours, adds balance and harmony whilst appearing to float, almost on stilts. The wooden stand offers customised storage including natural leather baskets and matt lacquered drawers.
Narciso & Plinio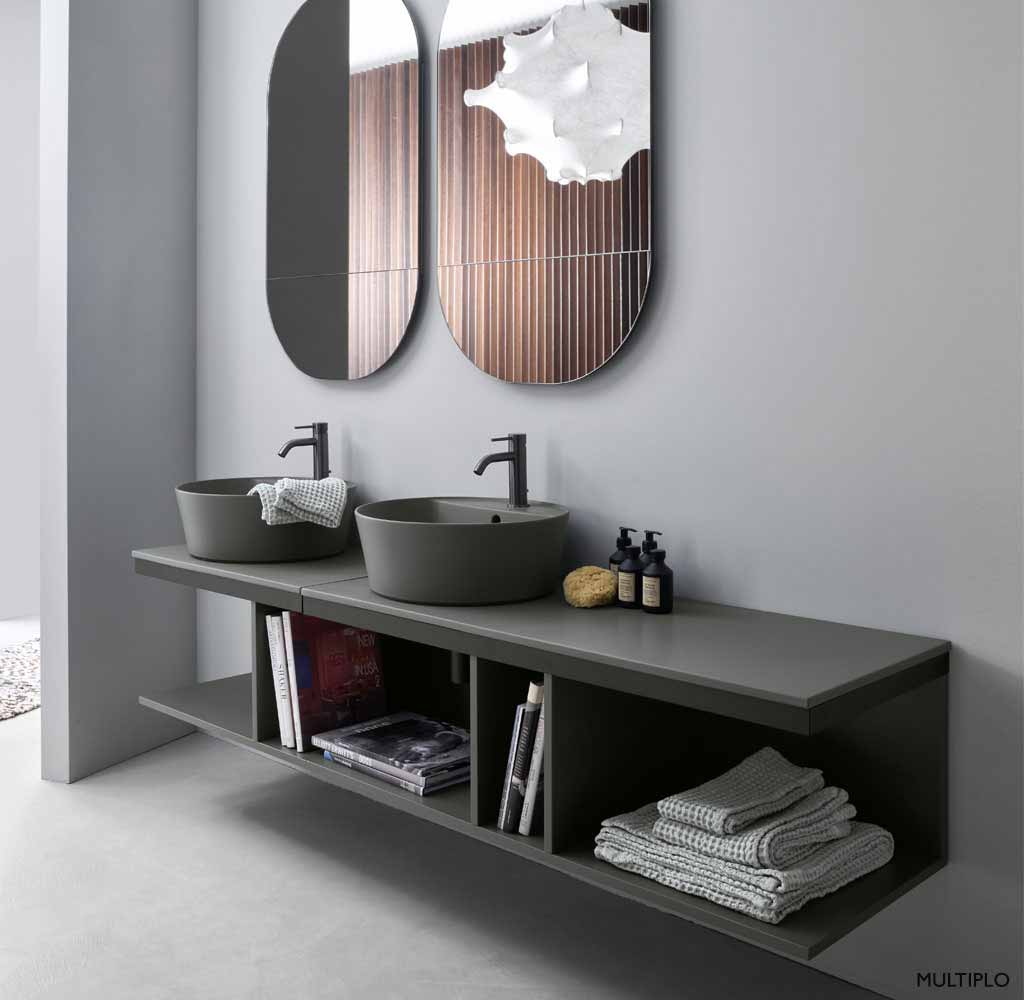 Delfo
Delfo – designed by Andrea Parisio & Giuseppe Pezzano Delfo makes a powerful statement with both ceramic and wood. The ceramic washbasin sits on an oval shaped ceramic tray, both available in all 16 matt colour finishes. The wall hung cabinets feature either a classic smooth front or an elegant ribbed design in 5 light to dark finishes, including Eucalyptus.
Multiplo
Multiplo – designed by Andrea Parisio & Giuseppe Pezzano Multiplicity is what makes Mutiplo such a dynamic and versatile collection. It can start with a simple design of a ceramic top combined with a variety of ceramic basins, to a more complex solution with a mixture of open and closed storage. The design possibilities are infinite.
La Bacinella
La Bacinella – designed by Andrea Parisio & Giuseppe Pezzano La Bacinella is about deep, shallow or spacious bowls in captivating shapes. Within the collection there is the curvaceous Tina and Tino bowls, the open shallow depth Eco, the practical design of an integrated tap ledge with the Handy bowl and the latest minimal design Era. All the bowls are available in the 16 matt ceramic finishes to complement any contrasting or matching surfaces.
Delfo, Multiplo & La Bacinella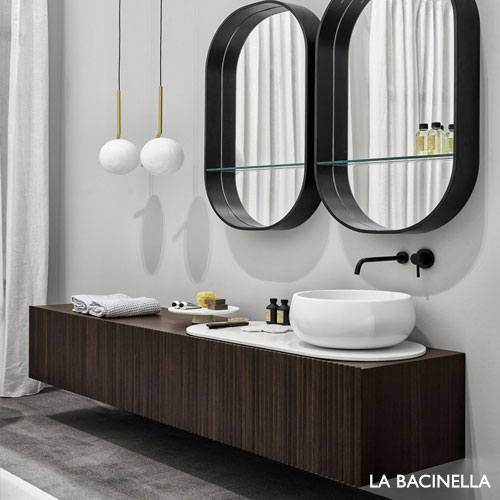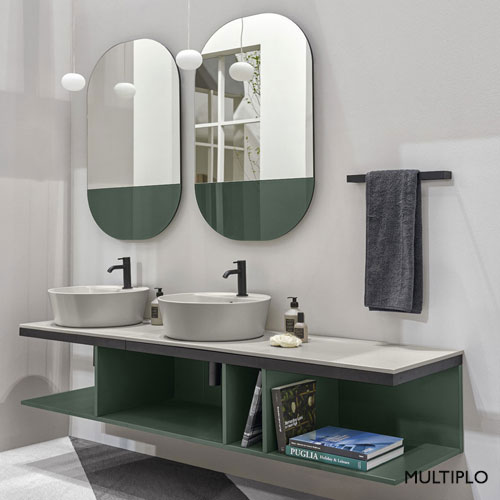 There are two things that Jack Bauer never does. Show mercy and go to the bathroom.
Kiefer Sutherland