Modern Bathrooms For Your Home
Modern Bathroom Design
Many people think that 'modern' and 'contemporary' are synonymous, as they are both terms that describe 'current' topics, whether they are used in relation to bathroom design, a political matter, or a piece of French furniture. However, 'modern' design, as we know it, refers to an actual time period from between the early-to-mid 1900s, roughly speaking, to after the Second World War in the 1940s. Whereas contemporary design is forever-evolving and doesn't have a fixed time period - therefore the here and now. So, when we are referring to bathroom design as either modern or contemporary, we are talking about styles and designs typical to different periods in time.
Bathrooms are essential rooms in our houses – we shouldn't underestimate their significance as a place to relax and unwind, but to make effective use of this room, we should look to make their design as good as it gets. Whatever design we choose for our bathrooms typically reflects our particular tastes, characteristics, and desires. A bathroom can be for the whole family, just for yourself, or an en-suite for guests. Who uses the bathroom, therefore, influences the design choices. If we opt for a distinct design, it is partly due to external influences and inspiration, as well as personal preferences. We want our bathrooms to look and feel part of our homes in a way that reflects how we feel about life in general, as well as being practical and part of our daily lives.
"Design and style should work toward making you look good and feel good without a lot of effort so you can get on with the things that matter."
Donna Karan
A Bit of Bathroom History
Let's focus on modern design for a minute, as the first half of the 20th century up until the mid-century had some incredibly influential bathroom designs which to this day continue to influence the more contemporary bathroom look. The history of the bathroom and how it has evolved as a separate room in our home, has an enormous part to play in why and how they were designed and styled.
Prior to the 20th century, it was only the wealthy who had indoor bathrooms – others had to be content to use the lavatory outside and the tub in front of the fire. At the beginning of the 20th century, hot and cold running water was still thought of as a luxury, and therefore it was only the middle and upper classes whose homes had basic and Spartan-like bathrooms with their plain plaster walls and wooden floors. It wasn't until the 1920s that most building codes began accommodating the necessary legal plumbing requirements needed for the indoor construction work, so there was a more general move towards more members of society beginning to convert to an indoor bathroom. The growing popularity was heightened, with homes becoming increasingly more electrified.
The early 20th century bathrooms were small rooms and typically had only three main fixtures, usually white; a lavatory, a bathtub or shower, and all pipes were left exposed, creating a very distinctive utilitarian, but modern bathroom look. Small rooms, such as a nursery or dressing room, were converted into the sufficient space needed for this new bathroom, or more commonly known as 'water closets.' The first pressurised flush was created in 1906.
Black and white were the original colours of the modern bathrooms, and it was interior designers, such as the American, Kohler, who later introduced the idea of more colour into the early 20th century bathrooms' manufactured products. Kohler advocated bathroom features in enamel, china and porcelain as well as chrome-plated fixtures, walls of glass, floors of special yielding rubber and radiators hidden behind tiled grilles. He was also responsible for the bathroom industry's first one-piece, built-in bath with an integral apron, in 1911. This invention went on to replace the claw-foot cast iron baths that had been in use since the 19th century.
This 'Arts and Crafts' period, which encompasses the modern age, at this time saw the popularity of the 'subway' wall ceramic tile, in white with a contrasting border tile colour, usually black. It was during the first half of the 20th century that for the first time, bathroom artistry met with logical simplicity, and where comfort paralleled beauty.
The First World War marked an apparent transformation in bathroom styles, and the influence of Art Nouveau was apparent with floral designs and different colours on ceramics. Bathroom suites evolved with showers beginning to be used more; therefore, baths began to be sold with taps with a shower attachment – separate showers were only used for the most exclusive, wealthier patrons' bathrooms.
For many years, bathrooms were designed in an extremely organised, practical way with a bath to bathe in, a shower, a toilet, a bidet, and a washbasin with a shelf and mirror. Luxurious accessories depended on how wealthy the bathroom's owner was. It was later, during and after the Second World War, that the use of American-made bathroom fixtures was introduced on mass, into the marketplace, and pastel colours began to be used in abundance. Due to mass production, everyone started to benefit from the new bathroom suites on offer, but they perhaps suffered in quality from the lack of raw materials after the war.
It was in the 1950s, 60s, and 70s that there was a burst of colour onto the scene for flooring and wall materials. Linoleum was a flooring choice of the period until the 1960s when it was replaced with vinyl. The advent of Avocado as the go-to colour started in the 1960s and continued into the 1980s. No longer was the bathroom thought of solely as a place for personal hygiene, but also as a place of relaxation and tranquillity. The 'modern' period styles and designs for bathrooms are still in full bloom – it is a bathroom design that hasn't gone out of fashion and is often used alongside more contemporary bathroom looks. Many people restyling their bathrooms cannot resist the sleek lines, gilded finishes, and the minimalistic cool of modern bathrooms.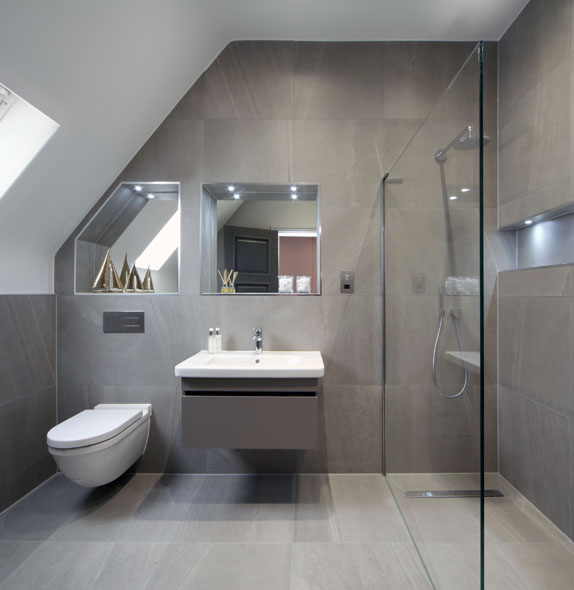 Contemporary Bathroom Design
Contemporary designers tend to draw from the inspiration of the early modern bathroom designers and expand on their original ideas to suit modern living. A good designer has to know the elements and principles of design and who better to learn from than the past innovative bathroom designers and engineers from the beginning of the 20th century's modern period, who encompassed the credo of 'form follows function'? The main Arts movements, from the beginning of the 20th century and for the next 50 to 60 years, was informed by Scandinavian and German Bauhaus designs with their distinct styles of simplicity.
"The details are not the details. They make the design."
Charles Eames - Designer
Therefore, for bathroom inspiration, it is a great idea to consult the experts in bathroom products as the choice can seem overwhelming with so much to fit into often so little room. If you have the desire to create a modern bathroom, with the design styles of the early 20th century, it is a good idea to see examples of the products in real-life.
On the whole, therefore, for modern bathrooms, you should be opting for simple form and function. Focus on earthy palettes, materials such as leather, stone and wood, and silhouettes, which are streamlined. The overall style then, of a modernist bathroom, is summed up as simple, clean with a minimalistic look and feel. Think of geometric shapes and patterns, clean lines, minimal colours, and mid-20th century furniture. Simplicity is the main idea for modern design, with the intention being to keep your bathroom free from clutter. Shelving and purpose-built furniture can hide the unsightly but necessary beauty products. Ornaments tend to be huge free-standing floor-to-ceiling mirrors and/or gilded over-the-sink affairs. Grey and white tend to be the order of the day.
C.P. Hart's Bathroom Showrooms
Visiting one of the 15 C.P Hart bathroom showrooms can give inspiration you may have only dreamt of when it comes to designing for your own personal 'modern' bathroom space. The C.P Hart Professional Design Service is second to none when it comes to helping you renovate or design a bathroom from scratch using fabulous fixtures to whole bathroom suites and storage – for both contemporary and modern bathrooms.
The dedicated, fully-qualified designers and sales people can guide you through the whole process, from the digital mood-board to the bathroom of your dreams. The team of bathroom design specialists excels in bespoke modern and contemporary designs, whatever aesthetic you may lean towards. With beautiful showrooms throughout the UK, you can literally shop the look.
As it was established over 75 years ago in 1937, C.P. Hart has worked with all the iconic designs, as well as trends that have dominated this progressive period. Only working with like-minded designers and manufacturers who stand by the same creative principles. This includes using only high quality materials and constantly challenging perceptions to create new concepts for contemporary bathrooms. If you dream of a contemporary bathroom, taking a trip to one of the 15 C.P Hart bathroom showrooms can make this dream a reality, with collections from leading manufacturers, designers and architects from across the world.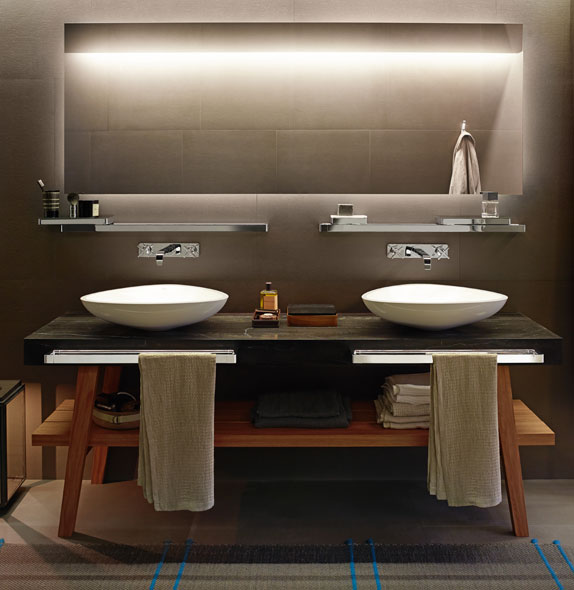 Design Fixtures and Fittings
There are free-flowing curves of glass design bowls, or minimalistic basins with strong, sculptural shapes. Contemporary design means that anything goes. It borrows styles from other more defined periods, thus making it more ambiguous, although, by its very nature, you'll expect to see a few defining contemporary qualities. These include neutral palettes, stark minimalism, sharp, clean lines, and casual silhouettes. Materials including nickel, steel, and chrome are often combined with natural textures such as hemp or jute. If you dream of a new bathroom that fits this bill, maybe it's time to seek advice for a more contemporary design.
Contemporary designs, therefore, tend to include products we already recognize like the well-loved brass or nickel tones, including brushed or matt finishes. Deep soaking freestanding tubs are moving towards bold colours, including black giving the room an almost sculptured feel. Lighting is essential as part of a contemporary theme, and integrated lighting helps create the right ambiance, alongside bespoke stonework with the warm hues of materials such as travertine and limestone.
"Design is defined by light and shade, and appropriate lighting is enormously important."
Albert Hadley - Designer
Unusual marble finishes, which look like pieces of art in themselves, are being used for walk-in showers and the use of shaped tiles such as hexagons and scallops, instead of the subway tile, and used in only partially tiled areas, are now in vogue. Marble wallpaper is also being used in bathrooms, for that extra 'wow' factor.
Creating an impressive contemporary bathroom scheme can be achieved in a variety of ways, with furnishings, flooring, and accessories. Using contemporary as a design influence, you can choose any style statement from grand, bold features to a more subtle touch, but still brimming with character.
"As an architect, you design for the present, with an awareness of the past, for a future which is essentially unknown."
Norman Foster
Sophisticated Bathrooms
C.P Hart's many bathroom collections from professional and skilled designers and manufacturers can inspire and help you from concept through to the installation of your new bathroom – whatever design you have in mind. All you have to do is book an appointment with one of the talented advisors or visit one of the many showrooms, created as a gallery to showcase the very best in modern and contemporary designs.
From every type of bathroom tip to trick imaginable, from taps to toilets, showers to storage, accessories to lighting, you can find it at C.P Hart. Therefore, although modern and contemporary might seem similar in definition, they are, in fact, quite different design styles. Sophisticated modernity with the use of stylised details is used to create a sense of luxury in bathrooms. Whereas, when designing a contemporary bathroom, it's quite acceptable to have an eclectic mix of different design-time periods all in one room. So, to put it simply, modern design in bathrooms has a distinct aesthetic that focuses on crisp lines and warms neutrals, as well as balance throughout the bathroom's space. Contemporary bathroom design, however, is more fluid and still evolving.