Baths come in many shapes, sizes and materials, and deciding the correct one for you can sometimes feel overwhelming. Below we explain the practical things you need to take into consideration, as well as explaining each bath type to help you choose which one will best suit your needs.
Practical Considerations:
Find a bath that you find comfortable and that is practical to your needs. Think about who will be using the bath, and in what way. Do you like to sit up or lay down? Will you be bathing children where a deep bath may be impractical? Some people enjoy a deep bath they can lay out in, while others prefer a shallower bath they can read in.
As a bath is almost always the biggest item in a bathroom, it is the focal point of the room. Consider what style you would like to have, as this will influence the entire bathroom.
The shape of your bathroom is bound to influence your decision on a bath, and may even limit your options. If you have an awkward-shaped bathroom, for example, a corner bath could be the ideal solution, and if there isn't room for both a bath and a shower, a bath shower mixer with a bath screen would work well.
When choosing the material your bath is made from (see below for more information), bear in mind that different materials have different qualities and drawbacks. For example, stone and iron are beautiful but also very heavy, and you will need to make sure your floor is capable of bearing the weight before choosing a bath in either of those materials.


Bath Types:

Freestanding Bath
These are stand-alone baths that can be positioned anywhere in the room. They are available in both contemporary and traditional styles, with traditional options often having feet available.

Inset Bath
This is a bath that's fitted onto the wall and into furniture, and is suitable for less spacious bathrooms. .

Slipper Bath
These baths have one high end to lie against and are designed for relaxation. They suit traditional style bathrooms particularly well.

Shower Baths
These are ideal if you have a small bathroom and wish to combine a shower and bath. They are complemented with a bath screen, and can be laid out in a P-shape to accommodate room for showering.

Corner Bath
These baths are ideal for smaller or awkward-shaped bathrooms. They fit into a corner of the room, making the most of the space available.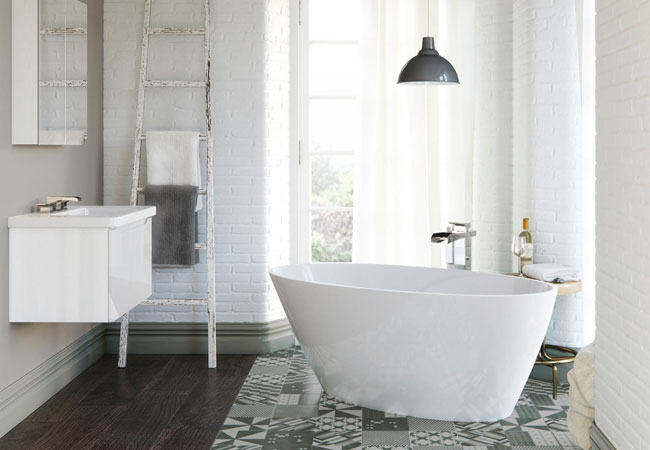 Leadon freestanding bath


Bath Materials:

Cast Iron
This is the oldest method of creating a bath, and is both durable and scratchproof. These baths comprise several layers of porcelain enamel that are fused onto a cast iron shell. They retain heat well, meaning the bathwater stays hotter for longer. The downside of having a cast iron bath is they are very heavy and sometimes difficult to install. If you are considering one of these baths, you may need to have your floor reinforced to take the weight. We could strongly recommend seeking the help of a professional for this.

Pressed Steel
These baths are available in a variety of colours and sizes, and are cheaper and lighter than a cast iron bath.

Acrylic
This is a very light material and can be produced in a wide range of shapes and sizes, including circular designs. It is very easy to clean and repair if scratched.

Stone
These baths are very beautiful to look to. They are extremely heavy and also very expensive. If you still like the look of them, but are put off by the weight or expense, you can opt for an artificial stone bath.