It's time to rip up the minimalist rule book, as new colours and finishes begin to emerge in the bathroom. We have, for a long time, considered the bathroom as a purely practical space, an area of the home used only for basic sanitary needs and often disregarded as a place in which to linger. However in recent years the traditional idea of the bathroom has been transformed - consumers and designers alike are viewing this area of the home as a haven; a spa like sanctuary that can be used to lift the mood and promote wellness and relaxation. Furthermore, the bathroom – like all areas of the home – is no longer immune from wider trends within design, where customers are looking to inject a bit of personality and flavour into their spaces.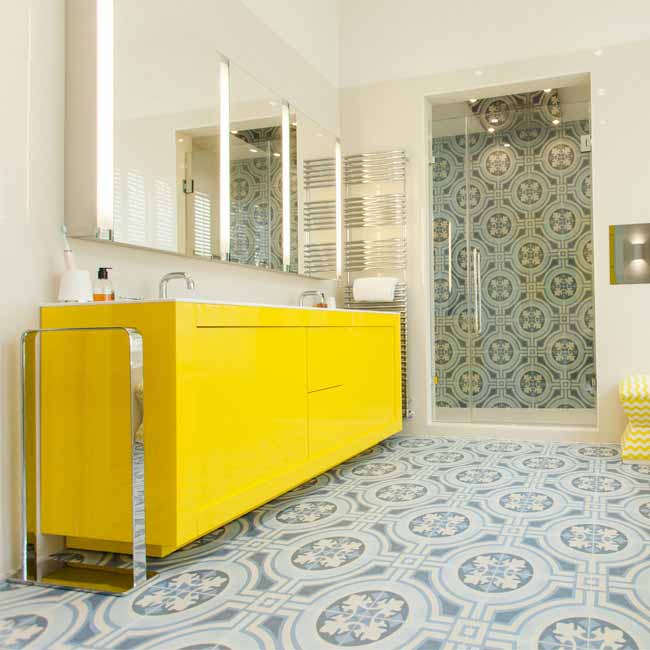 Whether its earthy neutrals, muted pastels or vibrant 'pop' colours – a diverse tonal palette is now emerging, and it's safe to say that colour is staging a comeback in the bathroom. If you're excited by the prospect of colour, neutral and pastel hues are less provocative, so work well if you are planning to incorporate a colour of some description on a large scale (for example, across your walls, in your tiling as well as in your sanitaryware). 'Pop' colours – the vivid, vibrant tones – work better on smaller-scale items, such as accessories or brassware. However, if you're feeling particularly brave you can use bold tones throughout – there are no rules here. When one combines vibrant tones with pastels, it can result in a stunning visual display. For example, our recent bathroom design with 2LG Studio featured bright red taps from Fantini and a custom pale pink bath from Bette. The pieces were pulled together using red and pink mosaic tiles from Bisazza, creating a dazzling and playful scheme.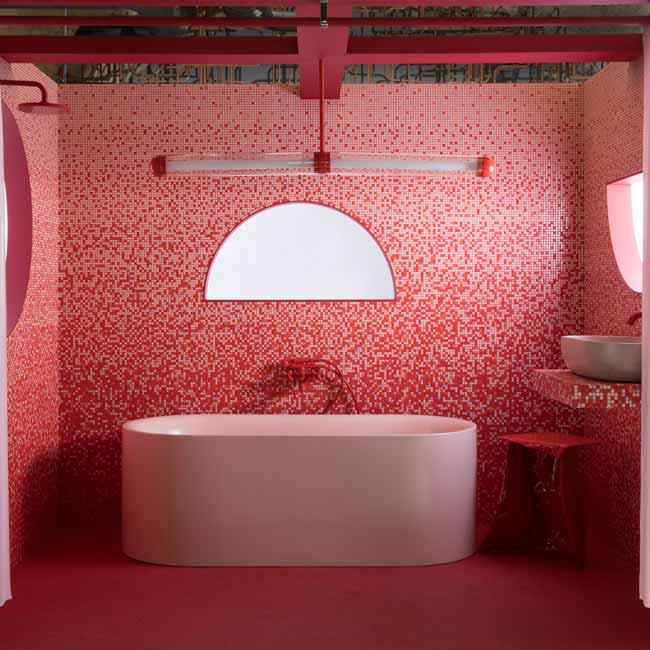 The 2LG bathroom is also a really useful example of how colour can be incorporated using different sorts of products – such as tiling, brassware, accessories and of course in the bathroom furniture itself. Ultimately, how you choose to incorporate, much like what colour scheme you go for, depends on how brave you would like to be. There is not a 'best' way to bring colour in, it is all down to personal preference - for example, brassware can allow you to incorporate a touch of colour to a largely neutral space, whereas using tiling on a wall allows you to build an entire tonal scheme across a room.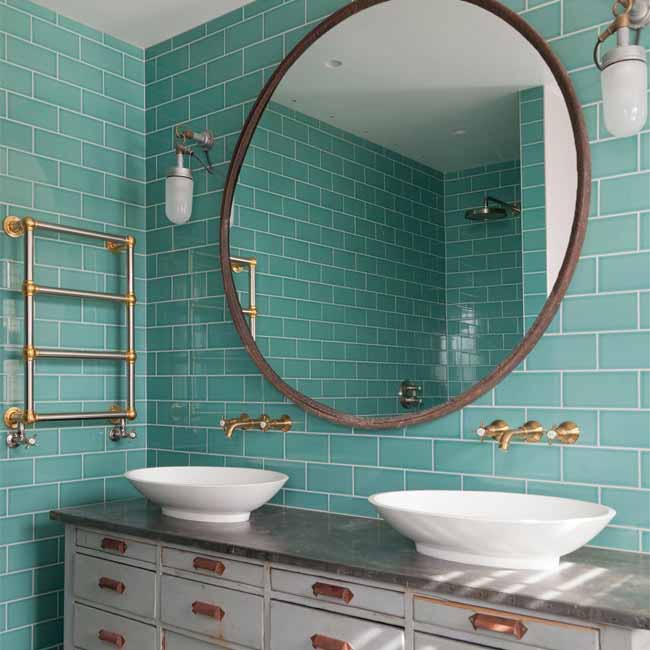 If you are feeling unsure about using bold tones or want to ensure you can future-proof your bathroom, one can always incorporate pattern and colour in a variety of semi-permanent ways. Rachel Martin, C.P. Hart's Merchandising Director says: "Bright coloured bathroom-friendly wallpaper or paint is a great way of using your walls to inject some tonal variation - and can be easily updated or removed when you like. This idea works particularly well in a small cloakroom, as well as in a larger, family bathroom. It also is worth thinking about your accessories, which make for another easy and instant way to update your space. Introducing colour with linens is an instant way to get a new look and feel, and can also allow you to try different colours in the room before committing to a more long-term purchase such as a bath or basin."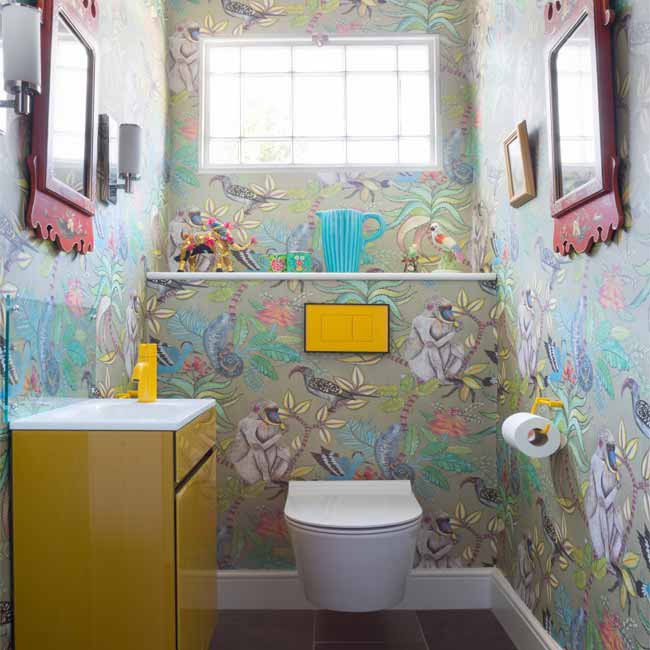 Coloured ceramics have always been visible in bathroom design, but they haven't taken precedence like they have recently since the (in)famous Avocado suites of the 1970's. Despite their chequered past, their appeal is now growing quickly, as the product which can be offered is getting slicker and more style conscious. Earthy brown tones are becoming the new neutral and bright shades such as yellow, red and pink are no longer seen as a 'brave' design choice - but an everyday solution that can put a smile on your face in the morning. Our popular London washbasin is now available in a rich blue tone, proving that coloured ceramics don't have to be limited to purely contemporary designs or spaces.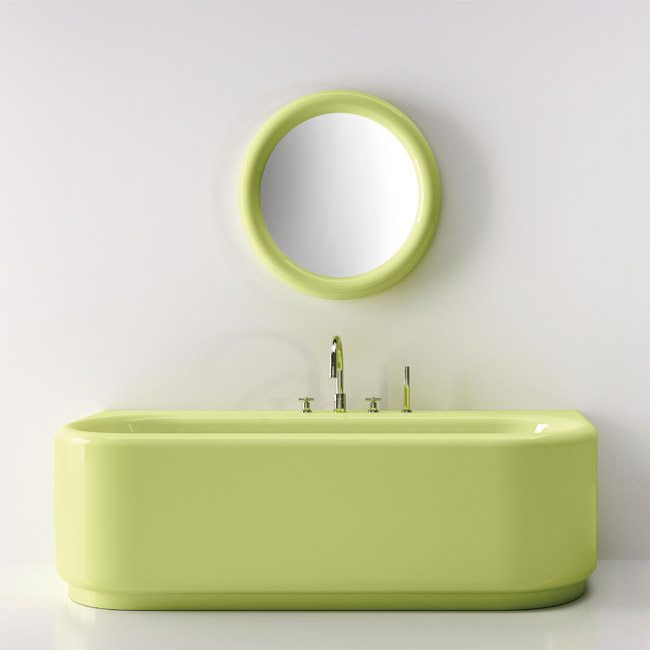 When opting for coloured ceramics the textures and finishes of furniture and brassware must be considered to make this look work. "We are seeing a lot of matt coloured ceramics paired with brushed metallics and predict this will remain a loved trend" says Rachel. "A coloured bath or basin can be a great way to add colour for those who aren't as 'colour confident' – and with a variety of shades available, it can be easily be introduced into the room without having to change your existing scheme."