Brand Of The Month: MARMO
01/08/17

OVERVIEW

VIEW MORE OF MARMO'S RANGE HERE.

Details of the range

Exclusive to C.P. Hart, MARMO is a one-of-a-kind bathroom collection that seamlessly combines nature and technology. The MARMO range was designed by Antonio Gardoni and Federico Castelli at the iB Rubinetti headquarters in Brescia, Italy, and the taps are the first ever marble-bodied brassware collection to hit the market. The Italian designers wanted to bring together metal, stone and water in a pure geometrical shape – and it's undoubtedly a triumph.




The best stones possible are selected, then cut and polished in order to obtain a thin and resistant cover. The marble protects and hides the innovative water-mixing system within. This leaves the beauty of the stone and the simplicity of the metal elements to be admired on the outside.

Choose between the purity of white Carrara or the more dramatic black Marquina – both iconic marbles. The metal elements are made out of brass, and you can opt for chrome, white, black, gold, brushed nickel or rose gold finishes. You can therefore create a bespoke fixture that will blend effortlessly into your bathroom and provide pleasure for years to come.




As well as the tap collection and shower valves, soap dishes and towel hooks are also available to complement the fixtures, both made entirely from marble.

What we love about MARMO

The MARMO range is handmade with superior-quality marble, and you can rest assured that no two pieces are ever alike. Etched by nature with unique marble veins, these bathroom fittings will elevate your space in an instant. As timeless as the stone it's crafted from, this elegant range will add a touch of class to any bathroom setting.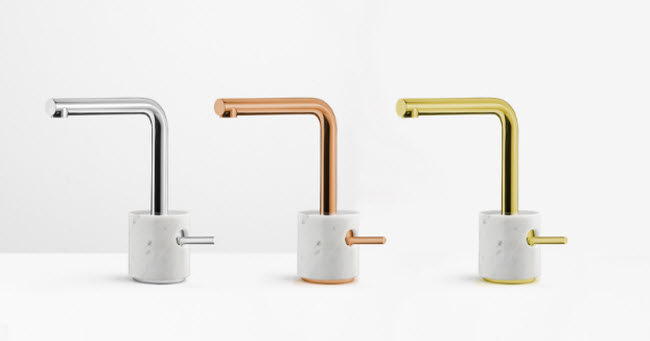 BEHIND THE DESIGNS

2 minutes with Federico Castelli at MARMO

Describe MARMO's product range in three words…

Italian. Design. Culture.

What sets MARMO products apart in the bathroom industry?

MARMO presents a product that's full of history and passion, from Italy, for bathrooms within modern homes. It's the only collection in the world composed of unique pieces – you will not find two identical MARMO products, because the marble's veins are unpredictable.

Another winning aspect of the collection is the possibility of combining different kinds of marble, like white Carrara and black Marquina, together with several metal finishes which allows the collection to match with multiple interior styles. Marble is a faucet collection that can turn any bathroom into an incredibly special space.

Simply put, it's the magic of combining high-end technology with the human touch and artisanal know-how.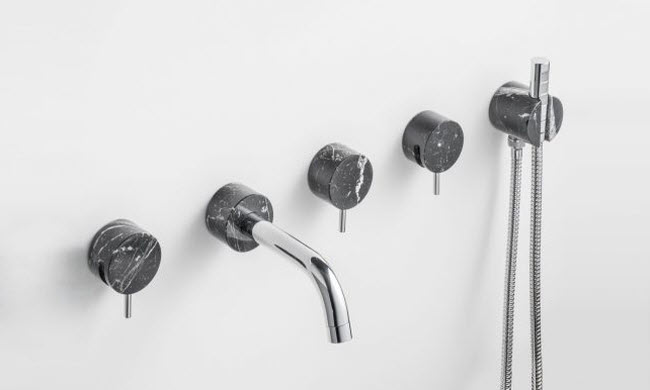 Where did the inspiration for the range come from?

MARMO was designed after two years of collaborating with iB Rubinetti. During this time we've been able to learn the values and discover the secrets of iB taps, from production to sale. What has emerged is a company that produces industrial items with the care of a craftsman, and this was our inspiration. We wanted to create a product that would show these two aspects: the combination of industrial processes and the know-how of the best Italian artisans.

This, together with the intrinsic aesthetic of the material, persuaded us to remain simple and geometrical during the shape-giving process. That's why we decided to only use cylindrical shapes, in different proportions and dimensions.

MARMO products are designed and manufactured in Brescia in Italy – how does this affect the overall quality of the products?

This region is one of many areas in Italy where the history of design was shaped – mass-produced heavy objects are being phased out and now it's time for ideas shaped by expert hands. As mentioned before, iB produces every piece with extreme care for detail, which is part of the company's culture. To produce a product such as the MARMO, each piece must be controlled and manipulated by man's hands in order to offer an industrial high-performative faucet system with an artisanal unique look. I think it would be very difficult to be able to do this outside Italy.

What are your favourite products within the range?

We designed the floor-standing bath filler with the idea of a relaxing warm bath after a stressful day at work. We wanted to offer something like a side table where you can rest a tablet, a glass of wine or even a piece of chocolate, rather than just another metal tube that dispenses water. I love this piece of the collection because it's a different spin on the traditional floor-standing bath filler.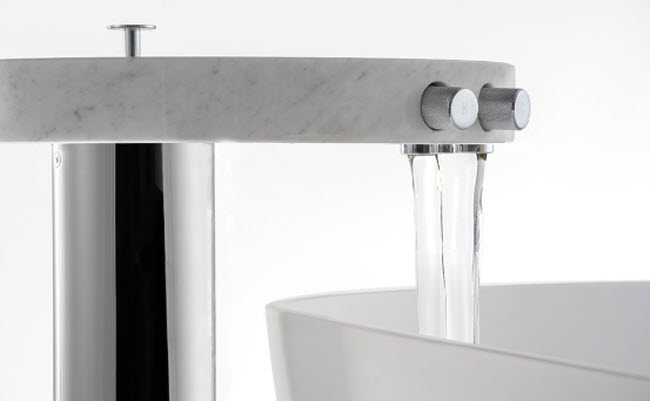 Which bathroom trends do you see emerging this year?

I think the bathroom environment is changing its aesthetic from a cold and aseptic room to a place of relaxation where the furniture dialogues with materials like never before. Today we exchange furniture from one room to another, including the bathroom, and objects in our houses don't belong to a specific room anymore. I am sure bathrooms will exchange more and more elements with other rooms in the future.


VIEW MORE OF MARMO'S RANGE HERE.