Sleek, stylish, and sophisticated - black bathrooms are one of the hottest upgrades for luxury homes right now. Whether creating a traditional aesthetic or injecting a contemporary flavour, black bathroom designs offer a timeless appeal that can be adapted to rooms of virtually any shape or size.
In short: if you are looking for stunning bathroom ideas in black and white or monochrome tones, there has never been a better time to make the transformation. Here are some of the key steps that will lead you to success.
Start With Black Tiling
Colour schemes are the first thing you'll notice when stepping into the bathroom, especially when opting for something as striking as a black and white bathroom or monochrome style. Bathroom ideas with black and white tile patterns can be used in many ways. Avoid the classic checkerboard, and opt for something more modern like the style shown below.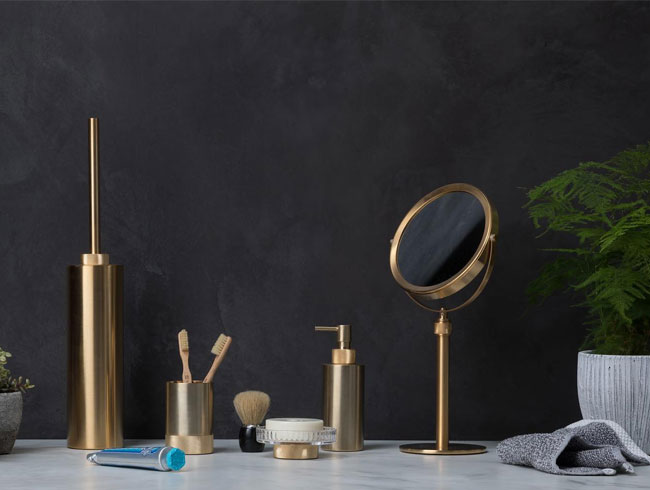 Black tiling can also be used to section off the luxury bathroom. Perhaps your walk-in shower could benefit from black tiling while the rest of the bathroom uses a contrast of black tiling and white cladding. They can be coupled with grey floor tiles for a stylish appeal.
Find The Perfect Black Bathtub
White bathtubs have been the norm for many years, but the best bathroom ideas in black and white tend to use a black bath instead. They deliver an equal level of aesthetic versatility as their white counterparts. Moreover, their less common nature promotes a wow factor that instantly grabs the attention for all the right reasons.
The black bathtub will likely have a white inside bowl, which creates a fantastic contrast that works very well. Meanwhile, the freestanding tub can be matched with chrome feet or matt black basin taps for a gorgeous and sustained attraction. It also complements black shower unit frames, if you have one.
Select Your Black Wall Decor
Whether designing bathroom ideas with black and white tiles or white walls with black trims, the choice of wall decor can make a telling impact. For a contemporary classic style, one of the easiest ways is to contrast white walls with black shelves and black photo frames that include monochrome images.
When opting for black as the dominant colour over white, wall-mounted metal rails are ideal as they offer storage too. Chrome, copper, and brass can all be used depending on the amount of black decor that is used. Framed mirrors or black mirror cabinets work well too.
Choose Black Toilets Or Black Toilet Seats

Black bathroom ideas will often incorporate black toilets. One option is to use a black toilet seat, which works exceptionally well when you have black wall decor against white walls or have black taps on white basins. This more subtle use of black is very popular for ensuites and small bathrooms where lighting may be an issue.
A black toilet, however, can create a striking contrast against a monochrome stone tile. For optimal impact, you may wish to consider a wall-mounted black toilet. It's modern, sleek, and hygienic. When supported by black basins for bathrooms, an instantly iconic look is achieved.
Install Black Vanities For Bathrooms
Black vanities for bathrooms are available in many styles. A wall-mounted option can feed into the ultra-modern vibe. Meanwhile a standing Hoxton drawer, for example, uses contrasting colours for a stunning appeal. The black vanities may use black taps or match chrome taps to chrome handles.
Black vanities topped with stone basins can create a stunning appeal for monochrome bathroom ideas. Whether a compact design or a double vanity, their importance for building a classy and exclusive vibe cannot be ignored. Once again, wall-mounted options with small projections will save valuable space.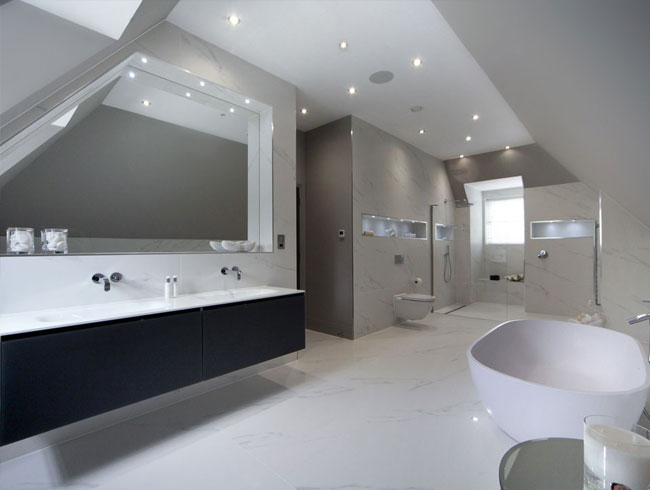 Accessorise Your Black Bathroom
When you have added the above features, as well as a black shower unit (if applicable), the bathroom makeover will feel almost complete. However, further accessories can truly bring your black bathroom to life. Black towel rails for bathrooms are a particularly good way to accentuate black tones against white or stone walls.
Bathroom ideas in black and white can also use a mixture of black and white towels, black plant pots, and black ornaments. Alternatively, a black shelving unit will provide display features as well as the practicality of extra storage. The geometric shapes are especially suited to a luxurious spa-like bathroom.
For further inspiration or help bringing a vision of your black bathroom ideas to life, call C.P. Hart today.