Designer Bathrooms For Your Home
Bathrooms – Designed with You in Mind
If you are in the process of planning small upgrades of your bathroom or intending to go for a significant overhaul, it is standard practice to look for inspiration. There are bathrooms, and then there are designer bathrooms.
Whenever anyone is thinking of redesigning or improving their bathroom with new fixtures and fittings, you don't necessarily plan on creating a designer bathroom. Maybe you were thinking of just popping along to the high street DIY showroom and seeing what they have on offer rather than going the full Monty with a designer bathroom for your renovations? The mass-produced bathroom suites are made to standard-sizes, with perfect proportions, so if your bathroom space is very small, or an awkward shape with a sloped ceiling, you'll find you probably can't use some of the off-the-shelf fixtures.
You might want a more original bathroom with traditional, modern, or contemporary styles rather than a mainstream bathroom that everyone you know seems to have in their home. Perhaps you want your new bathroom to have a 'wow' factor – something unique to you. Your dream bathroom might include a roll-top bath, walk-in shower, twin basins, and masses of storage, but how realistic is that unless someone can help you create that magic solution?
Bathroom mistakes can be expensive – inaccessible taps or awkward pipework might mean ripping up the bathroom flooring in the future for access, if something should go wrong. You should, therefore, look for something customisable or bespoke for your own specific bathroom space, mainly if you are unsure how to plan the technical aspect of plumbing and pipework. Because bathrooms are a reflection of your home and your lifestyle, you should try and find a bathroom that reflects your character. If you opt for a designer bathroom, you'll find there will be something to suit everyone; whether it's a functional, stylish family bathroom, or an opulent, luxurious bathroom.
Designer bathrooms, on the whole, have a unified look; this means that each part of the room relates to the others – there is a balance. This doesn't mean that to create the unity of design that everything has to be the same in the room, far from it, as, in today's contemporary world of design, eclecticism is very popular.
"Luxury is when it seems flawless when you reach the right balance between all elements. Understated theatricality – that is what my luxury is all about."
Jean-Louis Deniot
The Best Bathroom Designs
It is thought that people tend to spend an average of 40 minutes a day in their bathroom, so it's no longer seen as a place of just necessity but also one of retreat. So, if perhaps the potential cost of a designer bathroom might deter you from pursuing this designer bathroom idea, then you should instead think of it as an investment of both time and money. After all, 40 minutes a day is quite a lot of time spent in just one room.
But what do you know about designer bathrooms? Is having a big brand attached to a bathroom a must for ensuring it is a designer one? There are many big brand names attached to designer bathrooms, but they vary significantly in their offerings, designs, and services. Just because something looks great and costs a lot, doesn't automatically mean it is of a high-quality material or sustainable. It's essential that you do your research before committing to a designer bathroom specialist. Choosing a new bathroom style isn't that easy, and although there are many homes and decorating magazines to browse for inspiration, how simple is it to reproduce that beautiful bathroom on their pages in your home? What might look great on the pages of bathroom design magazines might not translate well into your own bathroom space.
"For a house to be successful, the objects in it must communicate with one another, respond, and balance one another."
André Putman
Those relaxing tubs, gorgeous vanities, and sensational showers don't have to be just the things that make up daydreams; they could be a reality if you get some smart design advice from the experts. Most people want their new bathroom to last for many years, so there are certain factors you should consider when investing in a designer bathroom; budget for the unexpected.
It's not that easy to source authentic materials and classic, handmade bathroom products yourself. The manufacture of cast iron baths, brass fittings, and china sanitaryware that are of high-quality and durable, and not mass-produced, is a specialist affair. Not many of us are confident when it comes to designing a whole room; accessories are usually the area most of us feel we can cope with on our own. So, to splurge on a designer bathroom takes confidence of a different kind… Trust. It is exciting to plan a brand-new bathroom, but it's also a daunting prospect. Crafting styles that transcend the years is an art, and to create styles of the highest quality means you will have to seek out the designer bathroom specialists.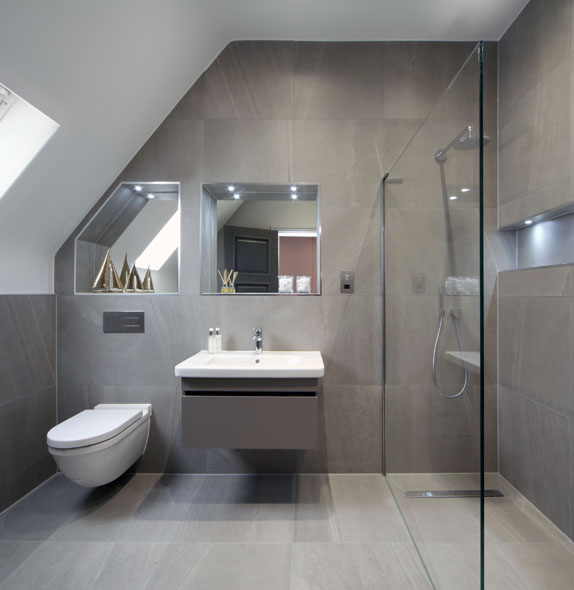 Our Designers
Bathroom specialist, C.P. Hart of Waterloo London, with 15 showrooms across the UK, has over 75 years' of bathroom design experience. The designs are always on trend and are created by their expert in-house designers using product from world-renowned manufacturers. Exciting new collections, including Brisco and ME by Starck, Spillo Tech, and SO, to name but a few, are designed often in collaboration with C.P. Hart's in-house designers. These designer products offer elegantly designed and beautifully finished products defined by the different designers' extensive collections of stunning textures and finishes. You could opt for one or two of the designer bathroom products or the whole collection.
The Waterloo showroom features a gallery full of cutting-edge bathroom products from the most exciting and innovative bathroom designers. Recent winners of the Design Plus Award at ISH, for example, is the latest in Italian designer brassware. The SO collection is available exclusively from C.P. Hart; the beautiful bodies and handles of each piece are available in one of 11 finishes, including 24-carat gold, wood, and concrete offering a truly customised product.
Visit one of C.P. Hart's nationwide showrooms to experience first-hand the many spectacular bathroom collections and their designs. You can find inspiration from the collections and begin to visualise how they could work in your own home. Because of C.P. Hart's many years' of experience in the manufacture and supply of designer bathrooms, the design service is set up to enable you to visualise your completed bathroom, regardless of whether it's for a bathroom facelift or a complete overhaul of your bathroom from a simple space to a more spacious project.
The Professional Design services with an interior designer help guide you through the process of designing your bathroom with the production of a tailor-made design pack, which includes the creation of a ground-floor plan, elevations, and 3D bathroom perspectives. C.P. Hart's designers offer various design packages, which include logistical and expert support as well as after-sales guidance. Your design package includes a product mood-board which helps you visualise the images of the suggested sanitaryware, brassware, furniture, tiling and lighting, so you can physically see first-hand how your designer bathroom will eventually look.
Why not book an appointment?
"Design is not making beauty, beauty emerges from selection, affinities, integration, love."
Louis Kahn
Baths, Showers, Basins and More
Trends come and go, and designer bathrooms are no different with their ever-changing designs and state-of-the-art technology. Investing in a designer bathroom enables you to keep abreast of the latest luxurious offerings and the avoidance of fads. A good designer bathroom can withstand the tests of time; they tend to be focused on proven style and solid quality.
Which designer bathroom style you opt for should be determined by the period your house was built in. If your home is, for example, Victorian, you shouldn't opt for large cement or industrial tiles. Classic looks tend to have polished tiles, which also reflect light, giving the impression of more space. Porcelain and ceramic tiles are a popular choice for bathrooms as they come in a variety of colours and shapes and cannot be damaged by cleaning solutions.
The washbasin is very often the focal point of your bathroom and helps to set the tone and style of the rest of the room. They come in a variety of styles and materials including glass, stone and wood, which gives them a unique and luxurious look.
Showers can be eco-friendly and are a sensible option if space for a bath is a serious consideration. However, baths do have the wow factor, particularly if they are cast iron or stone, freestanding, inset, or slipper baths.
Lighting is often an overlooked bathroom feature even though it is essential for many reasons, from setting the tone and atmosphere of the room, to the more practical issues of shaving and applying make-up.
Designer bathrooms, therefore, require great consideration during the planning stages. If you want a cutting-edge designer bathroom, you should be aware that the designer bathroom has been infused with an explosion of colours, finishes, and shapes. This is a move away from whites and neutrals. The move towards bold colours isn't necessarily for whole suites – there is a mix and match approach to the different tones, according to personal taste. Colours are even infusing taps, flush plates, showerheads, and pans. Big brands such as Bette and Duravit, however, are opting for softer tones of blues and greys in both marbles and dark woods.
Sustainability is obviously at the forefront of designer bathrooms at the moment with so much political focus on ecology. There's a lot of emphasis, as a result, on intelligent solutions in relation to reducing water usage, yet still focusing on well-being. There's an increasing demand for the holistic, wellness-inducing spaces with new spray technologies being made more apparent with showerheads and intuitive water controls. Bathroom designers, Hansgrohe, have produced a spray surface and diffused arrangement of disc holes to softly cocoon and caress you while using less water.
Designers still love brassware, although there's a move towards brushed-coppers, gunmetals, and matt blacks. Shapes that resemble the designs of stereos and gramophones of the 1960s and 70s have been worked into sanitaryware. Gessi, for example, has recently introduced a contemporary, sleek thermostatic mixer that bears similarity to the old sound systems.
There's also a new trend of introducing natural and unrefined finishes into the bathroom, away from the hard, cold surfaces usually found. Soleri has produced synthetic-wood porcelain tiles for tactility. AXOR has created several unique plate finishes in leather, wood, marble, and mirrored glass for a dramatic look and experience.
"Design is a tool that allows us to reach out and inspire, to touch others, and help make lives magic and wonderful."
Marcel Wanders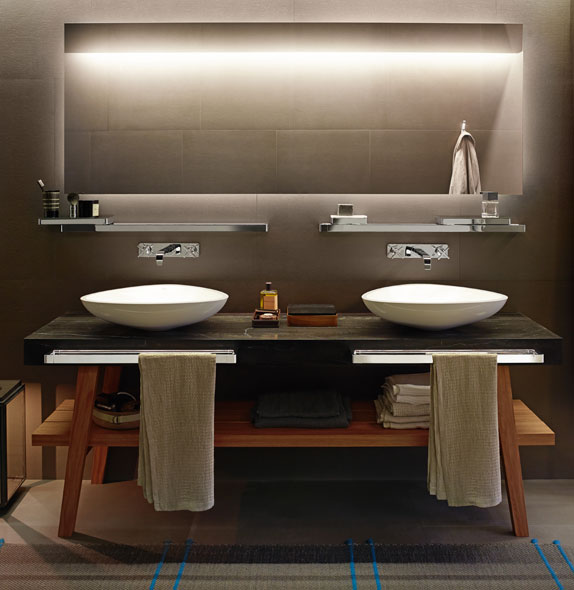 Visit Our Showroom
For all these and many more brand-new designer bathroom ideas, why not visit one of C.P. Hart's nationwide showrooms, where you can experience first-hand the vibrant mix of designer ideas and innovative materials. Be inspired by the cutting-edge styles which have been developed by designers with the environment in mind, as well as the personal life choices of the individual consumer. There are hundreds of stunning ways to create a designer bathroom in your very own home.
As with everything in the world of design, there are ever-evolving ideas and trends for bathroom interiors. There are many bathroom suppliers who are producing luxurious looks for every mood and yet still coming up with technologies and solutions to protect and care for the planet as well as you, the consumer. To get the look of your very own designer bathroom, do your research and consult the experts for the most up-to-date technologies and designs. If you are planning a bathroom remodel, hiring a professional could be worth the expense as they have the technical and creative know-how that can transform your bathroom from a picture in a magazine or journal, into one of reality.