A Guide To Buying A Freestanding Bath
There is something incredibly elegant and stylish about freestanding baths. They bring a feeling of luxury to the home and can serve as a stunning focal point for your bathroom, turning it into a peaceful spa-like sanctuary.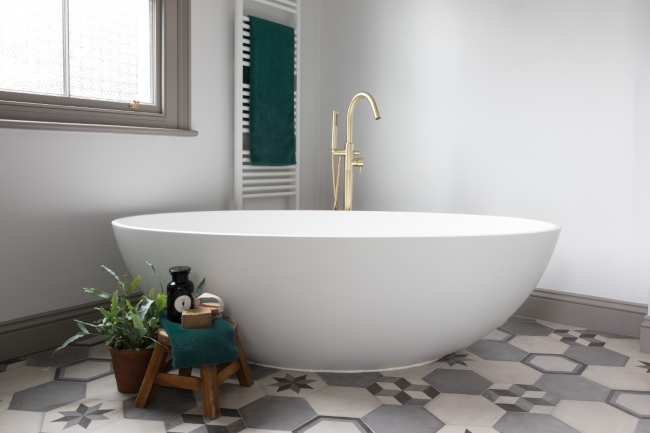 All models are based on the same principle: they are self-contained and independent from all other bathroom elements, such as wall panels. This opens up a plethora of possible ways they can be cleverly incorporated into your space. However, with so many different freestanding baths available, the task of finding the perfect one can be a bit overwhelming. You might be confused regarding the optimal bath size, materials or the type of design you should go for.
Luckily, shopping for a freestanding bath doesn't have to be a daunting task. To make your life easier, we've answered the most frequently asked questions from our customers to create an ultimate buying guide for freestanding baths.
Although freestanding baths look stunning, they may not necessarily be the best choice for every bathroom. Before making a purchase, here are a few pros and cons to bear in mind:
Pros to Buying a Freestanding Bath
Unique and sophisticated look
Various models available on the market
Freedom to get creative when organising your bathroom
When it comes to installation, freestanding baths are simpler to install compared to built-in baths. However, they can also be a bit heavier and consume more space, which is why it's advisable to think about the functionality and where it would be best to place them. Due to their weight, it's always a good idea to reinforce the supporting floor. We could strongly recommend seeking the help of one of our recommended installers when opting for a freestanding bath so that you're positive everything is in accordance with the safety standards.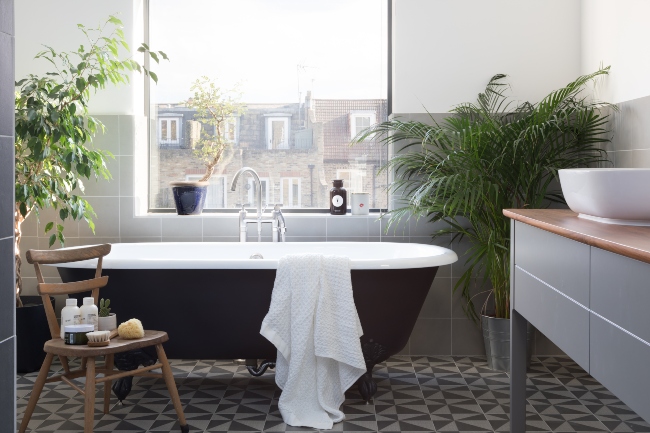 Another advantage of freestanding baths is the variety of styles and designs you can choose from. Various combinations of shapes, sizes, materials and colours ensure you achieve the exact feel you want in your space. You can also break the conventional layout for bathrooms and upgrade it into a serene, luxury haven, perfect for unwinding.
What to Consider When Buying a Freestanding Bath
Can be more costly than inset baths
Limitations regarding where the bath can be placed in your bathroom
Within our product range, you can find models at around the £1,000 mark (for the C.P. Hart Roll Top bath, a classy, quintessential Victorian cast iron bath) and up to £13,800 (for exclusive Aquamass' Modulo Biblio Freestanding Bath, perfect for luxurious, minimalist and contemporary bathrooms).
Before deciding, you should really think about this purchase as an investment. Unlike other bathroom elements that tend to be replaced more frequently (e.g. mirrors, decorations, bathroom cabinets and tiles), baths are more of a long-term fixture. This is why it's wise to put everything on paper and assess whether allocating a bit more of your budget to this purchase could be wise.
Another disadvantage comes down to your space limitations. Frequently, we get asked the following question:


Can I Put a Freestanding Bath in Every Bathroom?
Unfortunately, freestanding baths cannot be fitted in every bathroom due to space limitations. However, you shouldn't disregard the potential your bathroom has. Although we're used to seeing freestanding baths in the centre of spacious bathrooms, they can also be incorporated in modestly sized bathrooms as well. You don't need to sacrifice your design vision. Here's a selection of some of the most beautiful space-saving baths for you, so that you can enjoy some pampering time whatever your bathroom dimensions.
How Big Should My Freestanding Bath Be?
In order to determine the perfect size of your freestanding bath, you should first calculate the amount of space you're working with. The dimensions are usually standardised, and the models are grouped into three categories:
Small freestanding baths (length: 55 inches, width: 27 inches, depth: 15 inches)
Standard freestanding baths (length: 60 inches, width: 30 inches, depth: 19 inches)
Large freestanding baths (length: 72 inches, width: 32 inches, depth: 20 inches)
Keep in mind that, depending on the chosen design, baths might take up extra space. Also, a common mistake people tend to make is that they only measure the place where they intend to put the bath, but they forget about the additional space plumbing will consume. You need to think about the functionality of your space, not just the aesthetics.
Measure your available space multiple times and think about other possible issues, such as the size of the bath exceeding your door frame, as your bath will need to make it through the bathroom door! Planning these things through will prevent unpleasant surprises such as additional costs.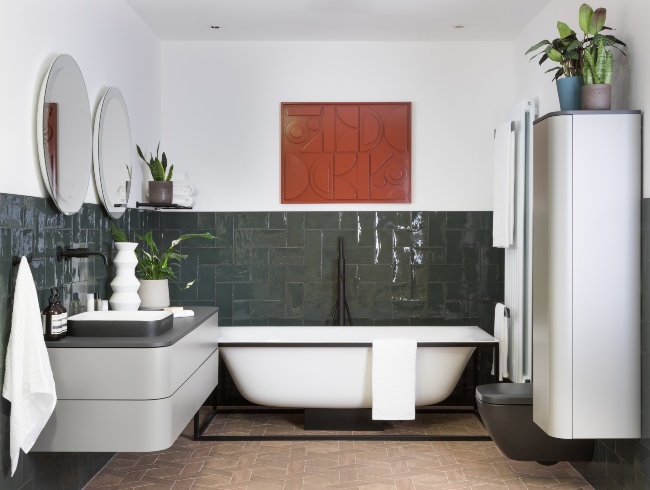 Please do not be put off by all the practical considerations when purchasing a new bath, we offer a full design and installation service, where we can work with you to answer all these looming questions.


What Materials are Freestanding Baths Made From?
Freestanding baths come in many different materials and they differ in appearance, quality, durability and maintenance requirements. It's good to get to know what each material offers before deciding on the model.
Acrylic
Acrylic freestanding baths are very popular today and they come in both traditional and contemporary designs. They are significantly lighter than baths made of other materials such as stone resin or cast iron, which makes them simpler to move and place. Acrylic is non-porous and of solid durability, although it is prone to warping. With consistent use over the time, the stability of the material gets weaker, which may result in crinkles and bumps at the bottom of your bath. However, these small issues can be easily fixed.
Cast Iron
Cast-iron freestanding baths are the most durable and the heaviest on the market and require a reinforced flooring surface. They are produced in a traditional way: molten iron is poured into a mould, smoothed and covered with a coat of protective porcelain enamel. This makes the surface resistant to scratches and very easy to clean (we recommend a soft cloth and gentle cleanser). Compared to acrylic, cast-iron freestanding baths are more efficient at retaining heat, which makes them the perfect choice for those who love to indulge themselves with a long soak.
Natural Stone, Cast Stone and Stone Resin
If you're aiming for a more natural-looking interior and want to bring organic materials to your bathroom, natural stone freestanding baths are a perfect choice. They are usually made of granite, marble and travertine, factory-processed and sealed to prevent leakage.
In addition to natural stone freestanding baths, you can also opt for cast stone models which mimic the appearance of natural stones. These are made by mixing natural stone, cement and pigments. Since the material is completely man-made, you can choose between many different styles and colours.
Keep in mind, though, that cast stone is less durable compared to the natural stone. On the other hand, stone resin baths are aesthetically pleasing, have a reputation of being extremely durable, but they are also a bit more expensive.
Copper
Similar to cast iron, copper freestanding baths are great at retaining heat, allowing you to prolong your relaxing soak. In addition to other benefits, copper is considered to be one of the healthiest materials out there, given the fact it is naturally resistant to mould and bacteria. What's more, copper freestanding baths come in many different styles and can add a sense of regal luxury to your bathroom.
Stainless steel
Stainless steel freestanding baths are typically reserved for more contemporary designs that imply clean, crisp lines and wonderfully crafted edges that fit into minimalist interiors. They have a solid construction and can be coated with enamel. The steel is usually effortless to clean and requires little maintenance. At first, the surface is a bit cold to touch, but once you fill it with warm water, it maintains the temperature for quite a while.
How to Choose a Freestanding Bath Style?
Before you choose your freestanding bath, there are several things to bear in mind:
Budget
The amount of space you have
The construction and strength of your floor
The purpose of your freestanding bath (for example, if you intend to use it for long soaks, you need a material that retains heat, and a model that has solid depth and optimal dimensions, so you don't feel uncomfortable)
With dozens of stunning designs available, you can tick everything you need off your list. However, it can be very hard to decide on your freestanding bath style. To help you make the right choice, we have grouped all the freestanding baths into three style categories:
Classic
If you want to bring a timeless appeal to your bathroom, classic freestanding baths are the best choice for you. A classic feel is usually incorporated through the overall design and shape, while using different materials and colours can bring a modern twist to the style. Take our Lincoln Freestanding Bath, for example – its scratch-resistant enamel can be complemented by any external colour. Double-ended, single slipper and double slipper designs should also be considered if you opt for a classic style.
Contemporary
Perhaps you want a design that's modern, sleek and elegant? If so, consider a more contemporary style freestanding bath. These models are usually oval-shaped and often have thin edges, giving them a modern and minimalist aesthetic. Contemporary freestanding baths can serve as chic statement pieces within a range of bathroom styles.
Cutting Edge
If you decide to invest in a freestanding bath that's bordering on a piece of art, you might want to check out some of our cutting-edge models. These high-end designer pieces are original, luxurious and can bring a sense of theatre to your space. To understand this style better, check out this Bette Lux Oval Couture Freestanding Bath, crafted from enamelled titanium steel and resistant, waterproof materials, or this magnificent table-like Bisazza Organico Freestanding Bath with corresponding accessories.


Which Bath Tap Should I choose?
Of course, once you've chosen your freestanding bath, you need to pick a bath mixer that will complement the style you aim for. When it comes to taps, you can opt for either floor-mounted bath taps or a wall-mounted tap.
Wall-mounted taps are installed through the bathroom wall, which might bring an additional burden on your budget as it will probably require extra work around your plumbing. Alternatively, floor-mounted taps are installed to the side of your bath or directly from the floor.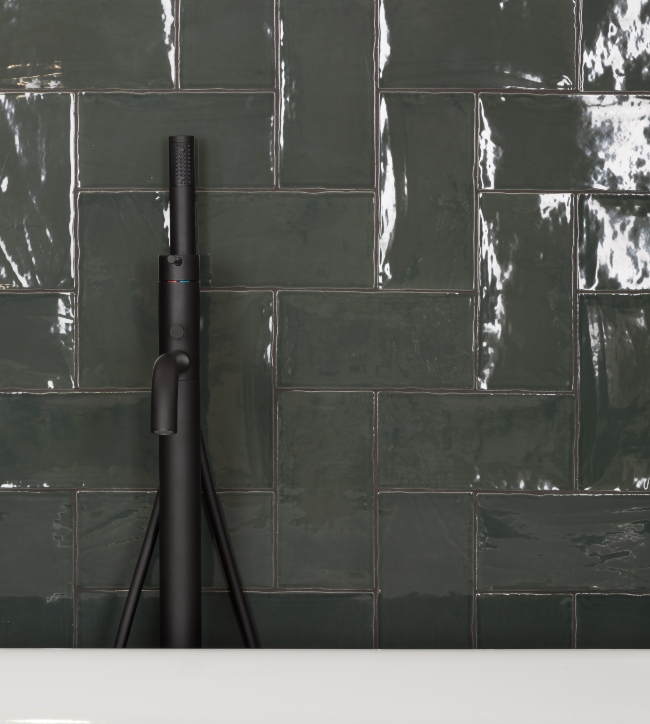 Bath taps are either:
Single handled (water temperature and flow are controlled by one handle)
Double handled (water temperature and flow are controlled by two handles)
Ultimately, the mixer that you choose will largely depend on the position of your freestanding bath and the way that your plumbing is laid out.
As for the style of tap, you need to take into consideration the feeling you're trying to create within your bathroom. Telephone-like taps date from the 1950s and they can bring a retro feeling to your space. English and Victorian-style taps are equally classy, while the modern styles are typically more compact and uncomplicated in their design. Bronze, chrome and nickel are the most commonly used materials. It's always advisable to test out the different styles of taps and to see them first-hand in order to make your decision, find your local showroom here.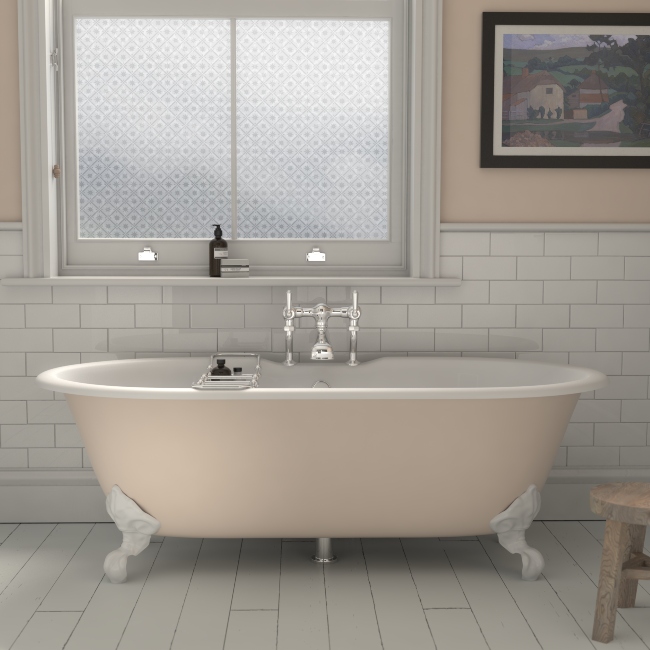 We hope this guide helped you to make a well-informed decision and find the perfect freestanding bath for you. To try out our selection of freestanding baths for yourself, we invite you to visit one of our local C.P. Hart's showrooms, so you can fully appreciate the beauty, style and functionality of our freestanding baths can bring to your home.